It's been forever since I posted here. There's a lot that changed in the past year or so, that has made me rethink my whole approach towards earning online. I have a lot of stuff to share with you, but first, let's begin with the payments I received in the last 8 months.
I did not work much, as I took some contract-based real jobs that paid much better. And the best thing was that they were remote. But over time there were enough new sites to share them with you. So here are the sites that paid me from October 2022 to July 2023, in alphabetical order; cause why not?
Totals & TLDR;
Here is the total payments I received from a combination of beer money/survey sites, user testing and crowd working platforms. Scroll below to find the payment proofs of these sites (in alphabetical order):
This comes to a total of 2805$. This amount's value varies from country to country. But from where I come, a dollar goes a long way.
Appen
Starting with the website that started it all. Even though I don't work in normal projects with Appen anymore due to their extremely low pay rates, I still do their Mystery Shopping project. I get it from time to time. Though I prefer that I get it from TELUS International.
The total I earned from Appen in this period was: 315$. Though most of it is reimbursements for my purchases.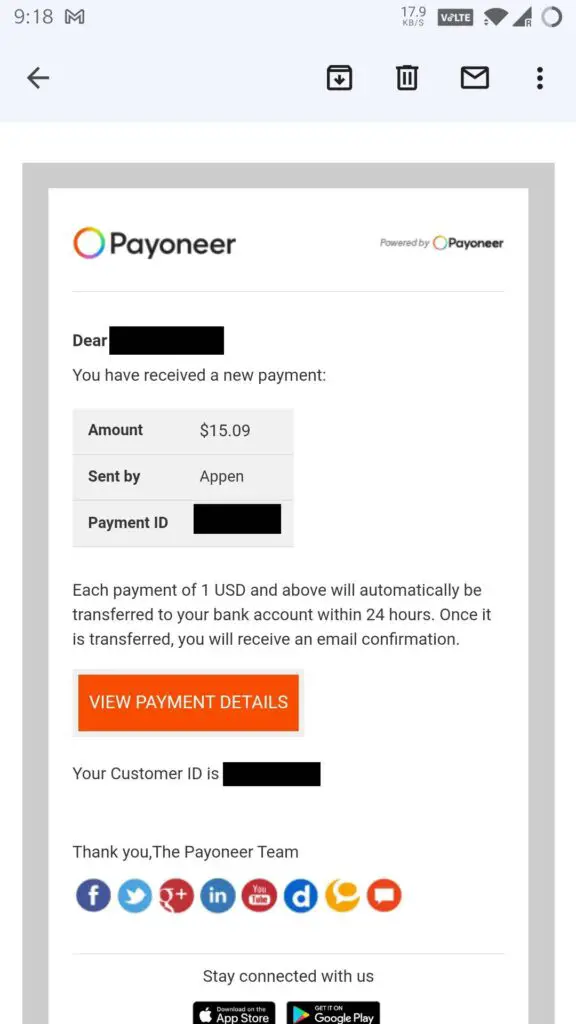 Clickworker
As you all know, Clickworker is one of the best UHRS platforms out there. Lots of hitapps and timely payments. They never default on their payments. The fact that I still receive referral payments from them is a testament that UHRS still works (as I only get paid when my referral earns and receives at least 20$). 
Even though there are reports of UHRS jobs declining with time, you can still get some Hitapps from time to time. Though your earnings are going to be limited, it's the easiest and quickest money you can make online.
Total earned from Clickworker: 81$
Dscout
I have been extremely lucky with Dscout these past months. I have received 9 payments from them, which means I got into one study every month; much better than my average of one study every 3 months.
This money helped a lot, and since Dscout studies are hard to get in, you feel lucky and blessed. But just with every other online job, you cannot depend on it.
Total earned from Dscout was a whopping: 524$.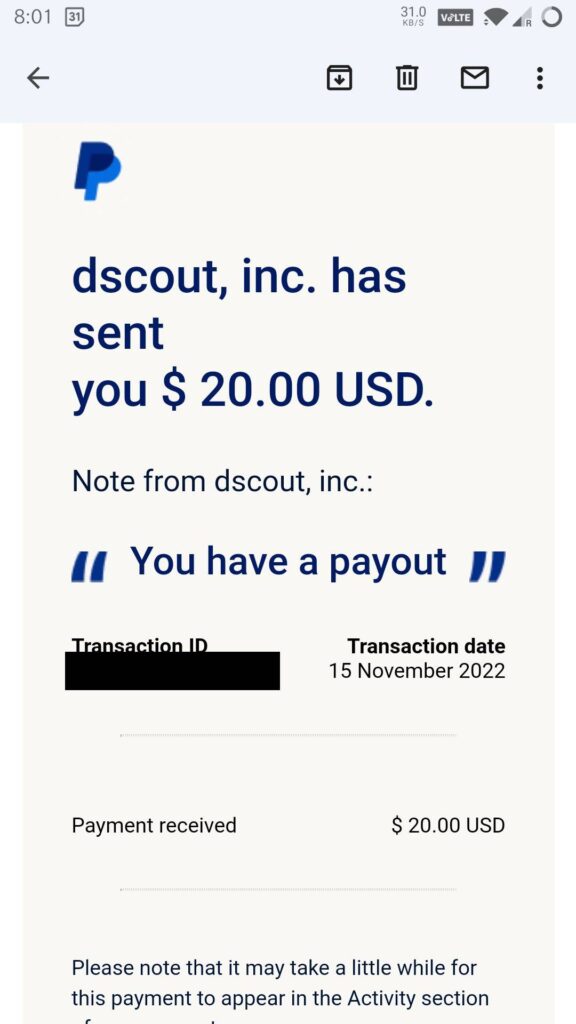 Ezoic 
Ezoic used to be the ads provider on this site. But their ad rates dropped significantly in the beginning of January 2023; blame the recession or whatever. So I switched back to Adsense till I can get into the better paying networks like Mediavine or Adthrive. 
Ezoic used to pay much better earlier, but now it was just paying around 1.5x – 2x of Adsense and bombarded my site with Ads. It also made the site slower.
But Ezoic is still a great way to monetize your website, and is recommended for publishers just starting out. It helped me pay my bills every month. These are some of my last payments from Ezoic, for the time being. 
The total I earned from Ezoic was: 778$. Not bad, really, as it was mostly on autopilot.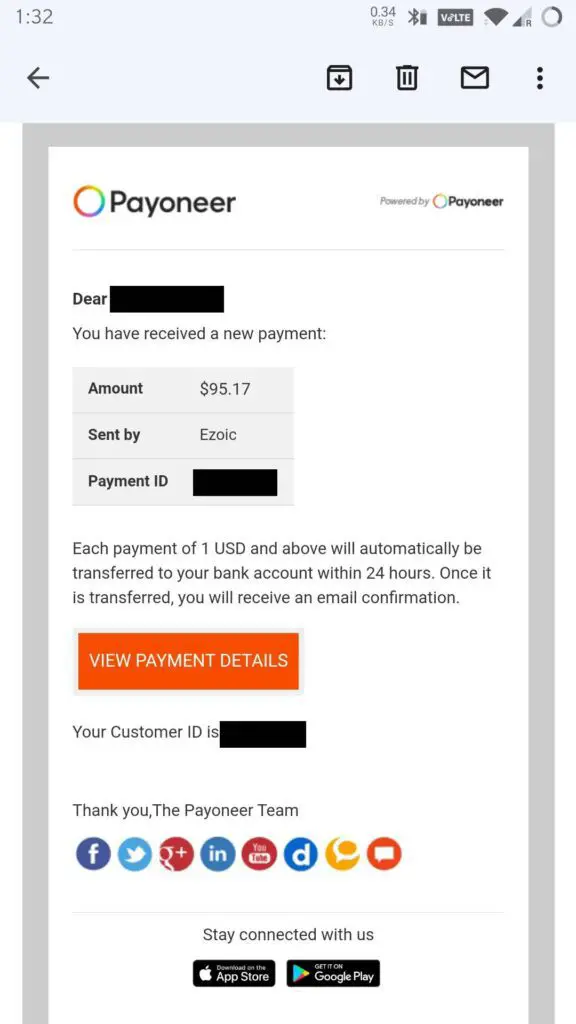 Feedbackity
Just when I start to forget about this site, they throw me a short movie to review. It paid 5$, and though it took a whole hour to watch and review the movie; felt just about right. 
These only come in about once a year, but they are always welcome.
Total earned: 5$ Ka-ching
Neevo
So Neevo had some tasks out of the blue. Luckily, I got into them and was able to make some decent bank from them over 5 days. There were a lot of audio projects during this period across all crowd sites, and seems like Neevo bagged one as well.
Total earned from Neevo: 134$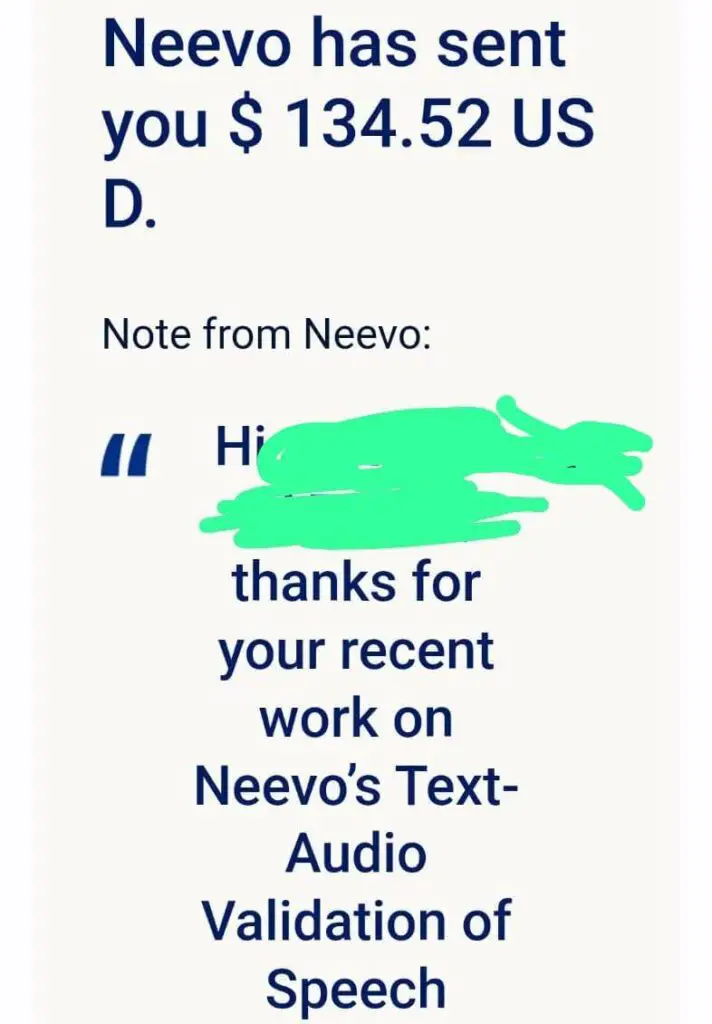 oPrimes
oPrimes too had this audio recording task during that period. It was a pretty straight-forward recording that took around 2 hours to complete in total. They paid directly to my bank account as we are both based in the same country. 
Total earned from oPrimes was: 18$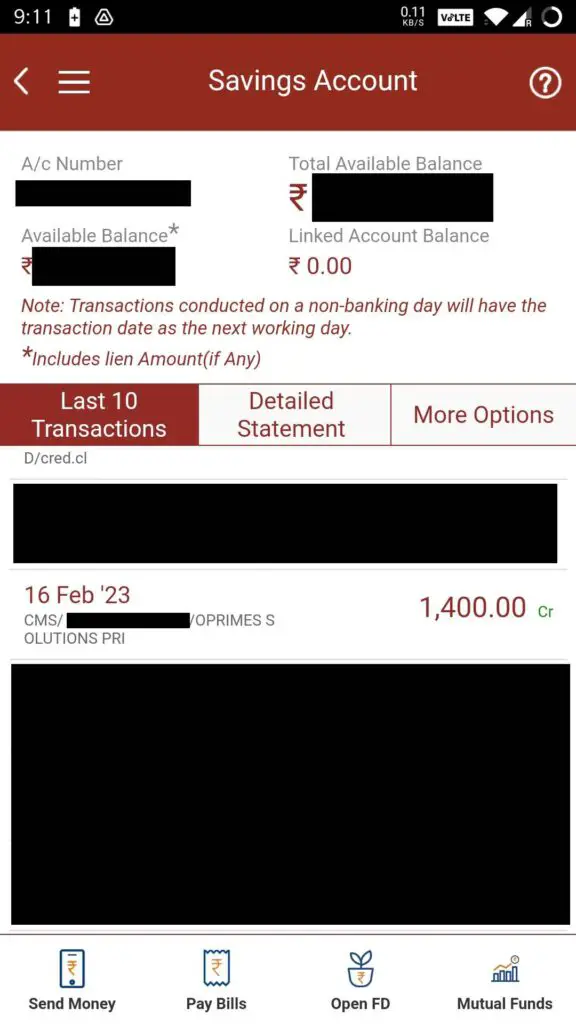 PingPong
I finally got into a PingPong study around 3 years after I signed up. It was a very specific study for which I seemed to be the perfect fit. Maybe I signed up for the right platform at the right time. That's why it makes sense to sign up for as many platforms as you can; though it's impossible to stay active on all of them.
It was around half an hour of user interview and paid 30 Euros.
So total earned from PingPong UX: 30$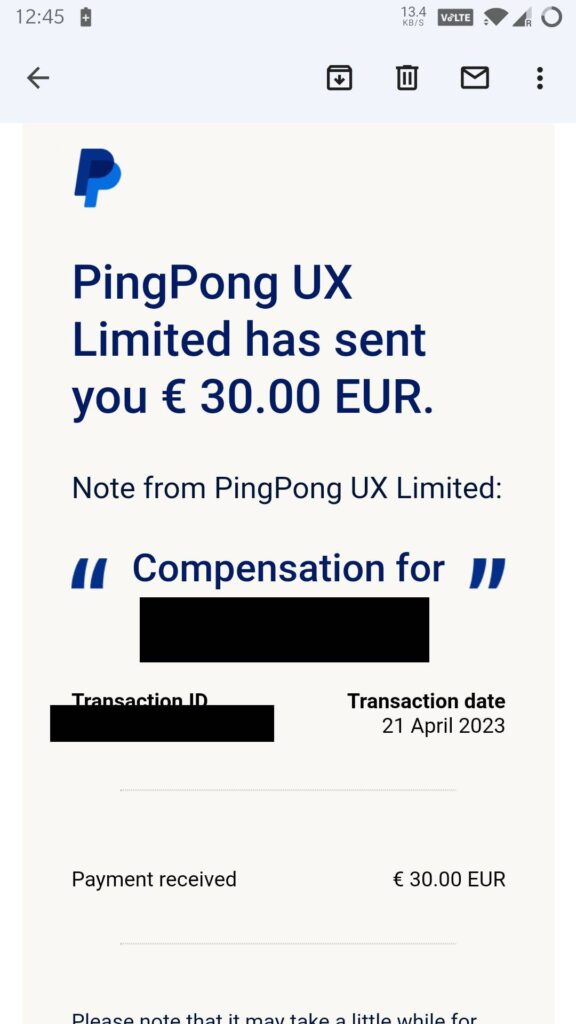 Quadrant Resources
Even though I no longer vouch for Quadrant Resources anymore. I have heard a lot about them defaulting their payments, and they have defaulted on me as well. But they did pay me one time; so credit where credit's due. 
They also paid directly in my bank account as they are based in the same country as mine (unfortunately)
They paid around 5$.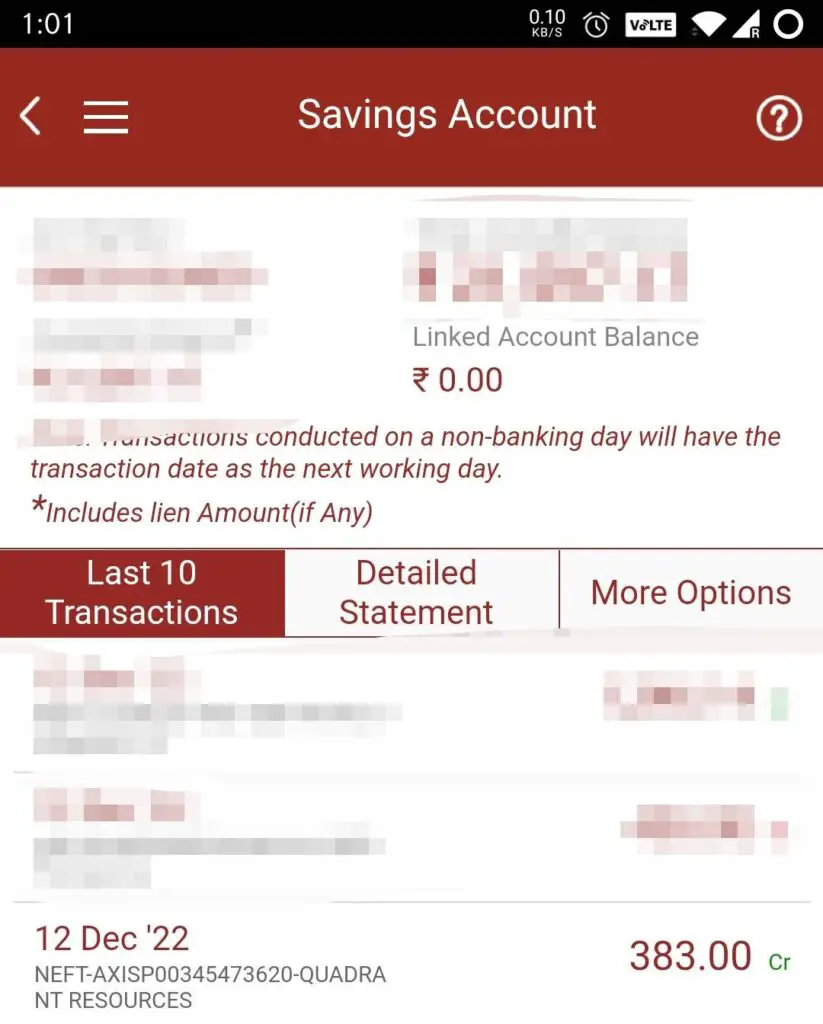 Respondent
Respondent is a tough nut to crack for everyone, mostly because you need to verify your work email from time to time. Thankfully, my domain's custom email address is recognized as a work email, so I am able to fill more screeners on it.
But even with more screeners, I only got lucky twice. Both projects paid a mere 10$, out of which Respondent took another dollar as their "fee". Though there are some really high paying jobs if you are a working professional. 
Plus, you also get paid for referring people to these studies. So if you have a good network as well, you can earn yourself some dough.
I earned a total of 18$ from Respondent.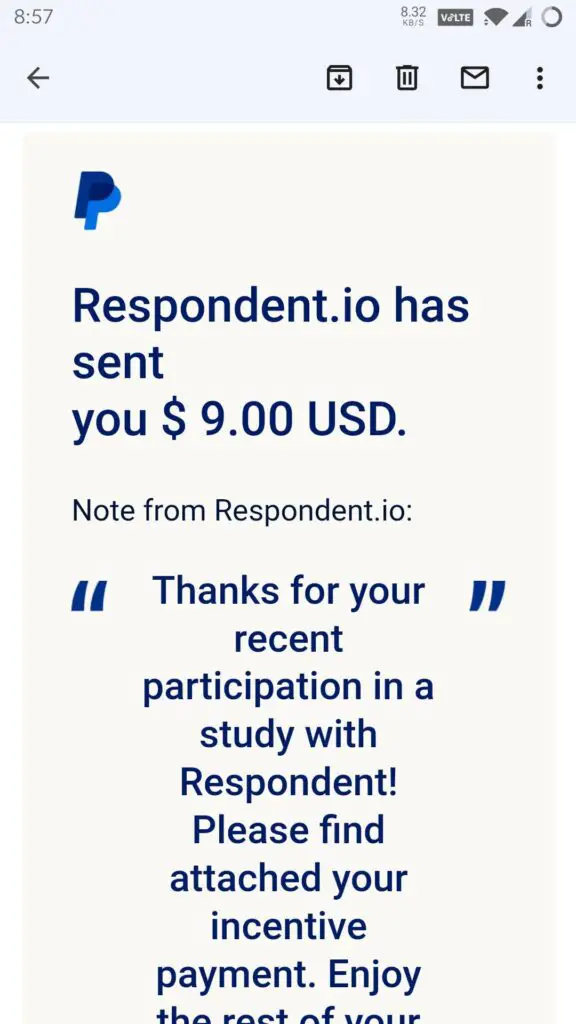 Robson
Robson by Globalme had some very low paying projects on their platform. They paid 3$ for some audio recordings that took an hour in total (including the numerous re-recordings they ask from you). But I had nothing better to do during that time due to which I ended up participating.
Thankfully, they paid after several re-recordings. Earned a measly 6$ in total, but no regrets.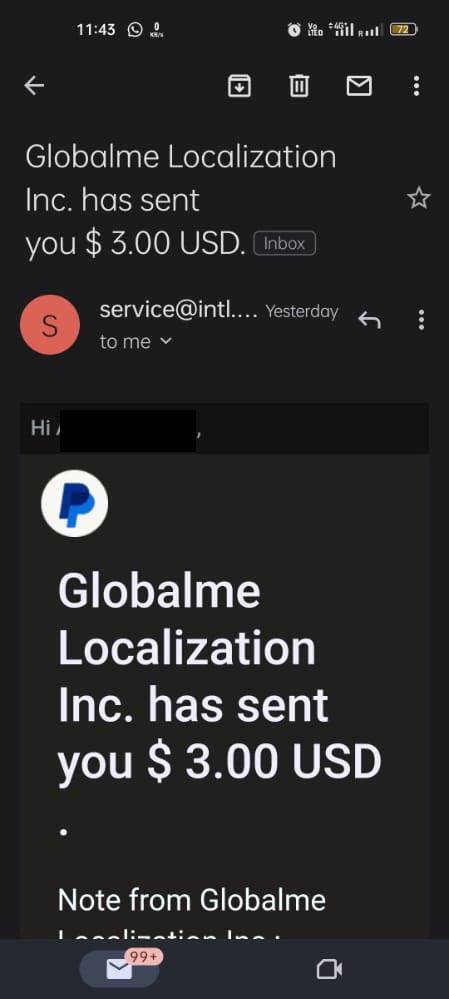 Serpclix
Serpclix are very consistent with the jobs they have, and hence I get regular payments from them (except for one or two odd months). They don't work the same for all countries though. It depends on the value of your country's internet traffic. So people from the middle-east get a lot of jobs on it.
I earned a total of 43$ from Serpclix in this period.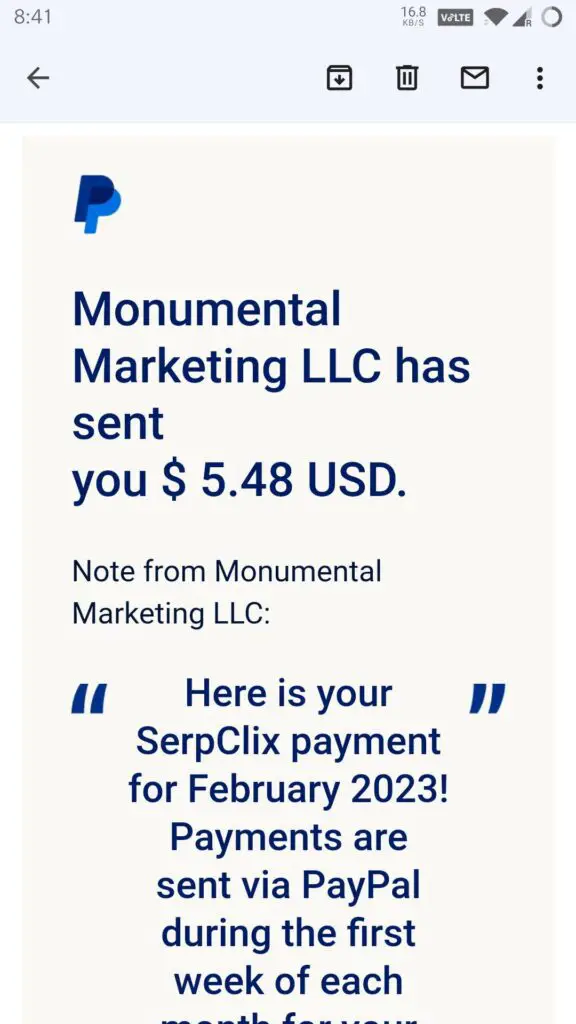 Surveytime
Surveytime is another beer money site that pays you for surveys (only). It's pretty simple and straight-forward, unlike other survey sites which look like fancy casinos (check out Freecash, for example). 
They have a few surveys each month, and every survey pays a flat 1$. No fancy points or weird payment modes. Flat 1$ for each survey, that's it.
I earned a total of 23$ from it in this period.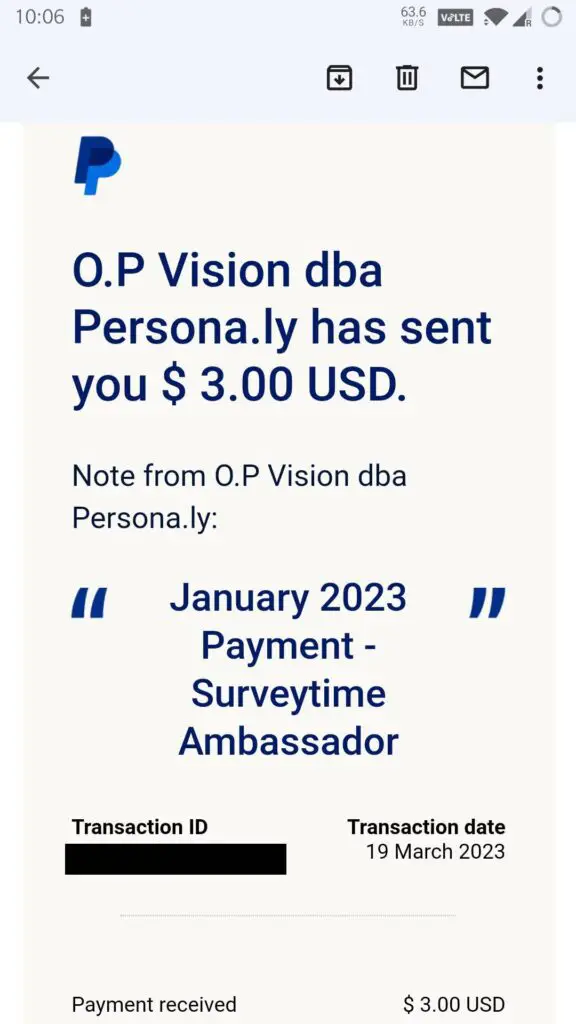 TELUS AI
TELUS AI switched their payments to a new platform somewhere in April. Before that, I was only able to get 3 payments from them which was for some data collection tasks and the mystery shopping project. Their payments now come directly to the bank account through HyperWallet (a Paypal company, apparently) and I forgot to take those screenshots.
So I earned around 114$ in that period, 90$ of which is the mystery shopping reimbursement.
Testable Minds
Testable Minds is my lucky charm. I am always able to get into some studies from time to time even though they are super rare. Plus, they regularly pay me whenever my referrals get their first payment. Even though they don't have a lot of work, I love their honesty and ethics.
So definitely give this one a try.
I earned a total of 68$ from Testable Minds.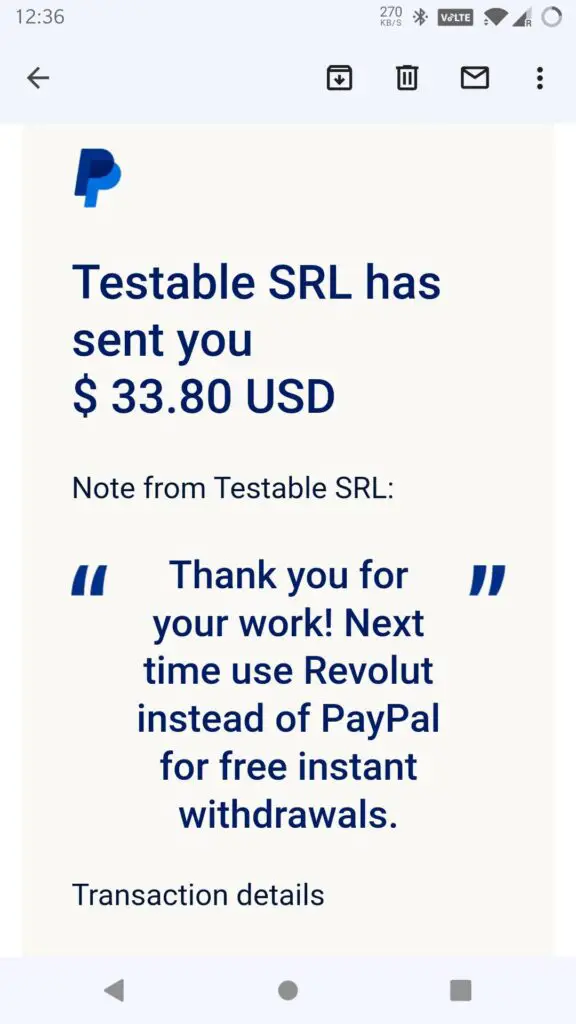 Test IO
My regular readers know how much I love companies based in Europe. Test IO is a lesser known testing platform, based in Europe. They have a lot of nice projects to work on from time to time, and are regular with their payments.
If you are into functional testing and bug bounty hunting, Test IO should definitely be on your list. 
There are 3 initial tests you need to pass before you are considered for their paid projects. Check out the tips I have given in the review to clear that.
I earned a total of 130$ from Test IO during this period.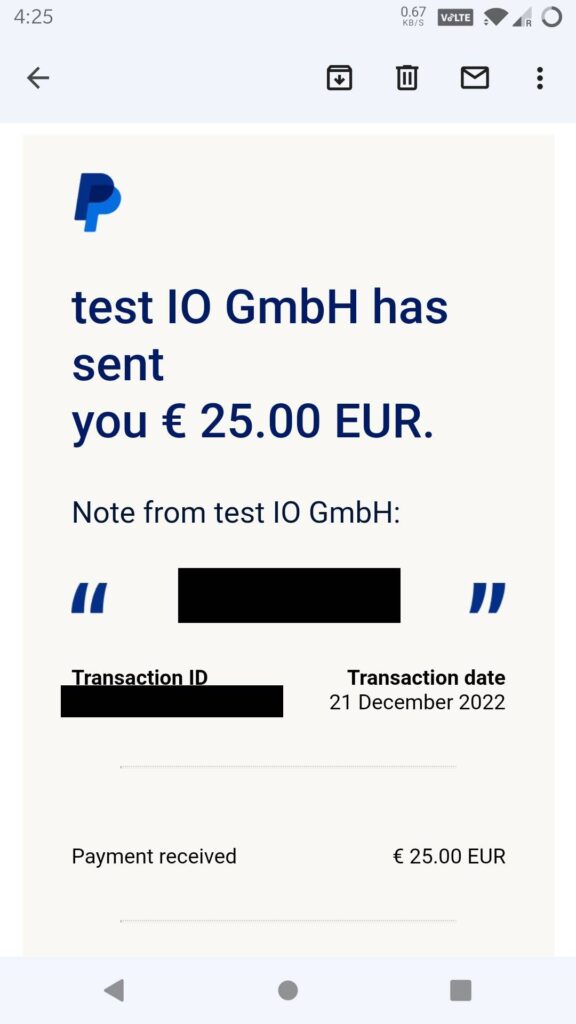 Testlio
Testlio is another great functional testing platform, that has the most user-friendly interface. They revamped their platform in December 2022 and I was a tester for it. Do give it a try and if you pass their initial tests, there are a lot of interesting opportunities over there.
I earned a total of 50$ from Testlio during this time.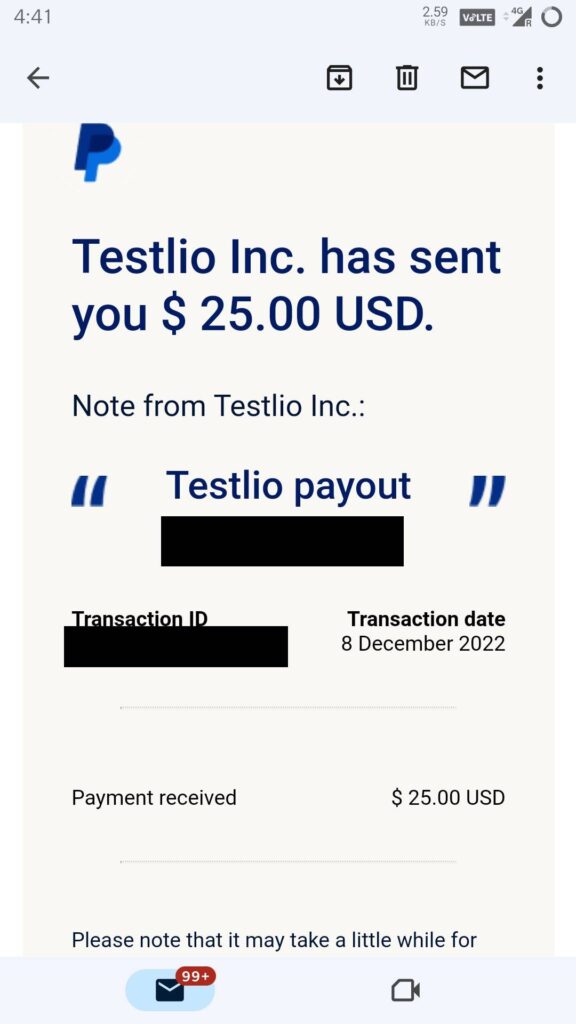 URI Research
URI Research is another user study platform I found. I am yet to write a review on it. They paid me 7$ for filling in my profile and a survey. But since then, I have filled numerous screeners, but never cleared any of them. It seems like they have a very limited number of slots, due to which it is difficult. I keep trying, though.
So a total of 7$ from URI Research (pays by the name of Tremendous).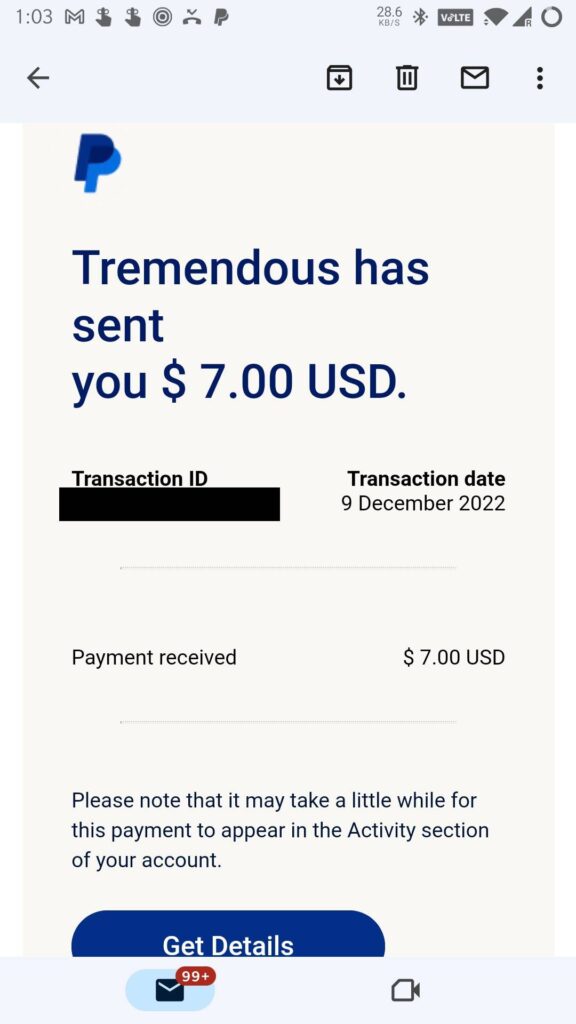 UserCrowd
This one is special for me. I knew Usercrowd was a legit platform since it was recommended to me personally. They pay a small amount for quick 1-2 minute surveys, so I never hesitate to participate. It's just about responding as quickly as possible before the slots get filled.
They only send one or two survey a month, and you need to respond ASAP to get in. It took me 1.5 years to be able to earn enough to reach their payout limit, that is 10$. But I finally made it. Patience and Perseverence.
I earned a total of 11$ from Usercrowd in 1.5 years!!!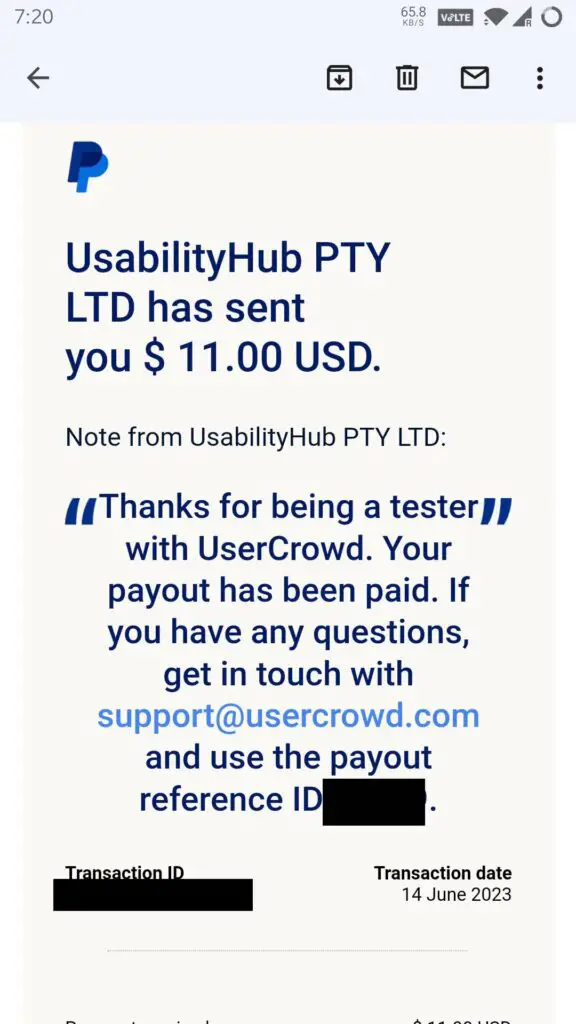 Usertesting
Usertesting continues to be my most consistent source of income. I stopped in January, though, as I took 2 contract-based jobs where I was working 12 hours a day. I restarted around April. And this does not include all the payments. 
The payment proofs here account for 98$, but I actually earned around 420$ during this period. I did not get into a lot of Live Conversations, though.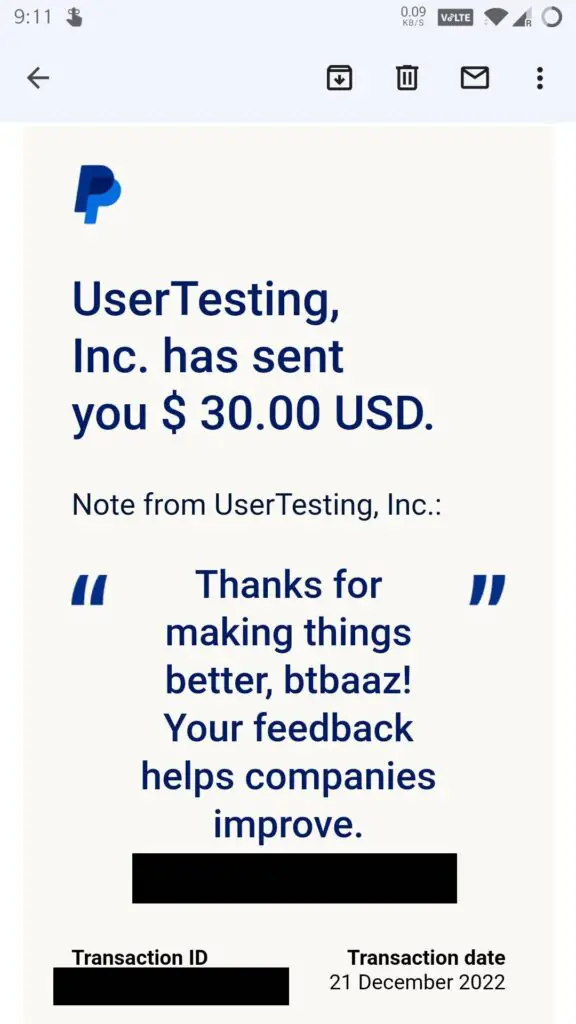 uTest
uTest is one of the major functional testing site, with a lot of projects available worldwide. But it's functional testing payrate is kind of low, due to which I only do their test case tests.
They also have data collection projects from time to time as well. 
I earned around 15$ from uTest during this time.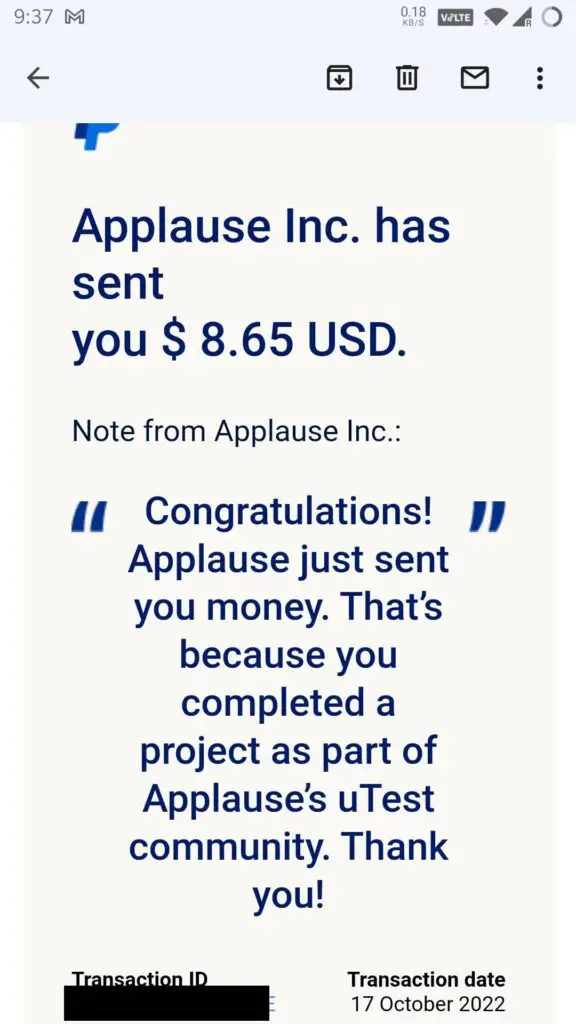 ySense
ySense is another beer money or survey site, whatever you call it. Did some surveys, and earned enough for a Paypal payout in several months.
Got 10$ from ySense as well.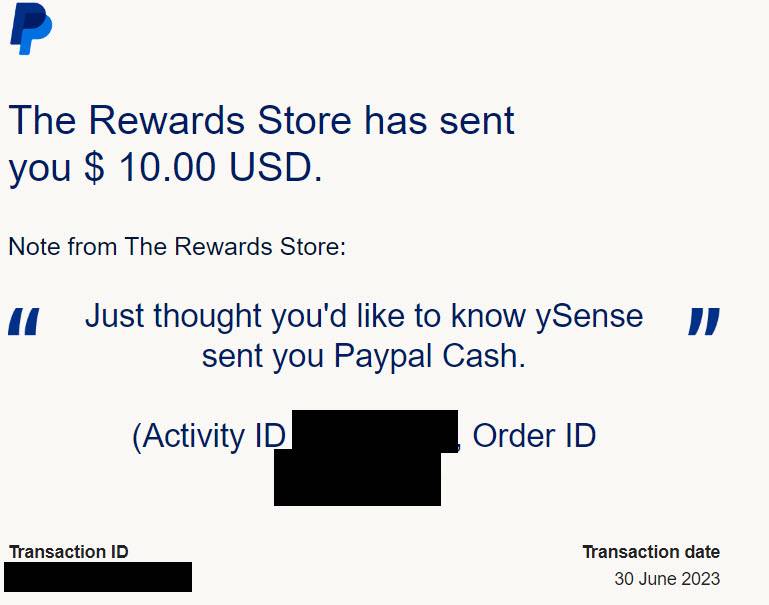 That's it. Stay tuned for some new type of content. 
Fin.
Some more reading you might be interested in…