Last Updated on September 22, 2022
Update: Before we begin, let me inform you that Quadrant Resource has had several issues with their payments in the past. Even though there is no report of them defaulting on any payment, I would still proceed with caution.
There is no shortage of contractors available for getting UHRS work. But the only problem remains that several of them (like Oneforma, Teemwork) does not have much work available in the form of Hitapps.
So far, the best platform/contractor with the most number of Hitapps at any given time used to be Clickworker. But now, we finally have a proper competitor for it, that goes by the name of Quadrant Resource.
About Quadrant Resource 😕
Quadrant Resource is a technology company, founded in 2004 that works on Big Data, AI, and Machine Learning among many other fields.
It has recently launched a Crowdsourcing Project, through which it is offering UHRS access to people around the world.
You work on various Hitapps on the UHRS platform, and you will be credited for that work in your Quadrant Resource account.
How do I signup and start working at Quadrant Resource? 🏢
Signing up for Quadrant Resource is quick and easy.
Go to their Crowd Website and click on the Signup link at the top right.

Fill up the registration form with your details and verify your email address.

Now login to their dashboard, and fill in your profile data (such as hobbies, work experience, etc.). You need to fill your profile at least 70% to proceed further.

Now you will unlock the UHRS assessment. It's a simple assessment consisting of 15 English language questions. Even a 10-year-old can pass it in the first attempt.
Now you need to create an outlook account according to their given credentials. Go to signup.live.com to create one. After creating the account, confirm it with the OTP.
You will receive a mail saying that UHRS access has been granted to you. Now login to UHRS using your newly created Outlook Account and begin working.

Another great thing about Quadrant Resource is that they instantly grant you access to UHRS (just like Datamime), so you can begin earning right away.
How much can I earn from QR and how will I get paid? 💸
Your earnings on QR depend on the work you do on UHRS. One great thing about Quadrant Resource (as of now) is that it has lots of Hitapps to work on (sometimes even more than Clickworker).
Having a lot of work available means that you can actually earn a full-time income (if you dedicate enough time to it).
You can earn between 5$/hour to 20$/hour from it depending on your country and the Hitapps available to you.
Your earnings of UHRS will be paid by Quadrant Resource to you at the end of the month. There are two payment methods available to you (which depend on your country), ie, Paypal and Bank Transfer (or UPI transfer).
Workers from the US need to opt for Paypal and need to submit a W9 document for tax purposes.
Quadrant Resource Payment Proof
Quadrant Resource has only recently started offering UHRS work and looks like a very similar implementation to Datamime.
There are no Paypal payment proofs by Quadrant Resource available for now, but it is a legit company for sure.
Besides, all the companies that have partnered with UHRS never default on payments. So you can be assured that you will definitely be paid.
Do share your Paypal payment proof with us so that we can upload it on our site.
Here is the Bank Transfer Payment Proof for Quadrant Resource: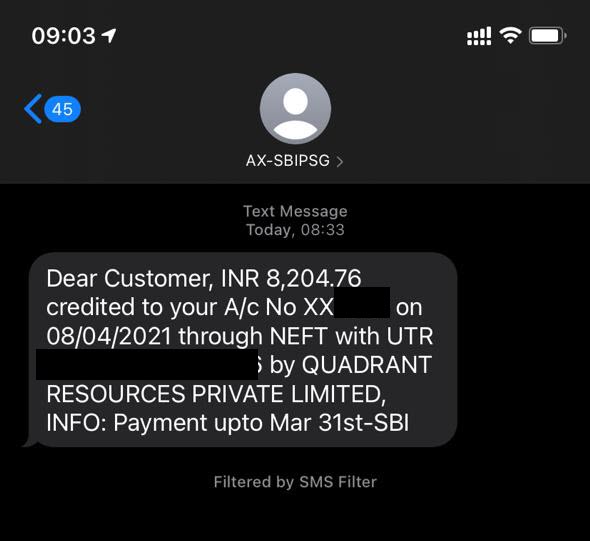 I hope that you have resolved any doubts you had regarding the legitimacy of Quadrant Resources.
The Payment Issues Faced by QR (An update)
Over the course of last year, there have been several reports on various forums about Quadrant Resource not paying it's workers on time. 
Infact, one of their payments was delayed by 60 days.
There haven't been any such complaints in the recent days, due to which I think they have since figured out their payment process.
More Reading for you…