Last Updated on June 13, 2022
As a part of our remote jobs series and guide, we decided to bring you opportunities that can help you become a freelance editor. If you have a good grasp of grammar and are a sucker for orderly content, then it is the right choice for you.
But do you feel that you may not have enough experience to impress your clients?
Forget about that issue. This article is the solution to it. We have streamlined what it takes to become a successful freelance editor, secure clients, and make a living from home without breaking a sweat.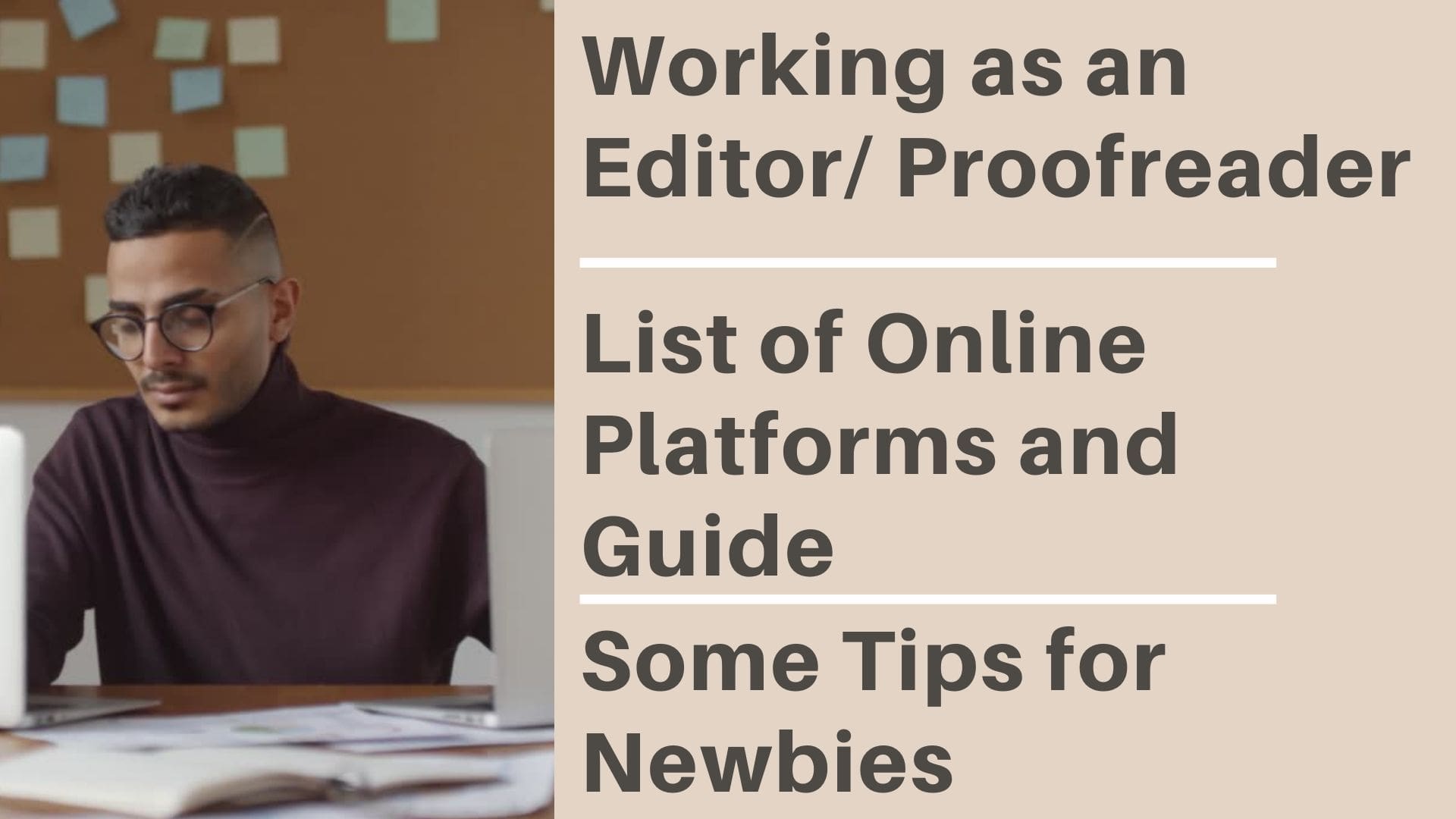 Is working as a Freelance Editor right for me?
You might wonder, why choose freelancing in the first place when there are other options?
That is because you get to have the ultimate control of your life. Unlike a regular 9 to 5 employee, you are your own boss and get to work on your time frame.
Content editing is the best stop for anyone new to freelancing. Here are the top 3 reasons to become a freelance content editor:
Most freelance editing jobs are short term gigs. That means you can work on multiple gigs at the same time, bringing in more money.
Freelance editors do not need to develop content. This makes your job easier than freelance content writers who have to churn out new content every day.
Being a freelance content editor, you can also switch content writing, copywriting, and proofreading roles. These require simple skills to add on and once that is done, you are a complete package.
What skills do I need to become a Freelance Editor/Proofreader?
Although the role of a freelance editor is quite simple, you still need to be efficient to become the top 1 percent. 
How can you become the most sought-after online editor that people want to hire for their projects?
But there is one thing you absolutely need to know if you want to become a editor/proofreader. It will be a requirement of all the platforms (listed below) that you join.

You need to know how to use the "Track changes" feature in MS Word (2013 or above).
Here is a simple video you can watch to learn it:
Secondly, since they have clients for different levels of academic discipline, you should be able to offer your services as required. Thus, knowledge of various formatting styles is vital. Mastering APA, MLA, AP, CMS, CSE, Chicago, and Turabian is necessary. 
If you have no idea about what the above terms mean, you should probably learn about them.
Different types of papers/articles use different formatting styles. You will be informed of the style that you are required to edit in. The best article I found explaining the quirks and differences between these styles is from Wordvice.
Apart from that, it goes without saying that you need a good command over the English language.
Here are some simple things you can do right now to gear up:
Improve your grammar and vocabulary. As humans, our conversations consist of repetitive use of words but editors like you are an exception. The stronger your English, the easier for you to get clients.
Learn to pitch a proposal and start crafting cover letters. The only way to stand out from 40 other bidders is to showcase what you have to offer that others can't.
Dig deep under a domain of your choice. Get deep insight and training from the industry's best editors. These Udemy courses give you the top courses for editors under different domains. If you are looking for something free, check out this Youtube Playlist from Khan Academy.
3 Best Platforms For Freelance Editing & Proofreading Gigs
These two were the only platforms that accepted applications from all over the world. Scroll to the end of the article for 4 more platforms for these jobs, which might work for you depending upon your location.
Unlike Upwork, Freelancer, and other top freelance platforms, we have brought two different platforms that are more than just a gig posting platform. Find out what these two have to offer, how to apply, and how much they pay you.
Scribendi
A professional company that offers online editing services, Scribendi has been in the game for over 20 years.
Requirements
Impeccable command of English. 
Prior work experience as an editor for at least 3 years.
A university degree in any field.
Knowledge of style guides would be a great plus.
In addition to the above requirements, you know that you will work remotely from anywhere you want. That makes a computer with a solid internet connection and MS word quintessential. 
To get paid, you would want to have PayPal or other payment services as you will be paid in dollars.
How to apply
Go to Scribendi's careers page.
You will find their freelance editor/proofreader position and the description. Click the "Apply now" button at the bottom.
You will land on a page like this.

From there, you will be asked to answer a series of questions that were mentioned in the requirements. Once you get through that, you will land on another page.
You will have to provide your educational qualifications, three people as references, your previous employer, the domain you have expertise in, and finally the terms and conditions.
Once that is done, you have to attend a 15-minute test to check your expertise in editing. This test consists of 10 questions that are primarily on editing, proofreading, and sentence correction. In unfortunate circumstances, if you cannot get through the test, you can take it again after 6 months.

If you pass the test, an email with 4 types of documents will be sent to you from Scribendi. It is a three-hour editing process. Finish it and send them back. If you clear this test, you get into the company and take up projects.
Pros
Most people recommend Scribendi because of the quality they expect from editors like you. If you can deliver for Scribendi, you can deliver for most of the top companies out in the market.
The fellow remote editors are friendly and are ready to help you. This is where you should network and stay connected. This is bread and butter when it comes to freelancing.
The work schedule is in your favor. You have control over the projects you want to work on and you can turn down one if it goes outside your preferences.
They also offer Karma points which are extra pay for the projects that were not taken up for a long time. That means if you are the person who can come up with the right solution, you get extra cash.
Cons
Glassdoor offers 2.9/5 which is technically an average score. That is because of the insane expectations they have with their freelance editors. If you cannot deliver what they expect(which is high-quality edited content with an editing speed of 1000 words an hour) you cannot sustain there.
There is no training offered for remote freelance editors. Although their expectations are high, editors do not get any training once they start working on projects. Many have suggested this but it seems the organization has turned a blind eye.
Payscale
The advantage for freelance editors is the variable compensation you get. The more projects you finish, the more you earn. With Scribendi, editors make around $20 an hour, which is fine for newbies but not so great for the seasoned veterans.
Proofed
Similar to Scribendi, Proofed is another company offering proofreading and editing services. But wait. There is more. 
Get trained by Proofed
Do you feel that you may not have enough experience under your belt to win clients? Chill out.
Proofed trains you and assures you of guaranteed work. With 10 well-rounded modules with a final assessment, the proofreading course in the Proofed Academy covers 40 hours.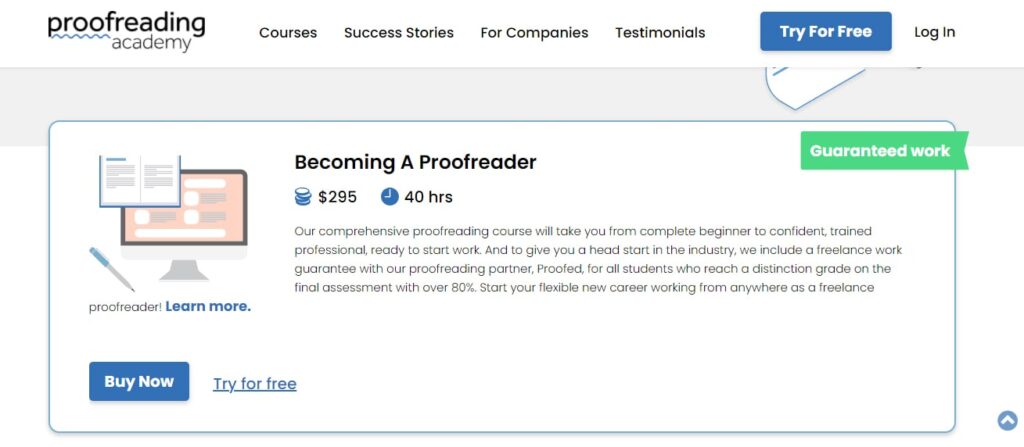 If you find the proofreading course expensive, they have three other courses that focus on niches of business and academic proofreading.
Requirements
Since they take you in based on your resume, the requirements are pretty simple. You must have a degree in a relevant field from a recognized university. They have partnered with Stripe for payments so you may have to get Stripe set up for your paychecks.
How to apply
Go to the Proofed careers page.
You will find a simple form to fill in your basic details.

The application depends on how good your resume and your cover letter is. If you get through, you will be given a simple test and a set of instructions to carry out the test.

By clearing the test you will be taken in as a freelance proofreader/editor for Proofed.
If they turn your application down, do not walk away. Proofed will assign you a mentor to help you when you take up the Proofreading course.
Pros
The support you get from the senior team will make you feel comfortable. Like any other freelancer, you will have the best work from home experience and will not be bombarded with messages on updates and responses.
If you can finish the work in time, you can expect to get more projects in the long run.
Cons
The industry is extremely competitive and you have to level up once you get into the company. Staying stagnant is not an option.
Some feel that their proofreading course is expensive but you still have three other courses that are relatively affordable.
Proofreading Pal
Similar Proofreading Pal is a website that employs freelancers to proofread and edit documents, paying by the timeline, word count, and proofreader level. 
At proofreading Pal, you have the liberty to choose from a variety of jobs. The site also allows you to work as a full-time or part-time employee. The ball is in your court.
They have consistent jobs that update by the hour. They pay 0.5$-1.5$ per 100 words, and claim that their editors earn 500-2000$/month on average.
How to apply
Filling the form at their career page is a lengthy process. They ask for several types of information, which can get a little overwhelming. But the fact that it is a one-step process makes it a bit better.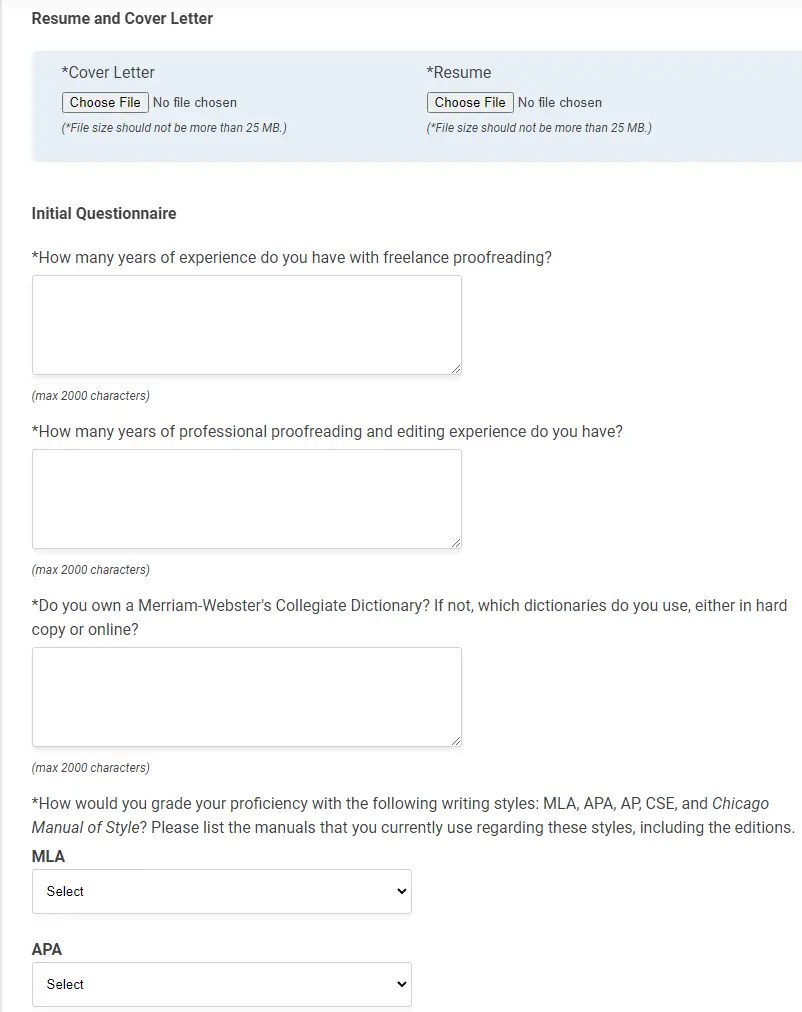 Provide your basic information like Name, Contact Info, etc.
Upload your resume and cover letter (try including any previous proofreading/editing experience if you have it)
Then briefly describe your previous freelancing and professional proofreading experience (if any).
Rate your proficiency level in different formatting styles (APA, MLA, Chicago Style, etc.) This goes without saying that their knowledge is necessary.
Finally, tell them your expected pay rate and inform them of any other languages that you know.
Fill all this, and submit your application.
Pros
Accepts Worldwide. Jobs update every hour.
Cons
Their payrate is below industry standards. Hence it is more suited for beginners.
4 More Platforms to Help You Become a Freelance Editor
While researching for these types of jobs, I came across 3 more legit platforms that people use to get Freelance Editing and Proofreading jobs.
However, I was not allowed to signup on these platforms as I hail from a country they don't support yet. If you belong to a different country, you can try out these websites as they have lots of good reviews and recommendations online:
They don't require you to have any professional editing experience beforehand, so it's the most approachable option for beginners.
Payrate: 20 to 25 Euros per hour.
They require you have 2 years of professional experience before applying. Also, they want you to have a bachelor's degree or be enrolled in a graduate program before applying.
Payrate: 25$ an hour, but varies depending on how you perform in the test and your skill level.
They don't require any formal editing experience to apply, so that's good. But they require you to be a "cultural fit", which is determined through their interview process.
Payrate: 20 to 25$ an hour (According to Glassdoor)
No prior experience is required, but you need to pass a 45 minute language quiz. A bachelor's degree in any subject "from a a well-respected American, British, or English-speaking university" is expected.
Pay rate: 12$ per 1000 words
A Few Tips For Budding Freelance Editors
Being a freelancer will look like you are sleeping on a bed of roses to others but you are in for a serious load of problems down the road. Keep these simple tips in mind while applying, working, and getting paid for your work.
Stay consistent in your approach. Do not stop just because your last 8 applications got rejected.
Learn to cold pitch clients. Random cover letters get rejected immediately and crafting the one that reflects their needs have the most chances of getting selected.
Go solo rather than choosing a freelancing platform. You can save a lot of money and avoid paying for their services which is quite a lot. 
Remember that it is a marathon. The longer you do this, the more seasoned you will become in the field and you will find what works for you only when you stay in the field for a few years.
Some more reading you might be interested in
Have you ever participated in a large community, managed by various mods? Well, this website pays you to mod such communities online.

ICUC Social offers various types of social media management and community moderation services. They have remote openings all the time.

This platform offers Proofreading services for clients across the globe. You can earn 19-46$/hour working for them.