Proofreading is one of the best-paying jobs in the current times. Proofreadingservices.com is among the top companies that offer opportunities for remote proofreaders across the globe. The company has been operational since 2011, with its highest-paid proofreader being paid $2500 monthly. 
You can apply to the site if you are excellent at getting those typos and spelling errors. It offers both full-time and part-time offers. They have a 20-minute preliminary test you must complete during the application process. Besides, they have a straightforward sign-up process. 
The site also offers proofreading training. They do advise you to email their test support for necessary training before you can apply for their job. 
What is ProofReading and What is ProofReadingServices.com?
Proofreading is checking for a text's errors, spelling mistakes, bad punctuation, and grammar issues. Editing is very different from proofreading since it covers the aspects of the former and improves the text content giving it a flow and a voice.  
At proofreadingservices.com, you deal with written documents from job seekers, authors, and other business individuals across the globe. 
The company is a legit business with its headquarters based in California. Despite its location, they hire individuals from all around the world. According to the company portfolio, they have proofread more than 10000 documents with clients from more than 100 countries. 
Their customer service has been satisfactory to prominent clients such as Harvard University, IBM, Cambridge University, Pearson, and Vogue, among other institutions. 
At profreadinservices.com, you are offered more than 25 services that can generate an income. Some include resume writing, translation, transcription, eBook formatting, cover design, and plagiarism check. 
The Signup Process of ProofReadingServices (involves a 20-minute test)
Several proofreading websites expect one to have impeccable English skills, a degree, and keen attention-to-detail. However, at proofreadingservices.com, they are very strict and put a lot of emphasis on their 20-minute evaluation. 
You need to score above 95% to be qualified to work at proofreading services.com. Once you pass the test, you are contacted by their onboarding team for more guidelines and later assigned tasks. The test has multiple questions. Remember to polish your English skills before you start the sign-up process. 
The test is not as easy as you think. Approximately 3 participants in every 50 get to pass. The good thing is that you can retake the test. It is unclear when you can retake the test. You must be patient and wait for the support team to contact you. 
The quiz tests your English skills. It is a timed test, so you must be quick and sharp while answering the tests.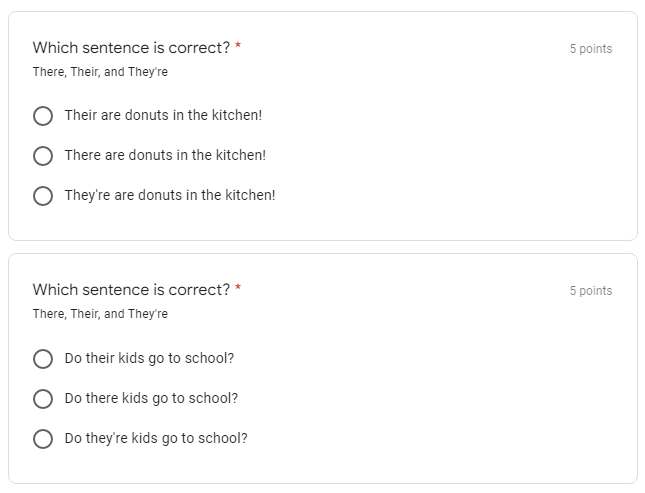 Once you pass the test, you specify your experience in professional proofreading. Previous experience in transcription, writing, or tutoring is a plus. You get to leverage through easily to the consequent step. You must state your position as a proofreader to avoid being hired as a tutor, resume writer, or tutor. 
Now head over to the careers tab and click the apply to be an online proofreader button. The link will direct you to their application page, where you will handle the 20-minute timed test. 

How much can I work and How much will I earn?
The website offers an opportunity for individuals who want to work as part-time or full-time workers. You are advantaged at working the number of hours you want. As such, your hard work dictates your general income. 
The platform offers competitive payments that range from $19 to $46 per hour. Urgent deadlines have better pay, while tasks with minimal urgency offer lower pay rates. 
It is also accommodative in terms of the payment methods it offers. They pay through PayPal, Credit cards that include MasterCard, Discover, Visa, and American Express. They are also willing to pay via check on invoice terms. 
The website is good for retired individuals or people who want low stress from work. It is also suitable for individuals with good English skills but minimal experience. 
The site is legit, according to reviews by other individuals from platforms like Glassdoor. Many people have complimented it for the flexibility and good rates the site offers.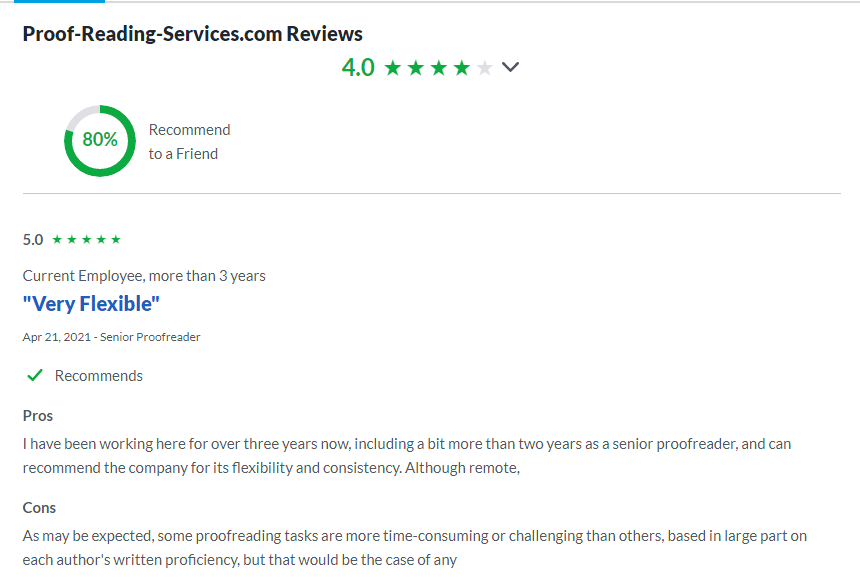 Let's sum it up with the advantages and disadvantages this site offers
Pros about proofreadingservices.com 
Offer competitive process 
Flexible working hours 
Little requirements to be inducted 
Remotely available across the globe
Cons about proofreadingservices.com 
The time test is short with many questions 
Employment is under contract
More Reading for you…