Last Updated on January 14, 2022
Whether it is to make money online or to teach kids for the love of it, online English teaching jobs are a great option.
But to apply and land a job is not that simple. Before even applying, you need to get qualified, understand where you can apply, and pick the right jobs that offer the best compensation.
That is a lot of work. Luckily, this article covers all these aspects for you. Let's start with what it takes to become an online English tutor.
What is ESL/EFL Certification and why does it matter?
English as a second or foreign language is what we refer to as ESL and EFL, respectively. The difference is very subtle. If your country recognizes English as an official language, then you are essentially teaching English as a second language (TESL).
Whereas, if your country does not consider English to be an official language, then you will be teaching it as a foreign language (TEFL).
Once you acquire the ESL certificate, you, as a non-native speaker, are able to demonstrate a high degree of command over English. In short, with ESL certification, English is now your second language.
ESL certification is widely regarded as the benchmark for English teachers in the middle east and Asian countries. Even online or remote job seekers need to show fluency in English to apply for jobs online.
So that's the definition. Let's get into the details.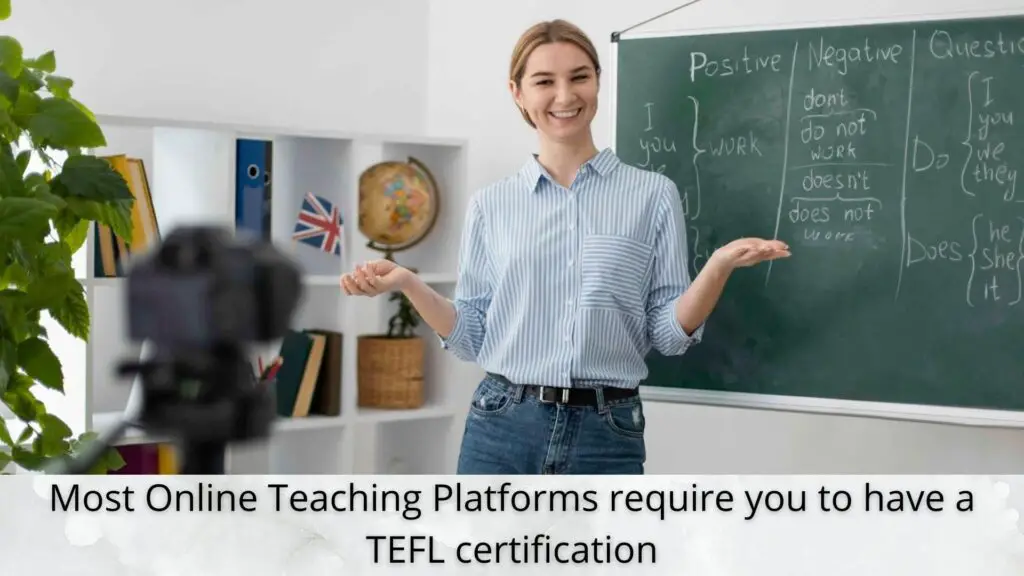 Like a university exam pattern, ESL does not bind to a specific exam pattern. But the online courses have a different approach to teaching.
For example, here is a TESOL certification course from Coursera and a TEFL course from the Asian College of Teachers. Their approach, duration, and curriculum are not the same.
But in the end, you will be ready to take on the test.
Speaking of the test, TEFL or Teaching English as a Foreign Language is the benchmark for all non-native English speakers to qualify.
Everything you need to know about TEFL
Before jumping in, you get the question:
"Why get certified anyway? What's the point?"
Let me address that:
A certification like TEFL gives you an advantage over other job applicants.
You get the chance to negotiate a higher compensation for the same job post.
Unlike other English language certificates, TEFL has a lifetime validity which means you don't need to take up the course again after a few years.
You get worldwide access to jobs, not only from Asian countries but from the West as well.
Some tips to get TEFL Certified
The course from EnjoyTEFL have a detailed content plan that has 7 large sections:
Teaching and Learning: The Principles
Teaching Skills and Managing the Classroom
Language Basics
Planning
Speaking, Writing, Listening, Reading, Grammar, Vocabulary and Pronunciation
Assessing Students and Reflection
60 Hour Teaching English to Young Learners
As the course is for teachers, it will assess your cognitive and affective skills. One of the sections covers the four most important aspects of learning any language. To help you finish them, here are some tips.
Listening
The best tip is to take notes and see how much information you are able to gather. Choose long audio clips like podcasts that will test your attention span.
Reading
While reading, you should focus on developing your vocabulary. Get familiar with the fundamentals and the high-frequency words from different disciplines of academia.
Writing
There is a separate section that covers the basics of grammar. The better you are at grammar, the better your writing becomes.
Grammarly is a free extension you can add to your browser. Once you do that, start writing and Grammar points out where you are going wrong and offers suggestions to make that sentence sound better.
Speaking
Hire a tutor who can keep track of your progress and correct you along the way. You can find tutors who are native speakers online. Cambly is an app that you can download for free and connect with English tutors online.
Apart from the above things, you can also try Duolingo. This app is free to use and helps you learn any language by covering all four of the aspects.
The course syllabus used here is not the same for all the online courses but they cover the same concept to train one to become an English teacher.
When it comes to learning any language, you need to be consistent in your approach. To master all four aspects takes time and so you should put in the work every day.
Where can I apply for Online Teaching Jobs
So you did the work and got certified. Now is your time to shine. There are lots of websites that hire English teachers. Some of them might not even require a TEFL certification.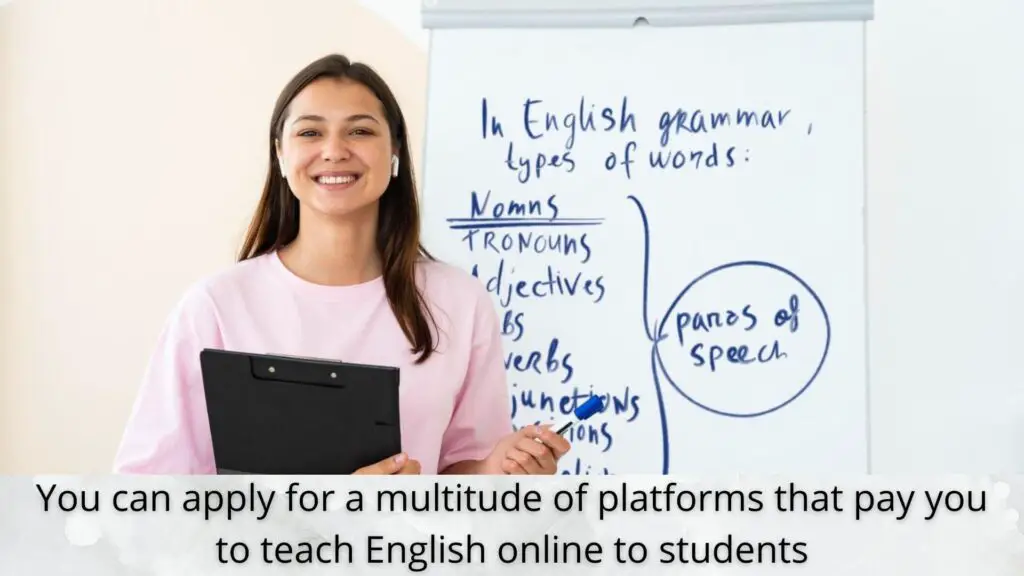 Here are some of the best sites that recruit teachers from all around the world:
The International TEFL Academy offers courses to clear TEFL. Apart from courses, they have other resources that include blogs, videos, and yes, of course, job openings.
To get jobs from the International TEFL Academy, you need to sign up for their brochure. The brochure has the details on the hiring seasons, pay scale, and many more.
Superprof is where tutors can post ads and find clients. You can set the rate/hour and the clients you get depends on how your ad looks. 
Superprof doesn't involve in regulating the payments. So you don't lose a penny in the name of fees. 
AllRight hires English teachers from around the world. Based out of Russia, this company offers online English teaching jobs, with compensation of up to $12 an hour via PayPal.
When you look at their requirements, ALO7 is probably the easiest way to get an online teaching job. They hire you as an independent contractor and can take up to 2 weeks to finalize the job offer.
One of the tutor-friendly platforms, Magic Ears offers you to flexibly book the classes at the time you want. 
They offer classes where you can teach 4 kids at a time and you have the potential to earn up to $26 an hour.
Initially, the pay is low at around $9 an hour but you can achieve points for taking classes. Once you reach 1500 points, you get the highest pay of $26 an hour.
TEFL has by far the most number of English teaching job applications on the list. You can find the type of job you want by using their filters.
Sign up for their daily or weekly newsletter to stay updated on their job openings.
From remote work options to flexible hours to 24X7 support, iTutorGroup offers some of the best online teaching jobs.
The students are of all age groups and the pay scale depends on the group of people and the number of sessions you take. In short, the more, the merrier.
There are a lot more websites that you can sign up for to teach English Online. Check out this page to see a more comprehensive list (note that some platforms have residential requirements and do not accept globally). Here is another such list.
Tips to qualify for your English Teaching Job
Just like any other job, as always, you need to clear the interview. For online tutors, they will try to test you by sending them a video of you taking the class.
It could be for different academic students and if they're impressed, you got yourself a job mate!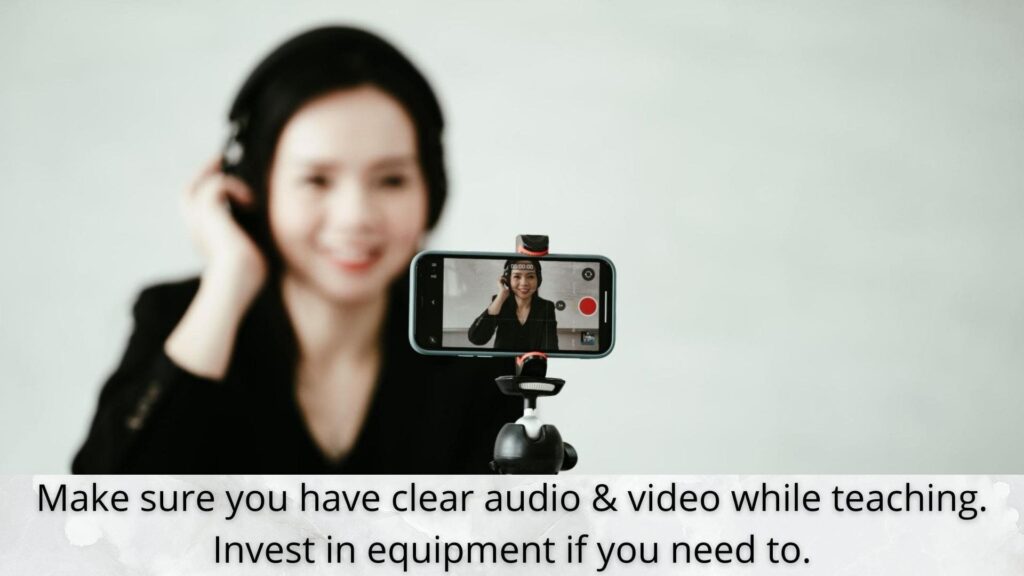 To maximize your chances, here are some tips that can definitely boost your profile above others:
Prepare the course content thoroughly. Their time limit comes secondary. What matters the most is the presentation. So you don't want to be underprepared and fall short.
Be bold and confident while taking the class. A bright environment can help you with that.
The quality of your audio and video comes next. You can record with your phone but a professional camera would be better. You will use that a lot down the line. An external microphone is the best for recorded lectures as it reduces the noise and makes you more audible. (Read: Hacks to improve your audio quality)
Try using a background that is engaging. A plain one would be boring and not having a background at all can be distracting. This one is especially useful if you will be teaching kids. Have a colorful background (use a bedsheet or something), have some props or toys lying around. It should look lively.
Teach kids while standing. When you sit down, it becomes more like a lecture and makes it boring. It's hard to keep the kid's curiosity at an all time high you know?
For recorded classes, it would be even better if you edit them. This helps you rectify mistakes and reduce the length of the video. Trust me, kids like it when you can tell things quicker.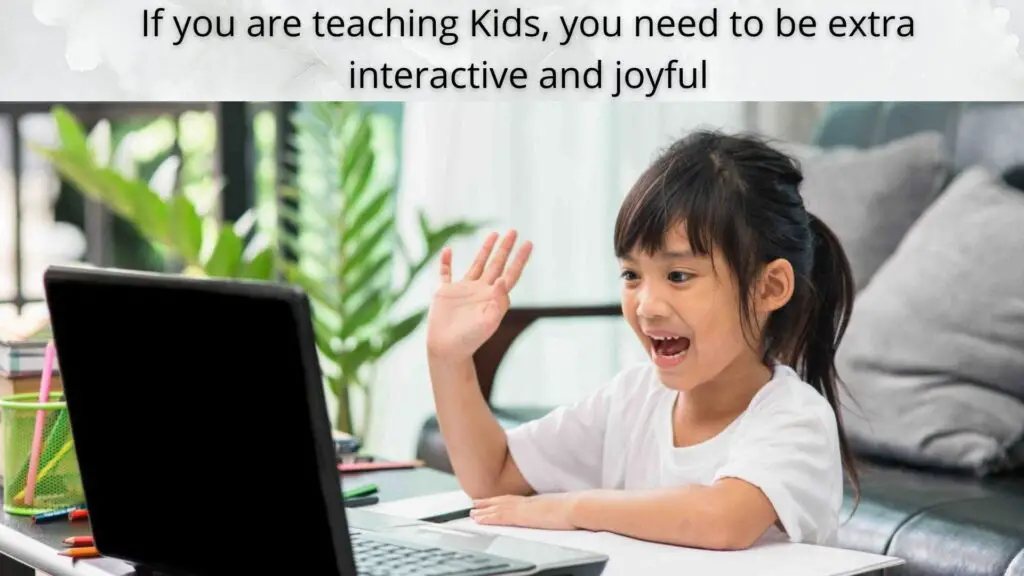 How much can I earn? Is it a full-time income?
If you are a beginner, it will be frustrating in the beginning. Let me explain.
The average pay per hour for new tutors is about $10 – $12 an hour. In the beginning, you will have to put in more hours to build your reputation. On the contrary, the pay isn't that great.
Once you build a solid background (with good reviews and recommendations), you can expect to earn upto $30 to $35 an hour. This depends on your experience, accolades and the hours you put in.
Relying on one job platform might not work. You need to prefer short-term classes and shouldn't stick with the same client for years. Negotiating with long-term clients could be a headache.
China gives a blow to the Industry
The big problem with English tutors is happening in Asian countries. Most of the clients are from China and Southeast Asia and now Shanghai removes English from their final exams.
This might sound trivial but Chinese parents prefer better test scores than their kids being fluent in English. 
The companies, on the other hand, had a dark story to tell.
Stocks listed in Hong Kong and New York dropped to enormous levels by 40%. New companies cannot go public as they are now listed as non-profit organizations, crushing the $100 billion industry.
Gogokid was shut down. VIPKid, QKid, and Landi English reduced their client base in China and revised the rates for their foreign tutors.
But there are more options
Now it's not entirely a bad career option to become an online tutor and teach the most commonly used language in the world.
Being an online tutor is an easy side-gig option. Making a couple of hundred dollars a month by spending a few hours a day is worth it.
To consider this a full-time job, you need to diversify. One thing most online tutors fail to do is sell courses online. This acts as the best source of passive income and gives you extra hours in the day. 
Skillshare and Udemy are easy options where they offer deep insights on how to capitalize their platform to make a career out of it.
Besides, teaching English is a kind of skill that will never go out of demand. So this is something you can do throughout your life.
Some FAQs on Online English Teaching Jobs
There are so many terms and it confuses me. What exactly should I prepare for?
I get it. So let me first explain those confusing terms to you.
ESL is English as a Second Language and EFL is English as a Foreign Language. You would've also heard about IELTS which is the International English Language Testing System. 
IELTS and TOEFL, Test of English as a Foreign Language, lean towards students who want to get into universities. TEFL which is Teaching English as a foreign Language is what job seekers like you should focus on.
Are non-native speakers at a disadvantage?
TEFL empowers non-native speakers to apply for English teaching jobs and compete with fellow native speakers. 
But, there are companies who prefer native speakers. They even mention that they want them to be residing in the United States or United Kingdom.
So, yes, it is not a level playing field but you can still find openings from the websites mentioned above.
Are most online English job platforms scam?
Finding authentic job platforms is not difficult at all. But the exceptions exist. Avoid choosing random job gigs that you find on social media. 
They get the work from you but never pay in return. You don't want to be one of their victims.
In the end, being an online tutor is a great side-hustle. Once you clear TEFL, your chances of getting gigs become higher. But to turn that into a reliable full-time job, you have to put in the work.
If you enjoy organizing trips for your friends and family, then you should look into becoming a remote travel agent. The tourism industry is full of opportunities.

Welocalize deals with translation and transcreation work. There are various part-time contract based jobs for people all over the world.

Here's a list of the types of work I have seen people do online and make money. Check out the different jobs that you can do online.