Last Updated on January 14, 2022
Most of you guys already know about Clickworker and how it is the best platform for accessing UHRS jobs. But apart from UHRS, Clickworker also allows you to work on a variety of other jobs (mostly data collection).
How to participate in non-UHRS tasks through Clickworker?
From time to time, Clickworker has various data collection tasks, surveys, voice recording tasks and bonus contests available. To check the tasks available to you, log in to your Clickworker dashboard and check the various tasks in the list.
You might even receive promotional emails regarding some of them. Several of these are exclusive to the clickworker mobile app. Download links for both versions of the app are listed below:
You can even get content writing jobs in Clickworker. But you need to clear the Writing Assessment first. Go to Dashboard > Assessments to participate.
Since joining, I have participated in several interesting data collection projects. And I see that they consistently have new tasks for everyone. They even run raffles and contests (mostly during holiday season) where you can earn some bonus income if you are lucky.
How much can I earn by participating in tasks on the App?
Even though UHRS is the most lucrative work available on Clickworker, I have earned an additional 150$ from participating in Data collection tasks alone.
I have participated in image collection tasks that have paid 0.5$ – 2.5$ per image, video collection tasks worth 20$ and even various voice recording tasks and game surveys.
But these tasks don't appear as often, I have earned this amount over the course of an year. That's why I consider the Clickworker app as just a beer money income source.
Clickworker App Payment Proof
Here is my most recent payment from Clickworker that I got for doing 2 voice recording tasks for them.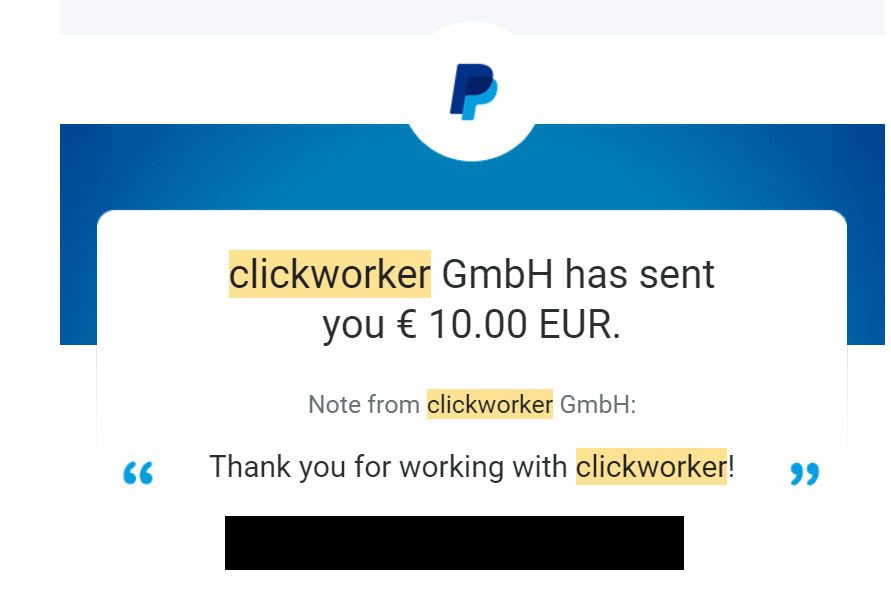 Received this payment in August 2021.
So keep an eye on the Clickworker app as they give much better rates than Appen for their data collection projects.
More Earning Sites for you…