Last Updated on September 8, 2021
Do you know that the upsurge in the usage of apps, and the increased focus on the UX of these websites and apps have unlocked a whole different way of making some quick bucks on the internet? Some companies take the design and UX of their websites/apps so seriously that they offer small "testing" groups to use their services, and discuss their functionality and experience with them.
This helps them get a different perspective on their product and makes their product more user-friendly. In return for your time and thoughts on their product, they pay you. And the best part is that it is one of the most simple jobs you can do online and one with the best pay per hour rate. (P.S.: I was paid 10$ for a quick 5-minute session.)
These types of websites are broadly categorized as user-testing websites. They pay you to submit a screencast of you performing several tasks on either a desktop or a mobile device (depends on the tasks), and you get paid pretty handsomely for that.
Their are several of these websites, but out of the 5 that I tried, I have so far found work on only this one platform and was even paid by them. I was surprised as to how quickly they paid me after I had submitted my work. I was paid around 3 days after I submitted my first assignment, even before they were finished reviewing it.
What is Usertesting and How do I start working with them?
Usertesting.com is an online "testers on demand" kind of platform. They provide large corporations (mostly product-based companies) with 3rd party users to test their products, features, design, etc., and want them to provide valuable insights and suggestions in return.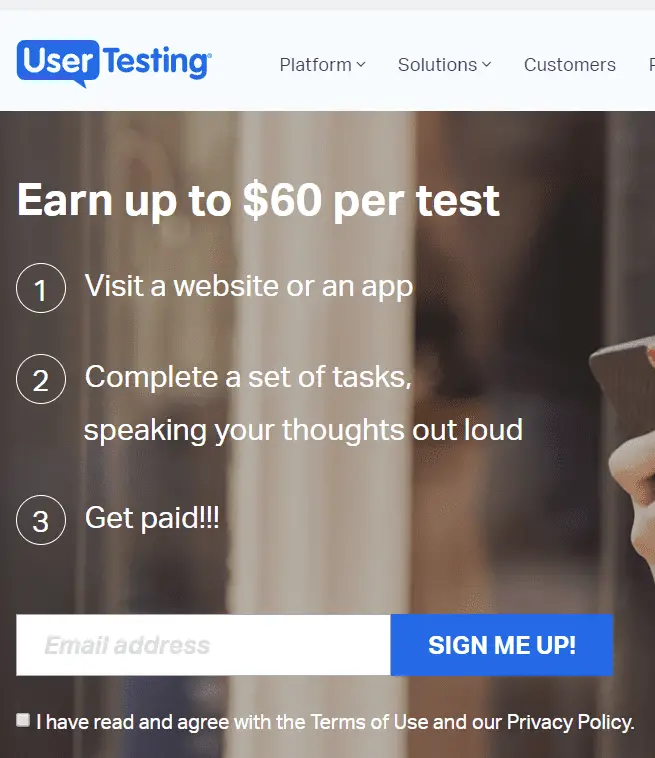 Usertesting is a platform to connect testers with companies that pay you to give your thoughts and suggestions about their products. The usual flow is something like this:
Companies send out testing opportunities to usertesting.com
Usertesting creates a screener/survey where you are asked several questions related to the study being conducted. You are expected to answer them honestly and truthfully.
If you pass the screener, then you are taken to their tests and need to record your computer/mobile screens and give your thoughts along the way.
Once you have completed the study/test, the test is uploaded in the background and will be reviewed by them in the next few days.
After some days of successful submission, you will be paid via Paypal
What kind of equipment do I need to participate in Usertesting?
You do not need any kind of special equipment to participate in Usertesting tests. The only thing you need is: A laptop and an Internet Connection. 
Just in case you work on a Desktop, you would need an external mic or audio input device for recording your voice (Laptops have an in-built microphone). External microphones are dirt-cheap and you can get one on Amazon. As an alternative, you can use several third-party apps on Android (such as this one) that allow your phone to be used as an external mic for your PC. Pretty cool, huh.
Usertesting requires you to pass a qualification exam (sample test) to be enrolled as a tester on the platform. You get two attempts to pass the exam. It is like a demo test to see if you understand the requirements of working as a tester, and there are no technical difficulties in your desktop/laptop that might hamper your tests.
Check out my Usertesting payment proof:
Usertesting requires you to give atleast one test before they can review your performance, and allot you a rating based on it. It is kind of difficult to qualify for a test, especially for me, as most of them were geared towards someone employed in a large corporation, while I fall more on the freelancer/self-employed side.
I got qualified for a test after about 7-8 days of trying, and it was a simple test, that asked me to open a website and perform 3 tasks on it while speaking out my thoughts loudly into the microphone. The test was over in 5 minutes, and it took another 30-40 minutes to upload it. Once done, I was not able to give any more test till it was reviewed and I was assigned a rating. After about 3 days, I was paid and received an email from Paypal: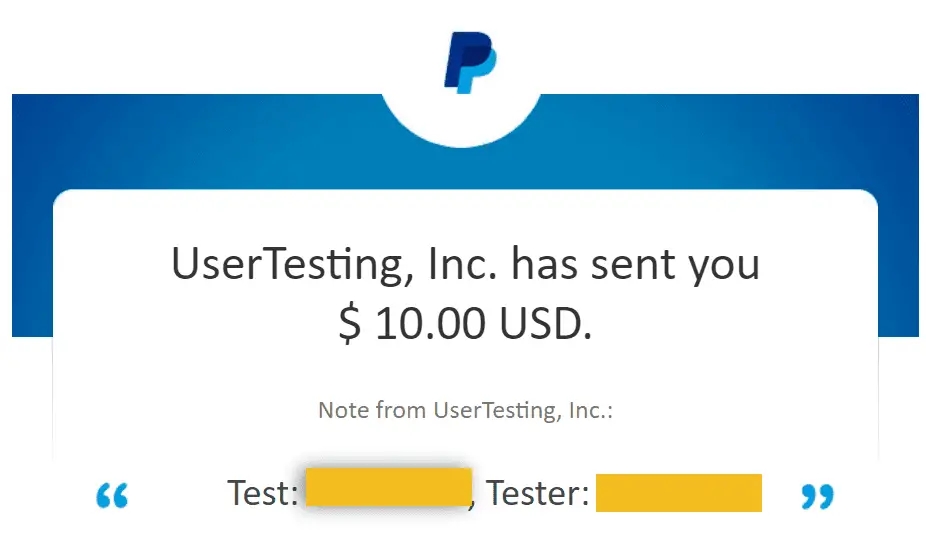 What I really loved about Usertesting is the super-fast payment that I received. Note that my submitted video was still in review for the next 10 days, even after I was paid. They did not put my payment on hold until they were finished reviewing my test.
So, you can get started with creating an account right now if you want, as I think this is the most legit site for UI/UX testing. Plus, it accepts people from all around the world. Basically any country that supports Paypal.
You can click the button below to become a user tester.
Super Tip: To become successful in Usertesting, you need to have great audio quality on your end. Great audio quality can help you achieve a 5-star rating.
Increasing your voice quality helps you converse with clarity. Try Krisp, an AI-based noise reduction tool that will get you studio-quality voice recording from your regular microphones. It's free!
Usertesting can help you earn quick 10$ by completing simple 10-30 minute tests. There are…