Beginning as a Freelancer is the scariest part of the journey. You likely have no clients, no experience or work/portfolio to show, and no idea where you can get work easily.
As a beginner (and only as a beginner), I recommend working with content mills. What are content mills, you ask?
They are like brokers of article jobs. They offer articles to website owners/businesses for cheap, and have a lot of work available for this exact reason.
You get paid between 2 cents to 10 cents per word from them usually. Being a highly rated writer can get you towards the higher end of that payrate.
Some of the websites in this list are such content mills, while some of them are simply job boards used by various businesses. Some of the better paying websites do require you to niche down to expertise in a particular subject.
While you are looking for better clients, it makes sense to work with content mills. This way, you have something to write everyday, and you get to keep polishing your skill.
Writing is an underrated skill in the contemporary world, but it's highly valuable. Good writers can easily get a job as a content writer or an editor for any online business. 
Where to find freelance writing jobs for beginners (people with no portfolio or experience)?
A lot of websites provide you the opportunity to work as a freelance writer right from your home, no matter where you're located. Some of them have been listed below:
nDash provides the writers a list of all writing jobs from employers related to the topic they're interested in. Payments are made through Stripe. Although nDash is a global platform, Stripe is available in 47 countries, including much of North America, the EU, Brazil, Oceania and India.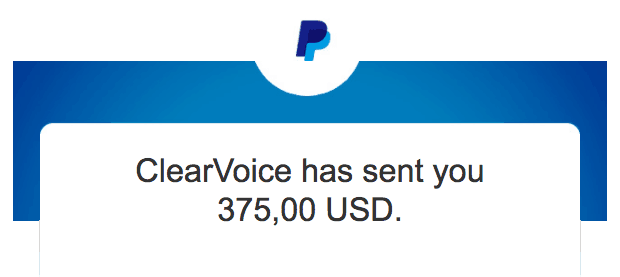 nDash claims that there are several writers earning six-figure income on the platform, with the average writer earning between $150-$450 per assignment.
Brands on nDash, however, usually look for expertise in a particular topic. Make sure you have a good profile with your skillset mentioned in a comprehensive way to increase your chances of getting jobs.
ClearVoice is a great platform for writers: it includes Fortune 500 companies looking for writers! All you need to do is build a good CV. 
Make sure you have a catchy headline, a good portfolio showcasing your experience and previous work, and use social media handles wisely. Market yourself. When you have a good CV, you will open yourself up to great opportunities. 
On Clearvoice, you prepare your CV and wait for a client to send you opportunities. However, there are no job boards or marketplaces to look for work like other platforms such as Upwork.
For new users, they provide free regular webinars that explain how the platform works. If you face any problems, you can use the chatbot and ask their support to take a look at your profile and see if you can improve anything. Writers generally get paid according to projects here, so make sure you pick up the best clients! 
The Urban Writers is a great place for entry-level freelance writers to find jobs. However, the pay is actually low and you shouldn't really commit to this platform for long-term purposes, especially if you're from a country with a high cost of living.
Writers usually earn $500-700 per month.
Reedsy is a listing service which connects authors, editors, cover designers and marketers. If you fit into any of these categories, someone from the other category needs you and will pay for your work. 
Make your profile so that you can be discovered, and browse other profile for 
potential employers. Your pay can be basically anything between $350 to $1000 per assignment depending on the type and difficulty of work.
If you're new to the platform or the field itself, you can also enroll in quick courses provided by Reedsy.
Steady Content is a platform that connects content writers with small businesses. Writers are given a broad topic to write a blog post on. Your articles then await approval.
Approved articles are paid that week on Friday and then Stripe (the payment service) automatically sends the money to your bank account on Monday.
Some articles get approved quickly (within a day or so), while others take up to a week or more.
Steady Content pays writers between 2 and 6 cents (USD) per word to write blog posts and web pages on various topics.
6. TextBroker (US Writers Only)
TextBroker is a good platform for fresh writers to get their feet wet. It gives you a basic practice and understanding of content writing through experience, but it doesn't really pay much. 
With only 1.4 cents per word, TextBroker is not a platform to be used as a permanent or mainstream income source.

The platform's rating system helps writers produce consistent quality with varied expectations and standards. Across each star, ensure you avoid basic mistakes such as punctuation, spelling, and filler word usage. Achieving 5 stars requires one to offer engaging and informative content with minimal client revision requests. 
Important tip: you only have one chance to apply as a writer. After the application, your account acquires a rating on a scale of 1 to 5. The lesser the rating, the lesser jobs you get and vice versa. 
However, the standards for acceptance are pretty low, and you don't need to write on niche things. Research work is minimal, and you are basically told what to do.
Writers are arranged in levels, and the type of work you do depends on your level. Greater levels unlock bigger job opportunities.
ContentFly is another reputed platform for content writers to get work from different clients. In order to join the platform, you need to create a ContentFly Writer account with your email. 
After that, they'd ask you a few simple questions, like the topics you're interested in writing and a few samples of your work. After you're done with that, your application gets submitted to ContentFly for review.
If your application is approved, you'll be invited to complete a paid test assignment for further review of your skills. If your test assignment gets approved too, you become an official ContentFly writer. The average pay is $0.5/word. Payments are made through PayPal.
iWriter is a great platform for starters looking for some experience in content writing. It pays decently, but isn't supposed to replace your main source of income.
The clients post their requirements on iWriter, and you can earn money by writing articles for them. You choose a topic posted by a client in iWriter, research on the topic and write a new article on that topic. You get your money once the client approves the article.
One thing to point out is that you're not required to know everything about the topic you're going to write beforehand. You can just do your own research and then start writing. 
Entry-level writers earn about $2.5 USD per 500 word article. Payments are made through PayPal. However, you need to earn a minimum of $20 to request your payment from iWriter.
It's a platform owned by Growth Machine and connects freelance writers and editors from across the world with potential employers. 
You need to fill a short application form stating some details like your full name, your work experience, etc. An important thing to note is that you need to have at least three samples of online published content under your name in order to apply. 
You can choose your own rates for work, and you need to give them an idea while applying at Writer Finder. Payments are made through PayPal.
More Reading for you…