UHRS stands for Universal Human Relevance System. Now that doesn't explain anything at all. But let's try to understand how it started. So, it was a special platform built to improve the intelligence of Search Engines.
The idea was to let human workers judge/rate various aspects of search engine intelligence. This collective data can be used to further improve the intelligence of the search engines and the relevancy of their results.
Technical jargon aside, here is UHRS in layman terms. UHRS is a web judging platform, where you judge/rate various tasks and get paid for them.
You simply login there, check out the various types of jobs available (known as "Hitapps"), and work on them accordingly.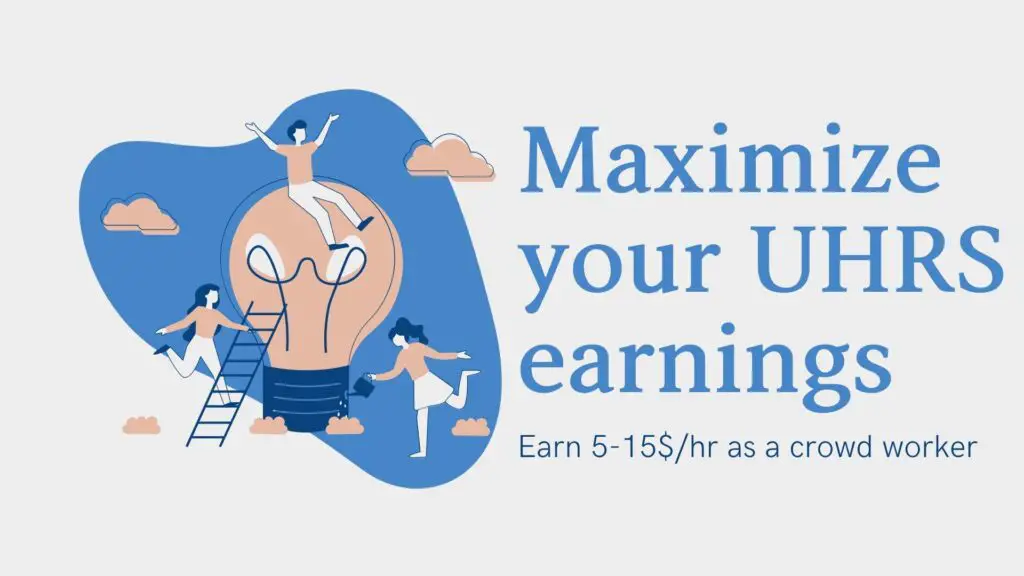 You get paid for your time working on the UHRS platform, which can vary between 5-20$/hour, depending on your country. 
What is UHRS and how does it work? ❓
common terms used in hitapps/uhrs
In UHRS, jobs are available in the form of "HitApps". Think of HitApps as a particular tasks, which is made of a number of Hits. For example, if a task is about categorizing a webpage, then each webpage will be present in the form of Hits.
Each HitApps has several features, such as:
HitApp Name: This is the Name of the HitApp.
HitApp Description: A small description explaining what the job requires you to do.
Time required: This is the expected time required per Hit (or judgement).
Payment: This is the amount you will be credited per valid judgement.
Approx Available Hits: This is the number of available Hits. They are usually updated every 15 minutes and are only approximate as multiple people are working on a HitApp at a particular time.
how to start working in uhrs/hitapps?
You cannot start working on a HitApp right away. UHRS requires you to pass a small qualification exam for each HitApp that is available. Once passed, you can work on the HitApp for as long as it is available and whenever it become available in the future.
When a new HitApp is available, you may see several links beneath it, namely:
Guideline: Clicking on it will download a document/pdf explaining the HitApp and how to judge it. I advise you to thoroughly read and understand the guidelines before giving the qualification exam.
Preview and/or Training: These are a set of practice hits. You can see whether your judgement was correct or not in every hit (along with an explanation). They can help you understand the HitApp before giving the qualification exam. You are not paid for working on these hits.
Qualification: This is the qualification exam. You are usually given 2 or 3 attempts at the qualification test.
Start Judging: This link is unavailable until you pass your qualification exam. Once passed, you can simply click it and start judging hits.
It is advised to thoroughly read and understand the guidelines before you take your qualification exam. I personally find the qualification exams to be very easy, and can pass them in the first attempt. Though I never use the preview/training mode before the exam, you can use them to get a gist of the overall HitApp.
HitApps are not visible all the time and you might need to login several times a day to see if any HitApps are available. Check out this article to see how you can find more available HitApps in UHRS.
working on a hitapp in uhrs
When working on a HitApp, you are required to judge each hit. You will earn the amount specified in the Hitapp, for each valid judgement. Please work on your hits mindfully, and make sure not to rush through them in order to earn more money.
This is because they sneak in several "Spam Hits". These spam hits check if you are actually giving the correct judgement. Wrong answers to these spam hits will reduce your score. If your judgement score falls below a certain level (0.7 usually), you will be disqualified from the HitApp.
Sometimes, you will be revoked from working on the Hitapp for just one day, while consistent poor performance may lead to permanently getting banned from that HitApp.
Several new variations of the rules described have been implemented since this article was written. For the latest rules and tricks, check out our full guide to UHRS.
Hence it is best advised to properly and carefully work on your HitApps.
how to check my uhrs earnings? (my reports section)
There is a section called "My Reports" in UHRS. This section allows you to check:
Your total earnings
Your earnings by HitApps
The total time you have worked on the platform
The total time you have worked on each HitApp
Your spam score for each HitApp (Correct Judgements/Total Judgements). Spam score below 0.7 can get you disqualified from a HitApp.
The reports section is updated every 20 minutes. So the work you just did might take a little time to update in the My Reports section. It shows you your weekly stats by default, but can be manually set to show stats of any time period.
Check out this video that explains UHRS in-depth. It will be easy for you to grasp the various concepts described above through the video.
How do I register for UHRS and start working? 📜
Note: According to the latest UHRS Guidelines, you are not allowed to work with multiple contractors. You risk getting banned and losing your earnings. Read this article to know more about the new UHRS Guidelienes.
Even though UHRS is a separate platform, you cannot register directly for it. You need to be given access to work on UHRS using a "contractor".
A contractor is the platform that will give you access to the UHRS platform and will handle your payments.
This means that the amount you earn on UHRS will be given to your contractor, who will then process your payment according to their cycle and method.
You need to have an Outlook email address to access UHRS. You can create one for free here. 
Here is a list of different contractors that provide access to UHRS jobs. Click on the link to learn more about the process of registering and working on UHRS through different contractors.
UHRS Contractor Platforms and their Payment Proofs
Here is a list of different sites and how to join UHRS through them:
Clickworker
This is the easiest and fastest way to join UHRS. Clickworker handles payments through Paypal and pays a month after UHRS clears your payment.
Go to the "Assessments" page on your Clickworker Dashboard.
Complete the UHRS Assessments – 1 & 2. They are simple English grammar exams. If you cannot see them, read this.
Create a live ID as per their directions. You will be granted UHRS access through that ID.
Fin.
Update: Clickworker is the best and most trusted contractor since almost a decade. They keep closing new registrations from time to time (to balance their worker/workload ratio, I guess).

So If you cannot sign up, then wait for a month or two and try again.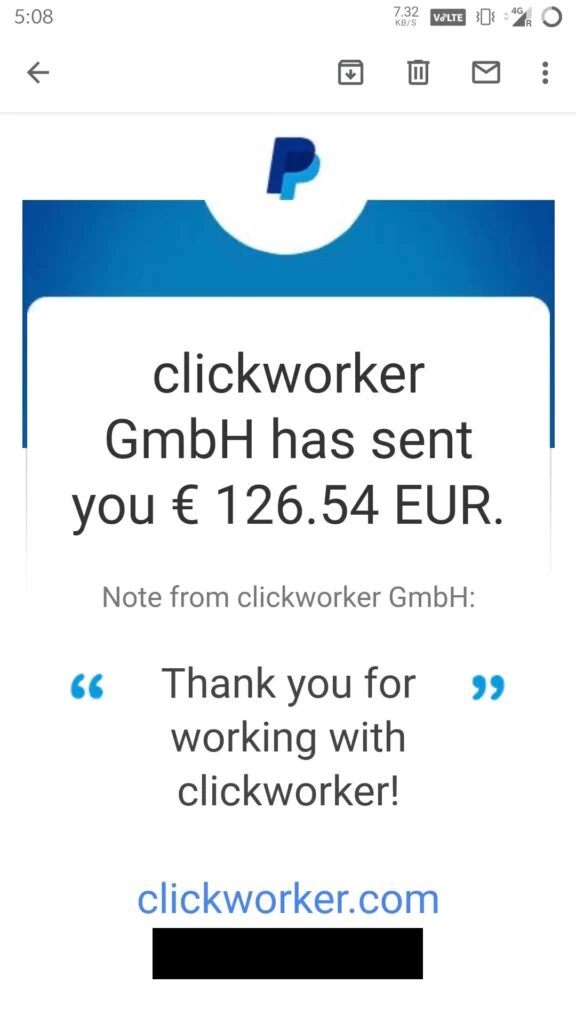 Quadrant Resource
Update: Quadrant Resource has been having consistent payment delays. I recommend you sign up for other UHRS contractors first, and only join it if there are no jobs available there.
Quadrant Resource is a great new platform that offers quick and easy UHRS access. They also have a lot of work available in the form of Hitapps (similar to Clickworker).
Go to their site and click on the signup link on the top right.
Fill in your profile details (more than 70%).
Clear their simple UHRS assessment and create an outlook ID as suggested by them.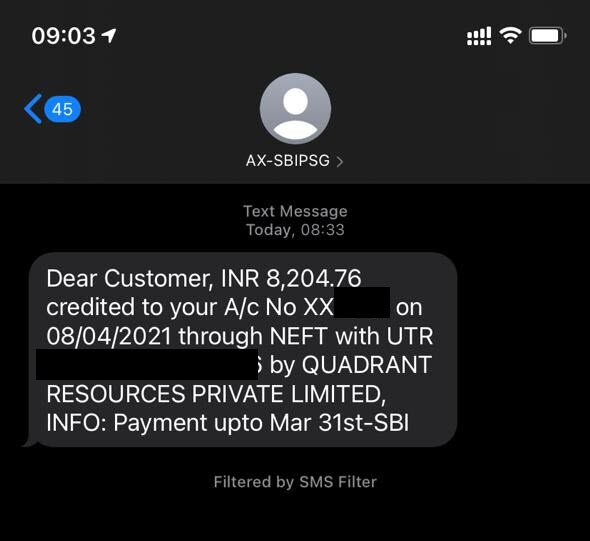 DataMime
Datamime is a new platform that offers instant access to UHRS. You can begin working on UHRS just 5 minutes after signing up for them.
Update: Datamime is a very trusted contractors. You can earn good from time to time. It is just a little difficult to get in.
Signup for Datamime and give them your Outlook ID as a secondary email address during the signup process (you cannot signup without it).
After 5 minutes, go to "My Apps" section and click on the link to access the UHRS login page.
Login to UHRS using the Outlook ID you provided in the first step.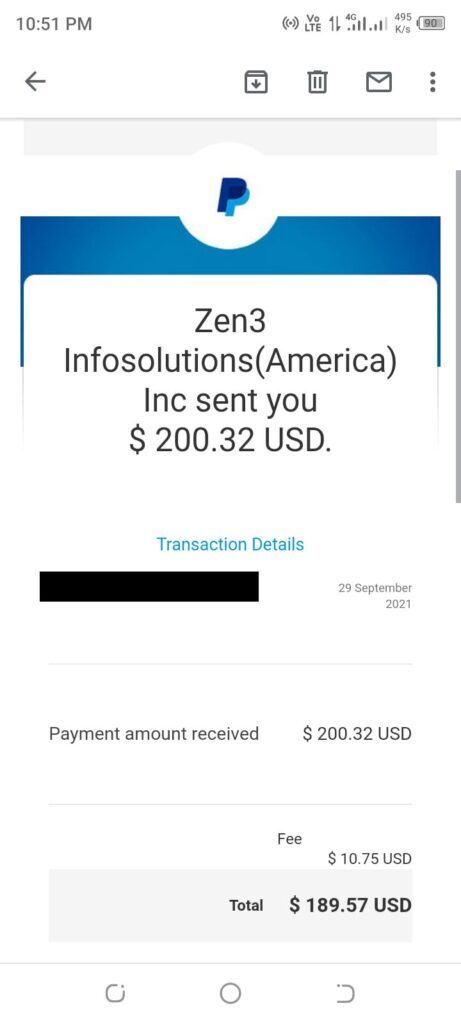 Oneforma
Oneforma handles payments through Payoneer now. They clear your payments on the 25th of every month, which takes another 30-40 days to reach you.
Go to the "Jobs" tab and click on the "Internet Judging" section.
Almost all jobs are for UHRS, some are language-specific.
Apply for the job and wait. If a position opens up (or is made available later), you will receive a mail from the respective project manager asking for your live id. 
You can submit any of your live ID (Don't submit the one you made for CW). It should not have UHRS access enabled already.
Further steps regarding that particular UHRS project will be emailed to you.
Yandex Toloka
Toloka is a new UHRS contractors, that allows you to work on UHRS tasks even without a live ID. You obviously need to be a member of Yandex Toloka to access them.
Go to the Jobs section in Toloka.
Look for jobs with "Search" in their title, or 0.00$ as their pay rate.
Click on Start/Training button. You will be displayed a message, with a link saying "Open task in UHRS in a new tab".
Click on the link and you will be taken to the UHRS tasks.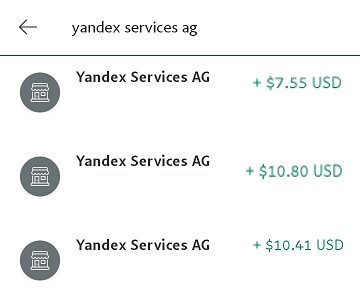 Teemwork.ai
Teemwork can take a hell lot of time to give you access. Maybe they have less openings available from time to time. I applied in December 2019 and received mail that I am approved in Sept. 2020. I suggest you still apply as they do keep your email in the system and contact you whenever there is work available.
Go to their job listings page.
Check out jobs like Online Crowd Worker, Search Engine Evaluator, etc. that are relevant to your location and apply for them. You can also search for your location/job keyword.
You will be contacted via email whenever positions open up.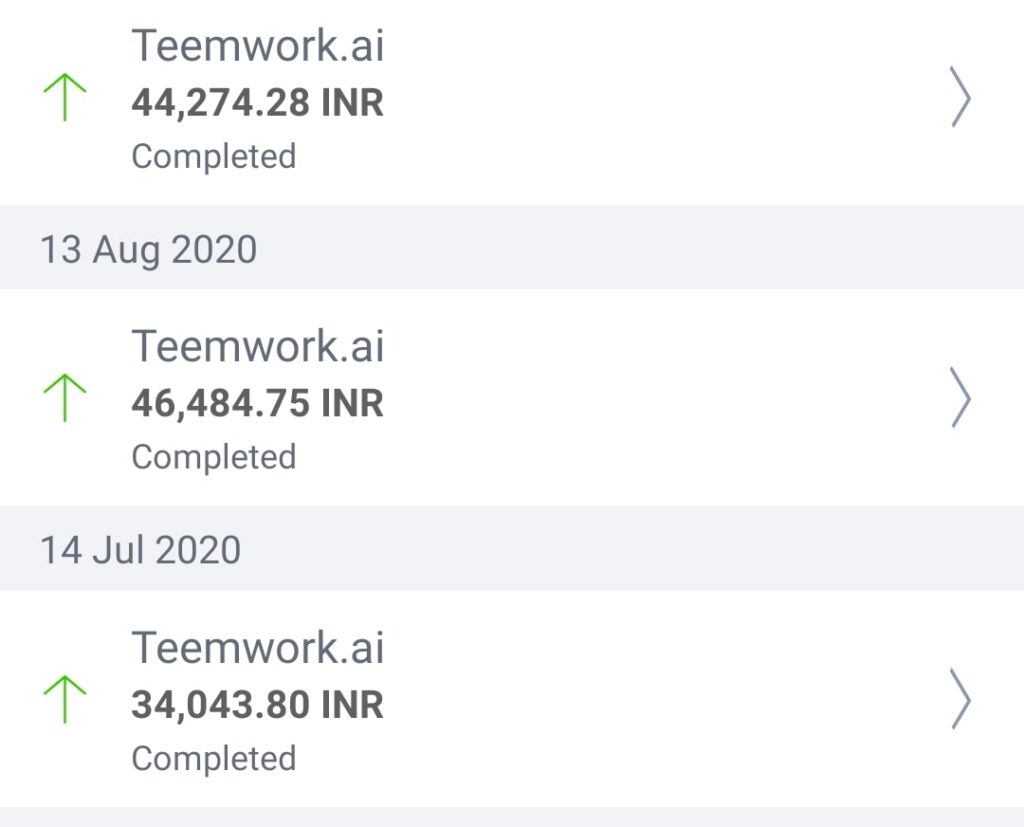 Appen
Appen also has specific projects for UHRS access. They pay via Payoneer. I cannot disclose the name of the projects, but any project that asks for your Microsoft live ID as a requirement is certainly a UHRS project.
Go to the "All Projects" page by clicking on the radio button.
See if any particular project requires you to have a Microsoft account and apply for it.
There is only a thin chance you will be approved here. I guess positions don't open too frequently.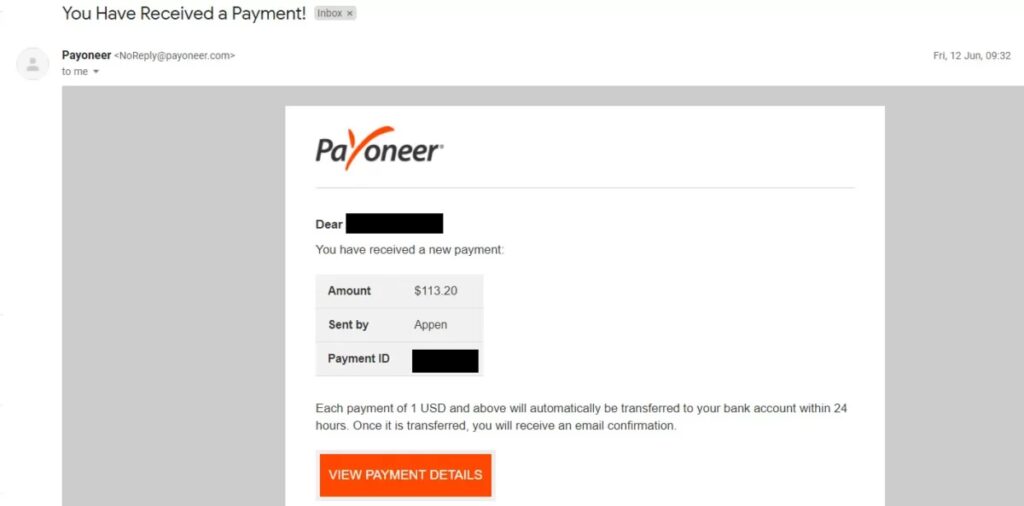 Lionbridge/TELUS International
Update: Lionbridge was acquired by TELUS International. So let there be no confusion. Click here to read more about TELUS International.
Lionbridge rarely has openings for its UHRS project, just like Appen. So don't expect much from it. They pay via Paypal or Payoneer.
Go to Lionbridge Jobs page and input your country name in the search box.
Look for something like "Search Engine Evaluator" or "Internet Evaluator". They use different titles for UHRS jobs, but apply for all such jobs.
Again, there's a thin chance of getting in, but it doesn't hurt to try.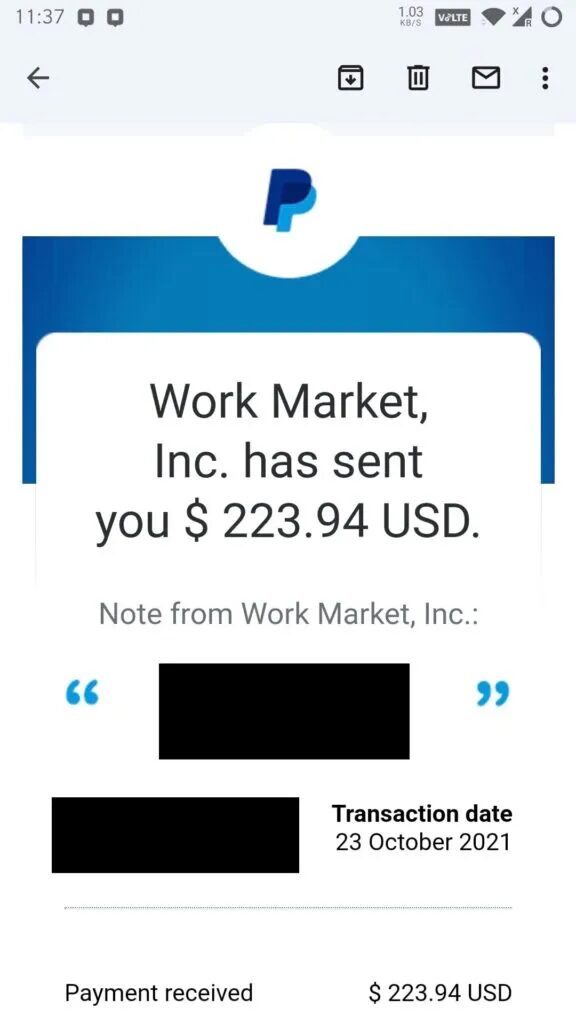 After you signup and get UHRS access, you can start working on Hitapps. Select any Hitapp, read its guidelines, and clear the qualification. You get multiple attempts to clear the test in case you fail. 
Work on some of the Hitapps and get a feel of the process. With time and experience, you can judge more quickly and increase your earning rate. There are also some tips and guidelines you can follow to increase your earnings. 
Support Contact of all the above Contractors (for Doubts, Queries and Complaints)
I receive a lot of comments from people asking for help regarding various UHRS contractors (mostly Quadrant Resource and Datamime, the newbies). I try to include all possible information and queries people might have within my posts. But a lot of these queries are regarding issues that simply cannot be solved by me.
In fact, most of the questions I receive in comments are best resolved by the official support staff of that particular platform. 
Below is a list of the support emails of all the UHRS Contractors mentioned above. To raise a query with their support:
Copy the email address of your platform from below.
Open your email account. Make sure it is the same email with which you are registered on the website.
Send them an email. You can mention your user id along with your query for better support. 
A ticket will be created for you. Wait for 48-72 hours for a response.
Some websites also have an in-built support system, where you can directly log a ticket if you are logged in.
Clickworker Support
Teemwork Support
Teemwork Payment Support
One Forma UHRS Support
Datamime Support
Quadrant Resources Support
How to increase my UHRS earnings and work more efficiently? ⏲
There are a variety of tips that can help you earn more from UHRS. Here are some of them:
tip 1: stay logged in for an extended amount of time
As I discussed earlier, work can come and disappear within minutes. So, it is necessary that you are logged into the UHRS dashboard for an extended amount of time. Once you log into UHRS via your contractor, you are granted access for 8 hours on the platform. You need to repeat the process after that. If you stay inactive, you get signed out of UHRS. To avoid this, you can use an Autorefresher.
Log in to the UHRS dashboard. You will most likely be greeted with no available HitApps.
The HitApps list refreshes every 15 minutes (approximately). So while working on your PC, you can refresh the list every 20-30 minutes. This
Stay logged in for at least 2-3 hours (if not more), and keep refreshing every 20-30 minutes.
Get on with it as soon as you see any available HitApp.
The main idea behind this is to stay active on the platform for as long as possible; ensuring you don't miss out on any potential work. I remember once when I was able to start work on a HitApp early on, and by the time it finished, I had already made more than 80$. Turns out that the qualification process for it was difficult. This allowed me to work on it for an extended amount of time. By the time more people qualified for it and started working on it, I had already worked on it for 3 hours.
tip 2: get notified of new hits whenever they become available
There was a period of around 10 days when I was not able to find any work in UHRS. This was after being active for 4-5 hours daily. I became very disappointed when I came to know that the tasks were coming in at 11:30 pm. Unfortunately, I was retiring to bed early during that particular period of time. If only I was aware of this, I would have been available at that point in time; which brings us to tip #2.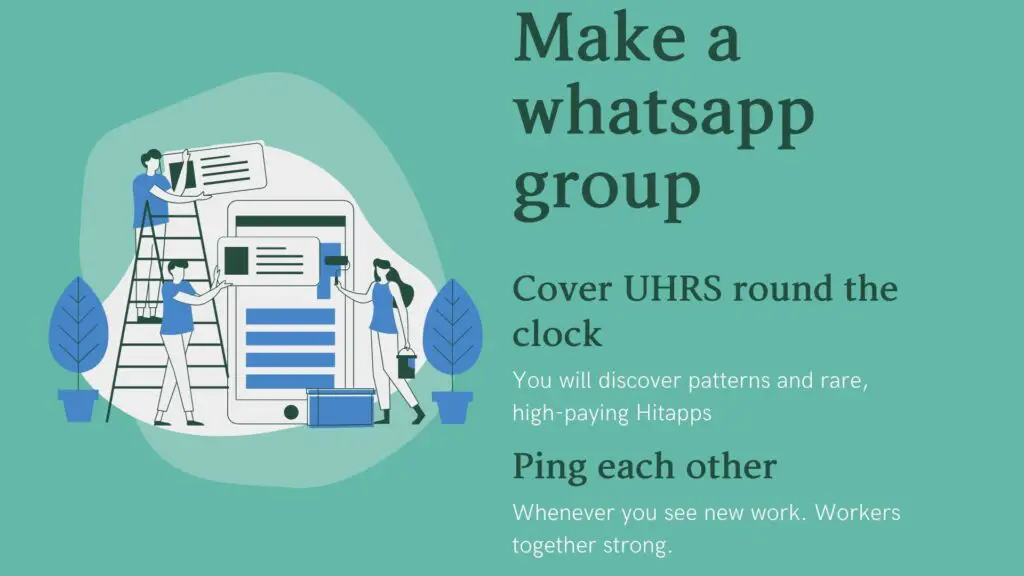 Partner up with a friend or two, and divide the time when you will be logged into the UHRS platform.
Create a WhatsApp group (or any IM that can ping your phone), and simply send a ping on the group whenever work is available.
Change the notification tone of that group to be as distracting as possible; so that you are always notified of available work.
Obviously, it's a long shot from having 24-hour availability on the platform; but you can ensure that you will get notified of new tasks over a much wider range of time. You and your friends can divide this chore depending upon your availability and commitments.
Update: There are 2 interesting resources I found which can help you get notified of new UHRS Hitapps.
Telegram Groups for UHRS Notifications
Just like the Whatsapp group idea explained above, there are various groups on Discord & Telegram where you get notified whenever new Hitapps or Hits become available. These groups usually operate very tightly, and only have a few dozen members. To get into them, you need to hang out on various UHRS discussion forums, such as UHRS subreddits, Discord groups for beermoney or even the Clickworker Forum.
You can connect with people and create or join a group through them. One such group that I found on Telegram is The UHRS Notifications Group. I don't know if it's still active or not, but things like these do exist. They can make your life easy. Just make sure your notifications are as distracting as possible.
Some of these groups even deploy bots that do all the work, and notify whenever new Hits are loaded.
The HITs Assistant (Chrome Extension)
Some smart guy came up with this "HITs Assistant" Chrome Extension that does all refreshing work, and notifies you whenever new Hits or Hitapps are available. It can ping you via your browser, or via Telegram. The assistant can have some issues from time to time, especially when the hits are over and the Hitapp does not disappear.
It does not work all the time, but can help you save some time and effort. It does not seem to get updated very often, and we don't know how much longer it will work properly.
tip 3: avoid getting disqualified or kicket out (Spam hits and RTA hits)
You see a HitApp with thousands of available hits, and are delighted at the prospect of the potential earnings. You begin working right away, hearing the dollars rolling in your bank account with every click until…A message appears informing you that you have kicked out of the task.
This is a real bummer, as not only did you waste hours refreshing the page looking for work; you were also not able to reap any of the benefit of your work and patience. So how do you avoid getting kicked out of a HitApp?
Never rush through any hit, even if it looks easy. All HitApps have a certain amount of time that you need to wait in-between each judgment, which ensures that you have carefully inspected the hit.

Rushing through hits might feel lucrative, especially if the hits are easy to judge. But there is an internal check which will simply kick you out for doing this.

Sometimes, you will be allowed to work on it again the next day. But sometimes you will be permanently banned from that particular task.
Carefully read the guidelines and make sure you judge all the hits after inspecting them patiently. There are random "Spam Hits" in between the regular hits. Judging them incorrectly for a repeated amount of time can disqualify you from the task.
Be even more aware, as there are certain "hidden spam hits" (or RTA hits, more on that below) that you will be presented with from time to time. They won't show you a dialog box with the correct answer unlike the one described above. But it will keep decreasing your judgment score. Once your score goes below 0.70, you will be disqualified from the HitApp till the next day.
What are Spam hits and RTA hits in UHRS?
Here's a more detailed description on Spam and RTA hits, provided by Reddit user SingularityRS:"The hits that provide you with feedback are not spam hits. These are known as "RTA" hits. RTA stands for Real-Time-Audit. These are hits used in Training, Qualification (most use them, but not all), and Production hits. There are two types of RTA hits:
Standard ones – you answer the hit and get told if you're correct/incorrect. These are used in all 3 modes (Training, Qualification and Production). It's the most common type of RTA. You have no choice but to agree with the answer.
Agree/Disagree – occasionally, you will be presented with a different kind of RTA. Upon answering these RTA hits, you will see an agree/disagree box. These RTA hits basically allow you to give feedback on the hit. If you feel the RTA has the wrong answer, you can disagree and explain why. If you agree with the judgement, you simply hit agree and move on. The older RTA pop-ups are only used in Production mode. There's a more modern-looking RTA (used on those MAP and SBS apps) that will have agree/disagree boxes on all the RTA hits (Training, Qualification and Production).
The main purpose of RTA hits is to train you. If you get them incorrect, it does not influence your spam accuracy score. They're there to make you judge better. Apps made by competent owners will create useful RTA hits for judges. Most owners don't use RTA hits to their advantage, unfortunately. RTA hits function like spam hits, they're still test hits and they have a pre-set answer, but they're for training and not used to penalize you. That is why you are given feedback on how you did.
All spam hits are hidden. There are no spam hits that tell you how you did. The main purpose of spam hits is to prevent spamming. If the hit told you the answer, a spammer could use that to their advantage, negating any usefulness spam hits might offer at preventing spamming. So, they are hidden by default. Only spam hits will influence your spam accuracy score. RTA hits don't influence your accuracy score and 99% of the time will not cause you to get blocked if you get them incorrect.
As an example, if you were doing an app and get 5 RTA hits incorrect, but 10 spam hits were correct, your spam accuracy will still be 100%. That's because those 5 RTA hits are not influencing your spam accuracy. They're not influencing the score because they're not spam hits. Similarly, if you got 5 RTA hits correct, but all 10 spam hits were incorrect, your spam accuracy will be at 0% and you'll be kicked most likely. The 5 correctly answered RTA hits will not help you in the slightest.
I am also noticing some apps are using spam hits in Qualification mode now. You may notice these apps say "In-Qualification" rather than "Qualification mode" when going through a Qualification test. You don't get any feedback on these tests. You simply do the required number of hits and are told at the end if you passed/failed. The hits you did on these types of apps are logged in your report. The report will show your spam accuracy for the number of Qualification hits you did. I think some owners are doing this now to prevent people from sharing Qualification hit answers.
Be particularly careful with those "In-Qualification" apps. You will not be able to tell how well you're doing in the Qualification test because the app has decided to use spam hits rather than RTA hits. There's a growing number of these apps showing up.
Thanks to SingularityRS (Reddit) for these insights.
tip 4: access UHRS on your mobile
If you own an Android or iOS smartphone, then you can even login to UHRS using your mobile. This helps you to quickly check for available Hitapps by quickly glancing on your smartphone. Don't forget to refresh. 
This counters the impracticality of checking for new Hitapps constantly on your Laptop/Desktop.
You can even work on some of the Hitapps using your smartphone, though it is not recommended. It will allow you to literally work from anywhere, or even while commuting or getting bored at your office. But some Hitapps do not work properly on mobile, and most of the contractors advise against working on them from a mobile device.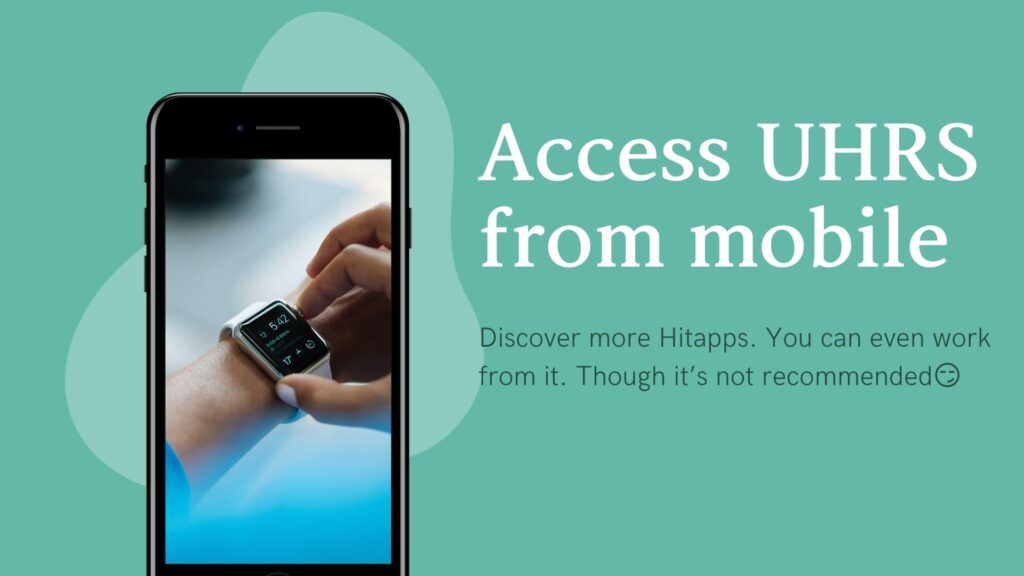 So it is best to stick to a desktop for longer work sprints. Also, using a larger screen and proper keyboard/mouse setup is the most efficient way to work on it, which will allow you to earn much more $ per hour from UHRS.
tip 5: pass the qualification, even if no hits are available.
Some Hitapps allow you to clear the training and qualification exam, even if there are no Hits available. Try clearing their qualification, so that you can quickly begin working on them the next time Hits are reloaded onto the app.
tip 6: what if i get kicked out or banned from Hitapps?
Don't lose hope. A lot of people get kicked out for no fault of theirs. The most plausible reason for this is simply that the thought process of the client does not match with yours. Just make sure you are respecting the "time per hit" rule of the Hitapp, ie, not judging too fast.
The Hitapp will disappear for a while and will be available again after 8-24 hours. Try again. Go through the guidelines again if you need to. If you get kicked out 3 times, you will be banned from the Hitapp, which kind of sucks. But simply move on and work on something else. 
Getting banned from Hitapps does not affect your account in any way. Don't worry, you won't get banned from UHRS for getting kicked from Hitapps. Infact, if the client resets the Hitapp (maybe changes the guidelines, interface, etc.), you will be able to qualify for it again.
tip 7: don't join multiple contractors. Delete additional accounts.
Update: According to a UHRS Guideline Update in 2022, you can no longer work with multiple contractors. You risk getting your account deleted and losing your earnings. Read this article for more information.
Earlier, people could join multiple contractors in order to get access to more Hitapps
If you are working with multiple contractors, it's best to switch to a single one and delete all your other accounts. Here's how to delete your UHRS account.
how to delete or disable my other uhrs accounts 
You are only supposed to have one unique instance of your identity on UHRS. This basically means you can only work with a single contractor from now on.
You need to delete your Microsoft account or ask the contractor to disable your UHRS access to comply.
Deleting/Removing your Microsoft Account
The easier way is to simply delete the Microsoft account (hotmail/outlook) you use to access UHRS. It is instant and easy to do.
Simply go to accounts.microsoft.com and login with the account you want to delete.
Click on the "Your Info" tab on the top.
Scroll down to "Account Info" section and click/tap "Edit Info"
Remove all the aliases associated with your account.
All done.
But if you don't remember your login credentials for some reason, you might need to ask the contractor to disable your UHRS access.
tip 8: the best time to work on uhrs
This has been an age old question. People keep asking me when do you get the most Hitapps. There was no clear answer for it till now, as they appeared very randomly.
But recently, Oneforma shed some light on it. According to Oneforma, you are bound to get the most Hitapps during the US working hours, that is 9 am to 5 pm (PST).
Convert that to your local time and try to be online during those hours to increase your chances of getting new Hitapps & Hits. Interestingly enough, the same time is when you get the most Usertesting screeners as well.
How much can I earn through UHRS and how will I get paid? 💰
As said before, your earnings on UHRS depend on which country you are working from and the amount of work available. You can roughly earn between 5$/hour to 20$/hour by working on UHRS jobs. 
This rough estimation is based on the country that you work on UHRS from. Workers from economically poor countries earn 4-7$/hour on average.

While the workers from economically strong countries (Such as US, UK, Australia, etc.) get 15-20$/hour (sometimes more).
Your monthly earnings depend on the amount of time you spend working on the platform.
Even though you can easily earn 100$-200$ from UHRS jobs every month, some people have even crossed that barrier. Some people report earning a full-time income (around 600-800$) monthly by working on UHRS.
Every week, UHRS will send the amount you earned on the platform to your contractor. The contractor will then pay you according to their cycle (usually after 30 days) via the payment method you choose. 
You can easily earn a part-time income by working on UHRS jobs in your free time. It is recommended to do them using a desktop/laptop for maximum earnings.
Some more reading for you…