Last Updated on April 22, 2022
What is oneforma and how do I work on it?
👨‍👩‍👦‍👦 It's a crowdsourcing website. Just like Appen, Lionbridge & Teemwork.
💼 It lists a variety of jobs you can participate in.
🏢 Apply for jobs that interest you. Work. And get paid. All online.
Oneforma is a fairly new crowd-working site when compared to OGs like Appen, Lionbridge/TELUS or Clickworker.
But it has shown consistent work availability since the past 2 years that I have been it's member. 
Oneforma has new data collection projects every month, Text-based jobs (transcription/translation) from time to time and also offers UHRS access.
The best part, it's data collection rates are one of the best I've seen (as of now). I exclusively participate in only their data-collection projects for now.
signing up and working on oneforma
Click here to go to their signup page.
Fill their signup form. Name, Email, Location, Language…you know, the usual stuff.
Verify your email address and you are done.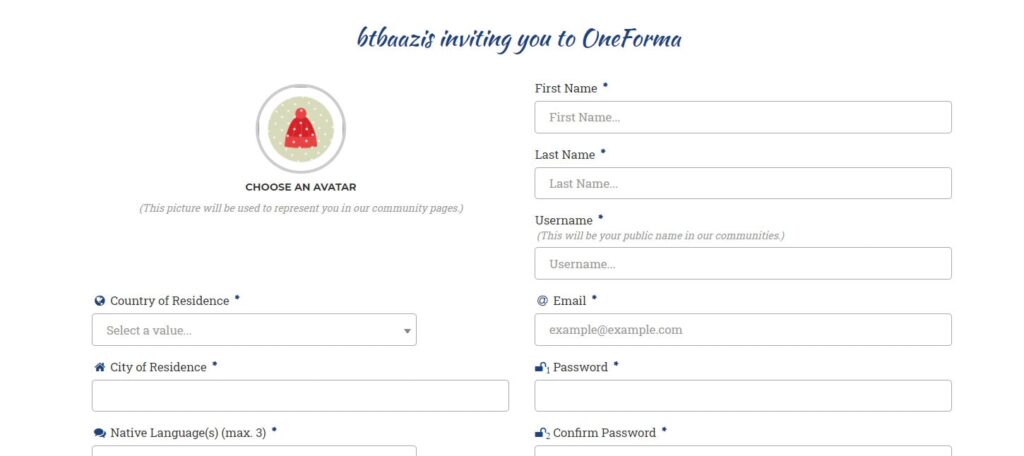 Upon your first login to Oneforma, you are supposed to clear an NDA Certification. This is extremely easy, and anyone with some common sense can clear it. There's no need to be scared of it.
It is just a way for Oneforma to inform you that everything you work on is highly confidential and should not be discussed or leaked in any way.
I would also advise you to upload your resume and add a payment method for Oneforma. This can be updated from the "My Profile" section. Oneforma offers 2 payment methods: Paypal and Payoneer.
Once you clear the certification, you will see the Oneforma Dashboard. Click on the "Jobs" tab and you will be presented with a list of jobs available in your area. Select anyone you are interested in and sign up for it.

Some jobs require you to clear certain certifications (for language, skill, etc.). You will automatically be redirected to that particular certification in case a job you selected requires it. They also tell you the number of slots remaining for a particular job (though the data is not real-time).
Once you apply for a job, your application goes for processing. You receive a mail. Wait for 1-2 days and you get approved for the job and you can start working. (Very much like Appen, but application processing doesn't take forever).
What kind of jobs are available on crowdsourcing platforms?
You can upload photos & videos to train AI algorithms (Data Collection Jobs) 📷
Or work on language jobs such as translation and transcription 📝
Or work on the UHRS platform (Rating/Judging tasks). And more. 💲
the different types of work you can do on oneforma
Oneforma is similar to other crowdsourcing platforms like Appen and Lionbridge. So the type of work available on it is similar as well.

Data Collection Projects: Submit specified images and videos to earn money. These are exciting and fun projects in my opinion.
Translation/Transcription Projects: Get paid per word or per hour in helping with language-related jobs. There are lots of languages available, which means this is a globally relevant job.
Internet Judging: This is UHRS work. You help large corporations in improving their algorithms by rating and judging Internet data.
Testing: Test various websites/apps for usability and functionality. Crowdtesting has been on the rise nowadays with sites like Testbirds and uTest.
Since this article was written, Oneforma has added a lot of new job categories on it's website. These include Testing Opportunities, Part-time and Full-time jobs amongst many others.

Though there aren't any opportunities available there as of now. But we can get a gist of the direction Oneforma is taking.
but can it pay my bills? (earning potential at oneforma)
This is the best part. Oneforma is offering very sensible amounts of money for the tasks you do, unlike Appen which is treating us like slaves.
Data collection projects in Oneforma pay reasonably well. I earned 50$ by submitting my camera photos, and about 70$ in one of their video collection project.
They also have various language jobs (translation/transcription). Infact, there are so many languages listed (probably because it is the primary work of Pactera EDGE, their parent company) that I'm sure people from any country can find a language-related job for them.
They pay 0.03$-0.05$ per word (For some languages). For other popular languages, they pay 3$/hour of work. It's not much, but it's alright. Especially considering the amount of work available on the platform.
Recently they have also started enrolling people for Internet Judging projects. This is basically UHRS work (similar to Clickworker UHRS). That can be another lucrative way to earn using Oneforma.
Note: You need to submit a W8-BEN form in order to be eligible to receive payments. If you encounter any issues, refer to this article.
How Do I Earn and How Do I Get Paid?
💰 You get paid via Payoneer, Paypal, or Bank Transfer..
📆 Payments are received between the 15th-25th of each month.
📝 You need to sign a tax document before you can receive payments.
Payments in Oneforma is very simple. There's a fixed monthly cycle, and you get paid around the 25th of every month. You can add your Paypal account (verified, business account) to receive payments from them, and you also have the option to get direct bank payments (but they require a minimum of 50$).
There is also the option of Payoneer coming soon, as they stated in one of their recent newsletter.
They have added the option to get paid via Payoneer now. Adding Payoneer also makes the signing process of W8-BEN much easier, as explained below. Also, less fees.
But before you can begin receiving payments, you need to fill and sign a W8 form (if you are a non-US resident) or a W9 form (if you are a US resident).
what is a w8/w9 form and why do i need to sign it?
It's a tax-related document you need to provide if your earnings are higher than 300$. Even if you don't believe you will earn such an amount, you still need to submit this form while adding your Paypal email.
The W8 (BEN) form is required for non-US residents, and you just need to fill in your Name, Location (Country), and your signature. That's it.
The W9 form is required to be submitted by US residents, and asks for more specific details.
Let the US residents figure the W9 form procedure by themselves. Most likely, if you are a US resident, you already know how to do it.
I am here to explain to you how to fill the W8 form for enabling payments in Oneforma.
how to sign the w8-ben form in oneforma/payoneer?
Update: If you have Payoneer as your payment method, then the below method does not apply to you.
Go to "My Profile" Section in Oneforma. From the Left sidebar, select "Payment Information" and click on "Add New Paypal Account".

From the box that appears, click on "Download W8-BEN form", and save it.

Now we need to edit this form. Go to any online pdf editor (or click this to save yourself a Google search). Upload the form you just downloaded.
Use the "text tool" to write your name and country in the form. Then use the "pencil tool" to sign at the bottom of the form (See screenshot). Then download the form.


Now go back to the dialog box (where you downloaded the form from), and upload the filled form along with your Paypal email.
That's it. As simple as that.
Note: If you use Payoneer as your payment method, then you can submit your W8-BEN easily. It will be a very simple and step-by-step process carried by Payoneer. No editing PDFs is involved.
payment schedule at oneforma (when will i get paid?)
Payments in Oneforma run from 25th day of previous to 25th day of this month. This means that for all your work approved till 25th of a month, you will be paid by the 25th of the following month.
They have used this approach to reduce the discrepancies in payment during the end of the month. So if some of your work was completed at the end of the month, you will have to skip one payment cycle and will get paid almost two months later.
This helps them maintain their payment information with integrity, and reduces the chance of error.
Basically, their is a 30-60 day wait between completing work and getting payments, but rest assured you do get paid.
How To Get More Jobs in Oneforma (Increase Your Earnings)
⏭ There are some tricks that can get you access to more Jobs in Oneforma.
👨‍🏫 Fill your profile properly, clear certifications, and participate in their surveys.
📧 Also read their monthly newsletter to get an idea of upcoming jobs and features.
can i get more jobs by clearing certifications?
No (and Yes). Clearing Certifications does not directly give you access to more jobs. It is clearly stated that you only need to clear the respective certificates WHEN you are applying for a job.
So clearing certificates beforehand won't give you an advantage in the job departments (though it will fast-track the process when you apply for a job).
But there's another catch. Their newsletter states that Project Managers will sometimes contact people with the relevant certifications before the job is made available to others.
So, if you have cleared the certification there's a slight upper hand in scoring projects.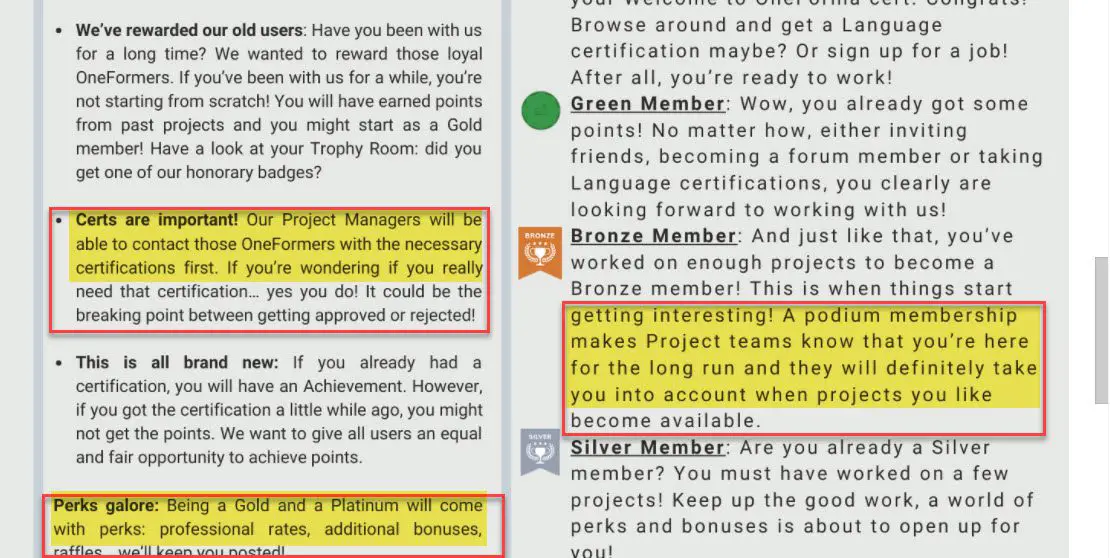 Another thing is that you get Membership points upon clearing certifications. This is a gamification strategy that Oneforma is using (more on that below).
You get rewarded with points when you clear 5 certificates (150 points), 10 certificates (250 points), and 3 language certificates (250 points).
These points can help you become a Bronze member (which gets highlighted to their project teams).
what are memberships and how do i become a bronze member (or above)?
Oneforma recently introduced a Memberships system to reward their old and loyal users. It's a classic gamification strategy, where you earn points for doing various tasks. These points can help you become a podium member (Bronze, Silver, Gold, or Platinum) which comes with its own perks.
Update: Since the introduction of Memberships, I haven't noticed any difference in the amount of jobs available to you on the basis of your membership.

It was probably a strategy that didn't work. Their newsletters and updates do not talk anything about memberships as well. So, you can skip that for now.
According to their newsletter, Bronze (and above) members will be considered first when inviting someone for a new project. Also, they might get more professional rates for tasks, additional bonuses, raffles, etc.

To know about your points and membership status, go to "My Profile" and click on "Trophy Room" from the left sidebar.
How can I earn these points?
Almost everything you do on Oneforma will reward you with these points. Some of such activities are:
Adding your payment information
Getting approved for a project and/or completing it
Clearing Certifications
Inviting members to Oneforma
Registering on their Forum
fill out surveys for more opportunities
This is the best way to get early access to projects. You will even receive a mail from time to time inviting you to fill surveys for various upcoming jobs. There are limited slots so remember to fill them ASAP.
You might notice a section called "Survey" on the dashboard. These are not your penny-paying surveys like on other sites. It's internal surveys that Oneforma collects to segregate members for their upcoming jobs.
For example, they might want to know how many of their members have an iPhone, if they get an iOS-specific project coming. By filling the survey, you can make sure that you will be invited first whenever the respective opportunity comes.
I suggest you check out this section and fill any relevant surveys from time to time to get access to more projects in Oneforma.
some more tips for oneforma
Does your profile languages affect your job availability?
As of now, your added languages does not dramatically affect your job availability. It is more dependent on your location.
This is because Oneforma will ask you to clear a language certification whenever you apply for such a job. You can also clear those certifications beforehand, and earn some points doing that.
But it is best practice to add all the languages that you are comfortable with in your profile. You can add 2 fluent languages (Hindi, English) and several Spoken Languages in your Oneforma Profile.
Where do I upload files for Oneforma Data Collection Projects?
If you get approved for a data collection project, but don't know where to upload the photos/videos, go to "Desk" section on the upper right corner

For doubts regarding Payments or Projects (Help/Support)
For any doubts in payments or project-related questions, you can directly mail the Project Manager. You receive a mail from the Project Manager whenever you are approved for a task.
I have also written an article with a list of all support contacts of popular money-making sites.
Oneforma is an up-and-coming platform, so you need to be a little patient with it. Do check their monthly newsletter, it's kind of interesting.
Hope this helps you get more jobs and opportunities at Oneforma. Check out more part-time online gigs.
Oneforma 2022 Updates: Mobile App, New Interface and more…
Oneforma has been going through a lot of changes recently. They are re-designing the site and trying to make it more user-friendly.
This builds confidence that Oneforma is in for the long game. They have been getting new projects consistently, and are trying to be transparent with their users and seeking their feedback along the way.
the new oneforma mobile app (android and ios)
Oneforma recently launched their mobile app for the Android and iOS platform. 
This allows them to become more accessible to users who prefer using their mobile over their PCs. 
Moreover, the mobile web version of Oneforma had some issues… like it did not allow you to upload files for data collection projects over mobile. These issues seem to have been fixed with the mobile app.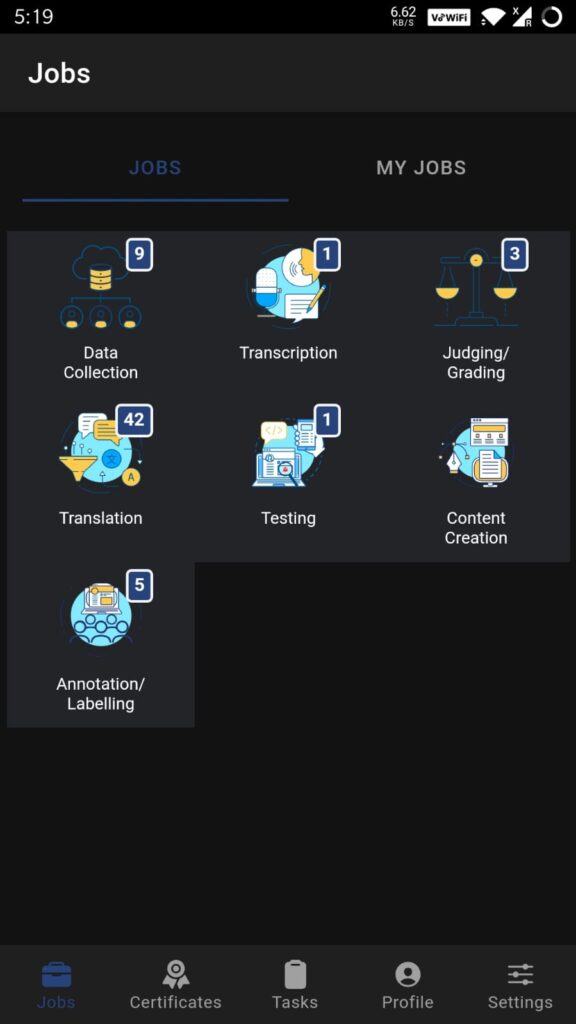 The app is very barebones and minimal for now (especially on Android), and the interface definitely could have been better. 
It does not allow you to do everything, and has some rough edges here and there (random errors, etc.)
But something tells me that they are constantly improving it and fixing it.
what can i do with the oneforma mobile app?
Pretty much all the main tasks you can do with the web app, minus some.
Apply for new projects from your mobile.
Give out certification tests and surveys.
See your approved jobs and upload data collection sets.
See and edit your profile. Check out FAQs and set up 2FA.
Most of the functions still take place over mobile web, but it opens natively within the app, and looks better on mobile than the regular website. So there is definitely some pixel magic taking place here.
more projects, and a revamped look
Even though I don't actively check Oneforma, I read their fortnightly newsletter. More and more new projects are available every week, and they keep experimenting with various types of tasks.
As you can see from the screenshot above, there are a tonne of translation jobs and there are some tasks in Testing and Annotation categories as well.

They are also revamping their interface (on web), with the new "Certs & Surveys" section and a more visually appealing homepage. But I personally think they have a long way to go.
Along with all that are their raffles and bonuses they award in their "Community", that is their Facebook, Instagram and Twitter handles. You can get updates about any new projects there as well.
but, the major problem with oneforma…
While a new design and community engagement is a good way to go, the main problem with Oneforma remains their non-streamlined process from applying to a project to getting paid for it.
It feels very much like TELUS International, where some communication happens over email, some over the platform, and there is no centralised support system to help confused users.
A lot of users don't know what to do after applying for a project, or even after getting approved for a job. There are different ways to complete different tasks, and instructions are not always easily accessible.
While I understand that having a wide variety of jobs is the main reason they are not able to pull-off a unified interface. Having a unified support system can be helpful. 
But with the slew of new tasks available and one of the best pay rates in the industry, they are worth going through all that trouble. It is one of the best crowd-sites you can work for right now.
 Just be patient with your application, and hope for the best.
More Reading for you…