Last Updated on September 19, 2022
There are two types of legit testing jobs that you can do online. After some time of earning online, I want to grab opportunities that pay me better for my time.
Unfortunately, the pay rates for web evaluation and rating jobs such as UHRS, Appen, Lionbridge, etc. have all been going down.
You might get a better rate if you are from some particular countries, and god bless you if you belong to one of those.
The tasks have become too simple,  and a lot of people have gotten into web evaluation/Internet judging types of jobs.
But there is one new booming industry on the Internet, the crowd testing websites. They require just a tiny little more effort and understanding from your side but pay far better.
Plus, there is still only a moderate amount of crowd, so you stand a better chance of earning through them.
Top Functional Testing Websites
Test IO
(Signup | Payment Proof | Guide)
Test IO is yet another function testing website, with lots of work and a promise to get you a project as soon as you finish onboarding. Sounds Interesting doesn't it?
uTest
(Signup | Payment Proof | Guide)
A large crowd testing project by a testing company, called Applause. They have new projects every week so you can easily find something to work on.
Testlio
(Signup | Payment Proof | Guide)
One of the other large crowdtesting platform. They pay testers by the hour instead of paying them for the bugs they find (like uTest).
Testbirds
(Signup | Payment Proof | Guide)
A great platform for people from the UK. They also have worldwide projects from time to time. Clearing their entry test pays 5 Euros.
TesterWork
(Signup | Payment Proof | Guide)
They also have new projects coming in every month. But do not expect much from them as of now.
oPrimes
(Signup | Payment Proof | Guide)
A new platform with lots of projects coming in every month. They also host data collection projects from time to time.
Ubertesters
Ubertesters is a crowdtesting site that does all the crowdtesting site stuff. I won't go in much detail but they offer QA testing, functional testing, localization testing, and all that usual pazazz that is thrown around in freelance testing platforms.
Projects are not as frequent as other platforms, but you can get some extra cash from time to time.
Top Usability Testing Websites
Usertesting
(Signup | Payment Proof | Guide)
The best website in terms of ease of use and trust factor. They pay a week after you complete any test. Payment varies from 10-60$ usually, but they also have smaller 4$ tests and bigger 120$ Live Interviews.
Google user research
(Signup | Payment Proof | Guide)
Find Usability testing for Google products here. They usually pay via gift cards, but the projects don't come very frequently.
Usercrowd
(Signup | Payment Proof | Guide)
Smaller tests. Simple survey-like questions that hardly take a minute. Also much harder to get in, unless you are online at the exact time you receive the email.
Checkealos
Checkealos accepts worldwide, but I guess there are more jobs available for the European crowd.
Ping Pong User Research
It is a Usability Testing site, just like Usertesting. But all the User Interviews are Live Conversation based (like Usertesting's 30$ & 60$ tests).
Userlytics
A similar site to Usertesting, but work is not available for all the countries.
Userfeel 
Same concept as other Usability Sites. Give a test, get paid via Paypal. First come, first serve basis.
Playbook UX
(Signup | Payment Proof | Guide)
This one almost feels like a Usertesting clone, except for one thing. The projects are very few and far in-between.
Enroll App
(Signup | Payment Proof | Guide)
Although the name might suggest it's an app, Enroll app doesn't actually have an app for smartphones. It's only available as a website. 
Enroll app has a terrible reputation as a testing platform, and you should avoid it unless you're locked out of other, much better testing websites.
What are crowd testing websites and how do they work?
Crowd Testing websites are platforms that pay you to perform various type of testing work for companies.
You do not need to be a professional tester or have any kind of testing experience of any sort. You just need to be a little computer savvy.
They pay you to perform tests for companies, the pay of which varies from 10-30$/hour (Depending on the platform and your country).
There are 2 types of crowd-testing websites that you can sign up for; Functional Testing Websites and Usability Testing Websites.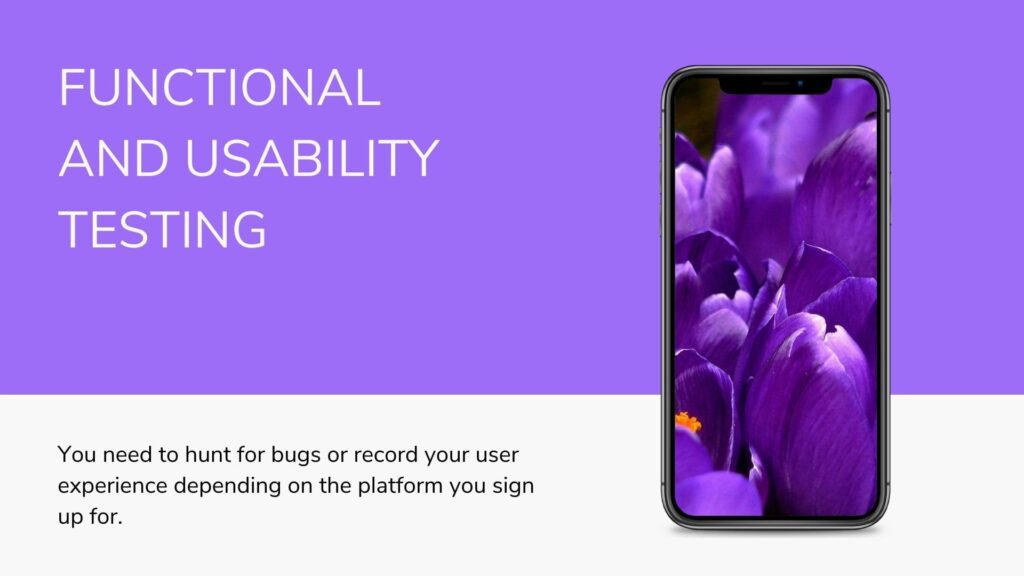 What are functional testing websites and how do they work?
Functional Testing websites allow people from all over the world to perform real-time testing for websites using their devices.
It allows companies to get their software/apps/services tested on a wide variety of devices and real-world conditions.
In this type of testing, the project usually involves testing out various apps/services and trying to find bugs in them.
This helps the companies reduce their testing costs and helps improve their product in unexpected ways.
What are usability testing websites and how do they work?
Usability Testing Websites help companies test the UI/UX of various apps and websites. It helps them better understand user behavior, and improve upon their experience. 
In this type of testing, you are required to use the website/app and talk through about your experience of using the application.
You are also required to share your screen (and sometimes) your face. It is advised that you set up your computer for audio recording if you plan to try usability testing websites.
How much can I earn and How will I get paid? (Payments Guide)
The earning potential of these websites depends on a number of factors, which will be discussed later.
But with the right combination, you can earn anywhere between 100-500$ per month from these websites. Several people on Reddit have reported earning way beyond that as well.
Payment methods on all of these are either Paypal or Payoneer. These 2 are the biggest global payments platform, and almost all the websites accept this as a payment method.
Websites like Usertesting pay you one week after every test, while uTest has a bi-monthly payment schedule. Some websites pay once every month.
But all of these sites are legit and there are no reports of them scamming anyone.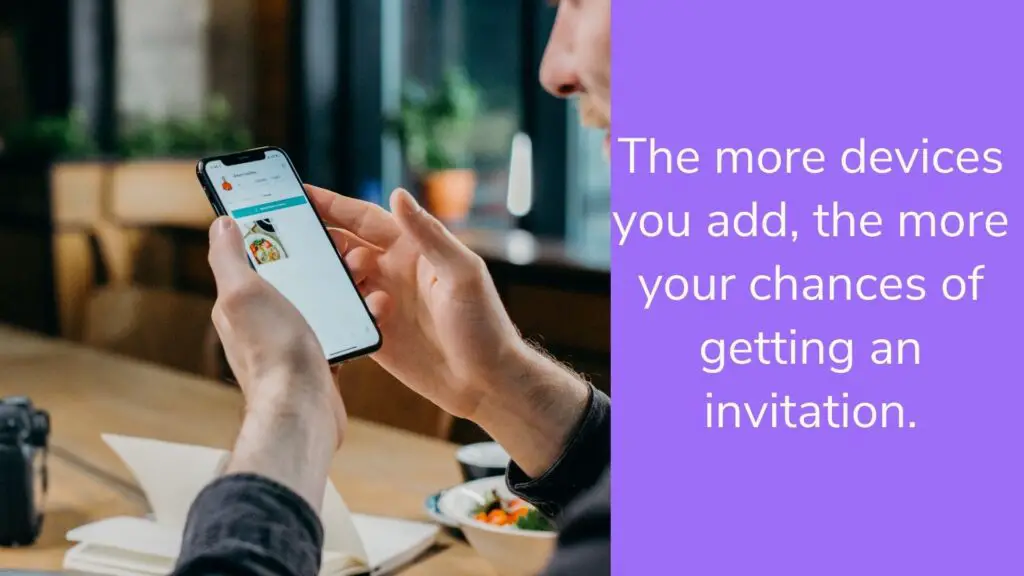 Earn more with Crowd Testing Websites (How to get more work?)
There is one biggest factor that decides the amount of test cycles or projects you get: Your Devices. And your profile in general.
The more devices you have registered in your profile, the more test invitations you will receive. Period. 
Websites like uTest might ask you to give some additional details regarding the services you use, for matching you with more projects. Make sure to fill them as well.
Then there are other details like the languages you know and your location. Some tests are only available to people in certain locations, or for a certain language. 
The idea is to match and qualify for as many test invitations as possible. Usertesting and uTest might not email you for every opportunity they have, so remember to check manually.
Look in the project boards, fill surveys on Usertesting, check out your chat messages on Testlio.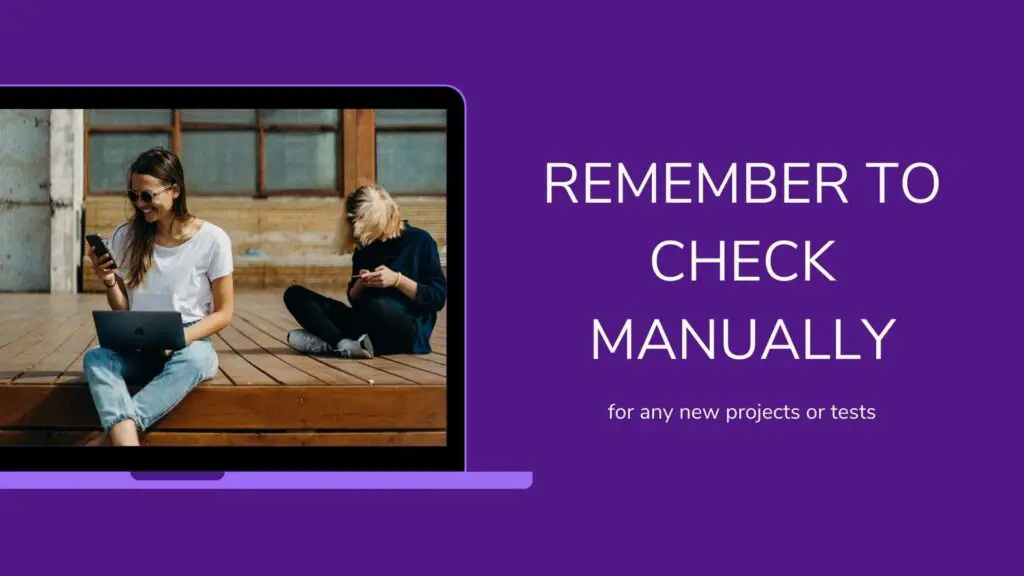 Remember to manually log in and check for any updates. Also signup for all the websites.
Sites like Testbirds and Testercrowd do not have very frequent projects, but they do have work available every month or two.
So sign up for all websites. Fill all profiles completely. And Keep checking regularly.