I signed up for oPrimes very randomly one day. It is a global crowd-testing website based in my country, so I wanted to give it a whirl.
I was able to get an app testing project very easily, and got paid in the very next payment cycle.
Plus, I kept receiving invites every week, and most of them were from very popular and well-known apps/companies. 
Since not many people know about it, it made sense to share it with the people.
What is oPrimes and How does it work?
Oprimes is a legit crowd-testing/QA platform that offers freelancing opportunities around the world. Think of it like uTest, where you are supposed to test apps and create bug reports for issues that you find.
They also have a bug bounty model (for most of their projects), which means your earnings are dependent on how many bugs you are able to find. Some of their projects pay for completing test-cases as well.
How to register and start working at Oprimes?
Registration is the usual deal. Not very easy, not too long. Just basic.
Fill in your basic details and confirm your registration by verifying your email.
Complete your profile.
Make sure to add your devices and Payout information.
Go through the resources section to upskill yourself
Just like every other crowdtesting website, filling in your profile and devices is vital to get more projects. 
Soon enough, you will begin getting invitation notifications in your email. All other project info will be visible only after logging into oPrimes.
One thing that I loved about this testing platform was that you didn't need to go through lots of practice cycles before you could begin doing paid work. Though it might change in the future for quality control purposes.
But I don't need to learn how to create bug reports and screen recordings everytime I join a crowdtesting website. So that's a breath of fresh air.
Project Related FAQs (Invites, Working and reporting bugs)
While working on oPrimes isn't any different that working at any other crowdtesting site, there are a few peculiarities as they are still under development.
Their site's interface is a little basic for now, but they are constantly evolving and have got the fundamentals in order.
Do I need to have prior testing experience to join Oprimes?
No, You don't need to have any testing experience to join Oprimes. The Oprimes Academy will teach you everything that you need to know about testing and QA.
How will I start getting project invitations?
The best way to get started is by completing the Oprimes profile with all the information. You will need to add all your Languages, Assets, Skills, Availability, Certifications, etc. They use this information to match you with project requirements and send out invitations.
I rejected the project invitation by mistake, can I be re-invited?
Yes, You can get re-invited, please reach out to the team via Google Hangouts [email protected]
Where can I see the project details?
You can check project details once you accept the project invite under the WiKi section.
I am unable to choose a testing device while testing a particular project?
It is mandatory to add the Device in the Profile section to be able to select it while reporting a bug. 
How do I reach out to the PM (Project Manager) or Test Lead?
You can always click on the "Chat" option available on the Project page.
How much can I earn and how will oPrimes pay me?
You primarily earn by taking part in their testing projects. You can also earn for executing the test cases, reporting bugs, submitting surveys, usability studies, referrals and contests. 
Your earnings will (mostly) depend on the number of bugs that you submit. So it is hard to calculate with precision. But I did a test-case run with them, and it paid me around 13$ for an hour. 
So their pay rate is on-par with all the major testing platforms.
They pay via Bank Transfers in India, and via Paypal to the rest of the world. Payments for your approved work will be processed between the 10th and 15th of every month. 
You might need to submit an invoice in some cases for your payment to get processed. 
Also make sure to verify your payment info beforehand so you don't miss any payment from them.
oPrimes Payment Proof:
Here is a payment proof from oPrimes. Note that it is an Indian payment and was hence paid via Bank transfer instead of Paypal. I am sure people have gotten paid via Paypal as well.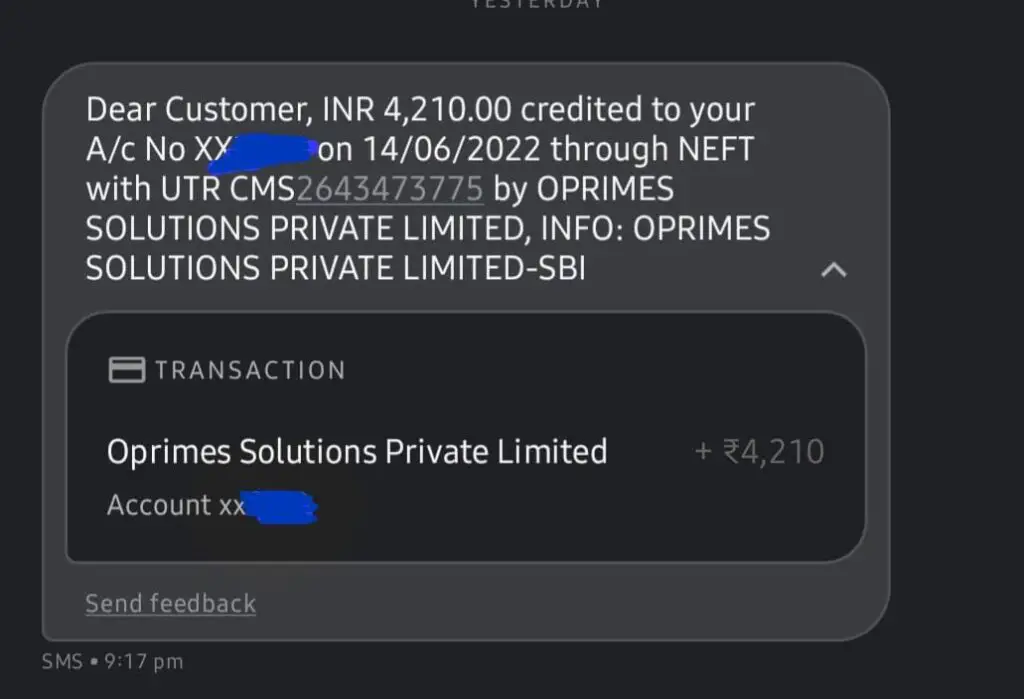 Some Payment-related FAQs for oPrimes:
I haven't received my payment, what do I do?
Payments can fail due to multiple reasons. Make sure to add the active payment method and reach out to [email protected] in case of any payment related issues.
Where can I see and update my payment details?
You can see and update your payment details under your profile -> payment details
How do I view my upcoming payouts and history?
You can check your Payment History any time under the Payout section on the header. 
Where do I find Invoice templates?
The invoice template is available in the Resources section of your tester Profile.
Is Invoice Mandatory for all the Projects?
No, The PM will let you know for which project invoice is applicable. For non-applicable projects, payments will be processed by default.
Am I taxed for my Oprimes earnings?
No, they pay you in full. No taxes are withdrawn from your earnings. 
Why is a Unique Identification Number mandatory?
They need the UIN of testers to maintain standard financial records as per the government laws. 
For Indian testers PAN card details are mandated and for international testers unique verification ID like Passport, Driving licence, or Any government-approved ID is mandated.  
Who do I contact for Oprimes related issues?
You can always reach out to [email protected] via Google Hangouts or an email.
More Reading for you…