Last Updated on September 14, 2021
Would you enjoy being paid to test websites and apps, on a part-time basis? Do you enjoy working from home, in your own time, whenever you are free? Well, now you can. Userlytics is a site that allows you to do just that, get paid for providing your valuable feedback and suggestions. It works on a similar principle of usertesting.com, that I wrote about a while ago, along with it's payment proof.
Note: Do read the last paragraph of this article for some issues with this site.
What is Userlytics and how does it work?
Userlytics is a "Get paid to test" website, headquartered in California, USA. It was founded in 2009, and seems to have several big clients in it's arsenal (or that's what they say on their website). The deal is simple, clients can post a test using a wide variety of options and demographic filtering, and it can help them improve their UI/UX or service in the future. Infact, they have a dedicated page for clients explaining their wide array of services.
What does a Userlytics tester do?
As a tester, you will be required to partake in their tests (either through their desktop or mobile software) and share your thoughts out loud as they will be recorded along with the screen. You are required to complete several tasks (as provided by the client) on a particular website or app while speaking your thoughts out loud.
You'll be user testing websites, prototypes, advertisements, videos, and other types of material from small start-up companies to those of large well-known corporations.
How to sign up and get started?
It's pretty simple, you simply go to their tester signup page and fill in your email information. After clicking the "Sign up" button, you will receive a confirmation email in your inbox.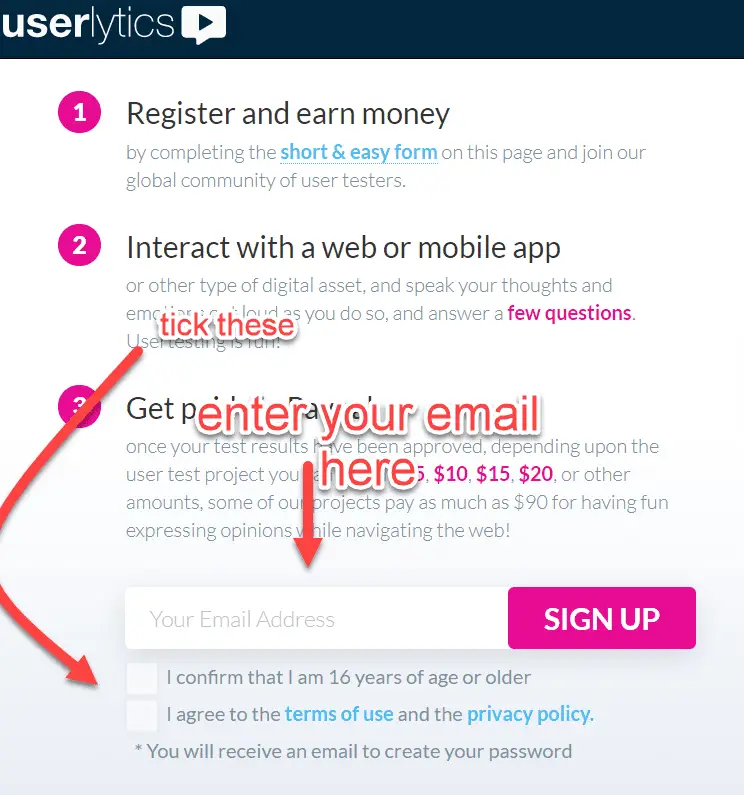 Click on the confirmation link on the page and you will be asked to set up your account. You need to provide your basic profile information, and your PayPal payment information so that you can get paid. Once you have created your account, you are required to fill in your profile information, so that they can filter you out for specific surveys and tests.
You will be asked to provide details regarding:
The social networks you use (fb, linkedin, twitter, etc.)
The devices that you own (smartphone, tablet, etc.)
Your household income
The web browser and Operating system that you use
The languages you speak
So on and so forth
This will help them classify you into their database so that whenever you match the criteria required by a client, you can be contacted. It is not mandatory to fill in all the profile information, but the more complete your profile is the better.
How do I get tests and surveys in Userlytics?
Similar to usertesting.com, the tests on userlytics are available on a first-come first-serve basis (if you match their criteria). They have a dashboard page that will show you available tests invitations (if any), and they will also email you whenever a new test is available for you. You need to quickly respond to that email and participate in the test before it expires or fills up.

Also, there will likely be a screener before you can participate in a test. It means that you will be asked several questions before starting the test, that will determine if you are a correct fit for the test. A lot of people are disqualified for the test in the screener itself.
How does Userlytics pay it's testers?
Userlytics will pay you via Paypal upon successful completion and approval of a test. Once your test results have been approved, depending upon the user test project you can be paid $5, $10, $15, $20, or other amounts, some of their projects pay as much as $90, all for simply expressing your opinions while navigating the web.
If you don't know Paypal is a global service to send and receive payments. Once you receive money in your Paypal account, you can easily transfer it to your local bank account, or pay money to the hundreds of merchant websites that accept Paypal.
According to their website, "Once the client has reviewed and positively rated your test feedback, your test will be marked as "approved". Payments for approved tests are made once every 15 days." So you will most likely be paid within a month of completing the test (at max).
The Problem with Userlytics
Well, all the information above must surely have convinced you to join userlytics and begin earning some easy cash. But wait. There is one problem with userlytics:-
There aren't enough tests.
There. I said it. I have been a tester on userlytics for over two months now, and this is the only invite I have received so far: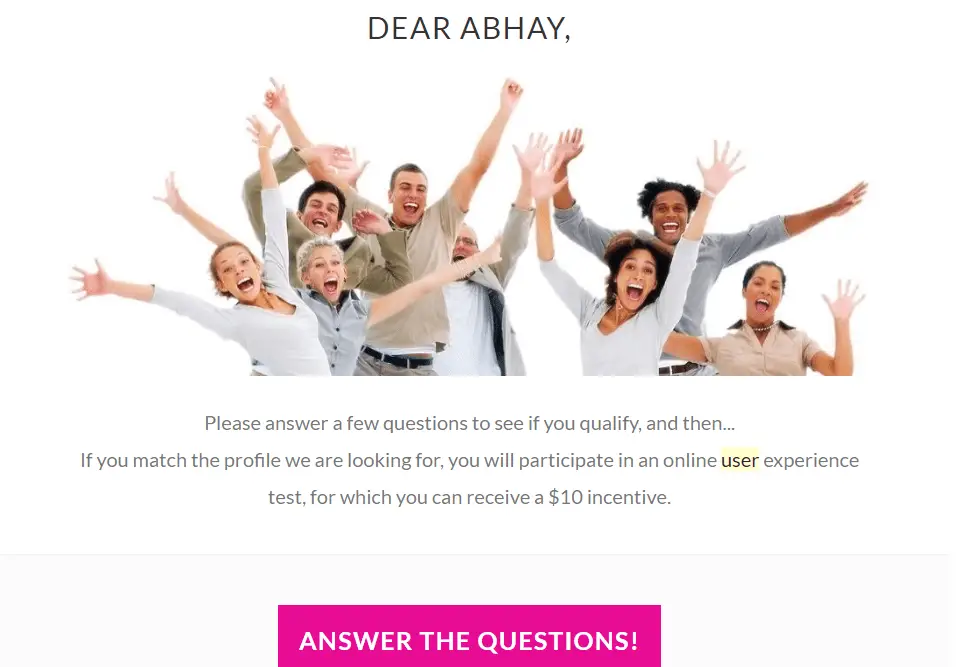 And I didn't even qualify for that test as well. This would make it very difficult for you to make any money on the platform, or even rely on it for your beer money.
Compare it to usertesting.com, which easily has around 5-10 tests on an average daily. And even with such an abundance of tests, I have only successfully participated in 2 of them so far (over a 2 month period). So, usertesting.com clearly feels more reliable in the sense that there are more opportunities available on a daily basis. While userlytics, on the other hand is a hit-or-miss situation.
Now it might be some specific issue with my demographic and people from other parts of the world are definitely earning from it. But compared to usertesting, I would not rely too much on this site. I would suggest you create an account on it and see if you get invited for any tests. Since there is no minimum payout, you can make a quick 5-10$ if you are lucky enough.
Note: Even though I have never been paid by this site, there are a lot of people on Reddit who vouch for this. So, it is definitely a legit site and not a scam.
On a side note, I would recommend you to signup for usertesting.com if you are looking for a better "Get paid to test" site.
Also, if you have any more questions regarding userlytics, feel free to check out their tester FAQs here.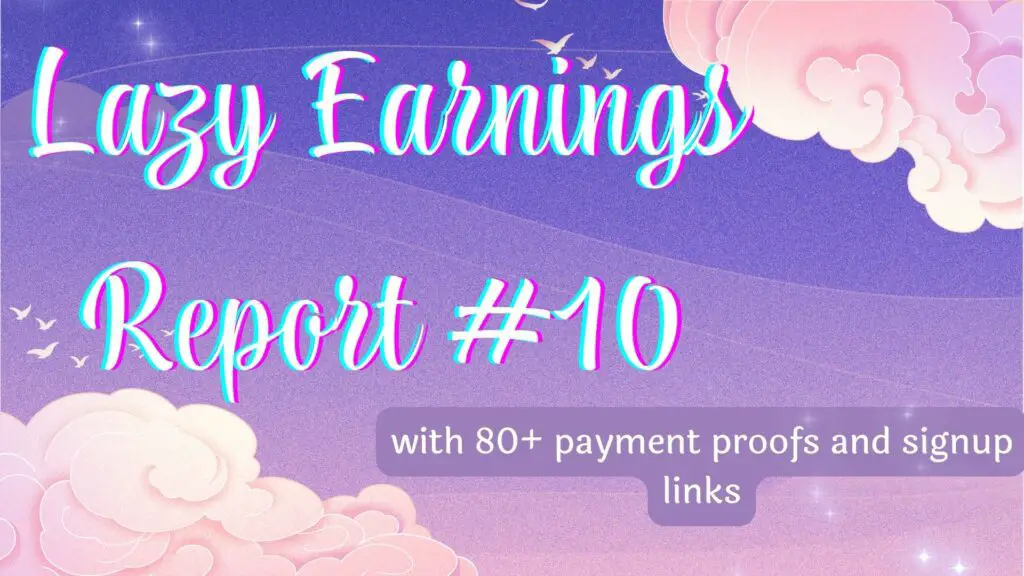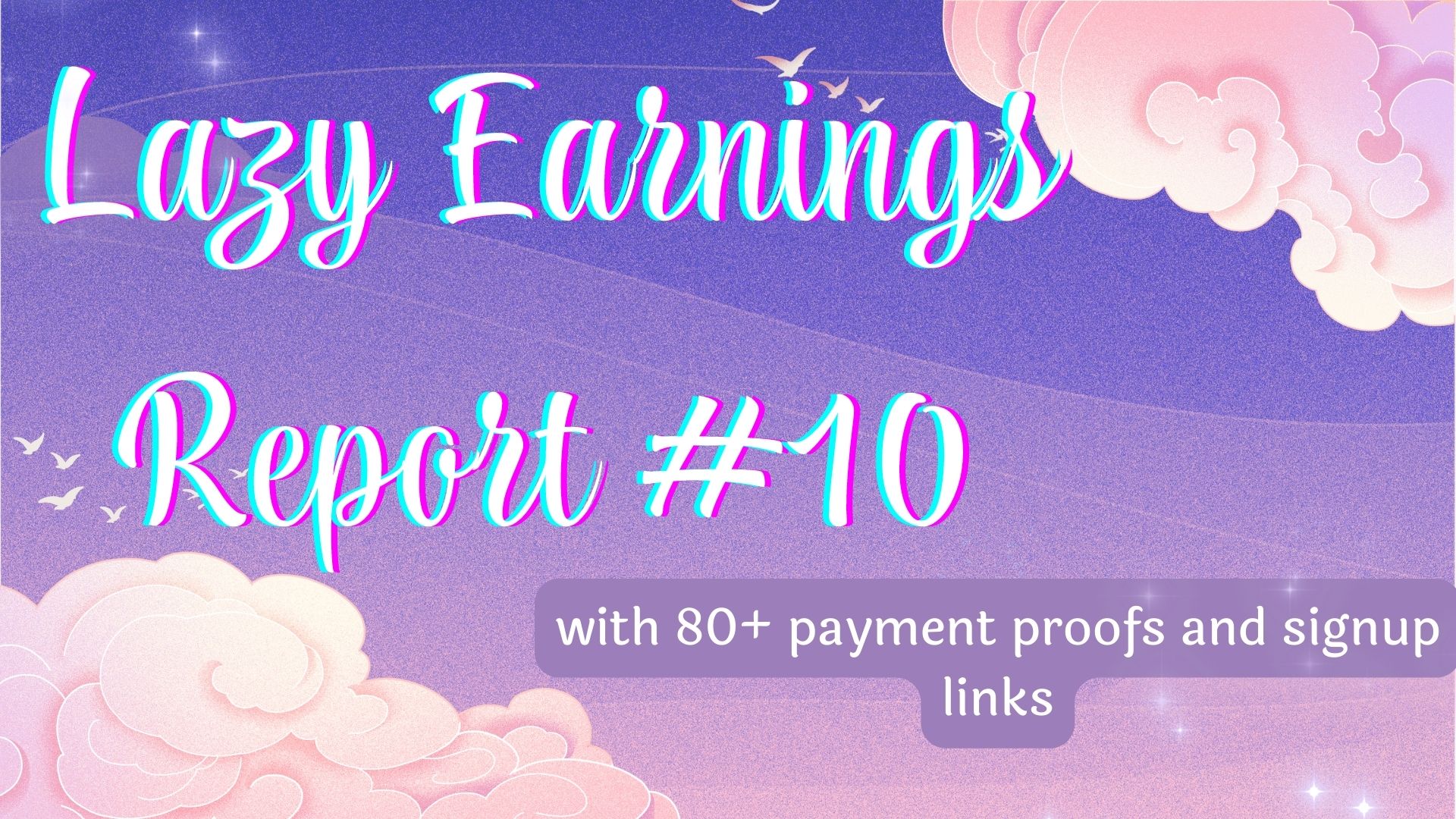 A complete list of the websites and platforms that paid me in the past 8-10…