Last Updated on January 14, 2022
Ping Pong's User Research Interviews are all Video-Call based. So if you are camera-shy or an introvert, then this is not for you. But their panel is very friendly and helpful, and it is simply a research-based interview where there are no right or wrong answers.
What is Ping Pong and How does it work?
Ping Pong is a User Research Interview site. The concept is very similar to Usertesting, where you give live feedback on the Customer's website or app. It helps them improve their product and make it more user-friendly.
One thing that differentiates it from Usertesting, however, is that all the User Research Interviews are actually video calls (similar to Usertesting's 30$ and 60$ Live Conversations).
It has a lot of popular customers such as McKinsey, Nestle, Skyscanner, and more which regularly require user research interviews to improve their products.
Ping Pong has three types of tests: 30-minute tests (that pay 15 Euros), 60-minute tests (that pay 30 Euros), and Special case tests (that require people with specific background or occupation) and pay up to 200 Euros!
The special case tests are similar to the interviews you get in Respondent, which are dependent on your background.
How do I signup for Ping Pong and how to start working?
Ping Pong has a very simple and streamlined signup process, unlike many other testing sites. The whole process takes just 5 minutes and you will be done.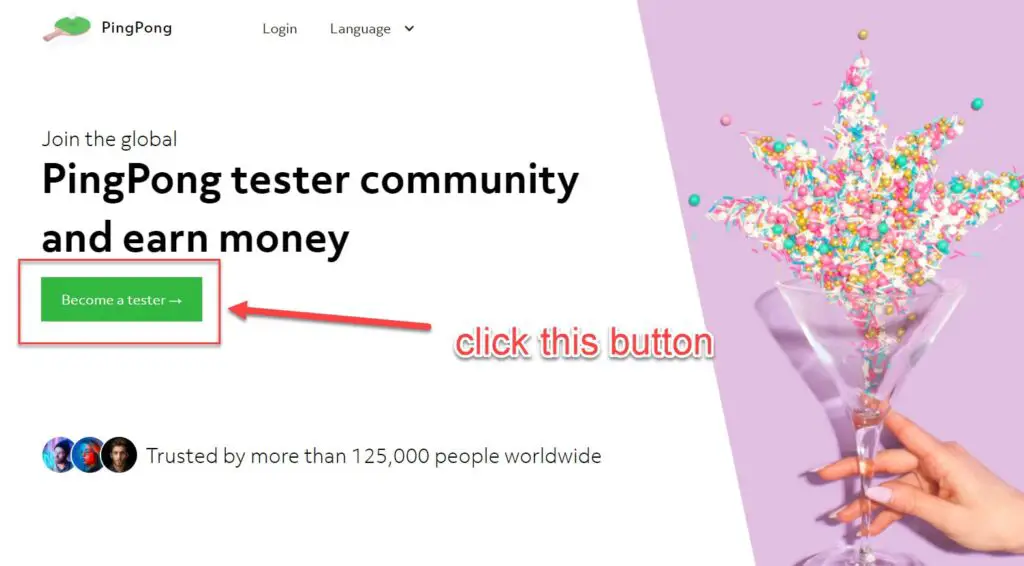 Go to their Tester Signup Page and click on "Become a Tester".
Enter your basic details such as email address, location, name, etc.
After that, you will be required to fill in your basic profile information. It just asks for your basic details such as age, gender, occupation, etc.
After that, you will be directly taken to their dashboard. It is not a live dashboard, so you are not required to keep it open to receive tests. Instead, you will be emailed whenever a new test is available for you.
Your first test invite might take some time. People say that it took them a week or two before they received their first invite.
After you complete your first interview successfully, you might get them more frequently, obviously depending upon your profile.
How much can I earn and how will I get paid?
Ping Pong has three types of user interview tests available. You can get a 30-minute or 60-minute user interview that pays 15 and 30 Euros respectively.
The other type of test is a special test that requires people from specific backgrounds (such as people working on a specific job, or people using a specific application in work).
Do not think of it as a full-time salary. Think of it like some pocket money or beer money. They have mentioned it on their website themselves.
These types of interview slots are harder to fill and pay much better, up to 200 Euros per interview.
These are similar to the tests you might get on Respondent, which are very specific and pay much better than other tests.
The payments are made via Paypal, and you will be paid within 7-15 days of completing the test.
Hello Ping Pong Payment Proof
Ping Pong is a legit site and there are several payment proofs floating around the Internet. Here is a Paypal payment proof of the site.
The payment proof is several years old, and they used to pay 20 Euros for a 30-minute session at that time.
I personally know another person who received a payment recently from it. So there is no doubt about the legitimacy of this site.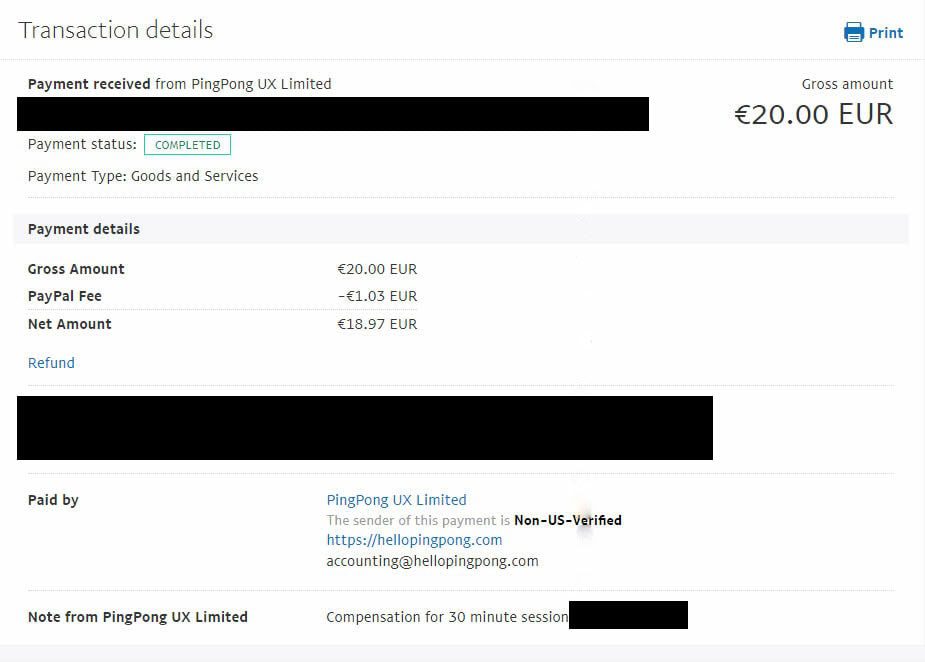 Tips to Get more User tests and earn more on Ping Pong
Even though there are not many users on Hello Ping Pong, but the slots for User Interviews are limited and it can get difficult to enroll in an interview.
Here are some tips you should follow to get more tests on Hello Ping Pong:
Make sure your email notifications are enabled. Just like Usercrowd and Checkealos, your invites are sent to you by email.
The slots are limited and disappear very fast. So make sure you respond to your invite as soon as you receive it.
Your first interview is very crucial (just like Usertesting). You will be rated based on your first interview's performance, and getting a 5-star rating will fetch you more invites in the future.
Make sure to Validate your profile using their social sign-in options (Facebook and LinkedIn).
This helps them to verify that you are a real person and boosts your rating. You might be eligible for more interviews for having a verified profile.
Go to the notification settings and make sure email notifications are enabled on your account. Though they are enabled by default for all, it doesn't hurt to double-check it.
All the tests are video based. So you should click on the "Test Video Call" button and make sure your audio/video and internet are working correctly beforehand.
The slots are limited, so you might not get selected in every invite you get. Keep trying until you suceed. Think of it as a numbers game.
This is it, people. Ping Pong is not covered by a lot of sites and it is an underrated website by a lot of measures.
There are fewer participants on it, and thus you have a better chance of getting a test on it. Best of luck.
Some More Reading for You…