Last Updated on April 19, 2022
Respondent.io is a relatively mainstream and accessible website for surveys/studies. It has plenty of options for studies available for countries worldwide. Although it often gets combined with other survey sites such as ySense, one of its main attractive features is that it offers a much higher rate for its studies than the other sites out there.
Respondent.io has amazing earning potential, but it is limited by the fact that the studies require a very specific type of participants. You can still earn good by referring eligible participants.
The company features some extremely well-known sites for their researches: Alibaba, Ali express, and Amazon, to name a few. Thus, there are many studies available regardless of the country you reside in. The surveys can be conducted in three ways, over the phone, online, and even in person for some studies. You can always opt out of those if you are unable to meet in person.
The availability of work is not an issue here. It is their specific criteria for a participant that makes it difficult to get into a study.
Signing Up For Respondent
Signing up for Respondent.io is not a complicated process, and you can easily do it in one sitting.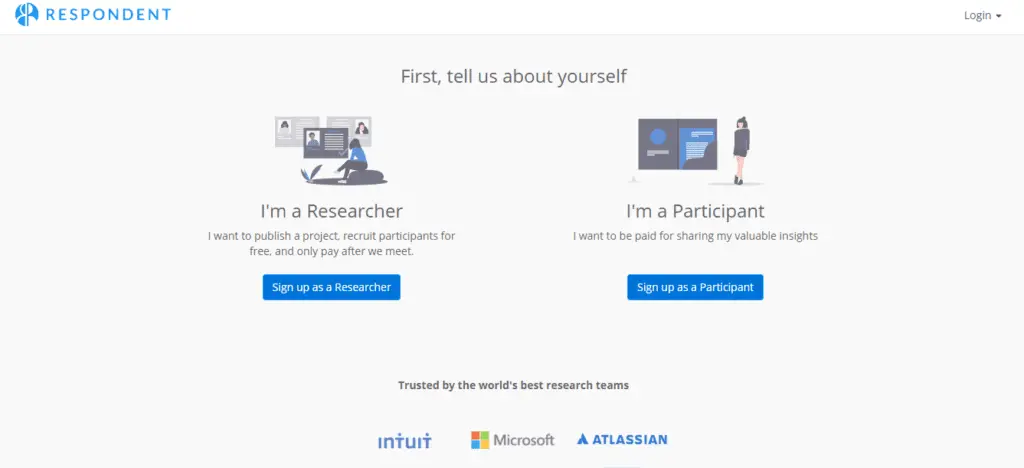 Firstly, you visit their page and click sign up.
Then, you choose to sign up as a participant.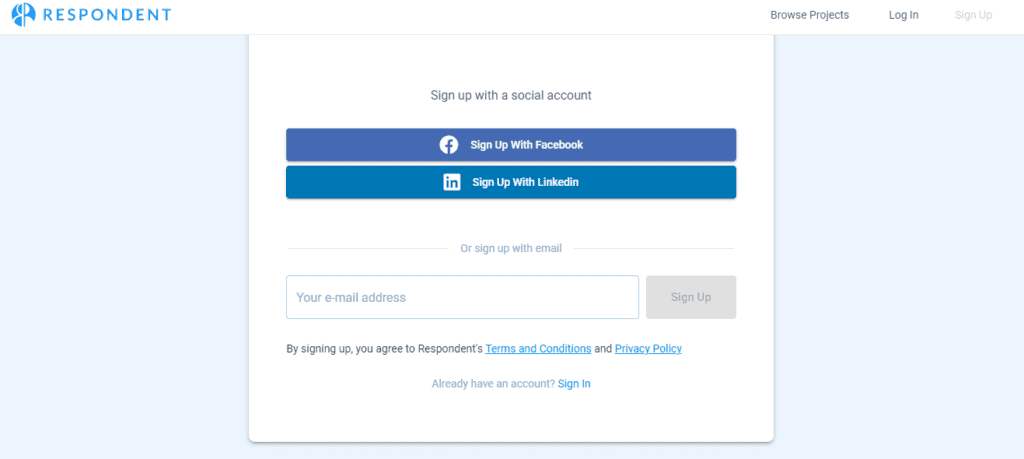 Once there, you get two options; you can either sign up with an email or an already existing social media account; Linkedin or Facebook if you wish to connect those directly.
Both methods require you to furnish the same amount of details.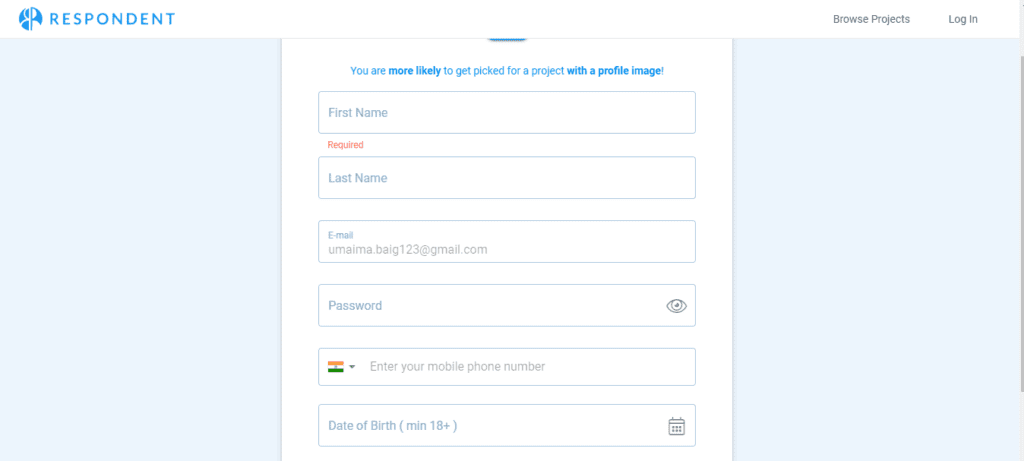 You are then taken to a page where they ask for some of your details. Remember that you will need a valid phone number when signing up. You will need to verify this number at the start before you can move on further in the application process.
Some of the details they make ask include your employment status, your ethnicity, your location, education level, etc. This information helps them find studies that are most suitable for you. So, you don't have to waste your time finding ones that fit your set of skills.
Lastly, they need your PayPal email address. Don't worry if you don't have an account when making it. Just enter the email you use and create an account later with the same email to secure your payments.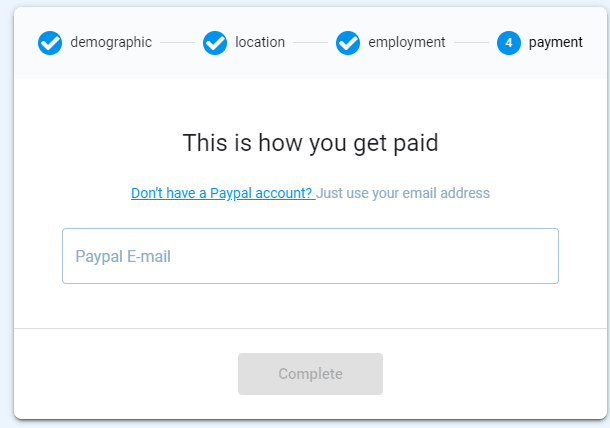 How much can I earn from Respondent and how do I get paid?
Payments act as a great source of stress for most people working online. They constantly have to wonder if the work they are doing will get paid or if their hard work is going to waste. Well, with Respondent.io they don't have to worry. The payments are guaranteed. They only have one method of payment, being PayPal, so it makes the entire process easy and smooth.
The amount paid for the studies is also different ranging from $70 to $200 on average but sometimes can even go up to $500, though that's pretty rare.
Now I also need to mention that the studies are not general usability studies that you find on Usertesting, Dscout, or Other Testing Sites.
They are more technical in nature and some require you to have a very specific job. There are general studies available as well, but they are very few in number. Read ahead to see some of the example studies you might see at Respondent.
Respondent.io Payment Proofs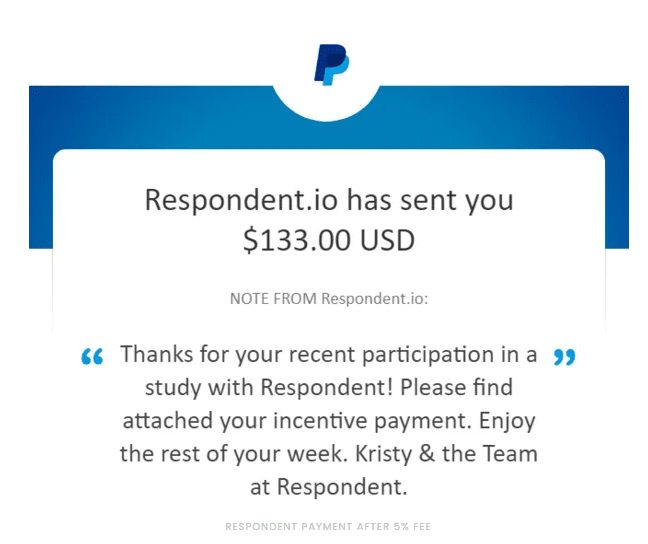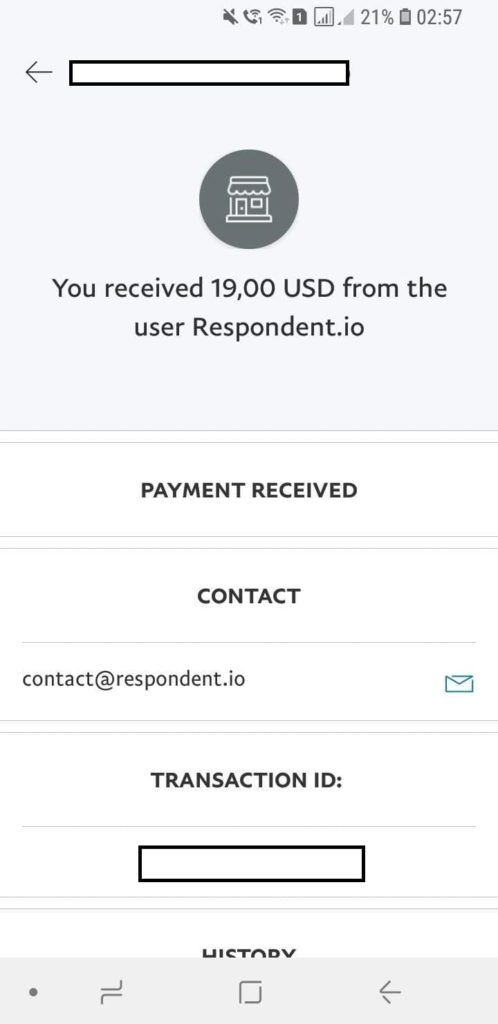 Some people have shared Payment proofs from Respondent to validate that the site is legit.
Respondent is definitely a legit earning opportunity, especially for working professionals.
Tips for Working in Respondent (Get More Studies)
There is one thing you should definitely do while creating your profile. That is to verify your work email in Respondent. It basically requires an email address that is not available publically, like Gmail, Hotmail, etc.
If you work for a company, then you probably already have one. Just verify that email. If you do not work for a company, you can still verify your work email if you own any domain. Verify an email address belonging to your domain.
Verifying work email unlocks several new studies for you. A lot of higher-paying studies require you to verify your work email address. You can also refer your friends and colleagues for these studies, and get a nice referral income for doing that.
The work you get varies greatly and depends on your qualifications as well. E.g. If you have tech-related experience, you might get accepted more for tech-related studies. They do take ordinary people for those studies as well, but it depends a lot more on your skill and sometimes dumb luck.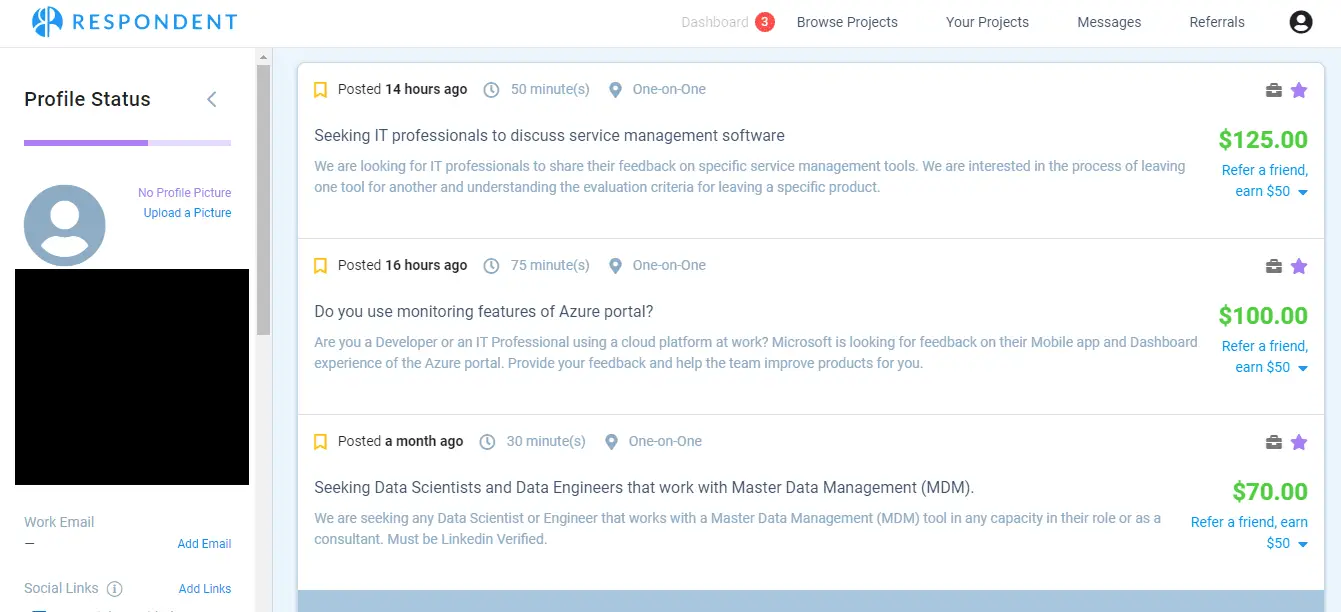 Above are some examples of the studies available on the site. Each one has their requirements, and you have to fill out a small form which you are selected upon. Most of their surveys/studies are short and can take anywhere from 5 minutes to 45 minutes, depending on the task at hand.
Most of the researchers are brands looking for opinions on their products or an idea. So they are looking for users that are familiar with their style and products.
In conclusion, Respondent.io is a relatively famous survey site that pays well and has a lot of studies to choose from no matter the region you are in. The studies aren't monotonous and boring, and you have the opportunity to provide some decent input to influence a brand and make some cash doing it.
Unlike Upwork, Freelancer, and other top freelance platforms, we have brought two different platforms that are more than just a gig posting platform. Find out what these two have to offer, how to apply, and how much they pay you.

When you start as a freelance writer, it feels overwhelming applying for jobs on various job boards. Here are the best writing job boards and platforms that are ideal for beginners.

The best platforms that host language jobs. A curated list of the best translation websites that work worldwide, and have lots of work available.