Last Updated on October 19, 2021
Ysense is not a new entrant in the world of GPT sites. In fact, it is one of the oldest GPT sites, even though you might have not heard of it. Turns out, it was previously known as Clixsense, and was one of the few legit PTC sites of its time.
Times changed and it rebranded itself as Ysense. It is no more a PTC site but has a much better earning potential along with a referral program. Read on to find out why ySense is a very promising site for everyone all around the globe.
How can I earn money with ySense?
There are several ways to earn money on ySense. This is why I think that its earning potential is much better than other similar surveys and offer sites that you might find on the Internet.

Surveys: The very first and primary earning method on ySense is by completing surveys. They have partnered with Peanut Labs and Opinion Surveys where you can get a survey to complete daily. It also gives you independent surveys from different platforms from time to time. They range from 0.30$ to 0.80$ (in my time so far) and take 15-20 minutes to complete at max. So far, I have been regularly seeing surveys on the site. All of them are not guaranteed to match, but I usually complete a survey every other day.

Also, there are partnerships from several other survey sites, that can be found in the "Offers" section. So many integrations make ySense feel like an all-in-one survey site. There are lots of options to complete surveys and this saves you a lot of effort in signing up for other survey sites.

Offers: The "Offers" section provides you with compensation for completing tasks such as downloading an application, signing up for a website, and many more similar offers. They pay depending on the type of task, and whether or not you need to make a payment to complete it. For example, one particular task requires you to buy a domain name from a provider, that is worth 5$. For completing the offer, you get paid 3.5$ in return. So you get the domain name for 1.5$.

Similarly, there are great offers for VPNs as well. You can effectively get a 2-year VPN subscription for free. All the money will be refunded to you after a month by ySense, as compensation for the offer.

Tasks: This is one of the most interesting aspect of ySense. This is another contributor to it's earning potential. It has partnered with the Figure Eight platform (by Appen) to provide several micro tasks to complete for money. Though the tasks are not in abundance, this section can help you significantly increase your earnings.

Some countries have a lot of tasks available for them on the F8 Platform.


Affiliate Program/Referral Program: This was one of the key features back in the day for Clixsense. It is what made them so popular since the referral program made people promote their website for free. Hence, this was carried over to ySense and you get a commission for every person that joins through your referral link. So if you are feeling generous, please join ySense through my link. This would help a lot.
Update: Since the article was written, they have removed the "Tasks" section. The tasks section can be separately accessed via the Figure Eight platform.
The ySense Extension (boost your earnings)
One great feature of ySense that I absolutely love is their browser add-on. It is an extension available for Chrome, Firefox and Microsoft Edge. The add-on is a neat little feature that shows you your ySense stats (your earnings), and it notifies you whenever a new survey is available.
This is how the extension looks like when opened: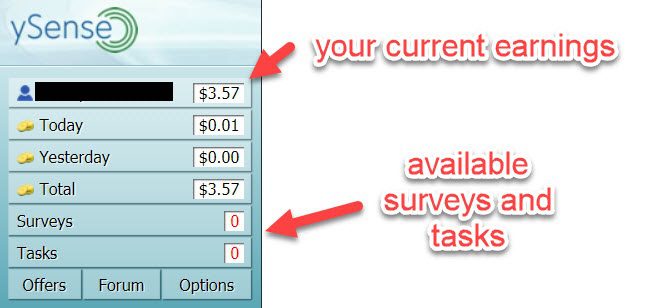 I find this feature to be very innovative and useful. It takes off the load of constantly checking websites for available work. I can simply glance at the extension to see if any work is available. You can even set the extension to ring a notification sound if any new survey or task comes up.
Pro Tip: You can set up a global extension (Auto Refresher) to notify you whenever there is work available on any site. See this tutorial to understand it's setup. Available for Chrome and Firefox only.
I wonder why other sites such as UHRS and Usertesting don't come up with a similar feature. It would make a huge difference in my usage of these sites, all for the better.
How do I get paid by ySense?
ySense provides a plethora of payment methods available for you, when you want to cash out your income. Here are the payment methods available for ySense users:
Skrill (Starting from 5.05$)
You can cash out using Skrill if you have accumulated a total of 5.05$ in your account. Skrill allows you to send and receive money by email, withdraw funds to your local bank account and make payments online.  Make ATM withdrawals and spend with the Skrill Prepaid card.
Reward Link (from 7$)
Users can choose to redeem their earnings through a Reward Link Card. Reward Link is only available in some countries. The minimum balance required for this payout is 7$. Reward Link is a facility that can help you redeem your money through any of the hundreds of brands available on their website (in the form of a gift card).
Check out their website to know more.
Paypal (from 10$)
Paypal is one of the most popular method for getting paid online. Paypal users can cash out when they have accumulated a minimum balance of 10$. I personally use it to cash out from ySense.
Steam (from 50$)
If you are a gamer, then you can opt for a Steam Gift Card if you have a minimum balance of 50$. Steam gift cards allows you to buy games and in-game items from the Steam store.
Payoneer (from 52$)
Payoneer is also a popular payment solution for people around the world, especially if you are a member of Appen. Payoneer withdrawals require a minimum balance of 52$.
Even though their initial withdrawal is higher, you can save a lot of money in fees if you opt for Payments with Payoneer.
ySense Payment Proof & Some Thoughts
I have been paid once by ySense, and I find it to be a very legit earning method. Their payment comes from "The Rewards Store", which is probably the name they are registered with. Check out my payment proof here: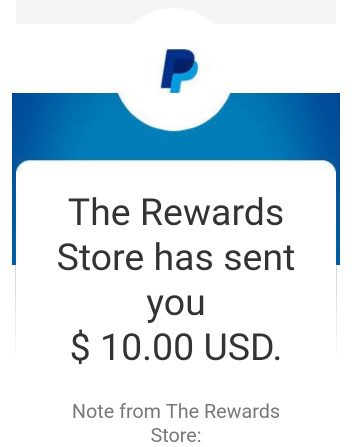 Unlike other survey sites where you struggle to reach the payment threshold, ySense has a lot of surveys available regularly. I usually get 3-4 surveys daily. But note that you might not get qualified for each of them. As for me, I get qualified in one survey every other day (on average).
Overall, I would recommend ySense as a beer money site, for now, adding little side money to your earnings. But this site has a lot of potential, so I suggest you sign up for it.

You can also try Attapoll, which compensates you for Surveys that kick you out as well.