Last Updated on October 19, 2021
Appen was my first online earning site. I earned a consistent and easy 100$ every month from this. You can see all my Appen payments on the Appen Payment Wall.
I received my timely payment from Appen in the mid of April. This payment is for the work done in the month of March. The month of March had above-average earnings for me as a lot of work was available; and also because I had a lot of free time in my hand.
Appen payments are very dynamic in nature, until and unless you have a very stable and high work project on your hand (usually from social media giants). My payment for March is 3x my payment for the month of April. So I received 186$ from Appen, which was transferred to my Payoneer account. And soon after, Payoneer deducted it's 3$ fees and transferred 183$ to my Indian bank account. Check out the screenshots below: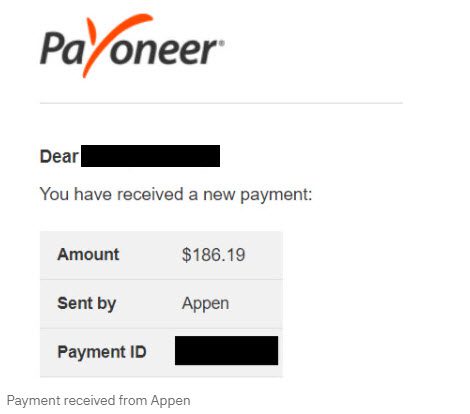 As I already declared in my earnings report, the month of March was pretty good, especially in the case of Appen. You can easily earn a good part-time income from Appen if you get accepted into several projects.
Check out some of my latest earning reports (and payment proofs) below:
A complete list of the websites and platforms that paid me in the past 8-10 months. An accurate representation of the online earning opportunities available worldwide.

Here are the sites that paid me in the past 3 months. I have included payment proofs and signup links to help you.

Check out how much I earned in the last 2 months, and which sites paid me. Some new sites this time.