Last Updated on January 10, 2022
Anyone earning money online should already be familiar with Payoneer. It is a global payment solution (similar to Paypal). This means that it helps you get paid via International Platforms into your local currency.
How do I signup for Payoneer?
Let's get straight to business. Signing up for Payoneer is a pretty streamlined process, and they automatically create the account best suited for you by asking 3 simple questions beforehand.
Go to their signup page first.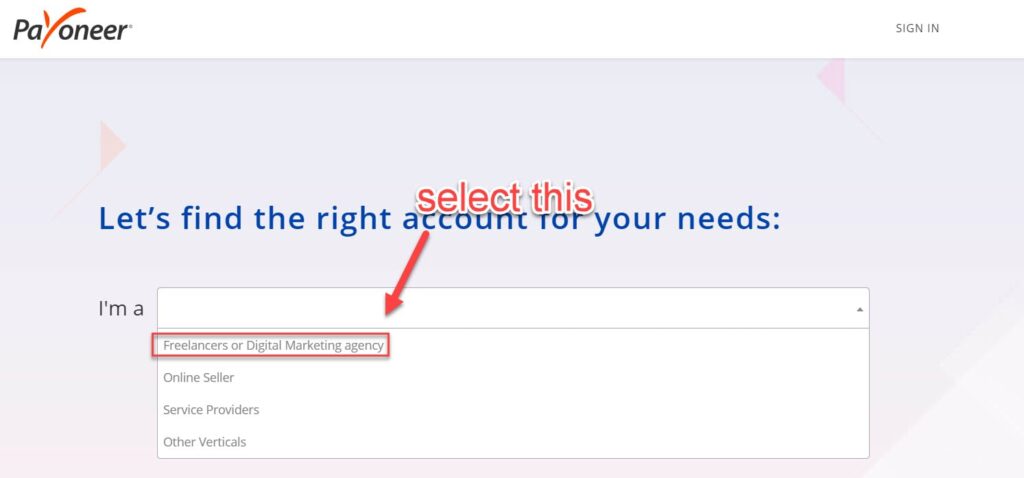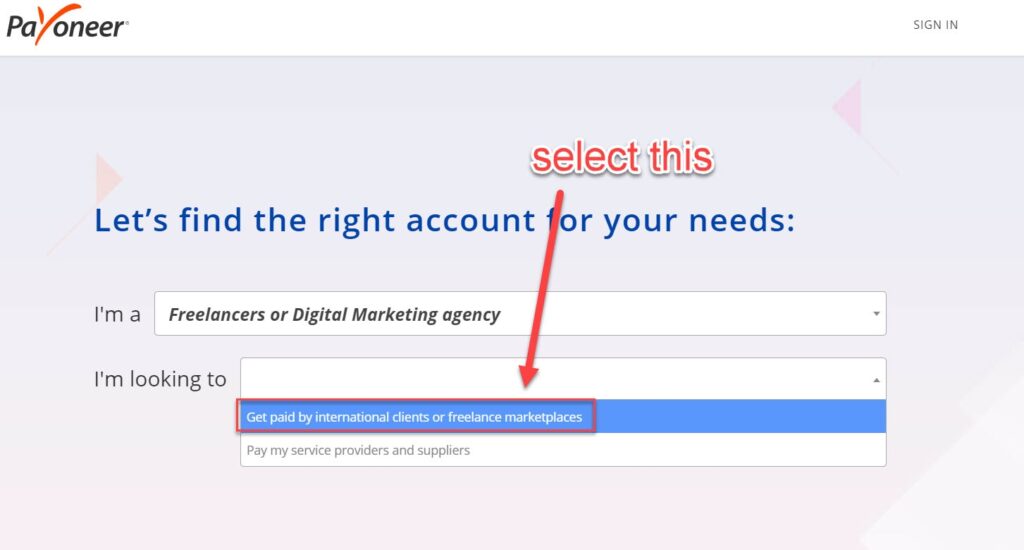 Choosing the above 3 options will help Payoneer in determining which type of account is best suited for you.
This helps prevent a lot of issues that Paypal users sometimes face, where they are not able to receive International payments because they chose the wrong type of account.
After that, you will be asked to submit your details such as email, contact information, security information, and bank details. Make sure to provide accurate information for all of them.
You need to provide your tax information and a local bank account, where your Payoneer payments will be withdrawn. Apart from that, also provide your mobile number as Payoneer has 2FA (2 Factor Authentication) enabled by default.
This means that you need to provide your OTP received on your cellphone when logging in through a new device or after a long time.
What Purpose Code should I enter in Payoneer?
For some countries (such as India), Payoneer will require you to enter a "Purpose Code" in your profile information. It is disclosure regarding why you are receiving international payments in the first place.
For the payments we usually receive (by doing contract work for various crowdsourcing websites) the purpose code you should enter in your profile is "P1099 – Other Business Services".
It is the closest definition to the type of payments we receive in our account. To change or update your Purpose code, log in to Payoneer -> Go to Settings -> Profile Settings. Scroll down till you see the option to change your purpose code.
How is Payoneer better than PayPal?
There are a number of reasons that more and more sites have started supporting Payoneer as a payment method alongside Paypal.
Less transaction fees
For larger payments (above 50$) you are much better off getting paid by Paypal instead of Payoneer.
Though the transaction fees vary from country to country, Paypal usually takes a percentage of the total transaction. This means you pay larger fees for larger transactions.
Payoneer, on the other hand, has a flat transaction fee (in most cases). For example, Appen payments have a fixed fee of 3$ per payment no matter how big or small the transaction is. Clickworker payments do not accrue any kind of transaction fee.
Even in most other cases, I have noticed that you end up paying less fee when getting paid through Payoneer.
Payoneer supports more countries
There are a lot of countries where Paypal isn't supported as of now (Pakistan, Ghana, etc.).
But Payoneer supports sending payment to these countries. This is another reason a lot of crowd working platforms have added Payoneer as a payment method.
Even if you wanted to receive or send payments to anyone in these countries (say a freelancer or a friend), you are better off with Payoneer.
Inbuilt Form Signing and Verification
Several sites (such as Oneforma) require you to sign a W-9 form. It is a tax form required by US companies that hire international workers.
Earlier, it was a very cumbersome process to sign this form as you had to do it manually.
Since they added Payoneer as a payment method, you can easily sign the W9 form inside Payoneer with a few clicks.
Having this inbuilt support for tax-related documents is another thing that makes Payoneer better for both businesses and freelancers.
It has a referral program!
This one is the best. Payoneer has a referral program that pays you to onboard more people onto their platform.
If someone signs up through your link, and ends up receiving 1000$ into their account (over any period of time), you will get paid 25$.
Now this might sound pretty impossible, but if anyone works on the right platforms (such as Appen, Clickworker, Testlio, uTest), they can easily earn this amount in less than 6 months.
A fun fact: Even Appen's referral program has the same condition. They pay you 25$ for anyone that earns 1000$ through Appen.
This leads me to believe that Appen is simply passing on their Payoneer earnings as their referral program.
Sites that accept Payoneer
There are a lot of legit sites that accept Payoneer as a payment method. Even though I cannot enlist all of them (it would require a lot of research), here is a list of the 5 best (and highest paying) websites that pay through Payoneer:
Click the above link to signup. Appen only supports Payoneer as a payment method (for most countries), and this is the reason I signed up for it in the first place.
They added Payoneer as a payment method after a lot of people were having problems receiving payments through Paypal. They support both platforms as of now
A functional testing platform that supports both payment methods.
Another functional testing platform that supports both Paypal and Payoneer.
They have recently started paying through Payoneer. But getting paid through it can save you a lot of dollars in transaction fees (as compared to Paypal). Apparently, Payoneer does not charge any transaction fee for Clickworker payments, maybe because they pay it on their end.
Some More Reading for You…