Last Updated on December 7, 2021
If you are searching for a way to earn money with websites that requires zero-knowledge and minimal effort, Serpclix is the best place to be. You will find how you can make easy beer money just by visiting websites through Serpclix. Without further ado, let's get started.
Serpclix is one of the few remaining legit PTC (Paid to Click) sites. They pay 5 cents per "order". It's basically manually searching for a website on Google or Maps and visiting it for 30 seconds.
What is Serpclix and How Does It Work?
To give a short intro, Serpclix helps website owners to rank higher on Google. It sounds simple but here is how they do it. They have a network of website clickers like you who will click through the websites, stay on their pay for a limited amount of time.
This improves the organic click-through rate (CTR) that helps the website to rank higher on Google's search results. So where do you fit in this equation?
As a clicker, you get paid for every visit you do to the website. You have to stay online for a specific period for which you will be paid.
Indian users get paid $0.05 for every click (this amount varies with your country and task). The work is simple where you can spend a few minutes a day and make a good side income. But there are certain limitations that you should take into concern.
Some Conditions and Limitations of Serpclix
You can only work through Mozilla Firefox and Microsoft Edge. They have browser extension works with these two only.
Do not use this through a VPN. Serpclix verifies your identity through checking for your IP address. The orders you receive depend upon the quality of your IP address.
Do not take screenshots of the order's details once you complete the visit.
Do not operate with multiple accounts.
All the "Do not" mentioned above are considered a violation and you will be banned with a prior warning. This also means that you cannot retrieve money that you could have already earned.
How to work and earn at Serpclix?
Now that we are clear about what to do and what not to do, here is how you can get started.
Click here to go to their "Become a Clicker" page.
You will find two buttons called "Click here to join the network" and "Click here to get started". Clicking either of them will take you to the registration page.

Enter your email address, a password, and your PayPal email. Once that's done, you will be directed to the welcome page that has the set of rules to be followed.

As you are working on Firefox or Microsoft Edge, you must download their extension. You need it to get instant updates about new orders.

When you click the extension, you will be taken to the orders page, that will display the order's keyword and URL. Click the URL and you will be redirected to Google.

Type the exact keyword given to you and you search for the highlighted page.

Do not click any ads that appear and do not close the window when you click the link. There will be a timer that will start running once you land on the page.

Once you are on the website, do not switch tabs otherwise the order will be terminated. Stick to the page until the timer ends and the amount will be credited to you. You can find your earnings in their earnings page.
Earning Potential with Serpclix
As mentioned before, the amount of money you can earn depends on the "quality of your IP address". This basically means the location from which you are accessing Google. The earnings vary from 5-15$ per month depending on your country and how actively you look for orders.
To push this one notch up, you can choose their referral program. When you refer someone and they make money through Serpclix, you get $0.10 for every dollar that the referred person makes. In other words, you get paid the same amount that you will get by taking two orders.
PayPal is their only mode of payment and it will be done at the start of every month. You should have a minimum of $5 for check out.
Thanks to their referral program, I earn 5-10$ monthly from Serpclix. It's legit and a great way to earn a little passive income on the side. Check out my latest Serpclix payment proofs in this article.
Serpclix Payment Proof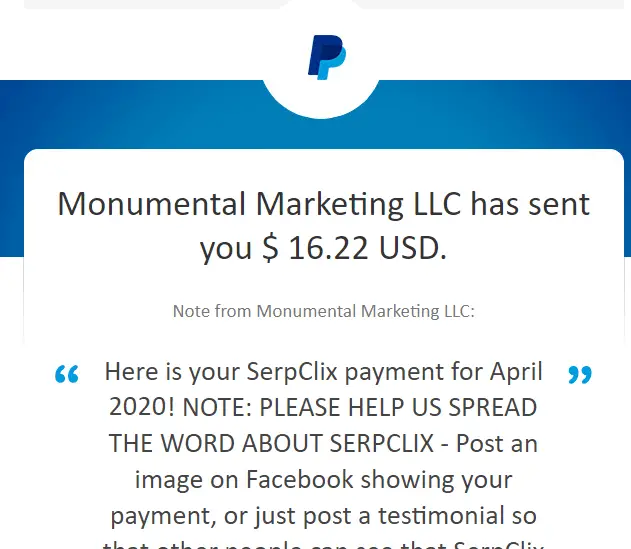 Some Issues with Serpclix
Although this can be a great side gig to earn extra money, there is no assurance that you will get a certain number of jobs. Everything's dynamic and it depends upon the number of orders you get every month.
Another issue is with their rules and regulations. If you violate the rules, your account gets instantly banned. This is horrible especially when you already have earned a decent amount as you cannot redeem them.
But If you want a simple way to make easy cash and not worry about getting paid once a month, Serpclix is a great choice.
You don't need to know anything about the website you will be clicking through. Spend a few minutes on a website and get paid, it is simple as that.
If you want a simple way to make easy cash and not worry about getting paid once a month, Serpclix is a great choice.
Check out more Beermoney sites below:
The concept of writing fun and interesting listicles is not new. It all started with Buzzfeed, and I have seen a lot of websites copy this model in their own way.

Textbroker is an excellent opportunity for individuals who are just starting out their freelance writing journey, and struggle with finding clients and orders.

Viewfruit is a survey panel that works in 32 countries, including a lot of Asian Countries. It is legit and has a low payout threshold of 5$.