Last Updated on October 25, 2021
August was a very smooth month. I finally had a distraction-free environment to work in. And I got a 60$ study from Usertesting which gave an easy boost to my month.
Here's the Paypal Screenshot, since almost all the payments were from Paypal. I am feeling very lazy, so not attaching my monthly 90$ project from Appen. It pays via Payoneer, and I only decided to upload this one screenshot that covers almost all the sites.
Scroll below the image for website links and guides.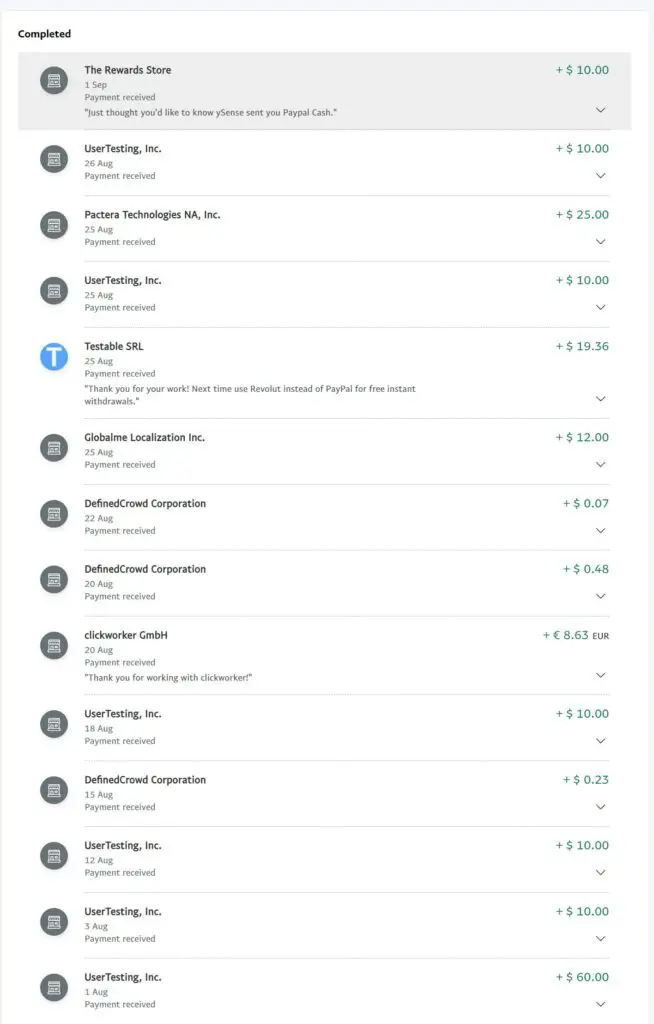 The total comes to around 280$ this month. Not bad, since I was traveling for the last week.
Here are the website links to signup, or guides to learning how to earn.
The Rewards Store (ySense)
Usertesting, Inc
Pactera Technologies (Oneforma)
Testable SRL (Testable Minds)
DefinedCrowd Corporation (Neevo)
Clickworker Gmbh (UHRS)
Globalme Localization Inc (Robson)
This was it guys. Trying to keep this earning report simple and sweet. Check out some of my latest payment proofs below:
Check out how much I earned in the last 2 months, and which sites paid me. Some new sites this time.

Going forward with my tradition of publishing these earning reports, at my own pace. Check out how much I earned since the last report.

An update on how much I earned in the past month (or so). See the sites that paid me along with proofs and link