Last Updated on September 14, 2021
I know what you must be thinking. Another user testing site. Is Digital Bazaari nothing but a list of websites that pay for user testing? Well, The very first set of websites that I tested for my project happened to be user-testing websites. I actually signed up for 4 websites, out of which this is the 3rd one. The 4th website, trymyui.com does not accept testers from my country, so you can check that off the list.
Just in case you were wondering, the other two websites were Usertesting and Userlytics.
What is userfeel.com and what does it do?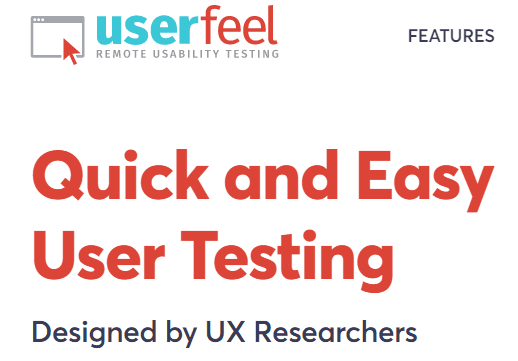 Userfeel is a "remote usability testing" website, founded in the UK and Greece (they are not specific). It is operational since 2010 and they claim to have helped thousands of clients so far, in reaching their UI/UX improvement goals. Judging by the overall look of the website, it feels more like a startup and "younger" in a sense. There is no professional mumbo-jumbo like in the case of userlytics, and it does not boast about it's clients.
Obviously, we should not be judging a company by its website.
What will I be doing as a usability tester?
They conduct usability tests on websites. Their job is to imagine a given scenario and perform certain tasks, like finding a product in an online store and going through the checkout process. This helps site owners find and fix usability issues. Good usability testers speak as they surf the website. They express their thoughts and can provide useful feedback on how they expected the website to work. A good tester can provide useful information on a site's usability.
Is Userfeel just like all the other testing websites out there?
I have been involved with only 2 other user testing websites so far, so don't take my word for it. But I feel that userfeel.com is not very different from other usability testing sites like Usertesting and Userlytics.
First of all, each one of them has tests available at a first-come, first-serve basis. So you blink and you miss.
Then, all of them pay via Paypal. And the most common payment amount is 10$, though there are some variations here and there.
The process for all three of these sites is pretty similar as well. You get notified about a test. Then you take a screener quiz to see if you are the right fit for that test. If passed, you can begin taking the actual usability test. All of them have scenarios and a certain set of tasks that you are required to complete. The lack of variation in which all of these sites approach a usability test is kind of fascinating.
Also, all of these websites have their own dedicated mobile app to take tests, if available.
How is Userfeel different from other crowdtesting sites?
There are certain subtle differences that make Userfeel different from other usertesting websites. The very first difference is that the tests are accessed through a desktop tool, rather than a live webpage (as in the case of usertesting.com). You need to have their tool open at all times to access their tests.
Another difference I found was that they also provide the option of cashing out your payment in the form of Amazon Gift Cards. So you can either get paid via Paypal, or ask them to send you an Amazon gift card as compensation.
And last but not the least, they have a different type of referral program. In this, you do not refer fellow testers, but rather clients. They give you a link (or a badge) through which you can refer a client to use userfeel.com, and you will be automatically set as their preferred tester when they order.
So basically it's a way to ask someone to test their website or app, using their platform as a mediator. This is how the badge looks like:
How do I signup on Userfeel?
The signup process is pretty similar to other user testing sites.
Confirm your email and create a password.
Give their qualification test, which is basically a demo of how usability testing works.
Wait for them to approve your qualification test, after which you can download their software and begin your work.
Hope this article helped you. There is lots of opportunity in Testing websites. Check out my article on uTest, Testlio and Test.IO as well.
Usertesting can help you earn quick 10$ by completing simple 10-30 minute tests. There are…