Last Updated on September 22, 2022
If typing speed is your key skill (more than 250 CPM) then I would suggest looking for transcription jobs.
Famous sites like Rev.com, Transcriber, etc are very hard to get in for a lot of people.
So try some smaller known companies that offer such jobs on job boards. You need to contact them directly through the mail, so have a basic resume and cover letter ready. (If you don't have that ready, skip to the end for a tip).
I worked with ASC Morningside for a brief period. You can easily pass the initial test and their work is usually corporate stuff. So it is pretty easy. (Just a bunch of uncomfortable people trying to "communicate effectively". )
Their onboarding process took about 3 months (but that is mostly because it's almost single-handedly being run by a very experienced woman. ) But after that, it's pretty smooth.
You get a mail daily, download a file from their portal, and transcribe it (they will provide you a guideline according to which you will work on it. Try shooting them a mail at [email protected] and ask if they have any open positions.
List of Global Websites with Transcription Work Available
If you search anywhere on the Internet, Rev.com is one of the most popular platform for transcription work. It has a short and simple transcription test that you need to clear. It also has captioning work available.
But this is the exact problem with Rev; it is too popular. Therefore, most of the times, it does not have any open positions. Even if you are able to apply in it, they will most likely reject your application.
So, it makes sense to look for other, lesser known websites to look for transcription work. The websites listed below work globally, and had some amount of work available the last time I checked.
CrowdSurf Work
CrowdSurf hires transcriptionists to make video subtitles. Work is available in the form of short tasks, also known as microjobs. For every task completed, you get paid instantly. CrowdSurf uses WorkMarket to connect you with clients. To get started:
Sign up on Word Market here (International) or here (US/Canada) (. Enter your name, email, phone number, and address. 
Search for "Crowdsurf " and Apply as a Crowdsurf Transcriber.
Pass the CrowdSurf Transcription Assessment. Make sure you read the guidelines before attempting it. 
3-5 days after your assessment, you will receive login credentials for your CrowdSurfWork platform (if you pass). 
All your work/projects will be done on the CrowdSurfWork platform. 
Payments may vary from $0.03 to $0.20 per minute of the media transcribed. Payments are made via PayPal and Direct Deposit.
Happy Scribe
Happy Scribe is an online transcription and subtitling platform. It doesn't really ask you to draft out subtitles from speech. Instead, it has an AI that does the subtitling work, and you're hired to proofread them. You'd also need to adjust the timing for subtitles whenever needed. To get started:
Click here to sign up.
Enter your name, email, and password.
Select the transcription and subtitling you want to do.
Take the application test and complete the questionnaire.
If you get accepted, they will let you know via email. Happy Scribe pays on a bi-weekly basis. 
Your pay is dependent on the language you choose to transcribe, the number of minutes of audio transcribed, and the difficulty of transcription. On average, the pay is highest for German and Dutch. The average pay hovers around $1 per minute of audio, which is the industry average. All payments are made via Wise.
BabbleType
Babbletype is a transcription, translation and content analysis platform which pays transcribers for transcribing various forms of media, and translators for translating them. 
However, Babbletype is a bit different from other transcription platforms because it provides transcription, translation and content analysis services exclusively to market research firms.
This platform is not a source of stable income and income may vary based on the number of projects you complete. In the video itself, the speaker mentions that the platform is not a replacement for a job.
It won't pay you anything remotely similar to what you'd need to buy groceries and earn a livelihood. Babbletype generally pays you approximately $30-$40 for each hour of audio transcribed. Note that this doesn't translate to $30-40 per hour of income, because transcribing requires time and you have to pause the audio and repeat certain portions of it over and over again to get what's being said. Payments are made via Paypal.
ProZ Language Job Board 
ProZ is probably the largest job board of transcription gigs. It also has various other language jobs including proofreading, translation, transcreation, voiceover, and copywriting among many more.


It even has a directory of the various companies that offer translation gigs on the platform. While some of them don't have dedicated websites, you can even manually apply to them for more jobs.

To get started:
Start by browsing available jobs in on the platform. 
Find out more information by opening the listing. You will need to create a free account to apply for the job or post a bid.
Registration is free for transcribers. No credit card required as well.
One of the most famous job boards for both transcription and translation jobs. It's free, and there are jobs for almost every language out there. You should definitely sign up for this.
One of my friend earns 300-400$ monthly working on a transcription job on this site.
Lionbridge Transcriber Opportunity 
Lionbridge is a global crowdsourcing community that offers remote-jobs worldwide. It rolls out the red carpet for people from all backgrounds providing a wide range of opportunities with fair pay for all projects across all locations.
Lionbridge also provides free training for most of its projects, so you have all the material you need to learn about the tasks you are required to do. They run time to time bonus opportunities and also present hikes in pay rates.
Oneforma 
Oneforma is a fairly new crowd-working site when compared to OGs like Appen, Lionbridge/TELUS or Clickworker.
But it has shown consistent work availability since the past 2 years that I have been it's member. Here is how you sign up on Oneforma:
Click here to go to their signup page.
Fill their signup form. Name, Email, Location, Language…you know, the usual stuff.
Verify your email address and you are done.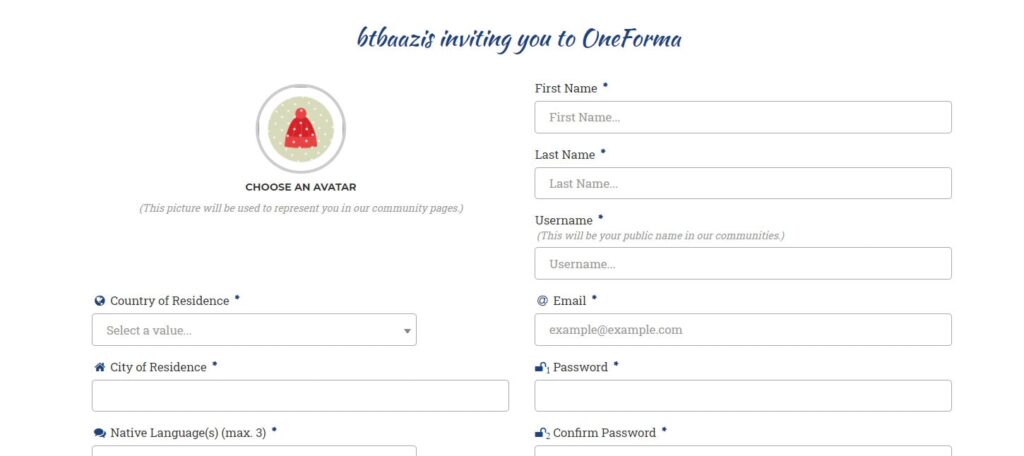 Upon your first login to Oneforma, you are supposed to clear an NDA Certification. This is extremely easy, and anyone with some common sense can clear it. There's no need to be scared of it.
Then simply go to their "Jobs" section and look for the "Transcription/Translation" category.
aTexto
Atexto is another one of those voice AI training websites. You know, websites that want voice data to train smart assistants.
Apart from that, atexto also offers transcription work, so that kind of separates it from other similar websites.
The work is simple. You log in, work on any of the 3 available tasks, and upon approval get paid through Paypal.
Signing up is a very quick and hassle-free process. Just go to their Jobs page and click on "Sign Up".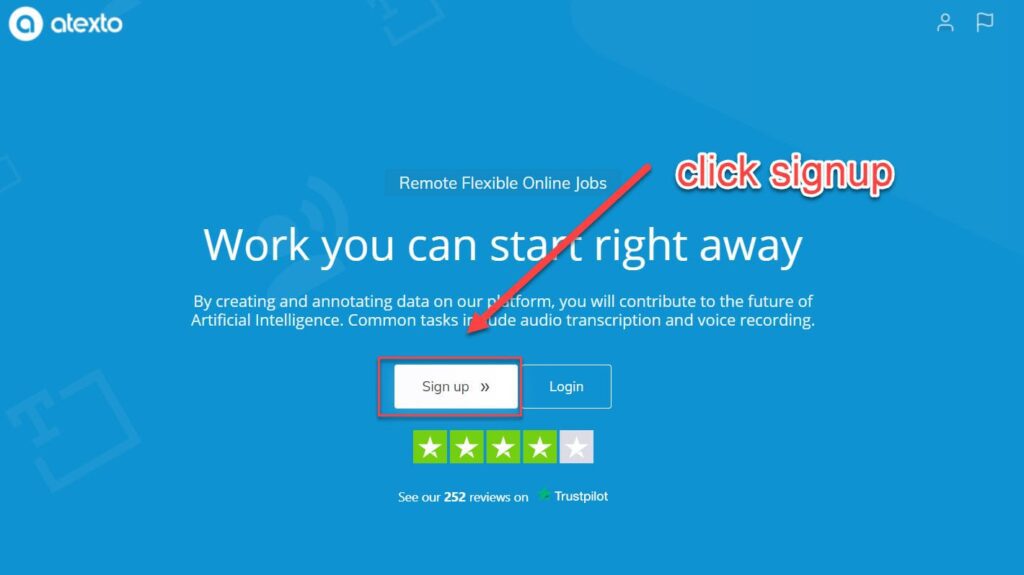 You will be presented with a form asking for your name, email address, and password. Submit it and verify your email address. Done!
You will be able to log into their dashboard where you can access the three types of tasks discussed above.
AudioBee
AudioBee is another data collection and localization service (translation/transcription) platform. It accepts people from all over the world and they provide Freelance opportunities in 3 types of work:
Translation, Transcription, and Voice Recording.
AudioBee differentiates itself from other platforms by rewarding workers who meet their deadlines and work efficiently.
They claim to offer full-time roles to their dedicated workers. It places itself as a freelancing platform, rather than a crowdsourcing or "earn-per-task" model.
But personally, I feel that it should be treated as a Beer money site, as the work available on this platform is inconsistent as of now.
Quicktate
Quicktate is an online platform that offers transcription tasks. It was founded in 2008 by Lee Dorfman. The company is located in San Francisco, United States, and California. 
The website hires transcribers from different parts of the world. Thus, people are at the liberty of working from home at their convenience.
Quicktate has two sections of transcriptions, general and medical forms. You earn $0.0025 for general transcription, while medical transcription jobs earn you $0.005. They pay $1 for 400 words transcribing general audio or 200 words for medical files. 
These earnings are less, and Quicktate definitely isn't a full-time job. Infact, some workers say they were never able to earn more than 200$/month from it. So it should be treated like a part-time gig at best.
Quicktate pays weekly through PayPal. Sorry if you're from a country that does not support PayPal since it will be hard for Quicktate to make payments. 
How much do Transcription Jobs usually pay?
The pay for transcription jobs varies but expect a rate of 12$ / 30-minute of audio transcription. I should emphasize the rate*, 12$ for 30 minutes of audio transcription).*
Some websites offer a much lower rate for transcription work. You are free to take up work at lower rates, but it will be very difficult for you. It is pretty much impossible to earn a full-time income from Transcription jobs nowadays.
I consider myself a fast typer (hitting speeds up to 350 CPM). And it took me 2-3 hours of concentrated deep work to properly edit it with their format and acceptable standards.
There are several tools and tricks you can use to speed up your transcribing speed. An experienced transcriber can usually transcribe a one-hour audio file in less than 3 hours.
So don't expect to earn more than 20-30$ per day. With discipline, you might be able to make a good income monthly (enough that you can take care of yourself, at least). But it is best done when you actually have free time and no immediate goal to work towards. It is literally trading your brainpower for money. And this job *might* become obsolete in the future (so the demand is only going down).
Transcription v/s Translation Jobs (Different types of language work)
Transcription jobs require you to type what you are hearing, generating subtitles or captions as you listen. Here are some features of transcription jobs:
Pays per minute of audio transcribed. 
Easy to get into, no linguistic certification required (usually).
Work is simpler, you can even speed up using various tools.
On the other hand, translation jobs require you to translate some content from one language to another.
Pays per word translated.
Requires some kind of linguistic qualification to apply (usually)
Work can be a little complicated, and you should know how to type/transliterate into the other language.
Translation jobs definitely look more complicated and difficult to get into. But that's exactly why they are better, in my opinion.
As I have seen with various crowdtesting platforms, the more difficult it is for you to get in/qualify, the better the opportunities and higher the pay.
Moreover, a lot of the transcription business is being taken over by AI. They have gotten really good at transcribing, and this has damped the demand for human transcriptionists. 
The only place of opportunity in transcription jobs are technical jobs, such as Medical or Legal Transcription jobs. 
Translation, however, still requires the human touch. While the machines can translate some common language pairs easily, they still don't understand a lot of the nuances that only a native speaker understands.
Plus, there are so many regional languages and dialects that machines still don't understand. Therefore, finding a translation job is still much easier and a bit future-proof.
If you are bilingual, then you should definitely give translation work a try. It's a great source of some part-time income, and with a little effort, maybe a full-time income as well.
Some transcription hacks to speed you up
Use Transcribing tools. Your VLC or Windows Media Player cannot handle the audio scrubbing required for transcription. Use a free web-app known as oTranscribe. You can upload the audio file there and properly listen to the conversation (with shortcuts to seek forward, back, speed audio back up and down.) It is a must-have in my opinion.
Some professional transcribers (people who have gamified it), have set up shortcuts for even the most common words (that their specified format expects them to use) and have increased their pay rate further.
Another option is to use an online AI transcription service (free, paid, or Pixel 4) to get a brief transcript (English transcriptions are almost flawless), and change it to the required format. It might require a completely different approach, but can further decrease your delivery time (if done properly).
Update: Since the time I wrote this, I have learned a lot more transcription tools. Check out my latest article on Transcription tools.
Create an Amazing Graphic Resume
Some websites/platforms require you to submit a resume before they give you any kind of transcription work. You do not necessary need any kind of prior transcription experience, but it's just a corporate formality.
It's not very tough to make. Think of a Resume like your Insta Bio, in a more legible and stretched fashion.
And for resume, try Canva's Graphic Resumes, they have several presets. They are free to make (without any watermark), and are super-easy to make. Just upload your photo, add basic details like your school and college experience (and overall percentage), add some buzz keywords that you can claim as having knowledge about (no matter theory or practical).
You can then save it as a pdf and use it as your resume. I personally have a color print-out of my resume as well, it's just that much better than your half-assed, black and white resume.
A graphic resume stands out in the stack of resumes at a corporate office (whether in hardcopy or softcopy). And the benefits of having your photo add a touch of genuineness to your resume as well.
Related Reading:
Unlike Upwork, Freelancer, and other top freelance platforms, we have brought two different platforms that are more than just a gig posting platform. Find out what these two have to offer, how to apply, and how much they pay you.

When you start as a freelance writer, it feels overwhelming applying for jobs on various job boards. Here are the best writing job boards and platforms that are ideal for beginners.

The best platforms that host language jobs. A curated list of the best translation websites that work worldwide, and have lots of work available.