Last Updated on June 5, 2022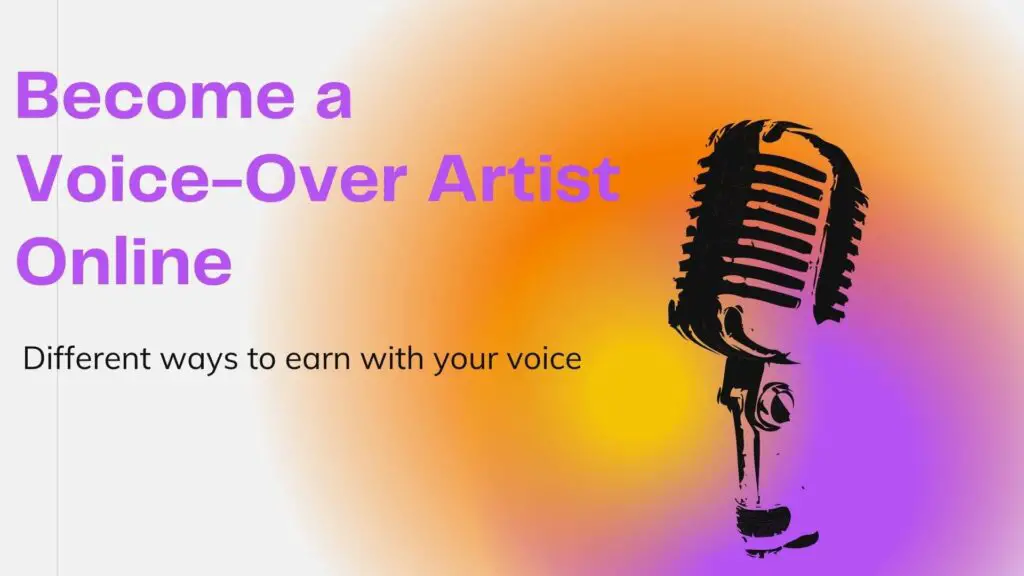 Narration services are getting popular globally. More and more people are preferring text to be narrated to them, including documents, pdfs, and books. 
With the right skill set, one can earn a decent income as a voice-over artist. 
What exactly does a voice-over artist do?
A voice-over artist can do a variety of jobs; like recording commercials, doing voice-overs for various types of content on social media (e.g., Youtube), narrating e-books, etc. There are a lot of opportunities. 
Skills required for voice-over jobs
The skills required to become a successful voice-over artist include:
1. Excellent dictation: You need to be good at dictating entire paragraphs without hiccups. If you're bad at reading things aloud, try reading some books aloud and practice. 
You must pronounce all the words clearly and should be easily understandable, expecting the least effort from the listener.
2. Tone adjustment: Different sentences in 
different contexts need to be recited in different tones. 
This makes the narration seem expressive and much more natural.
3. Accent Reduction: If you speak with a thick accent, you may need to reduce your accent in order to be clearer and more understandable.
 Here are some accent reduction courses which can guide you through this process, if required.
Equipment & Setup required for high-quality recordings
Getting the necessary equipment before starting off your career as a voice-over artist is crucial. Here are a few things that a professional voice-over artist should never miss out on: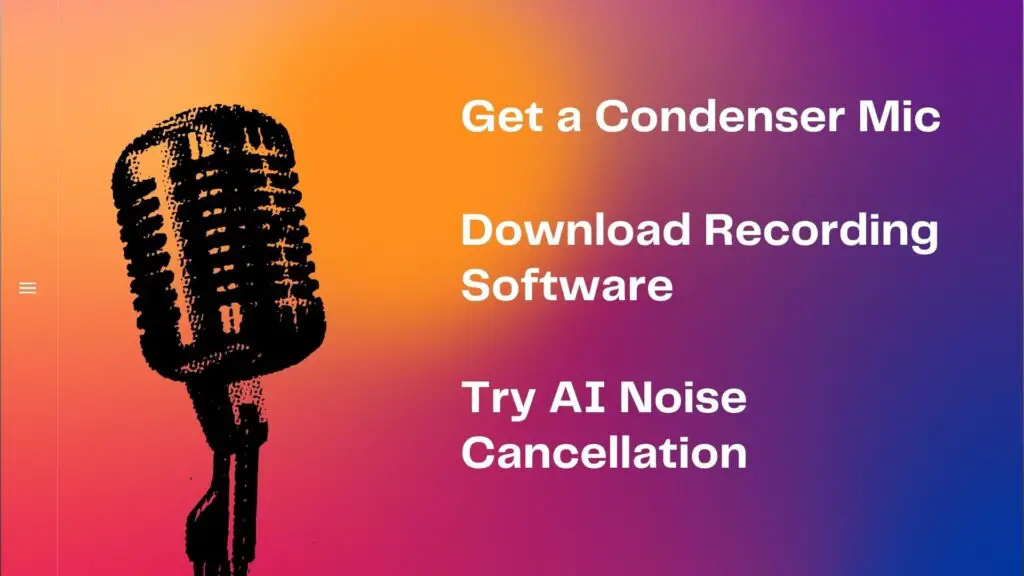 1. High-quality mic: Getting a high-quality mic is essential if you're serious about becoming a voice-over artist. They filter out excess noise, background sounds, and echo from the environment, making your voice sound studio-res. 
Nobody likes to listen to low-quality, noisy and broken voice narrations. A good mic makes a day-night difference in the quality of your output.
2. Recording software: A good voice recording software goes a long way in determining the quality of your audio files which would work as narrations.
A good recording software would capture your voice at a large range of frequencies and be able to fine-tune your audio before saving the files.
Audacity is a great recording software that is free. You can find lots of tutorials for it that allow you to further improve and clean your audio recordings.
Another thing that can help you, especially if you are recording narrations, is an AI Noise reduction tool.
I use Krisp, which works great. It is free for 120 minutes every month.
3. Knowledge about audio files: You must have an idea about how audio files work in general so that you can choose the right format for saving your audio file for particular purposes. 
Different clients/platforms would require a different format. But worry not.
You can use any online audio converter to convert your files.
Where to find good voice-over jobs online?
Plenty of websites offer jobs for voice-over artists, but here's a selection of a few of them you can get yourself started with:
1. Voices
Voices connects producers, marketers, and creators at various companies to freelance voice-over artists.
As a voice-over artist, you create a profile for yourself and showcase your work in the form of audio samples.
Include any previous experience in a voice-over job you had to maximize your chances of getting work.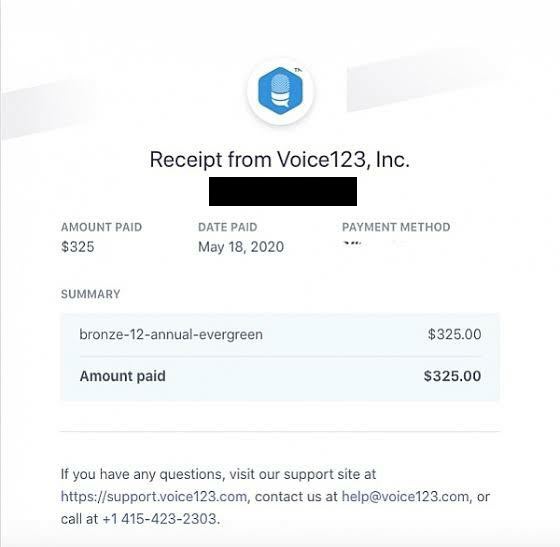 Clients can find your profile in search results and give you private invitations for work, which you can accept. High-quality work will receive high-quality ratings from clients, thereby increasing your chances of getting more projects.
2. Bunny Studio
Bunny Studio hires voice artists and mails them projects whenever they're eligible for any. You're free to choose your own rates, but you need to make sure you charge competitively so that you can get more clients.
The best thing about Bunny Studio is that you're actually told about things that you've done wrong if your work is 
rejected. There's a working feedback system.
3. ACX
ACX hires narrators for reciting books, so that they can be converted to audiobooks. These audiobooks are then distributed across various platforms like iTunes and Audible.
To get started, you need to create a profile, record yourself reciting a few lines of a book, give samples, and get offers from authors for narrating their books. You get to choose your own pay.
4. Fiverr 
Fiverr is a popular freelancing site where you can create gigs, a profile for yourself, and give samples of your work.
A lot of voice-over jobs are available on Fiverr, but you need to remember that there are a lot of people willing to do the job too. There's 
a competition, and you need to stand out. Keep your pricing competitive, and actively ask for feedback for your work from your clients. This creates a positive impression.
Your clients leaving good reviews significantly increase the likelihood of you getting more projects in the future. Getting your first project, however, can be a bit difficult and requires patience.
5. Upwork
Upwork is another freelancing platform that allows you to do work while being flexible with your schedules and time. Upwork helps freelancers meet potential clients and compete for a project.
Clients post their project details, and you need to apply for getting the project. A lot of opportunities for voice-over artists are available on Upwork as a lot of companies want their temporary voice-over work to get done.
One thing to keep in mind, however, is that a lot of people apply for projects on Upwork, and your application needs to stand out in order to increase your chances of getting hired in a competitive market.
Also, the number of applications you can make is capped on a per month basis, and to be able to apply to more jobs, Upwork charges you a small fee.
How much can I earn as a voice-over artist?
It depends on what exactly you do as a voice-over artist. You can easily earn $10 per project for small script narrations. You can earn $25/hour for audiobooks. Just make sure you don't undersell yourself on freelancing sites, and you'd do fine.
But these are just beginner rates. 
As you get more experienced, you can definitely charge more. 
You also get more skilled and can take on better-paying projects such as advertisements and Youtube Channels.
More ways to utilize your high-quality audio recording setup
If you have figured out how to record good-quality and noise-free audio. Then you can also take part in usability studies.
They require you to narrate your experience while testing out a website or app. They are dead simple and pay well.
You can begin with Usertesting, which is the best platform with the most amount of work. And you can check out our Megalist to see a full list of sites with usability testing jobs.
There are several other ways you can use this audio setup. You can do a number of things with this setup, such as:
Starting a podcast, recording interesting conversations and posting it to Youtube, Spotify, and other platforms.
Record sound effects. Various sounds can be recorded and then sold online to music producers. Their are platforms that make it easier for you to sell sounds.
Record music. You can record music and even create songs. You would need to learn a bit of software to get good at this, but I think it's worth it. 
You can create a mini-studio and help artists from around your area record their songs/albums. Music always finds a way.
The possibilities are endless. There are various ways to monetize your audio content, and I will definitely write detailed guides on all of them.
More Reading for you…