Last Updated on February 24, 2022
My regular readers know that the last few months I have been scouring the Internet for full-time job opportunities.
The problem with crowdsourcing and beermoney sites is that the work is not consistent, plus it is consumed on a first-come, first-serve basis.
This is where Cyberbacker enters the picture.
What is Cyberbacker and how do they work?
Cyberbacker is a US-based company that operates from the Philippines. They connect you with clients looking to get a variety of skill-based jobs done by online workers.

Skill-based is the keyword. The jobs you do with them require a full-time (or at least part-time) commitment from you.
The basic idea goes like this: You fill up a profile telling them about your skills (such as Writing, Designing, Accounting, so on and so forth).
They will connect you with one of the clients looking for a matching skill-based job. You work for the client and you get paid a monthly salary by Cyberbacker.
I would think of it as working as a freelancer (through Upwork, Fiverr, etc.) but with a mediator added in between you and the client.
The mediator (Cyberbacker in this case) will take care of connecting you with the client.
As you might know, getting a client to work with you is the most difficult part of working on Freelance platforms.
Cyberbacker works on the principle of connecting workers with prospective clients. I see a lot of small and medium sized business prefer to hire workers through such portals.

I have seen several of these portals pop up, even in remote job search websites. Another similar company I found was Crewbloom. Look it up.
What are the requirements of joining Cyberbacker?
To become a Cyberbacker, there are several prerequisites.
First and foremost, you need a skill that you can sell (Check the full list of skillset below).
Working on a full-time job online requires you to do some kind of complex or cumbersome work. Why else would you get paid to do it?
It would help if you have some experience in the field, but it is not a strict requirement. Convince the interviewer that you are the right person for the job, and you are in.
Second, you need a proper online working setup. Cyberbacker requires you to have a proper workstation (desk and chair), decent internet connection, and a moderately powerful laptop/desktop to work on.
Here are the complete requirements as mentioned by them:
General Technical Requirements:
CPU / Processor Dual core processor 1Ghz or above, Intel Core i3 / i5 / i7 or AMD equivalent is highly required
Windows 10 or MAC is acceptable
RAM At least 4GB of RAM (8 GB is recommended) with 60GB free hard disk space available Headset and Webcam.
Headset with noise-cancelling feature & a high definition webcam
Internet Connection:
5 Mbps and up wired DSL Internet connection (USB sticks, signal-based & wireless connections are not allowed)
Lastly, you are required to clear their interview process. They have a very streamlined application process.
You are required to clear a psychometric analysis and clear some interviews to ensure that you are the right fit for their clients.
Their application process is truly impressive. They have a set of interviewers available 24/7 and you can get in touch with them as soon as you submit your application.
The Cyberbacker application/interview process and tips to crack it
The application process of Cyberbacker can feel a little stretched at times. It helps them to screen out quality workers for their clients.
You start by filling in your profile, your Facebook link, and the different types of roles you are applying for (such as designer, writer, SEO Specialist, etc.).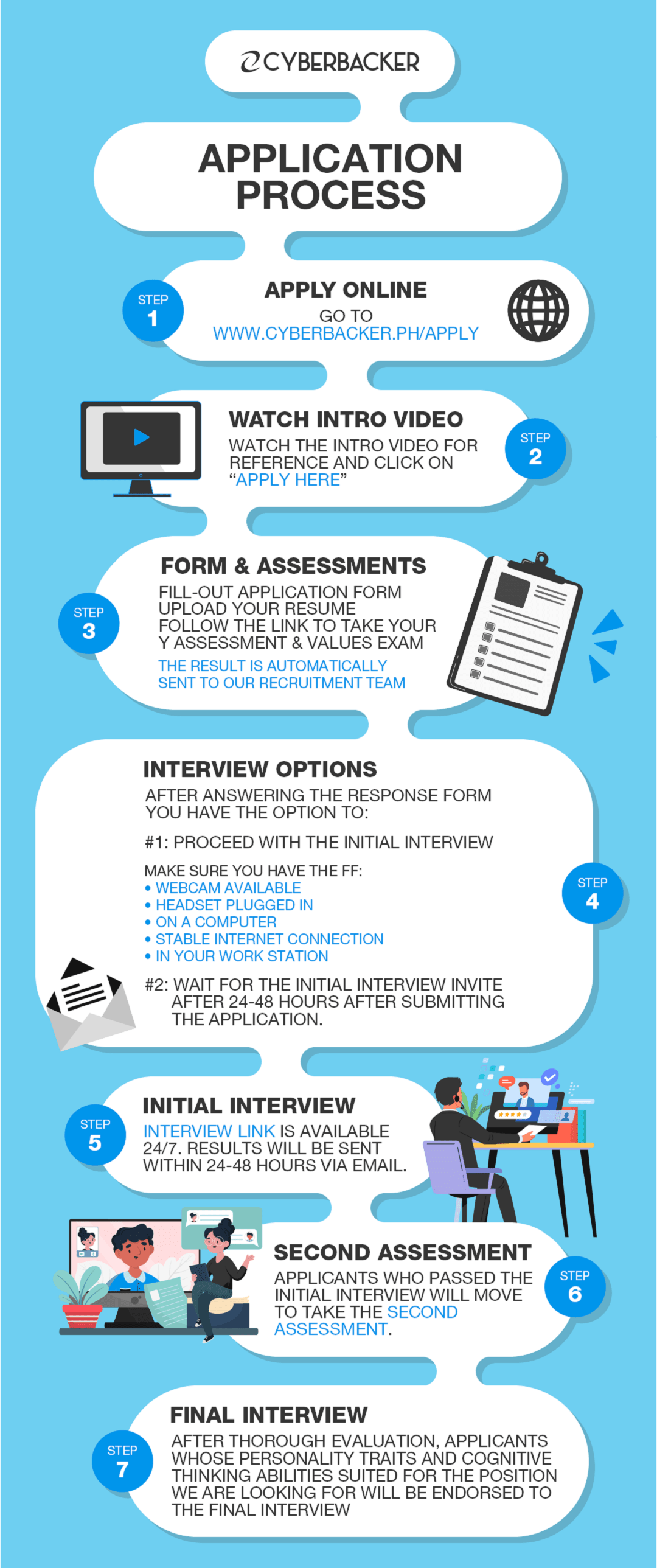 You are also required to upload your resume and refer some people to Cyberbacker. Don't worry as they don't follow up with them.
Then you go through psychometric analysis. Think of it as a test to assess your personality. They say it helps them to better connect you with clients that match your personality type.
Tip for Psychometric Analysis/Tests: Psychometric tests are designed to pick out people who are faking their personality traits. So you cannot give morally correct answers and expect to clear it.
These tests work by giving you various situations and gauging if your replies are consistent across the personality spectrum. This means you will fail if your answers don't match across various situations.
Look for the underlying personality trait in the question, and try to answer as honestly as possible. Make sure the type of answers you give in the following questions are consistent with your earlier choices.
After that, your application is submitted and you will be given a link to their initial online interview. The initial interview is nothing to worry about.
Make sure to attend via a desktop/laptop. You are not allowed to give interviews through your mobile device.
Tip for Initial Interview: First and foremost, make sure your laptop has proper video and audio. Check your webcam and microphone to see if you can be seen and heard clearly.
The Initial Interview is nothing to worry about. They will basically confirm that you have the required setup (workstation, internet connectivity, and laptop) to work for them.
Then they will ask you a little bit about your work and experience, and also about the type of commitment you are willing to give them (Full-time or Part-time).
This is it. The first leg of the Process is complete. This whole process might take anywhere from 1-3 hours, and I recommend you do it in one sitting if you can.
After that, your application goes under review and you will be notified about it within 2-3 days.
If you are selected, you can move on to the final interview. If rejected, do not lose hope. You can re-apply for their position after 60 days.
If you make it to the final interview, then you will receive an invite for the same.
Tip for Final Interview: Think of it as a regular job interview. Dress well, show up on time and be polite. If you have previous work to show them, then definitely take advantage of it.
This final interview will help them decide on a fitting client for you. Once you clear the final interview, you have officially become a cyberbacker.
How much can I earn from Cyberbacker and how do I get paid?
The amount of money you get paid for being a Cyberbacker depends on the type of job you do. A designer working part-time won't get paid the same as a full-time accountant/bookkeeper. So there are natural variations in the earning potential in this.
Generally, Cyberbackers earn between 400-800$ with some type of job paying as high as 1200$.
Update: According to the most recent information from Cyberbacker, applicants can earn up to 1500$ per month (depending on the type of service you provide).
Now, this figure might not sound much for people from economically strong countries, but for the rest of the world, this is a proper full-time income.
Plus, you get to work from anywhere as long as you have a reliable working setup and internet connectivity.
They pay you through Wire transfer since they have Cyberbackers from all around the world. You just need to give them your bank details and its routing code.
The full list of skillsets (and job types) that Cyberbacker accepts
Cyberbacker accepts workers in a variety of roles. Initially, it started for virtual assistants but over time they added lots of other roles. Check out their full job availabilities: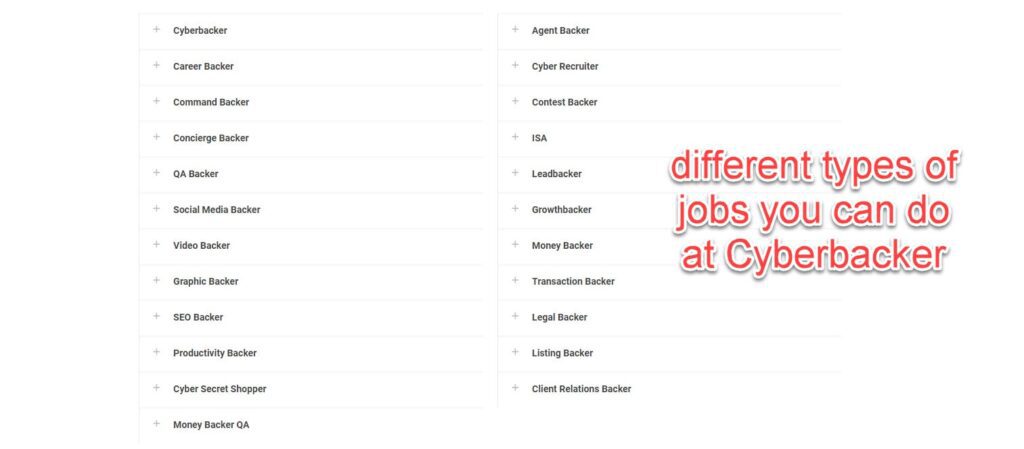 Human Resources Co-Ordinator (Screen Candidates for jobs)
SEO Specialist
Video Editor
Graphic Designing
Accountant/Bookkeeper
Client Relationship Manager
Legal Assistant
and various other types of jobs
So what are you waiting for? Head over to their application page and apply to become a Cyberbacker today:
P.S.: If you are not selected in their interview process, they also give you an opportunity to become a virtual backer. It is a similar setup but mostly for part-time jobs. Check out Virtual backer too if you are in a desperate situation.
More Reading for you…