Last Updated on January 11, 2022
One of the easiest and decently paying internet jobs you can do is being a Social Media Manager.
With the increase in the number of social media platforms and online businesses, the demand for social media managers is at an all-time high.
This is a great earning opportunity as social media managers can easily earn a full-time income by just managing several social media accounts.
You can also increase your earnings by handling additional accounts as you get accustomed to the process and get faster at it.
But the main problem with social media jobs is that there is no connecting/crowdsourcing type of platform for such jobs.
I mean obviously, there exists Fiverr, Upwork, and other freelancing sites, and you can always try searching for them in remote job sites. 
But in the above-mentioned platforms, there is no mediator to connect you with the client.
You are supposed to contact and negotiate your pay/responsibilities yourself. And we all know it can be difficult for a beginner to deal with this.
What is 99 dollar social and how does it work?
99 dollar social is basically a digital marketing agency that offers social media management services starting from 99$/month to it's clients.
Obviously there are higher priced plans, but providing this service at such a reasonable rate is kind of their forte.
Now to provide their services, 99dollarsocial hires an online workforce. They screen them, train them and then provides access to their client's social media accounts.
The person is given a fixed rate per account he manages, and so his/her/their payment is calculated according to the number of accounts he/she/they manage.
This is one of the rare sites (apart from Cyberbacker) that I found where you can work as a social media manager along with a streamlined process to connect you to the client.
How do I signup at 99dollarsocial and how to begin working?
To signup for 99dollarsocial, simply go to their job openings page. There you will be able to see an opening for a Social Media Specialist. Click on it and you will be taken to the job application form.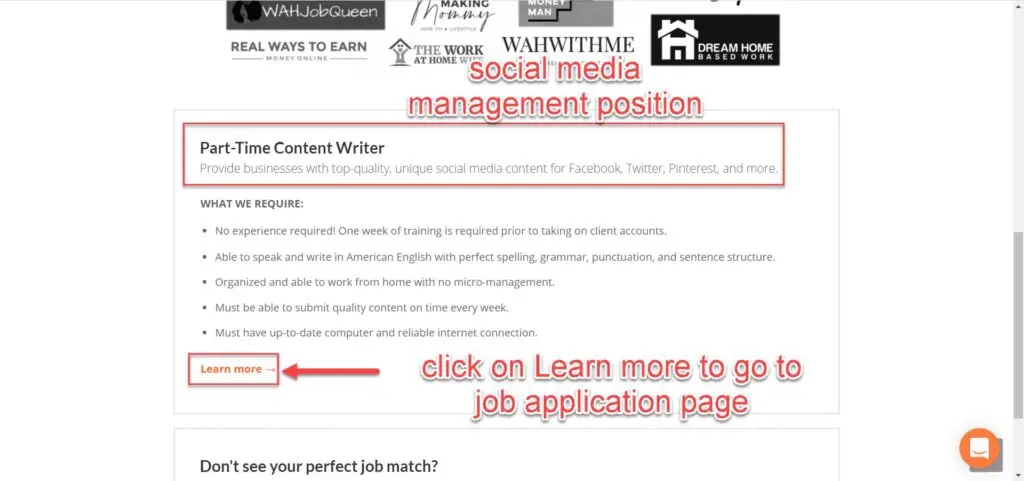 You will be asked for your basic details, and at the end of the form will be a small assignment for you.
The assignment will determine whether you are a fit for this role. You will be asked to create several social media posts (not in real, but on a document) by writing their copy, attaching a relevant image and adding a link.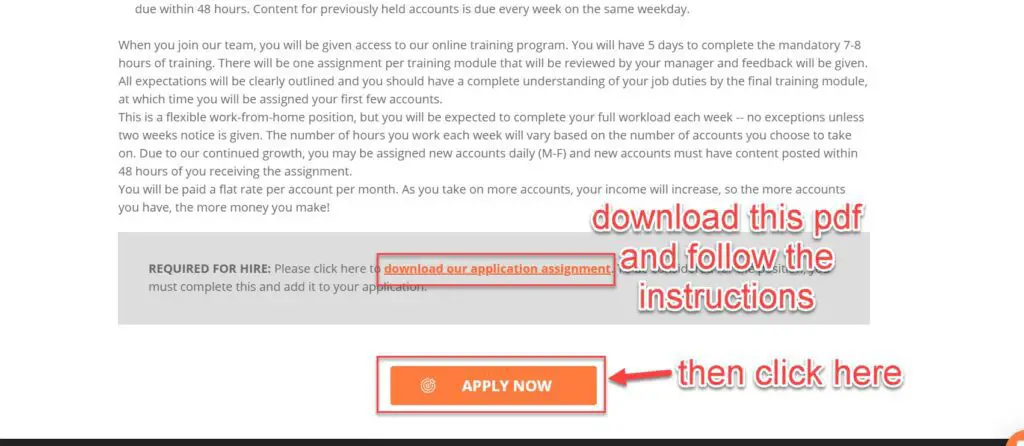 Note: When I submitted my application/assignment, I was redirected to their blog page (instead of a submission successful message).
This could be a bug or maybe a way to block application submissions when there are no open positions. 
After you have submitted your assignment, you need to wait for them to review your profile.
If accepted, you will go through a brief training period, after which you will be given some social media accounts to manage.
According to several of their Glassdoor reviews, people can end up managing more than a hundred of their social media accounts.
They were able to earn a full-time income through 99 dollar social, and a lot of them claimed it to get stressful at times. 
Make sure you gradually increase your workload and do not take up more accounts out of greed.
The work you do is fairly simple and this is why social media management is a fairly easy task (for most).
How much can I earn by working there?
There are not many reports of people disclosing their earnings at 99dollarsocial. The people who worked there reported that you can earn around a 1000$/month if you take up a lot of accounts (heavy workload).
Another blogger that worked on it while in college said that it paid as much as a part-time job.
Now even part-time salaries in the US tend to be around 1000$/month. So I guess you can earn anywhere from 300$-1000$ depending on your workload.
You are paid through wire transfer, on a monthly basis. There are no payment proofs floating around, but a lot of people confirm it to be a legit company.
There is another way you can earn using 99 dollar social, and that is by referring a client to them.
You can refer any business to 99 dollar social, and if they convert to become one of their clients then you get a small slice of profit for referring them.
How is 99 dollar social different from working independently as a social media manager?
Now you might argue, that doctor I can earn much more by working as a freelance social media manager (250$-1000$ per social media account) or in a SMM role in a company (2000-3000$ monthly salary in junior roles).
Well, that is true. If you go commando and get a client yourself, you can easily earn much more.
But here is how working independently for a client/company will differ from working at 99dollarsocial:
The very first thing, you have to get a client or a job in such a company. Both processes are very cumbersome. You need to keep trying for a long time (usually) with no guarantee of a positive outcome. It might be a little easier if you have previous experience or something credible in your arsenal.
99 Dollar Social handles all that heavy stuff for you and directly gives you the accounts you need to manage.
Secondly, you are supposed to be much more responsible and answerable in a job/freelance scenario. You will be expected to perform on certain metrics (account growth/ more engagement/ more conversions).
You are expected to give time-on-time performance reports and try different methods and strategies to grow the social media accounts.
This might sound a little too much, and some clients might not demand all of it from you, given that you keep giving good results to them.
But on 99 dollar social, you are only expected to post regular content on these social media profiles. It is more like a repetitive job of keeping the account active and functioning.
But this means that you are not directly responsible for the account's growth. Though this does not mean that you can slack off. You are still monitored and expected to maintain a certain level of quality in your work.
Third difference is obviously the payment and earning potential. You can earn much more in a freelance/job type arrangement as you do all the work yourself, plus you are expected to grow these accounts actively.
99 Dollar social reduces your earning potential but makes it easier for you to get into social media marketing. The reduction in earnings can be attributed to having to pay a separate sales team in charge of bringing in new clients.
And also to offer their services at a dirt-cheap rate (99$/month as opposed to minimum 250$/month charged by freelancers).
So this is it, folks. Give 99dollarsocial a shot if you think you can handle social media accounts.
Here are some more earning opportunities for you…