Last Updated on January 7, 2022
Teemwork.ai is actually an old (and trusted) site that went by the name of iSoftStone. It is similar to Lionbridge and Appen.
A crowdsourcing website with different jobs available to a global audience. They have Online Crowd Worker Jobs (read UHRS jobs), Search Engine Evaluator, and various transcription and web judging jobs.
Then why don't you hear about it very often?
Why don't you hear about Teemwork/iSoftStone very ofter?
This is because they don't hire crowdworkers very often. But they do have new openings from time to time, consistently. You just need to be patient with them.
They can take an excruciating amount of time to onboard you. I have waited as long as 10 months before I got onboarded for some of the positions (like Online Crowd Worker – which is basically a UHRS job like Clickworker, Oneforma, etc.)
Some people might get onboarded within a month or two. It all depends on pure luck and timing.
It's because they don't have vacancies very frequently. The time between your application and approval can take months to even a year or two. This makes it a hit or miss opportunity depending on the time that you applied for it.
I remember applying for it in October 2019 (for the first time) and received a response in December. It was a Search Engine Evaluator project (that required me to pass an exam) that paid 12$/hour.
It took me almost an year between my application and when I started working.
Unfortunately, I failed and all the positions filled up quickly. Then I applied for an Online Crowd Worker (their term for UHRS jobs) in December and received a reply 10 months later in September 2020.
For some people it even took years before they received a reply from them. That is what makes Teemwork a hit-or-miss opportunity. It all depends on your timing.
Signing up For Teemwork.ai
The application process is simple and straightforward.
Go to their website (or click here to view all available jobs). Right off the bat, you will see a search functionality for jobs.

Select your country, and check out the jobs available for you. Look out for jobs like "Crowd Worker", "Search Engine Evaluator" or "Online Worker".
Upon finding a suitable job, click on it and you will be taken to the job description. Click on the "APPLY NOW" button at the bottom.

You will be taken to the signup process. It is a 4-step process, for which you will need to provide your email, resume, and a Live ID.

The signup process is not very complicated and takes just 5 minutes if you have everything it requires.
To create a live ID, go to account.microsoft.com
It is required to give you access to UHRS, where most of there jobs take place. You will be contacted by their Project Manager whenever a position opens up.
Remember to keep checking your live ID inbox from time to time, as you might not be contacted on your primary email id.
How much can I earn from Teemwork.ai/iSoftStone? (And how will I get paid?)
The pay rates for Teemwork are at par with Lionbridge, meaning they pay around 5$/hour to 20$/hour (depending on your country). Pair that with lots of work and you can earn a sufficient amount of extra money from Teemwork.ai.
I worked for 3 months there and earned around 500$ averaging all the 3 months. And since there was a lot of work available, I did not have to switch to other sites to find more jobs. 
They process your payments from Paypal or Payoneer, and you are paid on a monthly cycle.
Turns out the weak point of Teemwork is also it's strongest point. Having a less amount of crowdworkers allows there to be sufficient work available for everyone.
Teemwork.ai (iSoftStone) Payment Proof
Here is the payment proof for my earnings in Teemwork.ai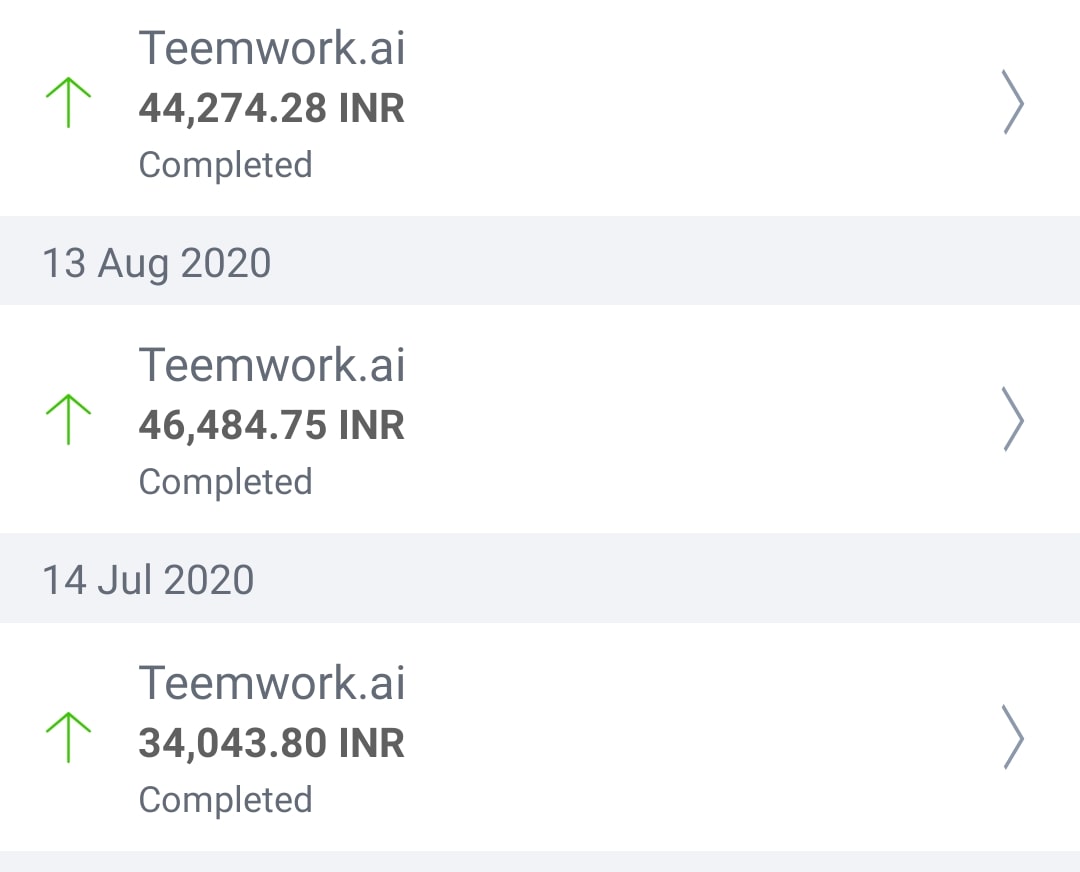 The Pros and Cons of Teemwork.ai
Teemwork (or iSoftstone) does not have openings very frequently, which is both a good and a bad thing.
Though it means that it can take a very long time before your application is approved, but on the flip side, it scrapes out a lot of your competition.
There are considerably fewer workers on Teemwork, which makes sure that there's a sufficient amount of work you can do.
I was able to earn a good monthly income just by working at Teemwork because there was a lot of work to do. Less competition = More work.
Not enough jobs on Teemwork? Try signing up with other contractors.
Don't worry if you aren't getting into Teemwork, or not able to find enough jobs to work on. Try signing up with another UHRS contractor to increase your work availability.
More UHRS article for you
You can easily earn a part-time income by working on UHRS jobs in your free time. It is recommended to do them using a desktop/laptop for maximum earnings.

UHRS has recently updated their guidelines, and several new rules have been implemented. You can no longer work with multiple accounts.

A Web Judging site is a site that consists of rating tasks. The worker is supposed to judge/rate a set of data on the basis of a set of guidelines.