Last Updated on April 2, 2022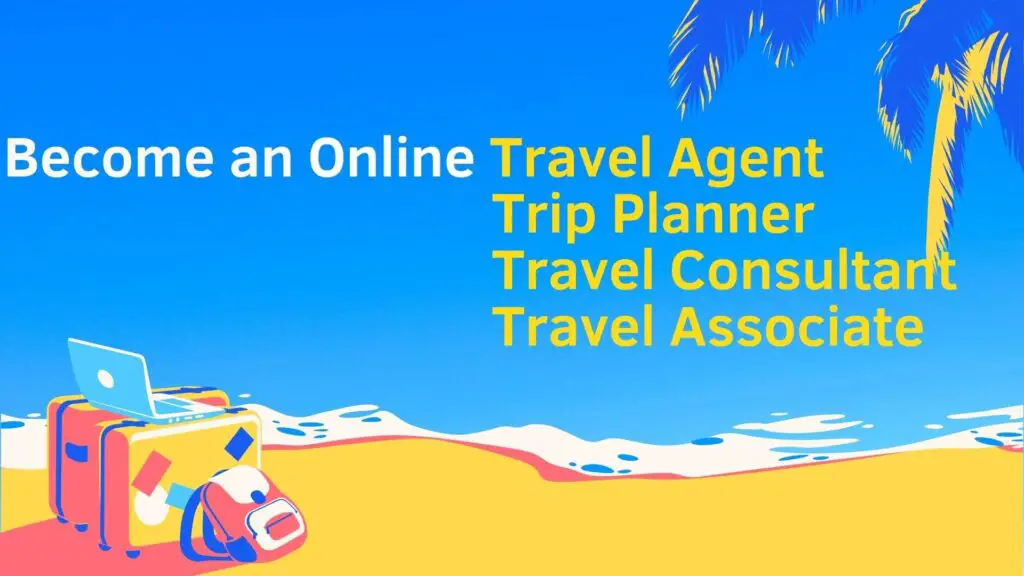 Do you enjoy traveling?
Are you meticulous in finalizing the details of the travel itinerary?
Are you the go-to person for your friends & family in finding destinations & organizing trips?
Then becoming a remote travel agent will open several opportunities for you.
Are you are planning to turn your hobby/passion into a side hustle or even as a main hustle in the long run? You can do it in the comfort of your home.
This is the opportunity to share your passion with like-minded individuals by curating customized travel experiences for them.
What is working as a Remote Travel Agent/Consultant like?
Working as a work-from-home travel agent comes with its benefits. Most of the requirements that play a part in traditional employment scenarios don't necessarily apply here.
Flexibility to work anytime and anywhere
Set up your home office and work in the comfort of your home. You'll get the flexibility to manage your working schedule as long as it is agreed beforehand.
No Hard Qualifications Necessary
You do not need a college degree to start. In fact, the tourism industry does not require any kind of educational qualifications, to begin with. But there are certain things that might help.
Any certifications related to tourism or previous work experience can add some value to your profile. Learning a foreign language is also a major positive.
It is your enthusiasm to learn and not the qualification, that will stop you from starting your journey.
As you get more experienced, you can pursue advanced certifications. It will be proof of experience in the field & a testament to your skills.
How to Become a Remote Travel Consultant (Roles, Responsibilities and Skills)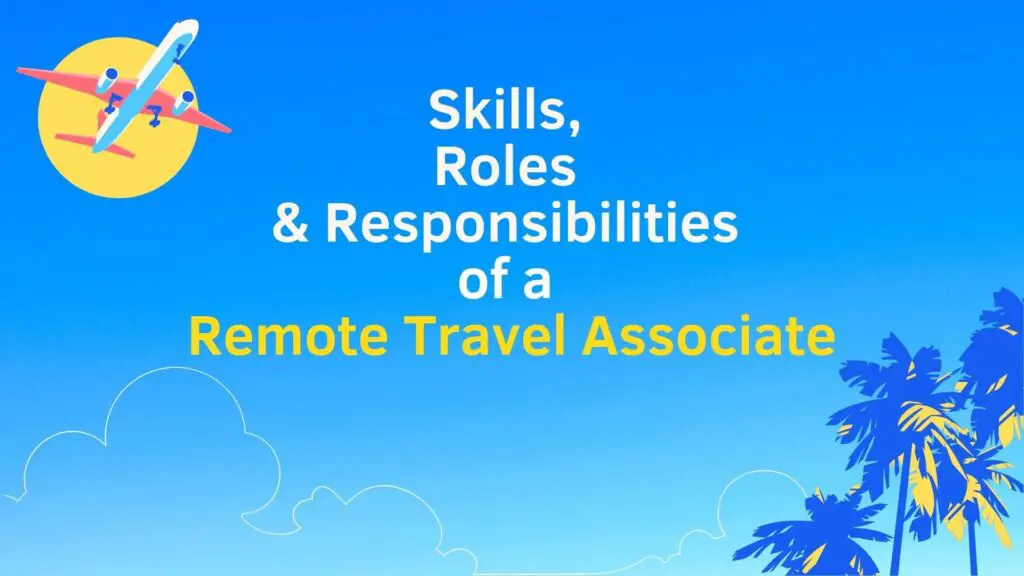 What are the roles & responsibilities of a Remote travel associate/Consultant?
As a remote travel associate, your responsibility has two distinct parts. One involves making the necessary transportation & accommodation-related arrangements for your customers. It might include:
Making flight reservations & hotel bookings
Arranging local commuting & tour guides
Prepare & review the travel documentation
Help with travel visas & insurances
Taking care of the finances (Organizing currency exchange, making security deposits, etc.)
The second set of responsibilities include but is not limited to
Attending conferences, conventions, and training as part of understanding current trends
Network with tour operators, hotels, restaurants 
Handle & maintain the client database
Promote & sell travel packages, products & services on behalf of suppliers, & business partners
Resolve customer queries, handle grievances, and process refunds
What makes you a qualified remote travel agent ? 
Being a remote travel associate/ consultant requires a lot of people/soft skills rather than technical skills.
You will have to negotiate deals with hotels, tour operators, fleet operators, tour guides. The negotiation skills will come in handy in retaining your customer base by creating a pleasant experience and delivering value.
Organizing/Time-management Skills
As a travel agent, you have to collect & maintain a lot of information. You should be able to manage your time & make sure to follow the necessary process/documentation.
Meeting the client's requirement as efficiently as possible takes the highest precedence. Your time-management and organizing skills will be critical to your success.
As a travel agent, communication has to be your strength. Active listening is a vital component of it.
You will have to guide the conversation with your clients, understand their requirements with clarity, communicate all the required travel information, & deliver. 
If you start your career in a global/corporate setup, language skills tend to play a critical role.
Your ability & fluency to speak multiple languages will make a massive impact in making strides in your career. So brush up on your language skills. 
A substantial part of your work will be spent on the internet gathering information, making reservations in hotels, & booking flights.
Your familiarity with the internet tools will help you complete your obligations quickly and help promote your future business prospects. Keep up with the recent internet trends & tools.
Promoting products & services is an essential part of your profile as a remote travel associate or consultant.
Your ability to cross-sell packages and services will have a massive impact on your career growth. So gear up to be the most wanted people's person.
How do I start working as an Online Travel Associate (and how to grow further)
If you have decided to start out as a work-from-home travel agent or a remote travel associate. Congratulations on crossing the first hurdle! The inertia in decision-making is a major one. 
"If one does not know to which port one is sailing, no wind is favourable"

Seneca
When you are past that hurdle, your consistency in showing up and conviction will take you past the forthcoming dilemmas and challenges.
One possible dilemma is choosing between going as an independent freelancer or as a full-time/part-time employee.
Starting as an independent, remote travel agent right away has its challenges.
It gets easier once you understand the industry & establish your network. There is no shortage of opportunities in the hyper-connected world. You can choose to work with big travel companies or hosting agencies and start living the hustle.
What is my career path? What does the future hold for me?
You can continue working with travel networks & cruise companies or pursue other career options later in the future.
It requires a substantial investment in terms of capital and licensing fees. Nonetheless, gives you more control over the business. 
Once you have saved up enough for investment, you're ready to establish yourself as an entrepreneur. You'll have three career paths.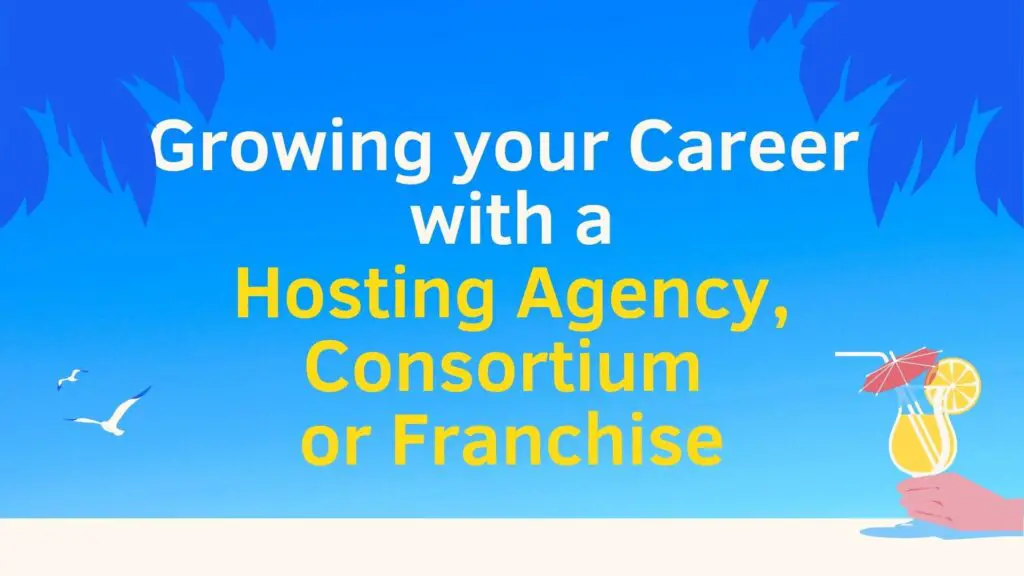 Starting your hosting agency
Become a part of a travel consortium
Become a franchise for the market players
All three of them are explained in detail below:
What is a hosting agency? 
A travel hosting agency is a business that works with multiple independent travel agents based on a contract. The hosting agency offers resources in terms of tools & training for independent agents to grow their businesses.
The independent agents pay a combination of fee & commission. It is a percentage of their sales to the agencies on a mutually agreed monthly/quarterly/yearly basis.
What is a consortium? 
A consortium is a group of host agencies that offer assistance in marketing, technology, training & negotiation. Being a part of a travel consortium gives you an advantage in negotiations over cost & commissions in partnerships. 
Becoming a part of a consortium isn't easy either. One has to satisfy the criteria set by the travel consortium, your sales volume. And then comes the obligation of royalty or annual fees upon fulfilling the entry criterion. 
What is a Franchise?
Big travel companies like Cox & Kings & Thomas Cook expand their outreach by setting up franchises. Becoming a franchise owner comes with meeting requirements in terms of initial investment that include licensing fees. 
It includes fixed fees once you get the business running. Nonetheless, you get the advantage of brand visibility & the necessary technical support to manage the business.
Looking for Remote Travel Agent Jobs Online (List of Sites)
You can start looking for job opportunities through multiple websites. The websites are renowned for connecting employees and employers around the world. 
It's harder to get into MNC's as a beginner. When you gather some working experience and get past the initial few years, opportunities tend to open up easily.
Major travel companies frequently hire remote travel associates/consultants for their hospitality sector in US, Canada & countries around the globe.
Find some of  the major companies listed below. 
How much can I earn working as a Remote Travel Consultant?
Your earning potential will vary depending on the career path you choose. Corporates have industry standards that is mapped to your experience & skillset. As an independent freelancer, you will start with $8-10/hr on average. As you grow in experience, you will be able to scale up to $30/hr.
Your experience & enthusiasm in networking, traveling, & understanding people, places, & culture plays an essential role in this sector. As long as you have the necessary drive, the skills improve over time, & the success comes within reach.
"Invest in yourself, trust the process, enjoy the journey, and embrace the destination."
Some More Reading for You…