Last Updated on April 2, 2022
E-books are increasingly becoming one of the most preferred forms of media consumption. These are short-form PDF booklets that can carry content like:
Instruction manuals (How to start trading, how to build a computer etc.)
Online courses (Learn skills like affiliate marketing, SEO, web design etc.)
Educational content (Reference Books, Answer Keys, etc.) 
How to start writing your first e-book?
Before you begin, you need to know…
Before we go in-depth: a side note. A well-written e-book can make you truckloads of money but the emphasis here is on "well-written".
Many paid e-books nowadays are either way too simplified where the reader is only learning the basic content and not diving deep into a particular field- where the real money is to be made.
Secondly, they are copy-paste kind of content where you really are learning only information that is already available and that you may already know of.
Finding your Niche/Subject (It's about Passion)
Most people make this out to be very complicated. Let me illustrate this with a very simple graph.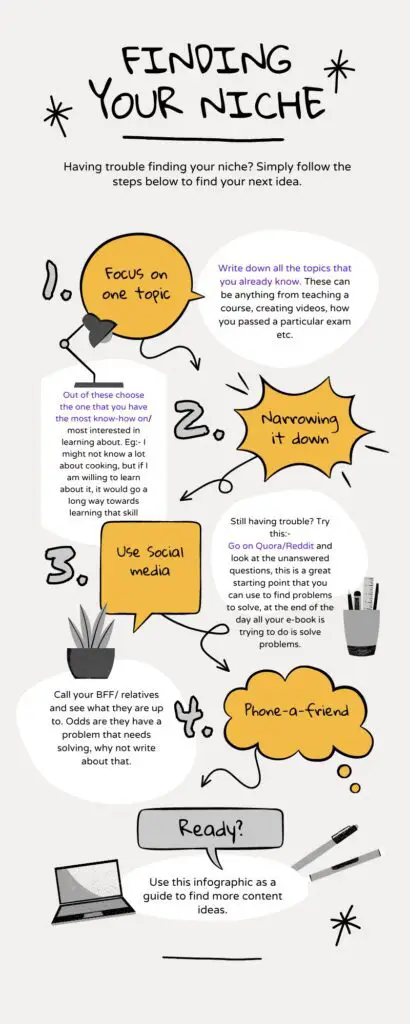 Write down all the topics that you already know. These can be anything from teaching a course, creating videos, how you passed a particular exam, etc.
Out of these choose the one that you have the most know-how on/ most interested in learning about. I might not know a lot about cooking, but if I am willing to learn about it, it would go a long way towards learning that skill.
Still having trouble? Try this: Go on Quora/Reddit and look at the unanswered questions, this is a great starting point that you can use to find problems to solve, at the end of the day all your e-book is trying to do is solve problems.
Call your BFF/ relatives and see what they are up to. Odds are they have a problem that needs solving, why not write about that.
Writing down your content (The hardest part)
For the most part, the content that you put down and how you put it down is your own, meaning that will set you apart from others in your own field. Authentic content will help you stand out from the competition.
PART 1: Research Research Research (and a lot of reading)
Researching your field of study is one of the most important aspects of writing any content. 
Try using these steps to gain a deeper understanding of a particular field.
For example, I write about personal finance, this is how I research a particular topic:
Buying books related to personal finance.
Watching YouTube tutorials about the topic.
Joining a community on reddit to get a better view of things.
PRO TIP: Twitter threads are a very powerful way to learn about things. Apart from being short, they convey a lot of what books say in a much simpler form.
PART 2: Structure (and Curation)
The structure of your content can make or break your Ebook. If it is out of order then the reader may not grasp what you are explaining.
I suggest you go with a questionnaire flow format. Something like the one below:
If you think about it – the primary purpose of your E-book is to solve someone's problems. What better way to do it than to answer questions? 
Start with who this book is suitable for?
What are you trying to explain to them?
How much time will the process take?
and as you begin writing, you will keep brainstorming new takes and ideas. Just Start!
Desiging your ebook
Remember a well-designed cover will help you sell more books and attract more audience towards your book. 
I recommend you use Canva to design your E-book cover, They have tons of designs you can use for free yourself. Take a look at this cover for example.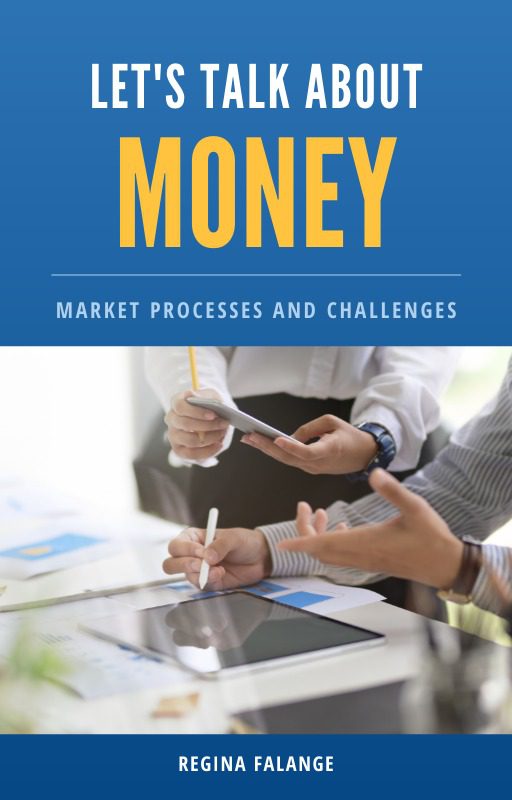 How to sell your e-book (Tools & Platforms Guide)
Here is the 5-step process I use to sell:
Promote it on your existing social media– Facebook, Twitter etc. The people you know are more likely to be your first customers, especially if its their problem you are trying to solve.
Give it away for free– Now hold on!!! Let me explain, use this as a way to get testimonials from people what your product actually works.

When people see the results of other people, they will be inclined to make a purchase. This works especially well with body-transformation programs like weight loss. 
Create a landing page– A website for your product might seem excessive, but this will help you to 10x your sales, as people who search online will get your page as a result on Google, Bing etc.

You can easily create one that won't break the bank as well as looks elegant with hostinger, hostgator, Godaddy etc.
Paid promotions– Keep this as a last alternative. Buying ads as well as paying other people to promote your own product, can be a very effective way to sell.
Keep Trying and Do Not Give Up: This might be the most important tip; it took me a solid 4-month period to sell my first service. Persistent effort and not giving up might be the most underrated tip.
Useful Tools and Resources
Canva– Design tool to build a good-looking E-book.
Word/google docs – To write out your content.
PDF converter – PDF is the go-to format for E-book's.
Udemy/Skill share: – Paid websites to help you learn mor about your niche.
Website:- Choose something cheap like Hostinger or Godaddy, for your needs.
Writing your first E-book might seem like a daunting task, by using the steps outlined above you are on your way to being financially free.
Remember the more problems you can solve the better you will be rewarded by people.
More Reading for you…