Last Updated on April 2, 2022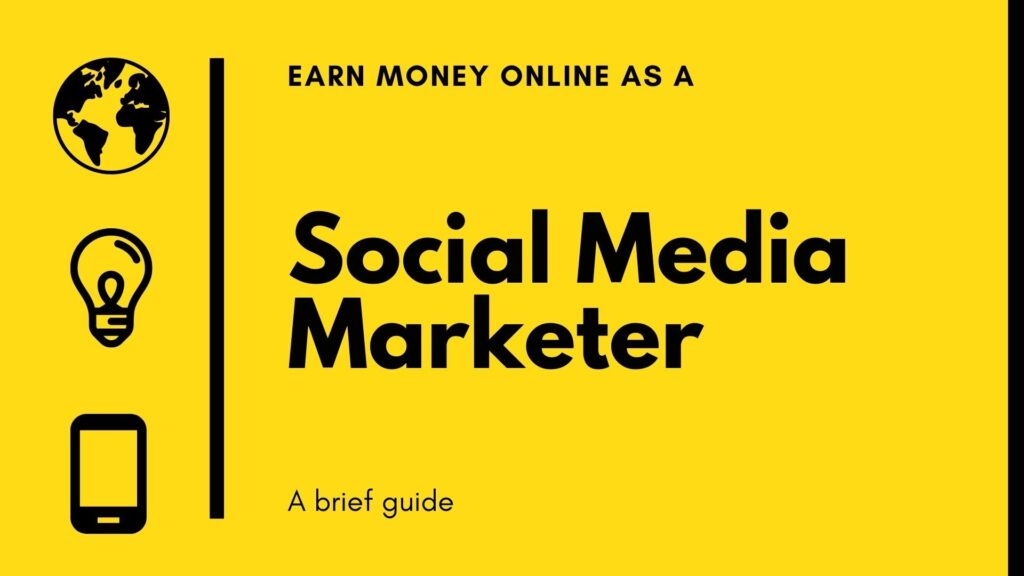 Social media marketing (SMM) has gained immense popularity over the past few decades. As Internet users blew up in number, they also became a new audience for businesses to advertise their products to maximize profit.
Today, being a successful social media marketer can earn you a lot of money. In this article, we will talk about the meaning and nature of social media marketing.
Also, the skills you need to be a successful social media marketer, the amount of money you can earn, and a list of websites in need of a social media marketer that you might be missing out on.
What is social media marketing (SMM)?
Social media marketing refers to the use of social media in order to advertise products and services from a particular company or brand which pays you in turn.
As a social media marketer, you create relevant social media accounts, post content on your accounts regularly, tell people how a certain product might help improve their lives, and grow a big audience.
Being a social media marketer requires time and patience. 
Skills required to become a successful social media marketer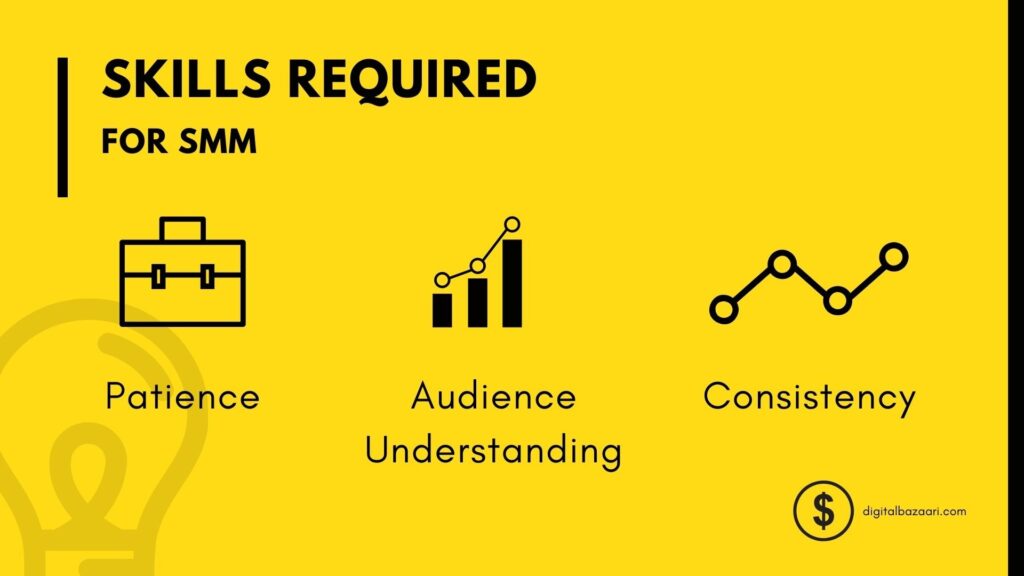 Social media jobs are hard, but once you gain the skills required to become a valuable social media marketer, there are a lot of opportunities for you. Let's understand what skills are the most important:
1. Patience and Consistency: You won't become a great social media marketer in a day, or even a week or a few months. It takes effort to grow a big audience on your social media accounts, and you must not give up.

You need to be consistently working on the account, posting (or atleast scheduling posts) daily and creating new content to engage your followers.
2. Selecting the right audience: What kind of audience do you have? Is your social media account directed toward kids? Women? Techies? Academics?

You must be clear about what kind of audience your content will be directed to. This is a great post for understanding the importance of pinning down your audience and how to do it properly. 
3. Growing a following: A social media account with a huge following attracts a lot of companies for advertising and also provides opportunities for earning big sums of money.

Growing a following isn't just about asking your friends and family to follow your account, or to spam people with links to your account. These methods never work.
You need to follow a proper strategy to grow a good loyal following, and that takes time (expect to invest at least a year). This post neatly sums up a few great ways to grow a good following on your social media accounts.
A list of websites with Social Media Jobs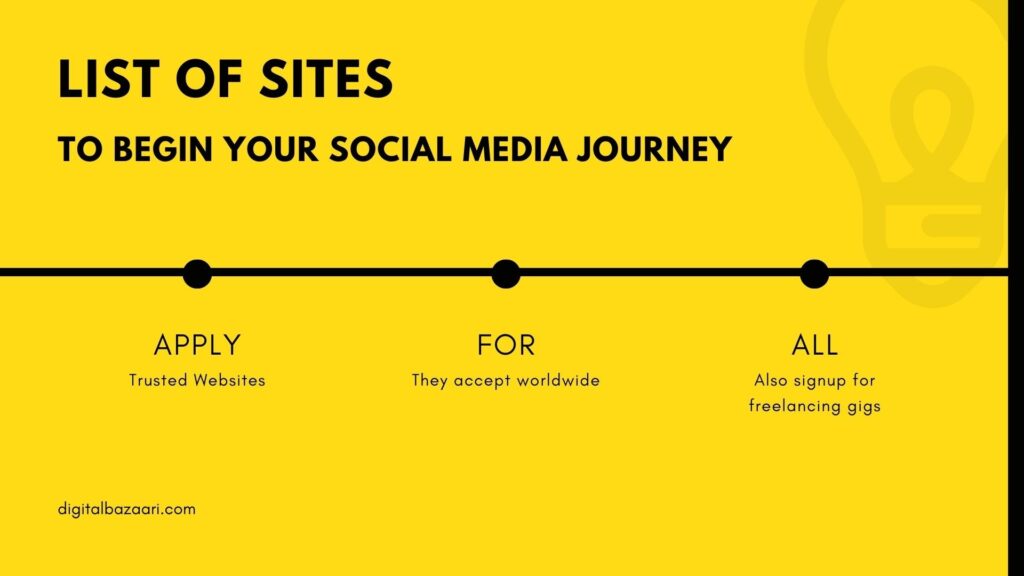 1. $99 Social
This startup is looking for Virtual Assistants to write short social media posts and curate articles and photos for its clients. Prior copywriting experience isn't required, however, you must be fluent in English.
You will receive free training for your job and get a flat rate per account per month. It's basically a 100% work-from-home job with flexible work hours, but you're bound to complete your assignments within the time allotted to you.
2. Modsquad
This is a bit different from other platforms because this is not exactly meant for social media marketers, but for moderators. You moderate communities, manage and filter posts, and chat with customers to know what they need.
If you have experience moderating a community on platforms such as Reddit, Discord, Facebook, etc. then you should definitely give this a go.
This is a social media agency that prides itself on its 70% female workforce, coming from all across the world and from all ages. There are several positions vacant, primarily those of social media managers and moderators.
Follow the link above to apply to see if you qualify.
4. DVMelite 
This site is more directed toward medical practices in general, and there are vacant positions for marketing managers.
It claims to be an entirely remote company, so all work you'll do will be from your home.
5. BELAY
BELAY provides businesses solutions in the form of Virtual Assistants, bookkeepers, social media managers and web specialists.
There are always positions vacant for social media managers and Virtual Assistants, and you can apply to see if you qualify.
6. Lionbridge/TELUS International
Lionbridge (TELUS International) is known for its large freelancing and micro-jobs base. However, you can also apply for the position of social media evaluator on Lionbridge/TELUS. 
You'll discover posts, evaluate them in terms of legitimacy, attractiveness, clarity, etc., and moderate them.
7. Social Tribe
Social Tribe is a data-driven social engagement agency helping businesses worldwide in reaching customers and market their products. There are usually plenty of positions vacant for Influencer marketing and content marketing.
8. Valnet
Valnet is a digital media company based in Montreal, Canada that specializes in content creation and distribution of the most interesting topics in today's pop culture.
Unlike many other platforms here which give you marketing projects based on what they receive from clients, Valnet distributes its own content. You can apply for the position of freelance social media coordinator. 
9. Vox Media
Vox Media is a popular media company, as well as one of the largest in the world. There are positions open for social media managers, so you can consider applying here too.
How much do I earn as a social media marketer?
It depends on where you work, how many accounts you have, and how much sales/revenue they're able to generate.
On average, you'd easily make around $7000 – 50000$ (depending on where you work) per year if you work at a regular agency as a social media marketer. It is not a typo.
This is the actual discrepancy in salaries between an economically poor and a rich country. On the freelance front, however, you can level the prices.
If you're trying to make money as a freelance social media marketer on sites like Fiverr and Upwork, then $15-25/hour is pretty competitive pricing for beginners.
Some freelancers like to charge according to the number of accounts they manage each money. So they get anywhere between 300$-500$ monthly per account.
It might seem like very little, but if you take into account how little effort it takes to manage an account, it seems much better. It would take you no more than 15-30 minutes per account once you get the hang of it.
And if you learn to schedule your posts you can take it even further. Professional SMMs are said to manage hundreds of social media accounts every month. Though you can aim at managing a dozen, and you are good.
You can increase the price later as the following on your accounts grows and you get more clients.
We will soon come back with a much broader roadmap of the skills you require for becoming an SMM, and the opportunities that lie in working on social media. You can even start your own account and earn money through sponsors.
Stay tuned for that.
Here's some more reading for you…