This is definitely an exciting time to be alive. Everyday, I see more and more platforms and opportunities popping up.
These are internet-based, remote work that can be done by anyone using a computer.
Welocalize is another such platform that mainly deals with localization jobs on a worldwide level.
What is WeLocalize and what do they do?
Welocalize is a global organisation that deals with translation and transcreation work. They have more than 1000 employees spread across a variety of geographies. 
They help organisations in becoming global, by transcreating their message to fit different regions and cultures.
For this, they require people from all around the world that can help in transcreating content to fit the narrative of different countries.
Too confusing? Well, let me just say that they provide translation, transcreation, copywriting and a variety of other jobs for different countries and languages.
You can also find the famous Search Engine Evaluator Jobs with them. There are openings for Ads Quality, Keyword Research and Search Quality Jobs for several countries as well.
This makes them another contractor similar to TELUS, Teemwork, Appen, and many more.
How do I create an account on Welocalize and how to begin working?
Welocalize does not have a dedicated platform for applying and working on the jobs. Instead, they use level.co to collect applications and then process them manually.
This workflow is very similar to how Lionbridge/TELUS International does it. All the communication happens on email, including your instructions, qualifications and payments.
Here is how you sign up with them:
Press "Ctrl + F" on PC or "Find in Page" option on mobile. A search bar will appear.
Type your country or language. Go through the results and apply for the job suitable to you.
You will need to fill a form, and also upload a resume.
A confirmation email will be received when you complete your application.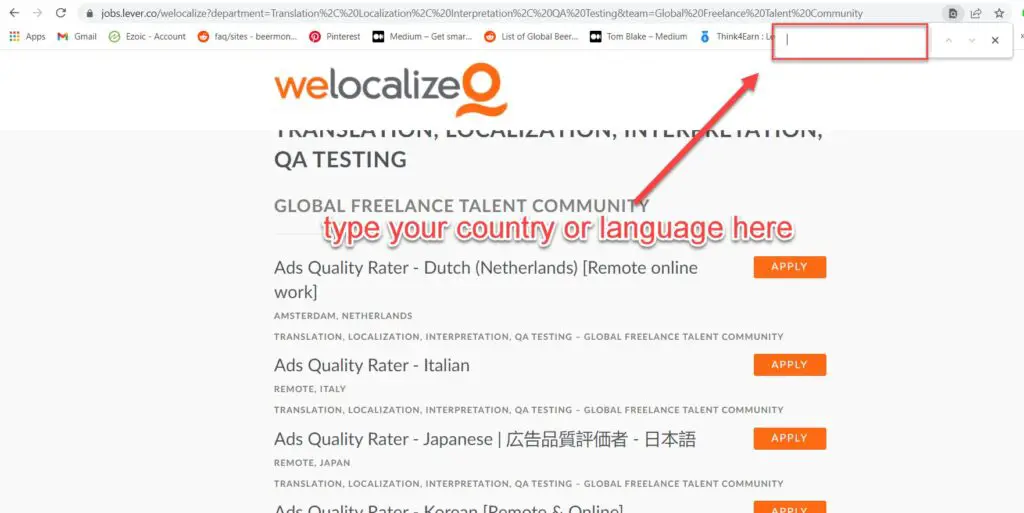 They do have a portal, called Junction portal for their talent to view and accept projects, but I don't know if it work for everyone. Their talent subdomain does not seem to work as well.
There are several other ways you can apply for a job in Welocalize (though, more formal), such as their listing in MyWorkDayJobs and their full careers page.
How much can I earn from Welocalize and how do they pay?
The pay rates for Welocalize vary depending upon your job and your country. Ain't that a surprise?
So when you are filling the application form for any job, you might get to see it's average pay rate. I have seen these rates vary from 3$ to 43$ per hour, so I cannot predict what you might earn.
Welocalize uses Hyperwallet to process your payments, also used by the Workmarket platform by Lionbridge. They have a variety of payment modes for a wide variety of countries, including direct bank transfers.
So payment won't be a problem with Welocalize.
Welocalize Payment Proofs
Well, while there are lots of reports of people being paid by Welocalize, there aren't any payment proofs floating around just yet. I will update this article when I find payment proof from Welocalize.
But with the information I found so far, it is definitely a legit site.
How the future looks for Welocalize…
They have been in the industry for over 25 years (founded in 1995), so they are definitely here to stay. But their foray into global translation and localization jobs is somewhat new.
Earlier, Welocalize was in the light for paying people to transcribe songs. This was probably the first time they were doing such a large scale project.
But they are a huge company, and they have the resources to pull this off. And to start, they have posted a tonne of job postings. Let's see how successfully they handle it, and how consistently they can provide work to a global workforce.
Even though I don't know if they will be having sufficient work or not, I suggest everyone to sign up with them and take the early mover advantage.
More Reading for you…