Last Updated on April 2, 2022
The world is slowly changing from office to online tools. Many departments in companies have turned to online working  due to the benefits it offers. 
Online data entry is an example of the modern way of making income online. Individuals use computers and processing programs to enter information into a specific database and documentation platform. 
Data entry can be complex and difficult, depending on the level of interest of an individual. For instance, phone conversations and transcribing data from various recordings are easier jobs to practice online.
 On the contrary, one can be required to use software such as Microsoft Excel, R-studio, and SPSS, among others, to analyze and enter data. 
How to Work as an Online Data Entry Expert
Online data entry jobs combine various researches, processes, typing, and data entry. Essentially, one compiles data from various internet sources and assembles them to an online storage platform. All these processes demand efficiency and better typing skills for specific data. 
With data entry jobs, the internet has brought innumerable opportunities allowing people to work at their comfort. The essentials for working as an online data expert include a stable internet, a good PC or laptop, a desk, and a notebook. 
How much can I earn with Online Data Entry Jobs?
Data entry jobs vary when it comes to payment. On average, a person can earn 250 dollars per month from online data entry tasks. 
Obviously, there are going to be a lot of variables, depending upon the company you work with. But online data entry jobs are not very lucrative financially. 
They are just easy to get into and work, which makes them an attractive option for someone who is not very computer-savvy.
Skills Required for Data Entry Work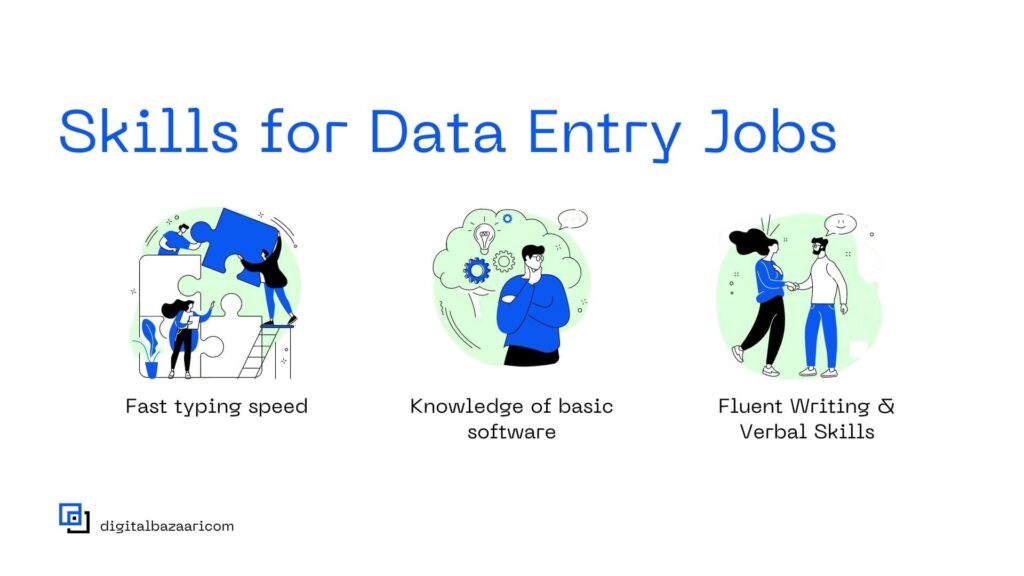 Data entry clerks are the simplest regarding skills required while making decisions and office operations and systems. However, this doesn't mean that the career lacks strict skills. The first step to many business and marketing intelligence processes begins with data entry. 
The data entry experts offer a company the first point where clients and business partners can contact the firm. Below is a list of skills required for data entry. 
In a short period, data entry clerks input huge amounts of data. While most companies don't check on this, it is vital to master the skill, enabling one to rise through the ranks easily. 
A good data entry clerk's typing speed should range between 45-50 words per minute. Comfortable use of the PC and its devices will help one attain a better typing rate. 
Data entry clerks often use a variety of software programs. Thus, experience and knowledge around Microsoft Excel and Word are vital. Besides, one needs to further their studies on additional software required for a particular task. 
Fluent Writing and Verbal Skills 
Data entry jobs require a high level of both spelling and grammar. Additionally, the communication skills need to be sufficient for greater interaction between managers, colleagues, and clients. 
An individual should portray high and quality skills to focus on action. A better concentration of the tasks allows one to type faster and accurately and edit data sufficiently. 
Finally, a data clerk needs to exhibit strict time management skills. One should be able to get more work done in less time. A combination of the above-listed skills facilitates this. Also, good organization skills ensure one to plan, prioritize and achieve their daily goals enhanced and faster. 
A list of websites with Data Entry Jobs
Megatypers is one of the prominent websites offering data entry jobs. The site is popular since one can start with as low as 10 words per minute under flexible deadlines. The website is favorable for students, single parents, and others seeking extra cash. 
Per month, one can earn up to $250. Payments are paid through western union, PayPal, WebMoney and Payza. 
Lionbridge is another best-known site for online data jobs. It is free to create an account at Lionbridge and browse for data entry jobs. It has a steady income once one becomes an expert. Also, the jobs are many, written in more than 300 languages. 
The site pays a minimum of $20 through direct bank transfer or PayPal. This depends on the projects done by an individual. Their average rates are $13 per hour. However, the payment cycle works on NET-45. This means that 
Scribie is an online company offering data entry, translation and transcription jobs. Through the site, one can earn a decent income to sustain them. At scribie, the pays vary, with the least at $0.10 per minute. 
MTurk is one of the top ten websites offering online data entry jobs. It is an amazon crowdsourcing site, ranked among the most legit sites. The website offers timely and friendly payments, so most people prefer using it. 
Regarding pay, it is upon the freelancer to choose what they want to be paid, according to the service they provide. The minimum fee is $0.01 per assignment. 
Upwork is one of the oldest sites that has become a vital online platform to get online jobs. At Upwork, clients post their jobs to be tackled as data entry clerks showcase their expertise. To get data entry tasks, one must bid for tasks through the filter option. 
The website has a user-friendly interface that allows new clients to easily register and fill in their information about their career in data entry jobs. Since it is one of the leading online platforms, its prominence is known, and most people have mentioned the website's legitimacy.
Arguably, TranscribeMe has been rated a goldmine for various jobs, specific to data entry. It is prominent for its flexibility to new employees. Freelancers can work in the comfort of their homes. 
TranscribeMe pays start at $15-$22 for every audio. A person can earn an average of $250. Their top experts earn up to $2,200.  
Fiverr is also one of the oldest sites to secure data entry jobs. Its features are similar to Upwork. At Fiverr, clients post their jobs to be tackled as data entry clerks showcase their expertise. To get data entry tasks, one must bid for tasks through the filter option. 
The website has a user-friendly interface that allows new clients to easily register and fill in their information about their career in data entry jobs. It is also one of the leading online platforms. Thus, it is well established and prominent for jobs on data entry.
More Reading for you…