Last Updated on June 5, 2022
Here's a list of the types of work I have seen people do online and make money. And this is just off the top of my head, there are tons of other ways that I cannot remember right now.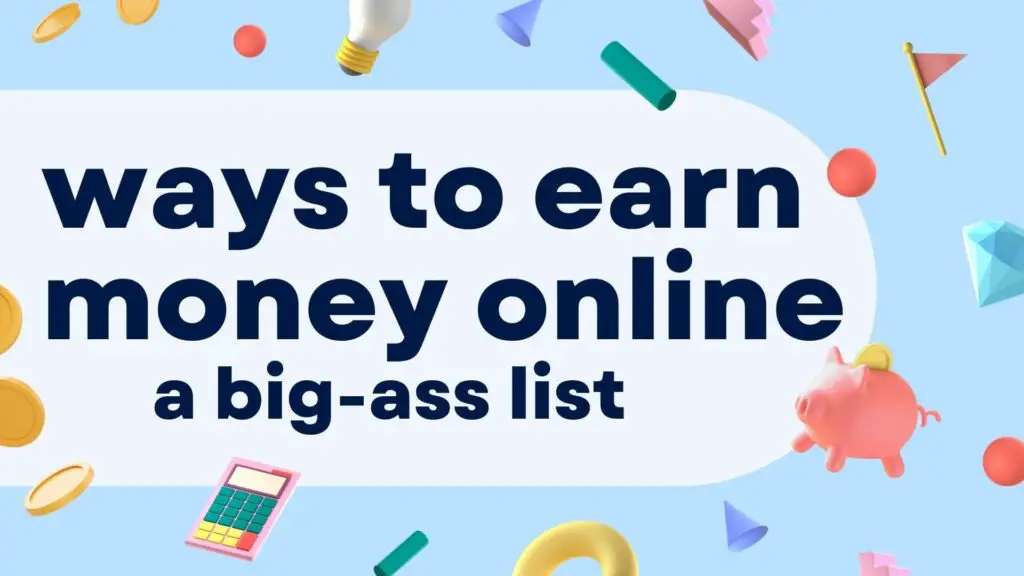 These are full-time jobs that pay well. But that means that you really have to treat it like one (if you want it to replace your day-job). 
Besides, these are great for single parents as well.
Being a single parent is hard enough on it's own and to manage a full time job on top of that just means you get drained physically and mentally. 
That is why remote jobs are perfect, not just for single parents, but all parents.
 They give you more time to be with your child and take care of them. They give you the comfort of being at your home or anywhere else that you desire.
A common misconception is that remote jobs are just part time jobs for some side income. But there are serious full time remote jobs out there that can help you progress in your career right from your home. 
These are full time jobs that can help you pay the bills. As with regular jobs these do require hard work so you have to put in the time. 
Especially with the covid pandemic more and more companies are offering permanent work-from-home opportunities. 
They give you the freedom to progress in your career as well as watch your child grow up.
Affiliate Marketer
Affiliate marketing is when you market someone else's product and earn a commission from the company when you get a customer to buy something from the company. You get a predefined percentage of the sale. 
This commission can vary a lot. If you do it right and have a good audience, you can earn a good amount of money passively from affiliate marketing.
An important factor of affiliate marketing is having an audience. Be it a blog, an instagram page or your own website. 
Choose your niche, review products and build an audience based on trust. There are just 2 basic steps for being an affiliate marketer.
1. Join an affiliate program.
There are numerous affiliate programs out there. These are basically online stores that give you unique links to their products. You need to join one of them. Decide what kind of products you want to market and select a program. 
For example if you run a fashion blog instagram then you would be better off with a program that has a lot of fashion products.
One of the most used affiliate programs is Amazon Associates. As Amazon sells almost everything, it is a good choice for an affiliate program.
2. Share your unique affiliate links among your audience.
For each product you want to promote, your affiliate program will give you a unique link. You just share this link among your audience, be it a link in the caption of your instagram post or a link at the end of a product review on your blog.
 Now whenever someone clicks on that link and buys a product, you get a percentage of the sale as commission.
Free affiliate marketing course for beginners
Online Animator
Do you have a passion for animation and art? Have you spent years honing your craft? Well now you can earn a pretty good income right from the comfort of your home.
As everything is going online, the world needs more and more animators. From everything like reaction gifs to youtube videos and movies, one needs animations. You can find freelance work for animation from plenty of websites like Upwork or Fiverr.
For animation all you need is a computer. A drawing tablet like one from wacom would be very useful but it is not absolutely necessary. You can even animate on tablets like the iPad especially with the Apple Pencil.
You can get freelance jobs anywhere from $10 to $100 or even more depending on the complexity of the animation and the type of the job.
Even if you do not have any experience with animation you can get started for free with applications like krita for 2d animations and move to 3d animations as you get better.
Become a Blogger and get paid for writing about your interests
Internet blogging is as old as the internet is. People have been writing personal blogs for years. If you have a knack for writing you can make some good money from blogging.
You can either work as a ghostwriter for other blogs or start your own. Starting on your own takes time. You need to build an audience slowly and steadily. Whereas if you start working as a ghostwriter you can start making money sooner.
First you have to decide a niche. An area where you can write your heart about. Maybe it's technology or travel or anything. You can also work both as a ghostwriter and work on your own thing.
Once you have amassed an audience you can monetize your blog with some non intrusive ads or combine one of the other ideas of this article i.e. Affiliate Marketing.
You can promote the products that you review and get a cut of the sale when people buy the product from your link.
 To get you started, you should consider Hostinger for hosting your blog. They have a super cheap 4 year plan. This is great because your blog won't talk off in less than a year (2 years, to be honest).
Now other hosting providers have "super affordable" plans, but only for the first year. After that they charge you a premium, since it is very difficult to switch your hosting provider.
So I went with Hostinger's four year plan– this being my 2nd year.
For monetization, I use Ezoic. It is lightyears better than Adsense in terms of revenue. If you are just starting out with blogging, you can join them as they have dropped their 10k pageviews requirement.
Now you can get accepted into Ezoic if your site is simply decent enough. Basically, if you can get into Adsense, then you can also get into Ezoic; as simple as that.
Consulting
Consulting is the process of providing expert advice to a third party in exchange for a fee. Suppose you have an expertise in marketing, engineering, business, investment or anything else, you can provide your expert services to people for a fee.
A consultant is basically an advisor. With the covid pandemic, more and more businesses are looking for consultants who work remotely.
To be a full time consultant, you really need to have an area of specialisation. It could be anything from marketing to information security or anything. So when businesses need help with your area of expertise, they hire you in exchange for a fee.
You need to creatively solve the problems that an organisation wants solutions to. As you are required to be an expert in your field, the pay can be really high.
Copywriting
Copywriting is the art of writing text for marketing or advertising a product. It is done to promote the brand or the product and ultimately persuade a person to take some action.
Copywriting could include writing for a particular product's advertisement, a youtube video spot, an email broadcast, a facebook post, an instagram ad or anything else.
Before you get to SEO and digital marketing, you need good content to market, that's where a copywriter comes in. If you can write creative and engaging content in a way that people are convinced to buy your product then you can make a good living.
These days everybody in every industry needs copywriters. Copywriting doesn't have a lot of technical requirements, you just need a computer and a creative mind.
You can find a lot of freelancing jobs on Fiverr, Upwork and many more such websites. If a company really likes your work then you can also get a permanent client that way for all their copywriting needs.
E-Commerce Store
With online shopping booming thanks to the widespread availability of the internet, people sell it all online these days. From custom t-shirts to gift baskets to electronics.
If you have some unique product you can sell online, you can start your own ecommerce store. You can also customise products as per the customer's needs. You can create a store for your art, be it custom t-shirts or paintings. There are endless options.
All you need is a website and something to sell. You can either create your own website or an instagram page or use an existing service to help you like Shopify. You can also sell your products on Amazon, Flipkart, Etsy or any other established e-commerce platform.
Vlogger
With YouTube taking off like a rocket, a lot more serious money making options are there on the platform. You can create interesting videos and monetize them. You can create a brand and sell apparel related to it.
If you think you can make engaging videos surrounding your life or travel or food or basically anything, there is a huge audience present. You just have to select something that interests you and start making videos on it.
As with anything that requires an audience, it will take time to build an audience. But once you have a dedicated audience, you can get a pretty good income source.
Grant Writer
Grant writing is the process of writing proposals or completing applications for schools, universities or any other organisation. The process can include researching about the proposal, analysing the requirements, writing a draft, rewriting it in case of discrepancies and more.
The lay person usually does not have a lot of ideas about writing formal letters and proposals because they do not need to do it often. People get confused and overwhelmed. That is why writers are so in demand.
You can find a lot of writing jobs on Fiverr, Upwork and many more websites.
Graphic Designer
Every business these days in the digital world needs graphic designers. You could design anything from logos to ads to digital posters. You could also be a UI designer for websites.
You can do a lot of courses online for free and get started on open source software and eventually move to professional tools like photoshop. All you need is a computer to get started in graphic design.
You can even get simpler Graphic Design work by working on social media. If you can get yourself around using Canva, which is a super simple tool to create designs for anything. 
Also check out this free course on graphic design if you want to Graphic Designing a whirl.
Online Teacher
With the covid pandemic, all teaching is moving online. Whether it be schools or online tutoring platforms. You can get started in teaching with teaching any school level subjects.
You can even start tutoring college students in programming or other subjects. There are even platforms where you can teach languages. All you need to get started in online teaching is a computer and a webcam.
There are even platforms where you can solve students' problems and get paid for solutions. Here are some websites to get you started,
If looking for something simpler, you can also try teaching English online.
Cambly (Review + Link)
Product Reviewer
Reviewing products from home can earn you a good income. You just need to build a good reputation and be detailed about your product reviews. Once you get a trusty audience, companies will flock to you giving you their products for review.
You can test products in any area, be it makeup or electronics or anything else. It can be difficult to get started in this field as the competition would be high. But slowly and steadily you can build your skills and can get a steady income.
Some companies even let you keep the products after you are done reviewing them which is a great bonus.
Programmer
Programming is one of the highest paying jobs out there. You can program in any language and get a high paying job right from the comfort of your home.
All you need is a computer. You can keep honing your skills and move up the ladder with better and better jobs.
With websites like GeeksforGeeks and Coursera you can learn anything for free. There are so many areas you can get into like web development, mobile development, machine learning and many more. You can either choose to work as a freelancer or even get a full time remote job.
Social Media Manager
A social media manager is a person who is entrusted with and runs all the social accounts for an organisation.
You would be in charge of posting, creating campaigns, customer reach out, marketing, improving brand recognition and much more. You can be in charge of accounts on numerous platforms like instagram, facebook, twitter and more.
You need to be proficient in using all the current social media platforms. You need to monitor analytics, keep up with trends, develop a strategy, engage with your audience and improve your brand's image. As all of this is done online, it is a perfect remote job for anyone.
Stylist
If you have a knack for fashion and styling, you can work as a remote stylist. You would need to consult people on their wardrobes. You might be working with apparel companies to create new product lines.
If you have a degree in fashion design or experience in the fashion industry then you can get a great job in this field. You can also work on coordinating outfits and accessories.
All of this can be done from the comfort of your home with just a computer.
Travel Agent
Tours and travel is a huge industry. With all bookings that can be done online you can become an online travel agent. You would need to book tickets, hotels and create unique experiences for your clients.
You can also help customers find new locations to travel to and help them plan their holidays. Some people tend to be overwhelmed by the thought of travelling and booking.
If you familiarise yourself with all the booking options available, you can become an agent and be paid a commission for each transaction. The travel industry is far and wide and you can make a really good living as a travel agent.
---
So, this is just a smaller list of the different jobs you can do online. You can find such lists on every site, but I am trying to write detailed articles about all these opportunities in the future. So stay tuned for more content.
More Reading for You…