Last Updated on January 15, 2022
I recently talked about teaching English online to students to earn a considerable side income online. But for teaching, you need a curriculum, rules, homework, and what not?
So here comes Cambly. Cambly is a website with a similar motive. It connects students who want to learn/practice English with Tutors.
You interact with students over a video call and get paid 10$ an hour (and 12$ an hour for Cambly Kids)
Do I need to Teach something as a "Tutor" on Cambly?
But here's the twist, you are not a "Tutor" tutor.
Most people on Cambly are actually just looking for someone to practice their spoken English. A lot of the students come from countries where English is not a spoken language. 
Or they have studied abroad and have a good grip on the language, and don't want to lose that.
So basically, you are just there to have a conversation with them. Maybe listen to them as a therapist. It is kind of a get-paid-to-talk service.
Plus, you don't have any kind of contract with them. It's hop on and hop off whenever you like.
You can get to work as soon as you log in, and get off it when you log out. It's simple as that.
You can take a month or a year off whenever you like, and be back teaching after that. It's flexibility is 
You just need to have good spoken English skills. Your chances of getting approved as a Cambly tutor increase if you have an English accent.  
Signing up as a tutor on Cambly
The signup process is not difficult at all. You just need to verify your email and they will log you into the dashboard.
You will then be required to record a video describing yourself, your life, etc. They basically want to check if your spoken english is good enough.
In my video, I just described a bit of my academic background, my hobbies, and then just talked a little bit about my life, and was accepted!
They don't require any kind of formality or a teaching certificate. They only judge you on your ability to talk. Once you are approved, you can begin right away!
What do the earnings look like
I put cambly somewhere in-between the beer money and part-time work categories. I have already mentioned that the rates for Cambly vary between 10-12$/hour, that is around 0.17$/minute.
The thing is, there is no consistent amount of work available throughout the seasons.
Since you are matched with a new student every time (though students can request to block time with you as well), but mostly you will be talking to different people all the time.
But Cambly has a pretty nice policy around your time. For example, if someone books a session and doesn't show up, you will still be paid for the time you spent waiting. 
Then there is thing called "Priority Hours". You are awarded these after you have worked for some hours on the platform.
They will boost your profile up and above the rest during that time. So you will be shown at the top when a new student is selecting a teacher. 
This helps you match easily during your priority hours. And even the time you spend waiting during "Priority Hours" is compensated. So a win-win, overall.
Cambly pays every week via Paypal. Scroll down for the payment proof.
Cambly Payment Proof (Paypal)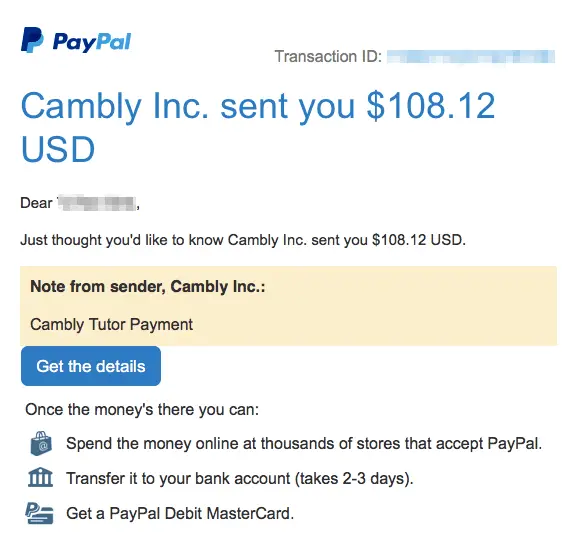 Some things you should keep in mind:
Cambly is pretty much you talking to a stranger over the Internet, so make sure to not use your real name (or the correct spelling) when connecting with the student. It's a good practise to stave off stalkers and creeps (especially if you're a woman).
You need to have good conversation skills. Remember, the person in-front of the screen is paying to have a conversation with you.
You can manage your bookings or chat with people even from your smartphone, thanks to Cambly's Android and iOS app. This makes it very easy to schedule and attend calls.
Make sure you have good quality audio and video, as they affect your chances of approval. You can use an AI Noise reduction tool to improve your audio quality. Check out this article for more information on it.
Increasing your voice quality helps you converse with clarity. Try Krisp, an AI-based noise reduction tool that will get you studio-quality voice recording from your regular microphones. It's free!
More Reading for you…