Have you ever come across those "top 10 science facts you should know" or "top 10 celebrity scandals that ruined Hollywood" posts in your recommendations? We find them everywhere in every form of media: on YouTube in the form of videos, on the Google feed in the form of posts and of course in ads!
 And let's be honest: they never fail to grab our attention. Organizing information in the form of a list often draws a huge traffic to websites and videos, precisely because everyone wants their information in a short, concise way. 
Nobody wants to spend a lot of time reading big articles. Listverse is one of those sites that do this: making lists and posting them. Honestly, just this – and it pays people for doing the same!
What is Listverse?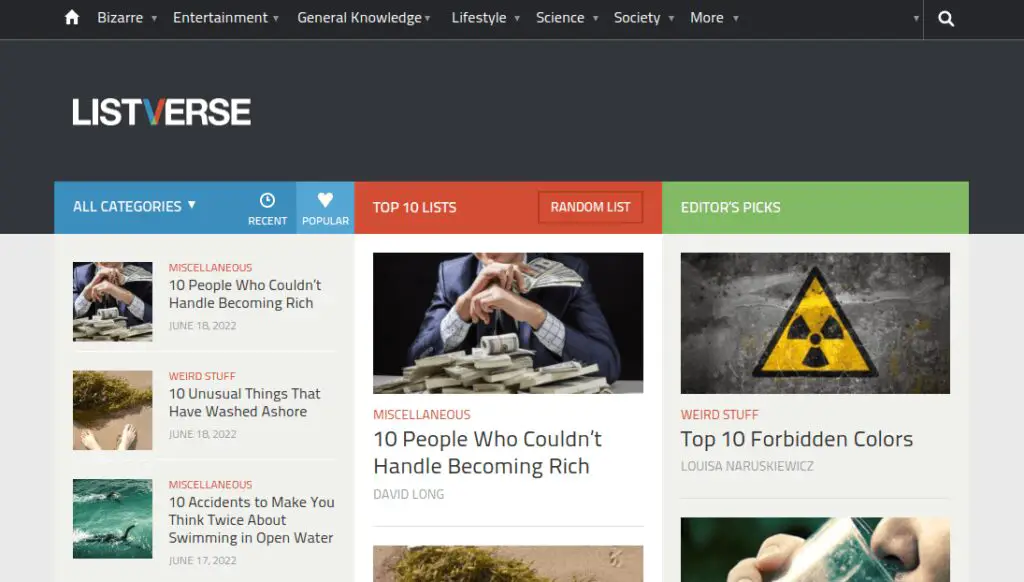 Listverse is a website that publishes lists about various topics from various fields of human knowledge. It strives to make information fun to read. It tries to share rarely known facts in the form of lists to educate people about various things.
This also makes it a great opportunity for freelance writers in any niche. Any niche can have interesting lists curated for them. You can use your knowledge to ideate several lists and submit them to Listverse.
Listverse pays people who publish lists on the website. However, there are standards which every list must meet before getting submitted on Listverse, the most important of which is the fact that the list must be verified and factual. Misinformation, lies and propaganda aren't welcome on the site. This helps the site maintain its legitimacy and trust among readers.
Getting started with Listverse
You can earn money from Listverse by submitting individual lists to Listverse and getting paid. This is only available in Australia, Canada, Ireland, New Zealand, South Africa, the United Kingdom and the United States, at the time of writing.
How do I submit a list to Listverse?
Start off at their "Submit A List" page. You'd need to enter your details before submitting a list. You'd need to enter an "author name" which would show up as the author when/if your list is published. 
The author name can be anything; you don't need to enter your real name. You'd also need to provide your email address, your PayPal email address and your bio (something briefly describing you or your skills; you can also put your social media accounts for people to reach you).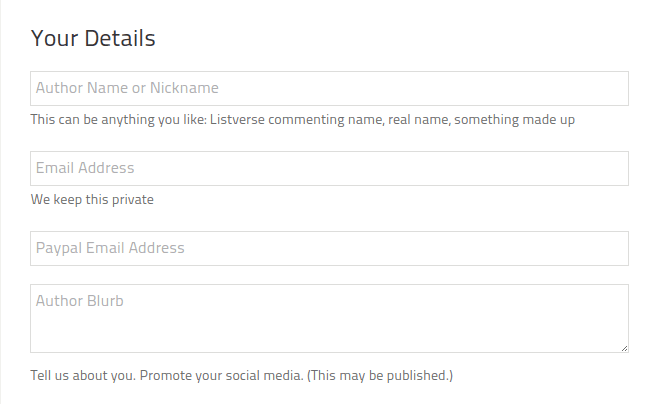 After you're done with the details, you can write your list in the next section. You need to enter a crispy headline that would grab the attention of the masses. That would be followed by a brief but clear and concise introduction to the list and the topic you're going to talk about. Then you will be writing the actual content.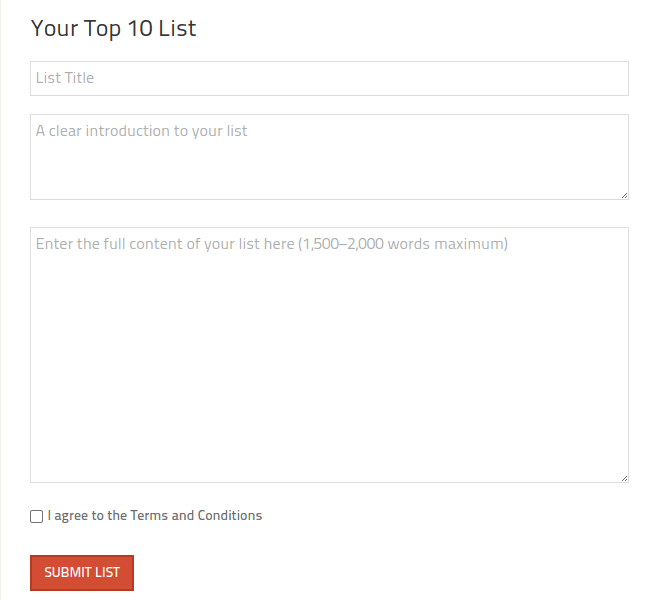 When you're done with your entry, submit the list. Done! If your list gets approved, you get $100.
Read this before you start writing your list
Make sure your content is 100% original. Listverse has strict rules against plagiarism. 
Your topic should be unique; It shouldn't be something that they have already published. 
Your list cannot exceed 2000 words. 
You should be well-versed in English. The platform demands "perfect English" for lists. You must not make grammatical or spelling mistakes. Keep an eye on what you write.
Your article must be factual and verifiable. You must be able to come up with reputable sources and evidence to prove whatever you have to say in the article/list is true.
While the site claims to only allow people from Australia, Canada, Ireland, New Zealand, South Africa, the United Kingdom and the United States, some people from India, Pakistan and Philippines have also succeeded in making some money by submitting lists on the site.
However, it's important that you're in a country where PayPal is supported, as PayPal is the sole medium of payment on this platform.
The tiny star of Terms & Conditions
$100 for 1 article! Might seem like easy money, right? 
Let's break that myth right here: it's not. Listverse would need to accept your list before you get paid. If your list gets rejected, you won't be paid. The problem lies exactly here: there are too many rejections to make Listverse even worth your time. 
Listverse only accepts around 3 articles per day according to this article, and there may be at least a hundred entries per day. The competition is extremely tough.
A lot of people have spent a big chunk of their time on their lists which have all been rejected as "not what interests our readers." Actual earning potential is quite lower than expectations and requires a lot of effort to reach.
Note: If you do end up creating lists and getting them rejected. Make sure to publish them on a blogging platform like Medium or Vocal so that you can at least earn a little bit of money from it.
How much can I earn and How do I get paid?
You get paid via PayPal. For every list that gets approved, you earn $100. Since a lot of lists tend to get rejected, it's not advised to burn yourself out writing lists for this platform. Write the articles in your free time, and don't get occupied with this. 
People usually earn $300-500 per month. However, the rates may wildly vary based on how many lists get accepted.
Listverse Payment Proof
Here is a Paypal Payment from Listverse. It is a legit opportunity, but due to it's niche user base, there aren't many payment proofs online. This is the only one I could find, a very low resolution image but definitely something tangible.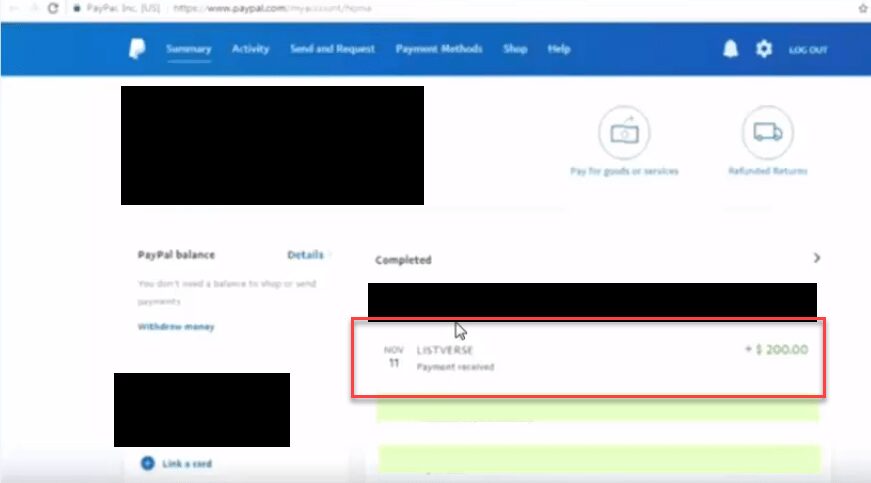 More Reading for you…