If you love to write, then there are various platforms nowadays that pay you to do it. This is different from freelance writing where you write for a client, on a topic chosen by them. 
On these platforms, you write whatever you want and get compensated based on the number of people who read your stories/posts. One of the most famous platforms that follows this business model is Medium. Unfortunately, its revenue sharing program is only available in limited countries.
This is where Vocal Media comes in. 
What Is Vocal.Media and How does it work?
Vocal.Media is a website where writers can earn money. You can publish content to get more views, and you will be compensated for each view.
Vocal describes itself as a platform for writers to be supported, discovered, and rewarded. Creatives of all kinds gather to share their experiences in a variety of fields. When you first visit the website, you'll notice its community section, which allows you to check written content created by people in different professions.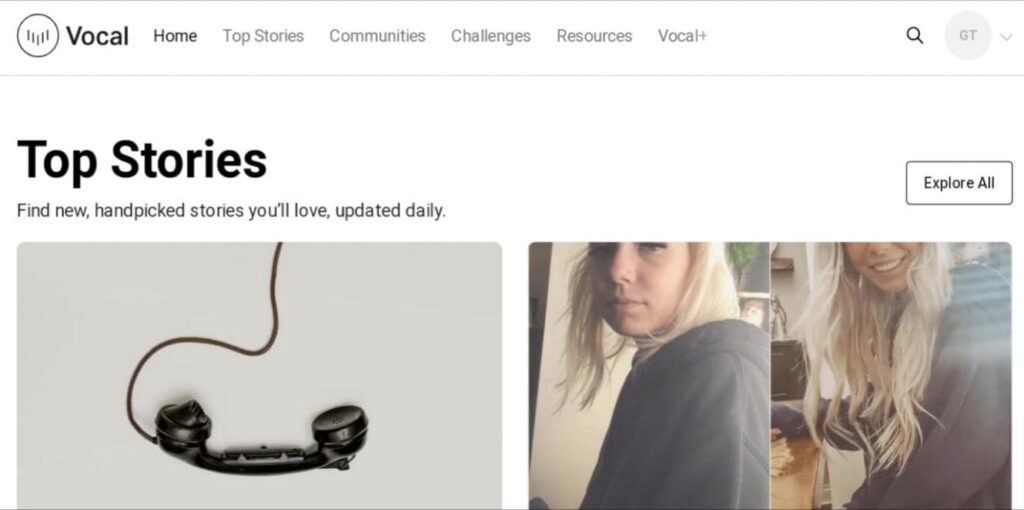 Visitors to this site will be able to discuss their interests with prominent members of the community. When you create an account, you will have immediate access to a platform where you can read well-written articles on a variety of topics.
Each vocal account comes with a page where you can upload your written content on the various subjects that you want.
Vocal is, at its core, a collection of interesting content on a variety of themes. Vocal has something for everyone, whether you want to learn new beauty tricks or read terrifying horror stories. It's a place where all types of creatives may express themselves.
You can always discover someone who shares your interests on their website. If you don't find what you are searching for, you can always create your content and start building your community.
While posting is not required to make money on Vocal, it does make it much easier. Vocal pays writers who perform well on their website because they pride themselves on collecting high-end interesting content from all types of creatives. 
If you do well, you can start generating money on Vocal immediately, depending on how much attention your posts receive. It is a platform that not only allows creators to share their work but also enables them to be compensated for it.
Vocal.Media compensates you for every reader. It makes little difference where the traffic comes from, as long as you're getting genuine human readers on your Vocal posts.
Plus, it has several fixed bonuses when you hit particular milestones (such as publishing your 10th article (10$), publishing your 50th article (50$), etc.)
How to Sign Up at Vocal and Publish your first story
The steps to register and become a member of Vocal.Media are outlined below.
Sign up for Vocal.Media with your email address. You can use Facebook, Twitter, Apple, or Gmail to sign up.
You must confirm your email address.
The next step is to go to the wallet and configure your Stripe to receive payment (This can be done later as well)
Then it's time to put your first story out there. Click "Create Story" and compose a high-quality story of 600+ words (the more the words the easier it is to rank)
When you're done, click Submit.
Your story will be added to Vocal in a few hours, they accept all types of stories. The number of views you get per article is the most important factor here.
How (and How Much) Can I earn with Vocal?
If you are only a Vocal writer and not a Vocal+ member, you will get $3.8 per 1,000 views, with a minimum payout of $35. 
But as a Vocal+ member, which costs $9.99 per month, you will earn $6.8 for the same 1,000 views, and your minimum payout will be $23.
But that's not all, there are some more ways you can earn from your content on Vocal:
1. Reads and Views
Vocal compensates its users based on CPM (cost per thousand), sometimes known as "reads." The more people that read your post, the more money you get. As a result, the more you promote your post through the community, social media, and friends the more people will read it. You can withdraw money from your Vocal account once you have reached the threshold.
Vocal makes sure that it does not get any bot traffic on its stories. That's why you have to solve a captcha every time you log into Vocal. There are a lot of smarty pants out there, so this needs to be done.
2. Tipping
Tipping allows readers to directly compensate you for your work. These are tiny payments that are directly deposited into your Stripe account. This is an excellent method to generate funds for a good cause like your book, music, writing, and other endeavors.
If you build a huge and loyal following, then this can become a great source of income as well.
3. Sales (Affiliate links)
Do you have a product or a video that you'd like to market? To encourage your readers to buy, watch, or listen, embed your Amazon product, YouTube video, or Spotify link into their modules. It's your content after all– link it to your heart's content. (Vocal does not own your content, it only gets a partial license to display your work).
But make sure to add a disclosure about using affiliate links in your articles to comply with Vocal's policy.
4. Bonuses + Challenges
Vocal awards you with several bonuses upon reaching some milestones. I got a 5$ bonus for publishing my 5th story, then a 10$ bonus for publishing the 10th one, and a 50$ bonus when my 50th story got approved.
Some people report getting bonuses when they read 5-10 articles as well.
Along with that, Vocal hosts different types of writing challenges from time to time. You can participate in them and upon winning, you can earn a pretty huge sum. The prizes usually range from a few hundred to upto a 1000$ sometimes.
Plus, it encourages you to experiment with newer writing styles as a way to comply with the challenge rules.
All transactions are processed using Stripe, a third-party banking program that is one the most popular online payment platforms. Your financial information is never shared with anyone. You can withdraw your funds at any time after your Vocal Wallet balance reaches the threshold.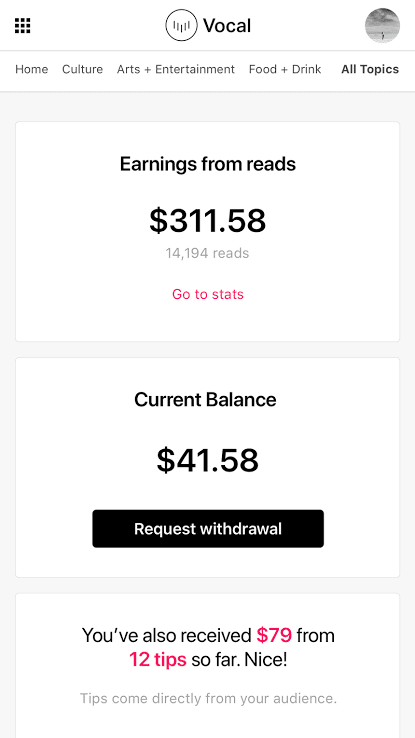 Tipping: They allow readers to tip a writer between $2 and $20, and they take a percentage for each tip.
Tipping on Vocal (Sending & Receiving Tips)
If you like something on Vocal and want to show your appreciation, you can do so by tipping the artist, it's simple, once the function has been enabled then you will have the opportunity to send them a tip at the end of their story or on their author profile.
Simply enter the amount you want to send and your payment method. Stripe (their tipping processor) accepts Apple Pay, credit cards, debit cards, and more, processes all tips.
Please be aware that tipping an international author may incur an extra fee from Stripe. Visit Stripe for more information.
How to Enable Tips on your Vocal profile
You must have Stripe connected to your Vocal account in order to receive a tip. If Stripe isn't linked, your readers won't see the tipping option.
You can keep track of how many tips you've received in your Wallet once Stripe is connected. You'll see a list of the tips you've received under "Tips," along with the story or profile from whence they were sent.
Because you've linked Vocal to Stripe, any tips you earn are automatically deposited into your bank account. There's no need to transfer money from your Vocal Wallet to Stripe.
In your story, you can politely request a tip: Instead of pleading for money throughout the story, respectfully ask for a tip at the end.
How to get more views on your Vocal.Media Articles?
Vocal isn't particularly well optimized for search traffic, but if you put up a little effort, you can quickly rank for a low-competitive phrase on Google or other search engines.
Term Research: Not every low-competition high-volume keyword will work for you because of the ".Media" extension, which is a search engine optimization weakness. So, you have to do additional things to improve your Vocal story's Google ranking.
Long-form Material: Numerous case studies have indicated that long-form content of more than 2500 words ranks far more easily than the content of fewer than 1,000 words. As a result, you'll need to publish super-long-form content to acquire evergreen traffic to your Vocal pieces.
Publish Frequently: Every week, publish one large piece. Don't just write for the sake of making money; make it a career. That is how I made $30-50 daily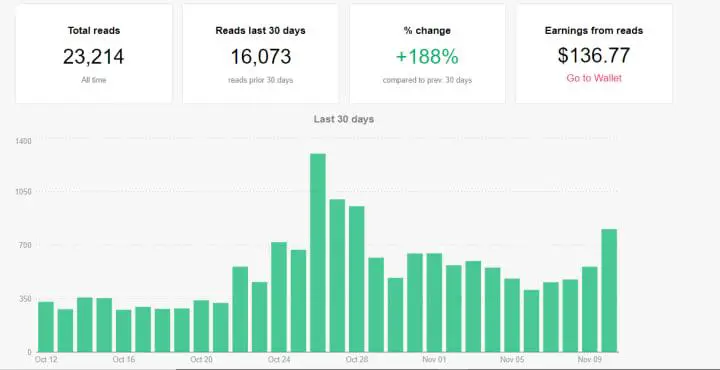 How Does Vocal Generate Revenue?
Vocal makes money through memberships and challenges. They may add commercials or other monetization methods in the future, but for now, they rely on these methods.
Companies approach them about running a challenge, such as producing an article about the future of employment. or anything else that is relevant to the company. This strategy generates revenue for both the writers and Vocal.Media
How to maximize my Vocal earnings? (and final thoughts)
Many things affect your income on Vocal.Media; but consistency and engagement is required to maximize your income. You have to be writing engaging material that people are interested in reading. Make sure you give loads of value to your audience. Don't copy others, try to be original.
Although many authors have reported making thousands of dollars from their Vocal.media campaigns, not everyone is bound to get this much success.
You can buy their Vocal+ subscription if you get a couple thousand of views every month to further boost your earnings.
Remember to share your body of work with other people both inside and outside the Vocal community.
Though your earnings and exposure might not be as good as Medium, it's a great alternative for people living in countries not supported by Medium's Partner Program.
And who knows, things might change in the future.
More Reading for you…