If you enjoy music and you use music streaming services like Spotify frequently. If that's the case, this is for you. A website called Playlist Push where you can make money by reviewing songs and adding them to your playlists.
That appears to be a good deal, right? Before you go ahead and sign up, there are a few things you should know. And the most crucial thing you should know before joining this site (or any other site) is if it is legitimate or not.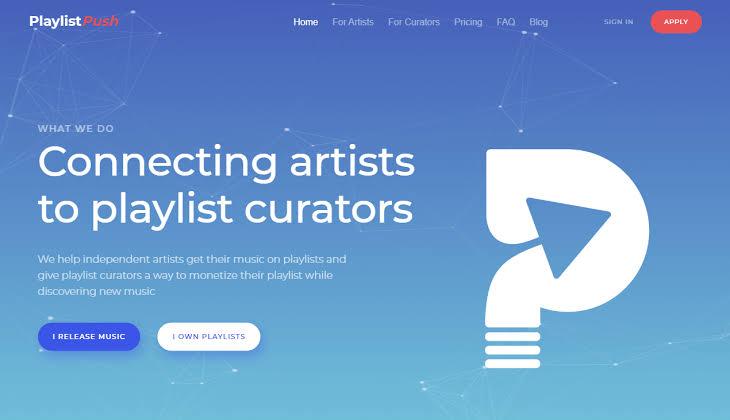 This is a valid complaint; therefore, I'll take care of it right now. Playlist Push is a legitimate website that will pay you to evaluate tracks.
This review will look at what the site has to offer to determine whether it is worthwhile. 
What Exactly Is Playlist Push and What Benefits Does It Provide?
Playlist Push is a one-of-a-kind platform that aims to assist musicians and producers make some money.
But, for this review, I'll concentrate on the creator side of the platform because that's how you'll make money if you don't make music.
And, to completely comprehend how Playlist Push operates, we must examine the revenue options it provides.
Option 1: Listen and Review Songs (Become a Spotify Curator)
If you're not a musician, becoming a Spotify curator and reviewing songs is one method to make money via Playlist Push.
When you join Playlist Push as a curator, you'll be sent songs to review. After that, you'll be given instructions to follow when reviewing the song. You must submit your input to Playlist Push for evaluation after you've reviewed the music.
You will be compensated if they find your evaluation to be satisfactory. For each song you review, you can earn up to $12.
That is the simple part. Becoming a Spotify curator is the most difficult step. You must own at least one playlist on Spotify before applying to be a curator.
Update: As of May 2022, they have suspended their Spotify curator signups for a while. Check again after some time.
Playlist Follower Requirement: Each Playlist Must Have At Least 1,000 Followers.
Requirements for Playlist Listener Activity:
Each playlist must have at least 30 monthly active listeners.
Each playlist must have at least 1% monthly active listeners.
Fake Followers or Strict No-Bot
No fake followers/bots purchased through an online marketplace or service.
There can be no bot followers or bot listening activity, and there can be no fake listening activity. All playlist followers must be organic, real people who have grown through natural means.
All listening activities must be 100 percent authentic, with real persons participating.
The following is not an acceptable Playlist
Playlists of movie and TV show soundtracks
Playlists that change their titles to gain more subscribers
Playlists dedicated to a certain album, song, artist, or band
Playlists dedicated to a single decade (for example, an 80s playlist).
Playlists featuring the phrase "follow me" in the title
In terms of the song you rated, you are under no obligation to add it to your Spotify playlist. You will be compensated in either case.
Another important aspect of this earning potential is that you must maintain a reputation score to optimize your profits. To earn the maximum money for each song you evaluate, you'll want your reputation score to be as high as possible.
Option 2: Use Songs in your TikTok Videos 
You can also make money by becoming a TikTok video creator. The concept is straightforward. Playlist Push will provide you with tracks to use in your TikTok videos.
So, for your video, you'll need to employ those tunes. When creating these videos, there will be some general rules to follow and after you've finished generating the video, you publish it to TikTok and provide a link to Playlist Push so they may check it out.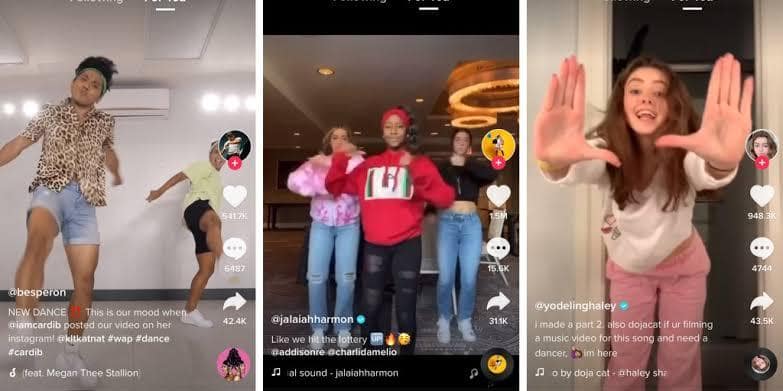 Each TikTok video you make can fetch you up to $10.
It appears to be quite simple, but you must meet specific standards before becoming a TikTok creator.
You must have at least 30,000 TikTok followers, and they will evaluate your average amount of views, if you qualify then you would be placed on a waitlist
However, becoming a TikTok video creator is difficult due to the large number of people who apply. As a result, after you register, you will be added to their queue. If accepted, you will receive an email, but acceptance is not guaranteed.
They also make no mention of how long the wait will be. All you can do now is wait and see.
Option 3: Referral Program (Invite other creators, curator & artists) 
You may also make money by inviting other users to the site. You can also invite music artists to join and earn money through their referral program. So, you don't have to limit yourself to curators and video artists; you can also invite musicians who create music.

For inviting others to join the site, you will receive additional incentives.
For the first three months, you will receive 10% of the amount that creators/curators make from the site. This is poor compensation when compared to many other referral systems. Most programs allow you to earn a set percentage for the rest of your life.
You will also receive a 10% fee from music artists if they run a campaign to promote their music. As a result, you can use their referral program to benefit from both sides of the platform.
Simply share your invite link with others to invite them. They will become your referral if they register using the link.
You can also share your artist code with musicians to get a 7.5 percent discount on their first campaign. Of course, if they use your coupon, you'll get a 7.5 percent commission.
How To Register & Start Working on Playlist Push
Go to their Curator Page and click on the "Sign me up" button.
You must supply some information about your Spotify playlists to become a playlist curator.
For enrolling as a playlist curator, as seen in the image above, you'll need to choose your country and enter some information about your Spotify playlists.
If you are eligible to continue, you must complete the registration process and give all essential information. You can log in to the site once you've finished registering. then you should link your Spotify account to your Playlist Push account.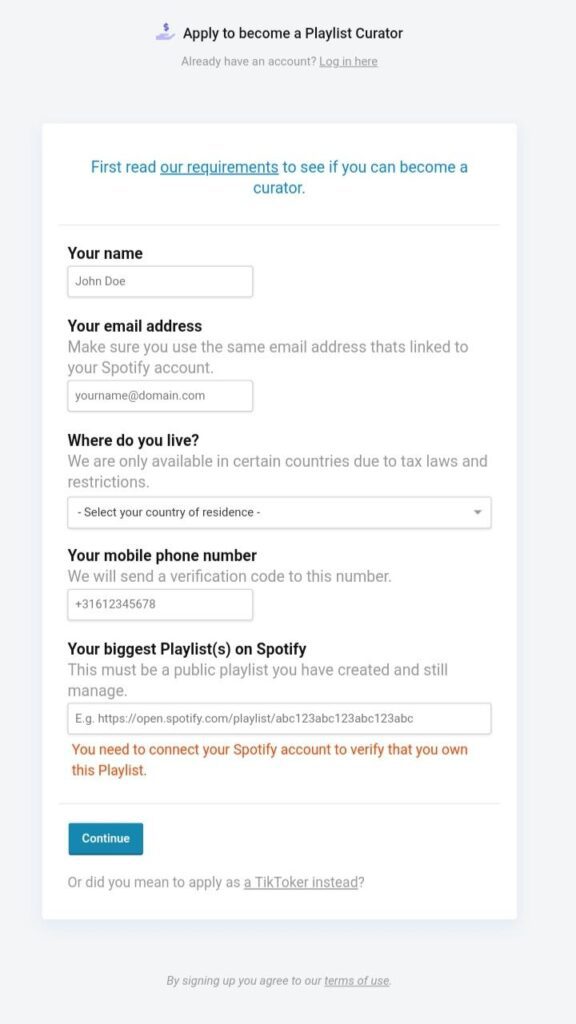 How and When Will I Get Paid?
Direct bank transfer is an option for being paid. You will get paid a fixed sum for each song you successfully review. You will be paid every week, everything you've earned will be sent to your bank account.
Everything you earn from the referral program will be paid to you via direct bank transfer as well. When your curator/video creator referral earns, you will be paid immediately. 
Your commission payment will be handled 6weeks after a music artist's first campaign begins. It's important to note that this is when the campaign begins, not when your referral pays for the campaign. Your payment will appear as "pending" in your account dashboard for the next six weeks.
The TikTok video artists' payment method is a little different. You will, as you are aware, be compensated for each video you produce.
To receive your compensation, however, you must first surpass their $20 payout threshold. Before you can withdraw your money, you must first earn that amount.
You have the option of withdrawing your money via Venmo or directly to your bank account after you reach their threshold. 
What Is Your Earning Potential?
Playlist push pays a respectable wage, as previously stated. As a result, you'll be able to make a substantial amount of money without spending a lot of time on the site. So, in my opinion, the income potential of this site is extremely good. 
I would rate it as a great way to earn part-time income, if you can sign up successfully.
The difficulty is that becoming a playlist curator or a TikTok video creator has a lot of prerequisites. You'll have to put in a lot of effort.
So, if you were to start from scratch, you'd have to put in a lot of time before you could even start earning money from this site. As a result, it's not a good alternative for people who just want to make some extra money quickly.
Playlist Push, in my opinion, is a good service to join if you already have a large Spotify or TikTok following. While a lot of people are moderately popular on TikTok, I don't think many people will be able to join the site as a Spotify curator.
Who Is Eligible to Join Playlist Push?
As previously said, becoming a member of their platform is fairly difficult due to the prerequisites for being a playlist curator or a TikTok video maker.
What I didn't say is that applying to be a curator or a video creator is a separate process. You can't start making TikTok videos just because you've been recognized as a curator. You must register separately.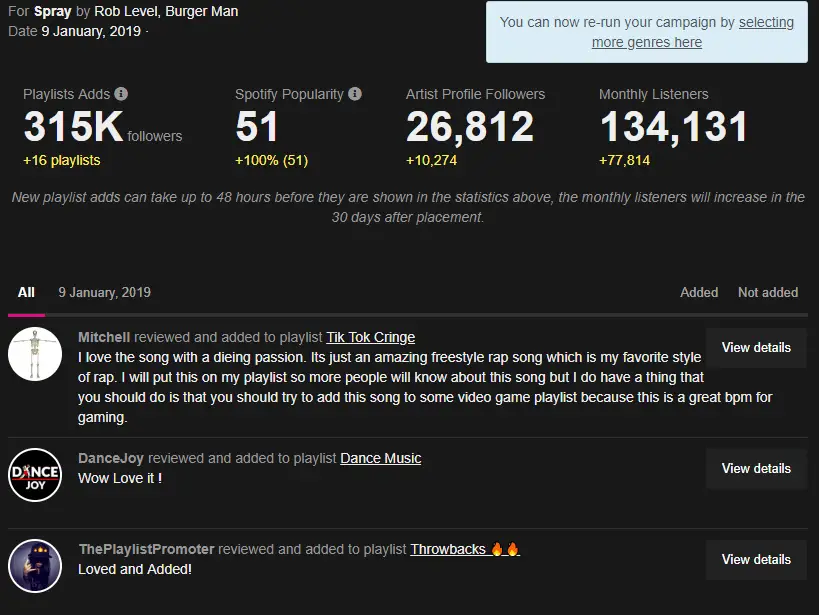 Final Thoughts 
Playlist Push is a website that pays you to review music and make TikTok videos. It has some attractions, but there are some restrictions to be aware of.
So, to round out this review, I'll give you a quick rundown of the site's advantages and disadvantages. You can then decide whether or not this is something you should pursue.
Advantages: 
Relatively high rewards
Uses a straightforward payment mechanism and provides a unique way to earn (direct bank transfer)
Disadvantages: 
Earning opportunities are limited.
It's not easy to become a member.
Referral program isn't really good.
Playlist Push, in my opinion, is not for everyone. While it pays fairly well,you have to figure out how to get in; which can get pretty tough I tell ya.
This platform is essentially reserved for folks who already have a Spotify or TikTok following.
I'd love to hear from you in the comments section if you have any thoughts, questions, or experiences using Playlist Push.
More Reading for you…