There are a lot of websites that offer work for writers, but this particular website that I found has a very different way that it approaches the task. They offer content services to various companies, and hire creators/writers to work on those jobs on a contract basis.
What is Pepper and How does it work?
Pepper is a Content Marketplace Platform that provides high-quality content production for over 1,000+ worldwide top brands, including Facebook, Adobe, and Amazon through a validated network of over 45,000+ content creators in text, graphics, and video across all languages – global and local. 
It is the world's largest and most exclusive network of professional freelance writers, graphic designers, and translators (according to them). They provide opportunities for text, design, and language producers to work with some of the world's most prestigious businesses and expand their portfolios.
They offer opportunities for individual writers as well as creators to join the platform and work on projects from thousands of brands.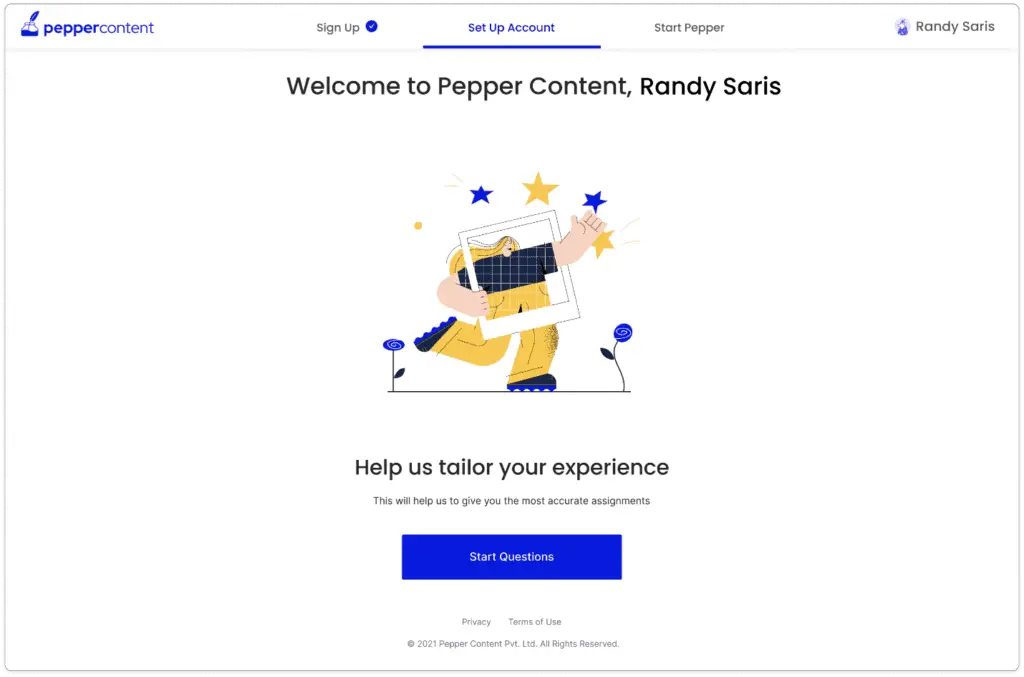 Build a successful content creation profession while working on projects at your own pace and your own rates from anywhere in the world.
Here are some of the things that make Pepper Content stand out from the competition:
Payment On Time: They've been known to pay on time for individuals that provide them with high-quality content daily.
All Of Your Projects Will Be Managed In One Spot: Work in a structured environment where your contributions are saved in the cloud so you can access them at any time, and their algorithms ensure that you are matched with projects that are a good fit for you.
Collaborate With Professionals: Collaborate on a variety of projects as part of a team while learning from the finest. Get useful training to help you improve your abilities and detailed, constructive feedback on your work.
Workplace Adaptability: Work from the comfort of your own home or office, perhaps on a beach somewhere? Project managers will pair you with a variety of projects and clients that match your abilities and experience. As a freelance writer, developer, or designer, you may give your unique skills to pepper content and earn money for your efforts.
How To Register on Pepper Content
To start with the registration process, head over to their signup page for creators.
You will receive an OTP request in your email after signing up for the creator platform. If the email ends up in your spam folder, move it to your regular inbox.
After you sign up, they will ask you for some basic information about your previous work experiences and personal information.
Here are some examples of the basic information they'll need from you.
First and foremost, they want to know about your experience and the role you would like to work on.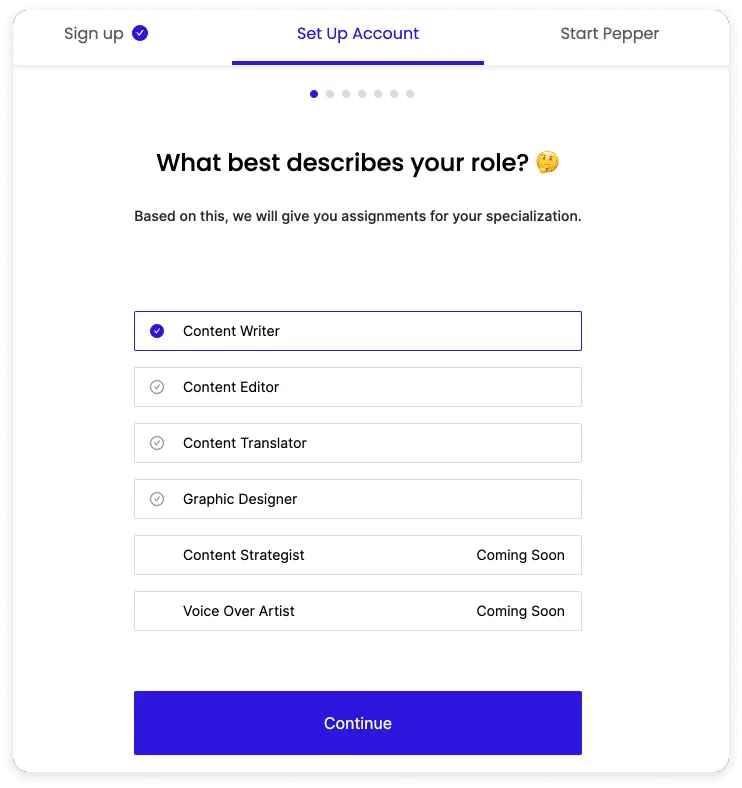 They require further information about your skills after that.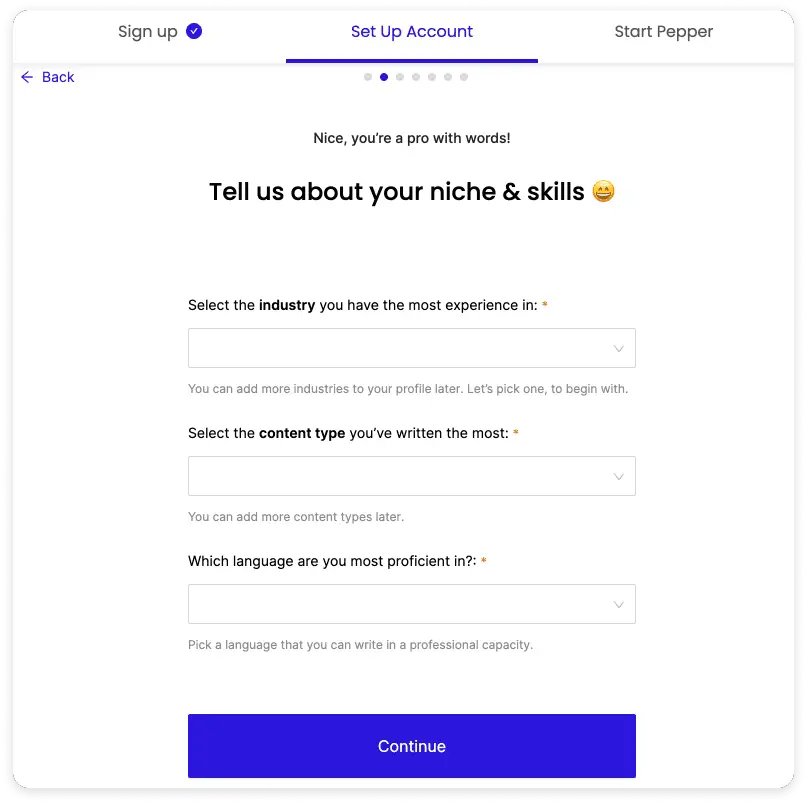 They will want you to share some of your best work with them so that they can better grasp your profile.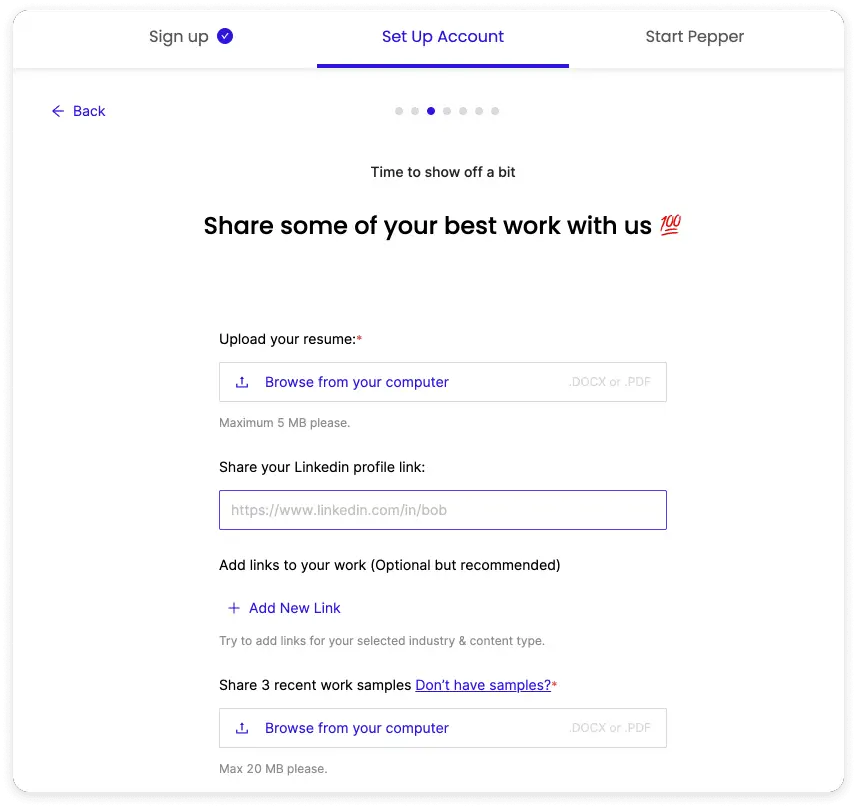 Then you provide your contact information so that they can contact you if necessary.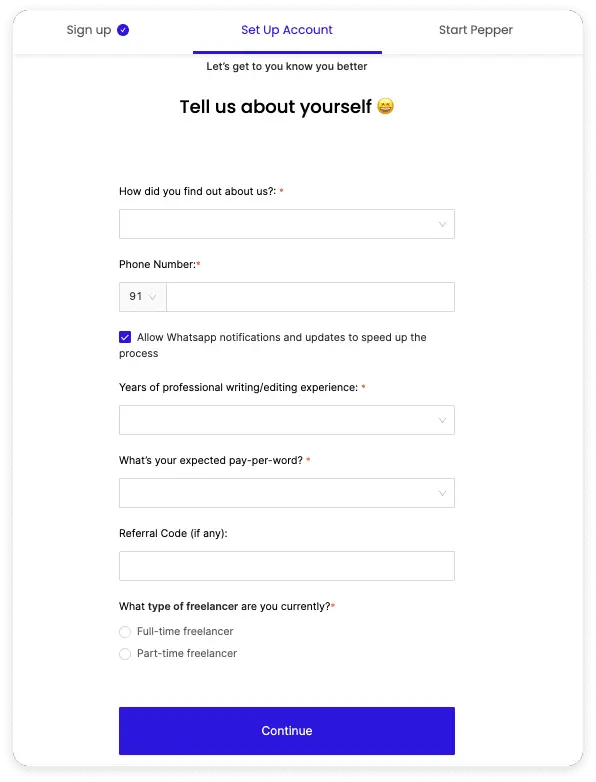 After that, all creators will have to take a language competency test. It's a quick multiple-choice test that helps the platform better grasp your abilities.
They have a staff of seasoned professionals who take the time to go over each application and assess it appropriately. Once the review is completed and you have met their quality standards, you will be considered a verified creator and will be among the top 10% of the pool that applies to Pepper Content and is accepted.
Give yourself a pat on the back if you make it till here.
When it comes to their command of the language and graphic designers' mastery of design aesthetics, every content provider is required to be above a specific barrier. As a result, they've created a language proficiency test for content writers and a design proficiency test for graphic designers to assist 
Note: If you are unable to pass the test on your second attempt, you will have no choice but to wait another 6 months for another chance. Please be cautious.
Understanding The Process of Onboarding (and starting work)
Onboarding takes place over three days, using the following timetable.
You will be included in an onboarding call during which you will be guided through all components of the Pepper editing process.
You will be given four assignments, each of which will be around 1000 words long.
Please type your name and mark it in yellow at the start of the assignment. (Note: This is only valid for the next two days.)
Note: Even after the onboarding time, make sure you complete the different processes indicated in the checklist while editing any article.
DO NOT CLICK SUBMIT AFTER COMPLETING THE ASSIGNMENT.
Please notify them on WhatsApp that the job has been completed 
The assignment will be redacted, given to a seasoned editor for approval, and then returned to the customer.
Please review the feedback on each task on the scoresheet that was emailed to you:
*Please keep in mind that the preceding guidelines are only valid for the first two days of live editing. After that, you can use the SUBMIT option to deliver assignments to clients directly.
How much can I earn from Pepper Content (and more payment questions)?
On average, people on the interwebz report earning $8-$15 per article from Pepper Content. The rates vary with your experience and the complexity of projects that you work on. These are obviously beginner rates, but they can be a good source for you to get consistent work.
After the initial month of engagement, they follow a monthly reimbursement schedule for contractual editors at Pepper Content. Editors are paid on a prorated basis for the first month of their employment, based on their start date.
Monthly payouts are made on the 10th of the following month; for example, you will be paid on the 10th of February for the month of January.
If there are minor delays in payouts due to bank holidays, weekends, or other unavoidable situations, you will be notified in advance. 
There aren't any International payment proofs from Pepper Content on the Internet. Given that they boast having 45k creators on their platform, it seems a little fishy. Also, you can find several bad experiences from people, saying they weren't paid.
There might be some reasons for it, as Pepper Content claims to be a legit startup that has got funding from several well-known organizations. 
I would still suggest you go slow in the beginning, and only apply more effort once you are paid fairly and on-time.
This website is good for beginners, people who want to gain experience because you will get consistent work and build your portfolio to be able to work with the bigger firms, so you can give it a try.
I'd love to hear from you in the comments section if you have any thoughts, questions, or experiences using Pepper Content. 
More Reading for you…