Earning money with surveys is slowly going mainstream. As more and more people have been trapped inside their homes due to lockdowns across the world since 2020, numerous platforms that pay people for completing surveys have seen an exponential rise in the number of members. 
Note: It's recommended that you avoid this platform. This platform usually never has any surveys available, and several people have reported about their accounts getting deleted due to "security reasons" as they inch closer to the minimum payout threshold. 
Make sure you don't invest a lot of time on this platform, if you choose to join this nevertheless. No recent payment proof could be found.
What is OpinionWorld?
OpinionWorld is one of those surveying platforms that help you earn money by completing simple surveys which require you to honestly answer some questions in the questionnaire. The questions are incredibly simple and cover topics about your lifestyle, work, opinions, etc. 
It is a global platform that joins researchers and marketing companies to the general populace and potential consumers. Surveyors post their surveys on the platform, and users get paid for taking part in those surveys.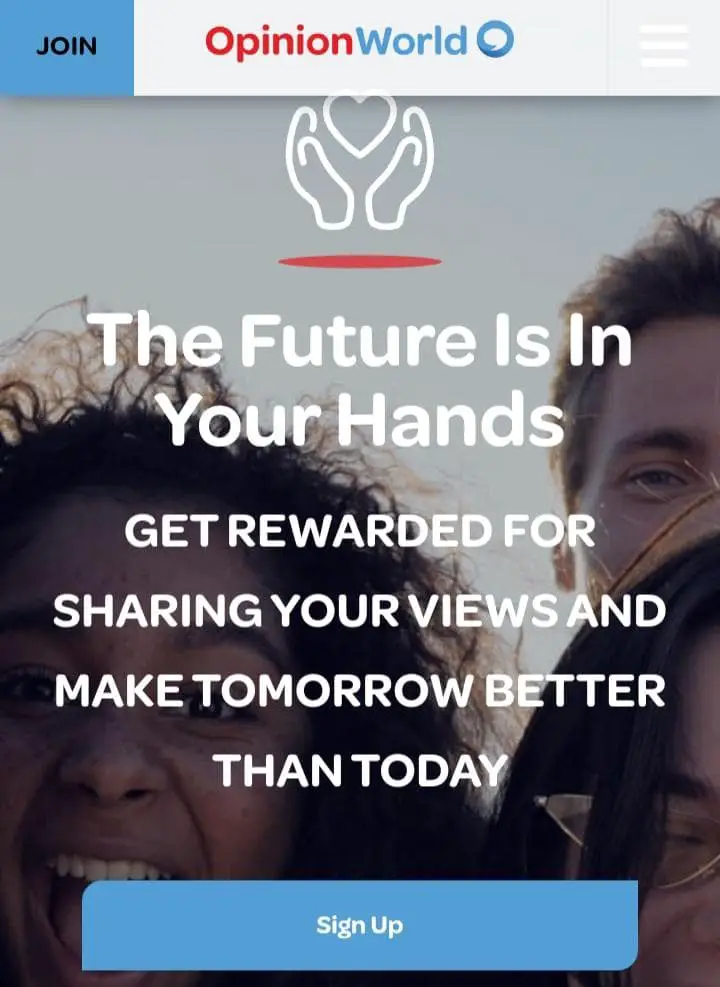 How do I get started with Opinion World?
It's really easy. Start off by signing up for the OpinionWorld site designed for your country. There are different sites for different countries, for example, www.opinionworld.be for Belgium, www.opinionworld.co.nz for New Zealand and www.opinionworld.com for the United States.
Note: Each country has different rewards, so it is advised to sign up with your region's specific website. The simplest method to find that out is to simply type "Opinion World" on Google and click on the first result.
You would have to enter your first name, last name, email, postal code, age, gender and password. After you're done, your account is created. Now, you can go to the Surveys page and complete any survey that may be available at that time.
You'd be routinely notified about any available surveys through email.
You can complete your profile by providing more information about you so that you can recieve more surveys. This helps you increase your earnings. The number of questions varies from one survey to another. In general a survey should take around 10 to 15 minutes to complete.
What are achievements/badges in Opinion World? (and do they matter?)
Active members of Opinion World are categorized into five levels based on their engagement witg the platform. These levels, in order are: Bronze, Silver, Gold, Platinum and Diamond. For each level, there are some key milestones which you need to clear before leveling up. 
These key milestones are called achievements, which upon completion earns you a badge. You can level up by unlocking all the achievements available at your current level in a 365 day period. For example, if you're a Bronze member, you need to complete all the available Bronze activities to level up and become a Silver member.
Conversely, if you don't keep up your work, you can also lose badges and achievements, which will lead you to fall to a lower level.
You can also unlock achievements for levels above your current one. For example, if you complete 100% of your survey profile, you'll get a Platinum status badge – but you cannot reach Platinum level until you've achieved all the necessary achievements.
The achievements/ badges earned carry points with them, and can therefore be valuable. The points earned from achievements can be found in your survey history page. This will show as "community achievement."
Bronze member: They're starters. When you start up your account, your account is, on a default status, a Bronze account.
Silver member: This comes after bronze, when you have completed your profile and completed at least one activity within the last week.
Gold member: They are above silver, and need to have completed half of their profile and completed at least 10 activities. 
Platinum member: They're above gold and are highly active people. They should have at least 75% of their profile completed and should have at least completed 25 activities.
Diamond member: The highest level in the list which is awarded to those who have completed their entire profile and done 50 activities and must take a survey every four consecutive weeks.
How do I get paid by Opinion World?
For each survey, you're paid in points. There are multiple factors which determine the points being offered for a specific project. These factors include, but not limited to, member activity, member tenure and likelihood to complete. 
All surveys are not created for an audience you might represent, however OpinionWorld claims to take care of that when posting survey points. However, length of survey and points offered is displayed  to help manage member time expectations and experience.
You can redeem your points for different gift cards depending on the country you sign up in, however, PayPal and Amazon gift cards are quite common. You can earn upto $10 a month with the platform, which is what we call a beer money site. If you live in a country where beermoney opportunities are absolutely unavailable, only then does it make sense to use this platform for earning some change. 
More Reading for you…