Streetbees is a London-based market research company that claims to provide its clients with real-time human data and insights. But for the majority of us, it's an app that rewards you for taking short surveys (usually accompanied with a photo or a video). 
It's unique from the flurry of survey apps on the market because the surveys are delivered in a messaging fashion. They are much more interactive and fun unlike those penny-paying market research surveys you might have encountered so far.
How do I start working at Streetbees?
The onboarding process is pretty simple. You just download their Android or iOS app, and do a quick signup.
Once inside the app, look for a tab called "Live Stories". This is where you will find tasks to complete.
Select a story and begin working on it. They are completed in a chat-style fashion, which makes them more interactive. At the end, you might be asked to take a photo or video (depending on the Story).
Your payment is credited as soon as your story is approved.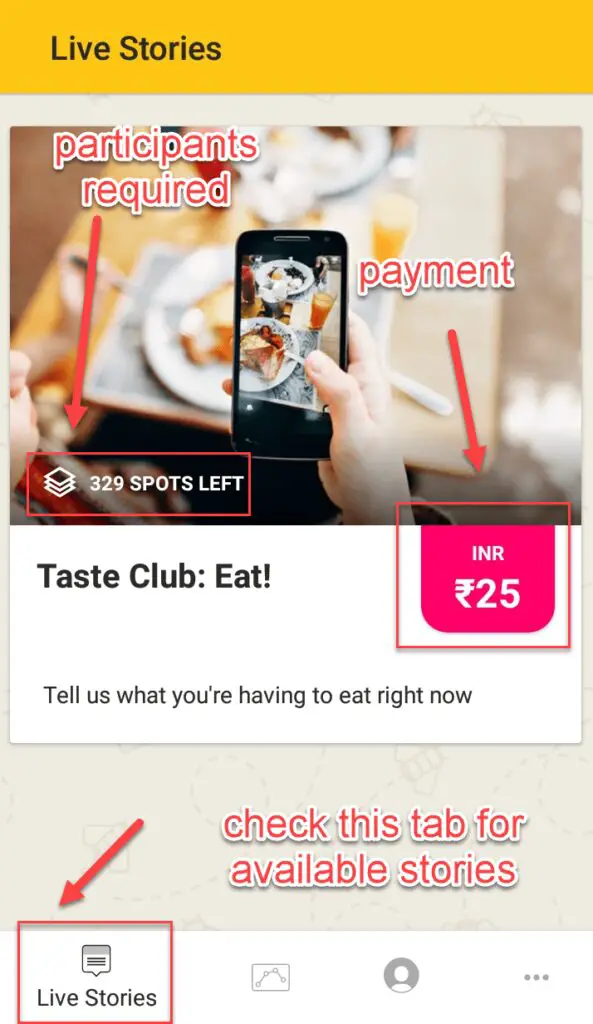 What are Stories and how do I participate?
Surveys on this app are actually called "Stories". They are much more personal and interactive than the usual surveys you might have encountered. This is an initiative by Streetbees to make their market research more real-time and engaging than their competition.
So instead of filling out a form or answering some lame multiple choice questions, the story is presented like a task. For example "What did you have for Breakfast?", "Show us your shopping list", "What products do you have in your bathroom?" and so on. 
They also employ the survey in a chat-like fashion, to give you the illusion that you are telling someone a story or one of your experiences. The survey progresses as you keep interacting in the chat window, and you are sometimes required to submit a photo/video to complete the task.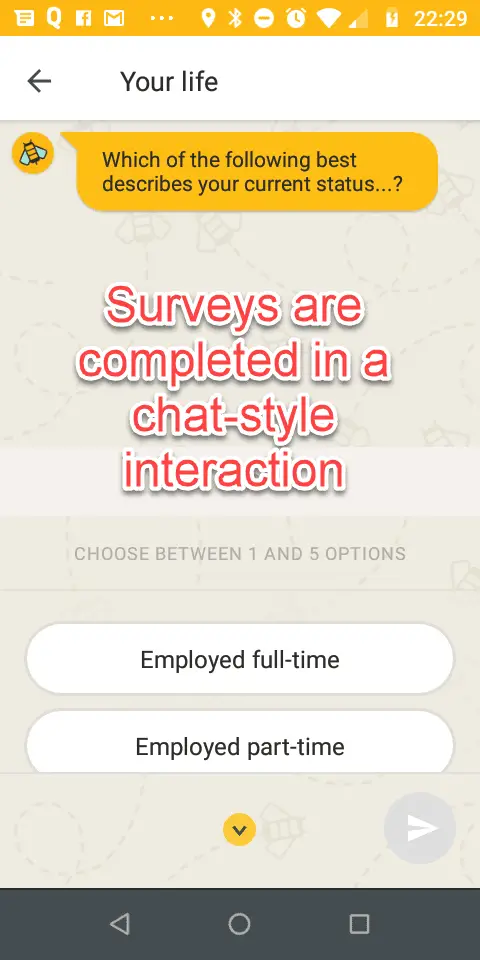 How much can I earn?
Similar to all the survey apps and websites out there, don't expect this app to make you rich. It will just be a supplement to your pocket money. The earnings vary depending on your location. The tasks are not very frequent, and you there's no push notification system. So you have to manually check it daily for any new stories to complete.
People from different countries report different amounts of task availability, with European countries having the most tasks (which is not a surprise, taking that the company is headquartered in London). European people have reported making upto 24 Euros within 2 weeks of using this app, but if you are anywhere else, don't expect anything more than 5-10$ a month.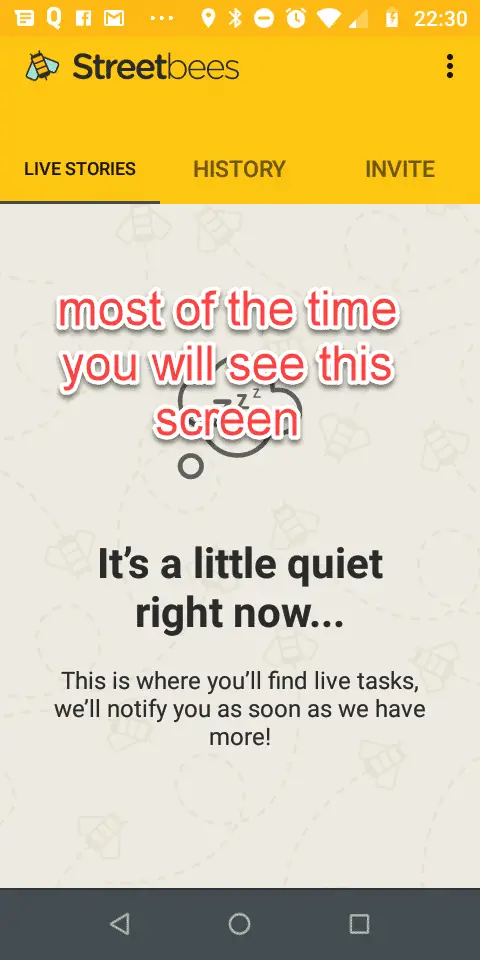 A lot of the tasks take only 5 minutes to complete, and pay around a dollar. This calculation puts it way above any other survey apps, for an hourly calculation of 12$/hour. Obviously, task availability is an issue. But it's a nice app to have on your phone and check for tasks daily. It can get you a beer or two every month.
The tasks do not last for more than a day, thanks to the popularity of the app. So you need to be checking the app daily for a chance to participate in the tasks. There's also a referral program that might help you to boost your earning. Do check it out if you decide to work on the app.
How Do I Get Paid?
Your payment for completed stories is added to your balance as soon as it is approved. The best part about Streetbees is that there is no withdrawal limit. This rule instantly elevates your trust on a site/app.
Your earnings are very neatly displayed in a graph on the app.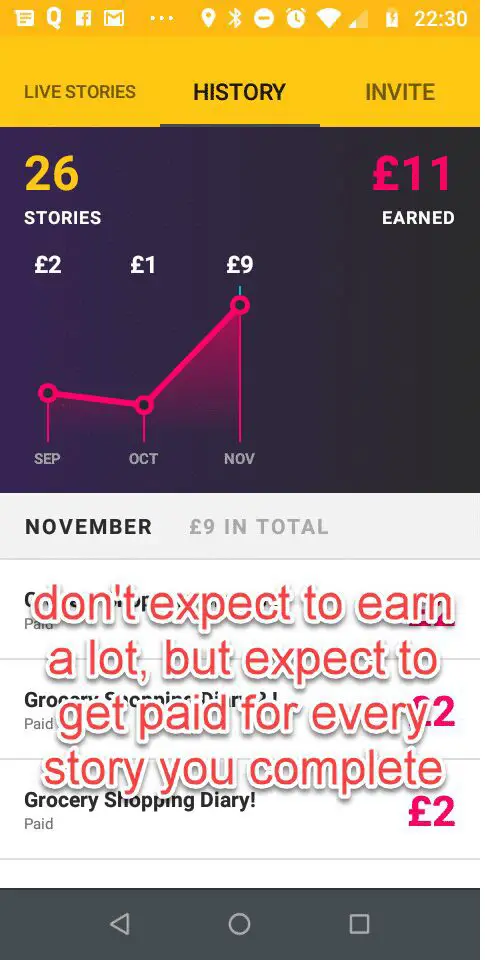 You can choose to keep stacking up your earnings or get paid for any amount you have earned via Paypal. Payments are sent every week, and the Internet is full of payment proofs from this app.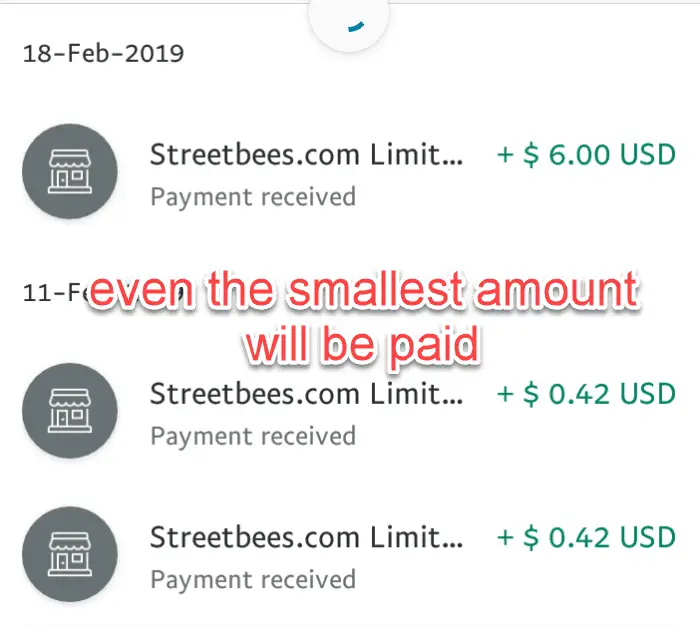 So as I mentioned, don't expect to earn a lot. But you can be confident that you will be paid for the smallest amount that you earn on Streetbees.
It is a good opportunity for a little boost to your monthly beer money, especially if you want a simple and easy way to earn some side cash. The tasks are easy and interesting, and the payment is quick.
The only downside being that tasks are not available in abundance (varies from country to country). So it is definitely worth a shot.
More Reading for you…