Last Updated on June 5, 2022
User Research is one of the fastest growing industries in the past decade. Initially, a lot of it was done internally. But over the past few years, more and more companies are looking for insights and advice from you– the user.
It is how they can nail their products and interfaces to be user-friendly for you, the user.
I have tried a lot of them, and here are the best-paying websites that work worldwide.
How am I supposed to share my thoughts/insights? Are there any requirements?
Before we begin with the list, let me tell you that all the websites below require you to speak out your thoughts as a screen recording or over a video call.
If you are uncomfortable with speaking to people or cannot speak clearly, you might not have much success with it.
Also, if you are comfortable with it, then make sure you have a working microphone/webcam on your laptop.
Some websites work on mobiles as well, but the microphone/camera of a smartphone is usually in good working condition.
It also helps if you are an employed working professional, or have some kind of professional working experience. A lot of their screeners are very technical, and you won't understand them if you are still in college or have never worked in an organisation.
Tips on speaking your thoughts aloud (with clarity)
You might have the best recording quality, but it is of no use if you cannot convey your message properly. The idea here is to most effectively convey your thoughts and feelings to the person who is going to view the test.
Speak loud and slow. Slow speaking will help the other person easily understand what you are trying to say, and will also increase the clarity of your voice. Try taking slow and deep breaths (before speaking) if you have trouble controlling your pace.
Don't worry if your English is not good. Your grammar does not matter. What matters is whether you are able to convey your thoughts clearly. Your speech needs to be able to effectively communicate your thought process. Speaking slowly and clearly will help with it.
Usertesting (User-Interface testing/Usability Testing)
Usertesting is a website that pays you to test websites and apps. You are usually required to use a website/app while speaking out your thoughts.
Tests take 10-15 minutes and pay 10$.
You can also get longer, video-call based conversations with them that pay $30,$60 and $90 depending on their length.
I have personally earned over 3000$ from Usertesting alone, over the past 2 years. It is a very legit and trusted website, now even listed in the US stock market!
I have written everything you need to know about Usertesting in a full-fledged guide, where I share tips on how to get a good rating, get more tests and make more money on it.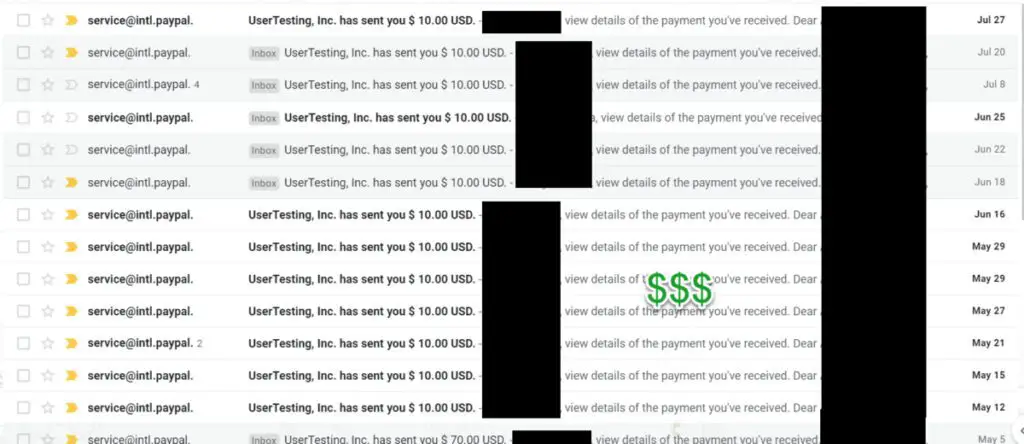 There are a lot of platforms like Usertesting that have emerged. They all follow the same process (screening, testing, 10$ payments). I have tried several such platforms such as Usercrowd, Userlytics, Userfeel, Validately, Google User Research, etc. But so far, I have only found Usertesting to have the maximum amount of work available.
Dscout (Participate in "Diary Missions" from your mobile)
Dscout is a great earning platform for mobile users. It's an app that you can download on iOS or Android or use it through the website on your desktop. It allows you to earn a fairly sustainable amount of money. This app is task-based earning, so each task can be different and have varying pay rates.
Most of the tasks (or missions, as they call it) pay between 20-150$, and just requires you giving your thoughts and insights on various products.
Dscout is a reputable company that has legitimate paying jobs, they have even worked with various big brands such as Nike, Wrigley, etc. so you can be assured that you'll get your payments on time.
Dscout has new missions every week, and you are supposed to give out a screener for them. You are also required to record a video message for the screener (sometimes).
But where it gets tricky is that the studies have very limited slots, so chances to get selected are thin.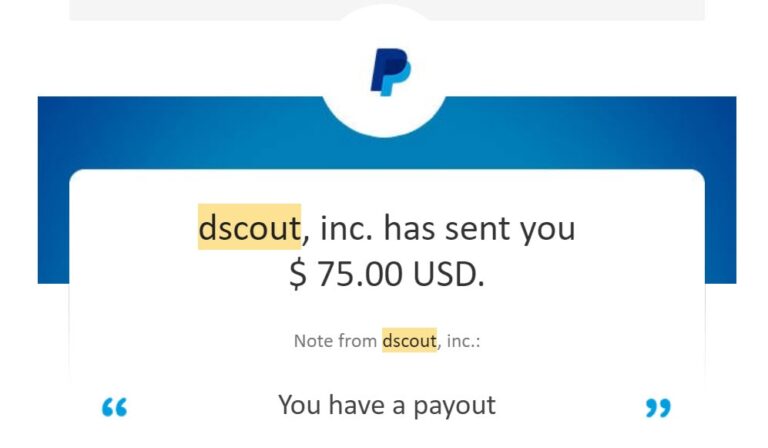 I get selected like once every two months. But it feels so good when I do. It's because you get a good payout for very simple diary missions. Everything happens over the mobile app and hardly takes 5-10 minutes a day. Most of the missions require you to do the same activity everyday, which makes it very easy.
I have a couple of interesting tips for Dscout in the guide as well, so do check it out.
Respondent (Live Conversations with Working Professionals)
Respondent.io is a relatively mainstream and accessible website for surveys/studies. It has plenty of options for studies available for countries worldwide. Although it often gets combined with other survey sites such as ySense, one of its main attractive features is that it offers a much higher rate for its studies than the other sites out there.
The problem with Respondent is that most of the better-paying stuff is only accessible to verified professionals. You need to verify yourself using your company's email id for that to work.
Even a custom domain email id would work. You need to regularly fill in the surveys to get work from them.
Most of the studies available are specifically for IT and Marketing Professionals, so if you work in that industry, you are in luck here.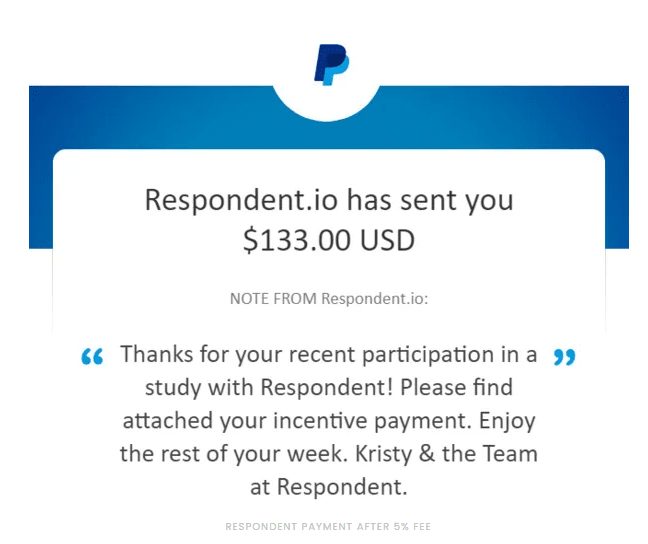 It also has a great referral program, where you can refer a person for a study, and you get 50% of the study's pay. A win-win for both.
The amount paid for the studies is also different ranging from $70 to $200 on average but sometimes can even go up to $500, though that's pretty rare.
You can earn a lot of money from Respondent if you fit their profile and have good contacts.
Grapedata (Share your industry insights for money)
Grapedata is a platform that offers "unique insights" from people all around the world to businesses and organisations. Now this does sound very technical and sophisticated, but think of it like a niche market research.
Grapedata gathers data from individuals working in various industries, very similar to what Respondent does. But unlike Respondent, which only offers live conversations, Grapedata has other forms of contribution such as surveys and voice calls as well.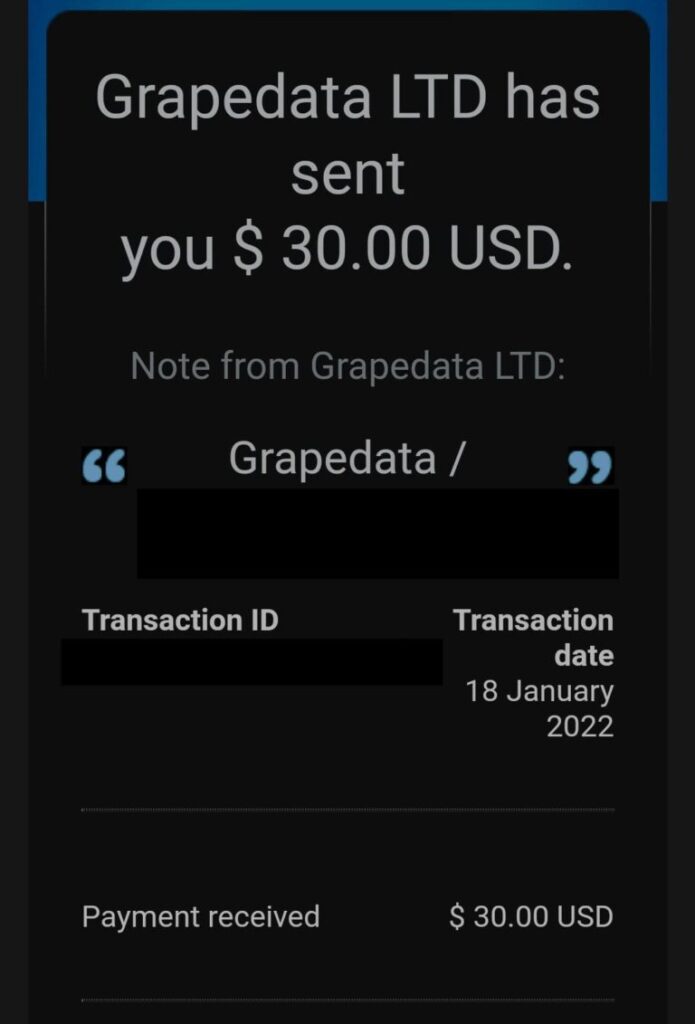 How it differs from Respondent is that it offers studies in way more industries and has different types of tasks you can do for money.
There is not much work on Grapedata when I tried it out, as it is a new platform. I was lucky enough to get one payout from that, verifying their legitimacy.
They pay good amounts of money for their studies, so it is definitely recommended.
Bonus: Get paid for your thoughts/opinion on Fiverr!
I am currently researching a lot on Fiverr and how you can become successful on it. I was amazed that there are some super-simple Fiverr Gigs where all you did was give some feedback for a website/app, book or even their youtube channel.
You have to directly connect with a client and give review on whatever you are offering. Everyone can benefit from a little 3rd party critique, I guess.
Look at some of the gigs I have linked above to see what they are offering and how they do it. It's not rocket science, I promise.
Fiverr requires some time to nail, and that is what I am trying to do currently. Will soon publish a full-fledged guide regarding it.
Meanwhile you can check out more simple fiverr gigs I found during my research. And when I say Fiverr, you can obviously do most of them on other freelancing platforms as well (such as Upwork).
More Reading for you…