There are millions of students worldwide frustrated with their daily math or science homework. We all know the experience since we went through the same phase not long ago.
However, today's digital era has enabled students to find solutions to the problems they might be stuck in. Numerous companies have sprung up which connect math and science experts with students, and pay experts for helping students. PhotoStudy is one of them.
What is PhotoStudy and how does it work?
PhotoStudy is a real-time online marketplace that connects students who are stuck on a homework problem with PhotoStudy Experts. Experts can help the student with the problem by giving them a detailed solution for it.
If you're good at math and science, this platform can prove to be a great earning platform for you. You can choose to do this work in your spare time to earn some extra cash, or you can use it as a full time job if you want.
Be sure you're well-versed in English, as you'd deal with international students on this platform. If you're an introvert or socially awkward, don't worry! All explanations and solutions are given to students in the form of a text-based chat between the Expert and the student.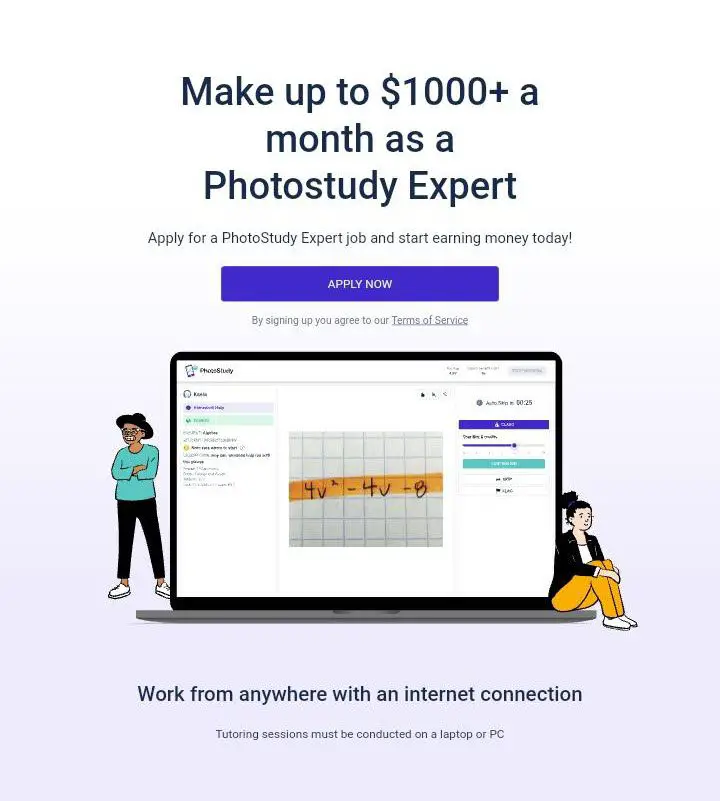 How to Sign-up and start working on PhotoStudy? (Step-by-Step Guide)
You need to solve math and science problems posted by students worldwide, primarily school students. This doesn't mean you'd just post the answer and call it a day, however.
You'd need to give a step-by-step solution to students and make sure they understand your solution, with explanations whenever necessary. In order to start, follow these steps:
Step 1: Go to the PhotoStudy Experts page.
Step 2: Click "Apply Now". You'd be redirected to the Facebook site to login with Facebook. You can only sign up with Facebook. Unfortunately, there are no other ways to apply.
Step 3: After signing up, you'd need to provide your email and phone number for verification. One thing to keep in mind is the fact that the PhotoStudy app also goes by the name "Got It!"
Step 4: After you're done, you are met with this window: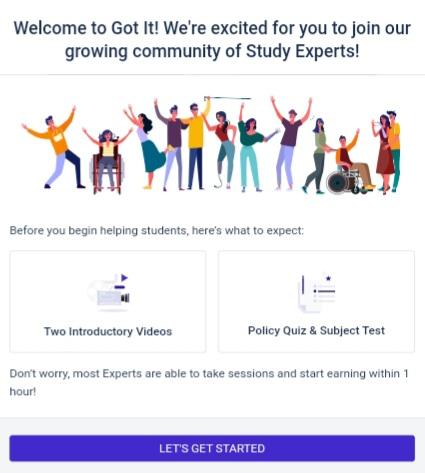 Click on "Let's get started" and go through the course that follows. The course will be in the form of two 5-minute videos, followed by a test of rules and policy.
You need to focus on the things said in the videos, especially the second one. In order to pass, you need to answer at least 25 questions correctly, out of the 30 questions in the rules and policy test.
The test duration is 1 hour, but it shouldn't take you more than 10 minutes to finish the test. When you're done with the test, you'll be shown the result. Keep in mind that you can only attempt the policy test 3 times at most, so prepare well.
Step 5: Once you pass the policy test, you can head over to the concept test window. You choose a particular subject and take the subject test. You can attempt a test for a maximum of two times.
There are 23 questions for the Algebra test, 10 questions for the Physics test and 12 questions for the Chemistry test.
After you pass the test, you'd be given a final video which will walk you through all the necessary tools you'd need to use while providing solutions. When done, you can start working right away. Happy working!
How do I get paid by Photostudy?
All Experts are paid with Credits. When a problem is shown to you, you are asked to bid between 0 Credits – 8 Credits on the individual problem.
The value of each unit of credit equals $0.125. The maximum that an expert can earn per problem will be $0.125 x 8 = $1. There will be multiple bids for each question coming from multiple experts, so there's a bit of a competition. One who wins the bid gets to solve the problem.
How much can I earn from PhotoStudy? Can it be a full-time job?
You can earn more than $1000 per month if you commit yourself full-time. You're paid based on the type of questions you claim and the number of questions you claim. Users are paid bi-weekly through PayPal or Upwork. You'd be paid on the 1st and 15th of each month, according to the PST time zone.
Your payment channel, however, depends on how you start off the job. If you contacted them via Upwork (a freelancing platform), you'd be paid only through Upwork. If you signed up directly through their site, you will be paid through PayPal.
The only exception to this is if you live in a country that is not serviced by PayPal. In that case, you would be paid through a contract with Upwork. If you use a PayPal account to get paid, make sure your account is verified.
By adhering to the standards, you can get more ratings from the customers and the platform, which will increase your earnings overtime!
Photostudy payment proof (Paypal)
Photostudy is definitely a legit site, and there is no doubt about that. You can earn a pretty decent income if you like solving problems and can commit full-time hours to it (ie, 5-8 hours daily).
Here is a payment proof from Photostudy. The payment comes from "GotIt! Inc" that seems to be the name that the company is registered in.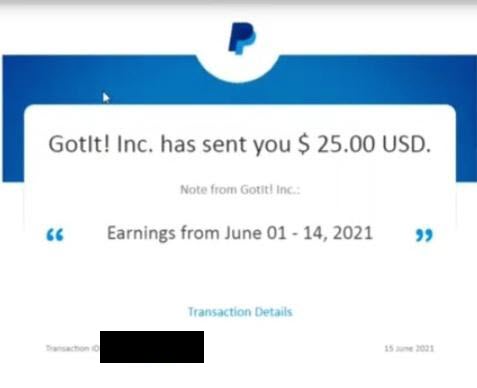 There are a lot of platforms that pay you for helping people with their homework. And Photostudy is one of the trusted platforms out of those.
Similar Platforms would be Photomath (only for math problems), MyDocent and Chegg. Check them all out in our megalist of homework-help sites.
More Reading for you…