Surveytime is one of the simplest survey sites that I have come across. It does not have payout limit, or complicated interface. Signing up is super-fast and easy.
If you're looking for a survey site that offers great payouts and easy registration, Surveytime is an excellent option. Plus, it's eligible for all of the latest surveys. There are some cons to be aware of before signing up – make sure you're aware of them before deciding! 
What is Surveytime, and what does the site offer?
Surveytime is one of those hundreds of survey websites you find online. But its simplicity sets it apart from the crowd.
If you want to earn beer money from a website that won't cheat you, Surveytime is a perfect choice. It allows you to earn a quick buck, just by filling out a survey. 
Just complete a survey on the website, and you will get your payout.
Signing Up @ Surveytime
Go to their signup page.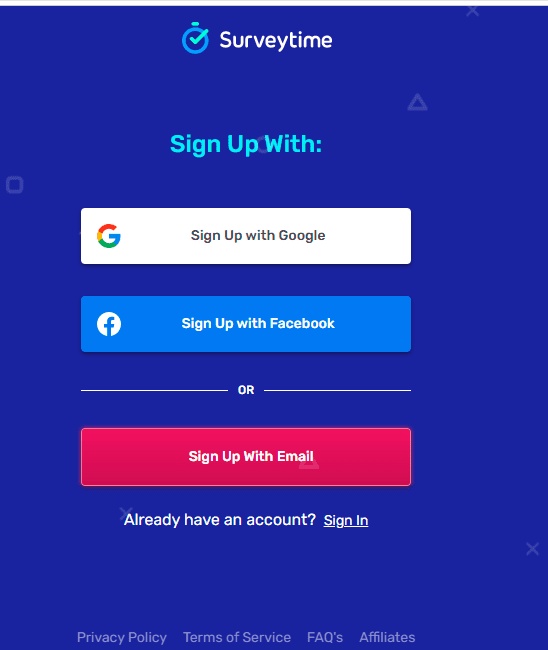 Click on one of the three options from the sign up with Google, Facebook or email.
Enter your email address and create your password.
Click on the link. I accept terms and conditions. Note: don't forget to read them.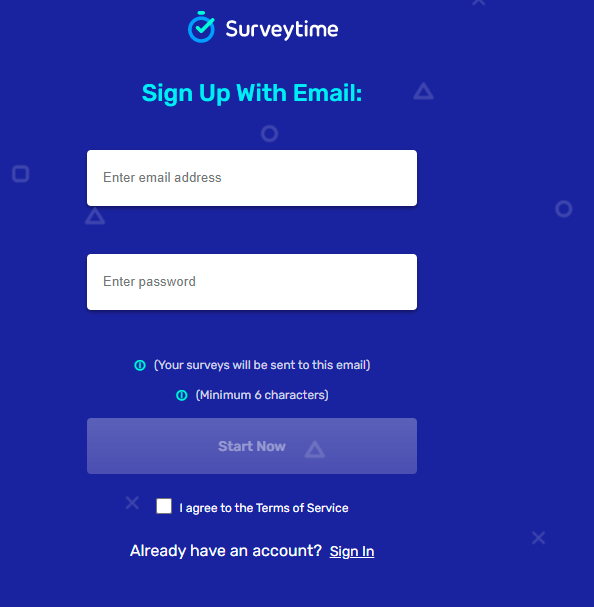 Click on the start now button.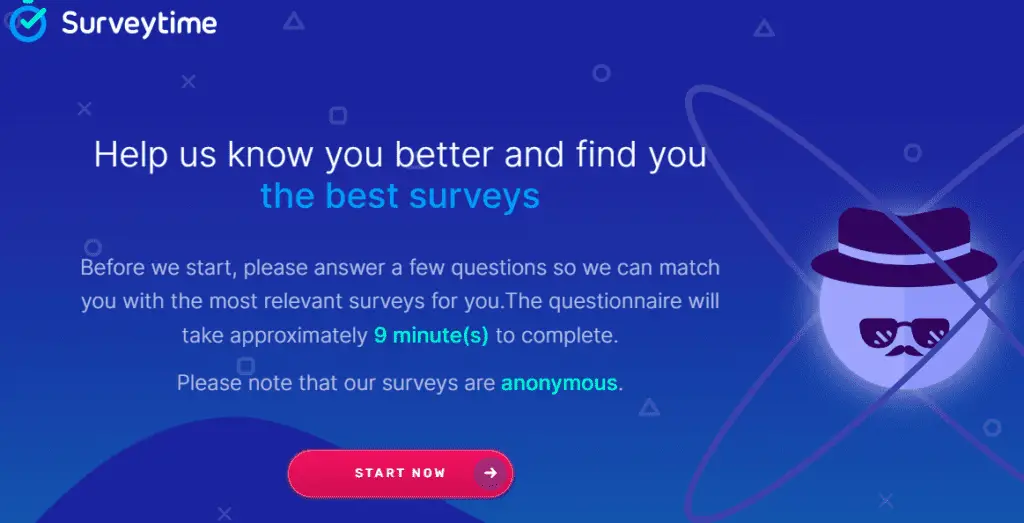 It's a simple survey about your studies and expenses. If you are a student, it would ask about your studies and expenses. Those who are freelancing would see different questions.
Once you complete your first survey, you will get your first payment of $1. This would help you gain decent online earnings.
How to start earning with the Surveytime site?
Once you have created an account, you will see a big "Start Now" button everytime you log in to your dashboard.
Clicking it will start a screener that can get you a spot in a survey. If you are able to successfully complete it, you get to choose your reward.
Earning is pretty simple and easy, as there's not much you can do on the site. Just screen for different surveys and (hopefully) get selected for them. You get to choose your reward once you complete a survey.
Rewards get credited to your account automatically.
What makes Surveytime Different? (plus tips to get more surveys)
Unlike other survey websites which have a lot of options on their dashboard– account settings, offers, and whatnot; Surveytime keeps it simple.
When you log in, all you see is a screener/questionnaire that can get you a survey. There are other options but they are hidden in plain sight.
It feels like the only purpose of the website is to get you to fill a survey, which makes it incredibly easy to use.
The interface is very smooth and app-like, reminding me of Freecash (another survey site with offers as well).
Moreover, there is no minimum payout limit. You fill a survey, you get paid instantly. It's that simple.
Get More Surveys in Surveytime
To get more surveys in Surveytime, make sure you enable their email or browser notifications. They get lots of new surveys everyday, and you will receive an email from "Tommy from Surveytime" notifying you of the opportunity.
As you work through surveys and complete tasks, your account status will change, and new offers will become available to you. The more time you spend on-site, the greater variety of offers you can access– so there's always something to keep you busy!
Obviously, you won't get selected in all the surveys, but if you do, you can instantly cash out your reward.
How much can I earn from Surveytime (and how will I get paid)?
The amount of money you can make depends on your effort and the availability of the survey. Unfortunately, you can't guarantee how many surveys you will qualify for, or the amount of time it takes you to complete a certain number of surveys, given that you qualify. But once you complete your survey, you will get $1 for it.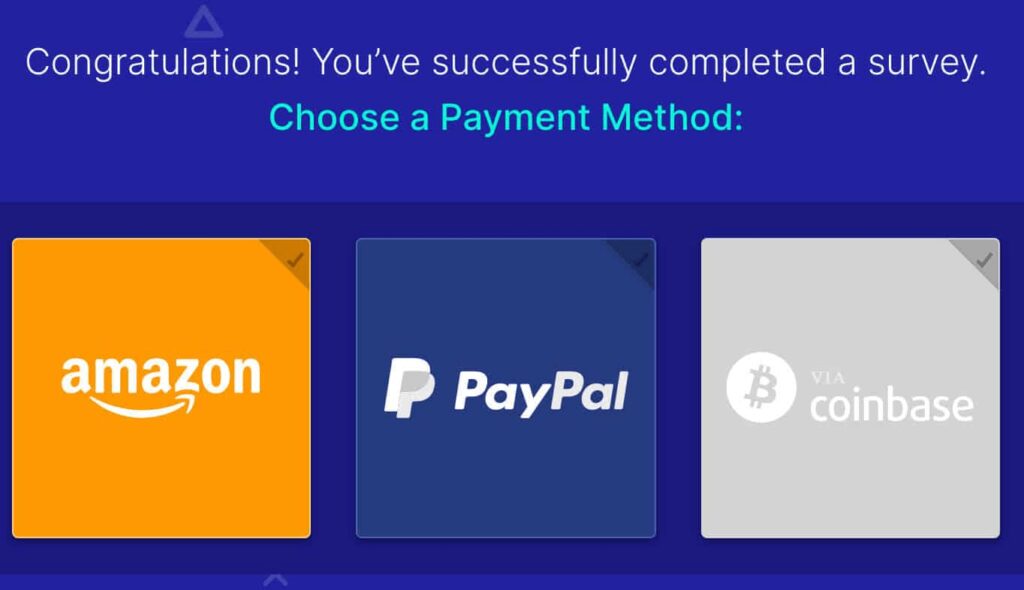 You might see various 0.5$ payment proofs from Surveytime, but those are from earlier days. Now, Surveytimes gives you flat 1$ for every survey you complete successfully.
It is impossible to predict how many surveys you will be eligible for or how long it will take.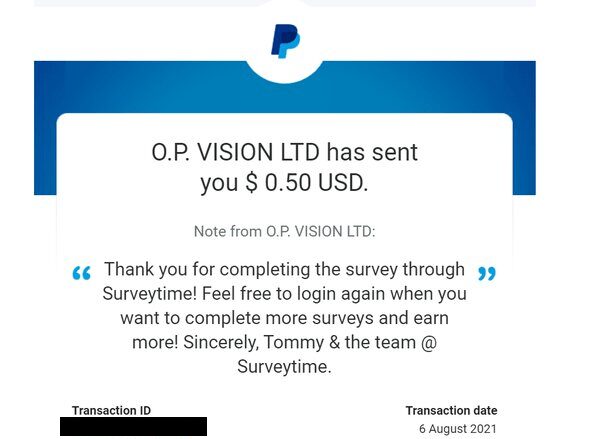 You will receive payment once you complete the survey you qualify for.
Surveytime has a significant benefit over other survey services regarding payouts. You don't have to wait till you hit a certain payment threshold.
Surveytime will credit your account as soon as you successfully finish a survey. You can withdraw your money through PayPal, Gift Cards, or even Crypto. The payment methods supported vary from country to country, but there's something for everyone.
You will receive a notification email once your payment has been processed.
Surveytime Payment Proof(s)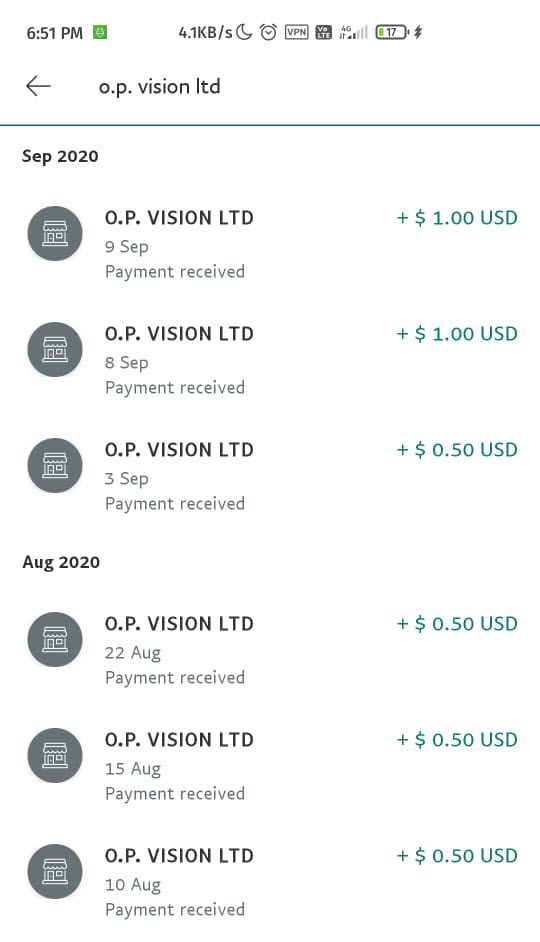 So that's it. Surveytime is a great survey site, if you are looking for ways to earn easy money. But don't expect anything more than beer money, as it is with all survey sites.
More Reading for you…