Last Updated on April 2, 2022
FreeCash is one of the leading survey/offer sites. FreeCash has tie-ups with third-party companies like AdGate Media, Lootably, AdGem, OfferToro, etc. 
The site contains several tasks and offers for the users to complete. Users upon completing these tasks from the third-party offer walls, get rewarded with coins. In FreeCash 1000 Coins = $1.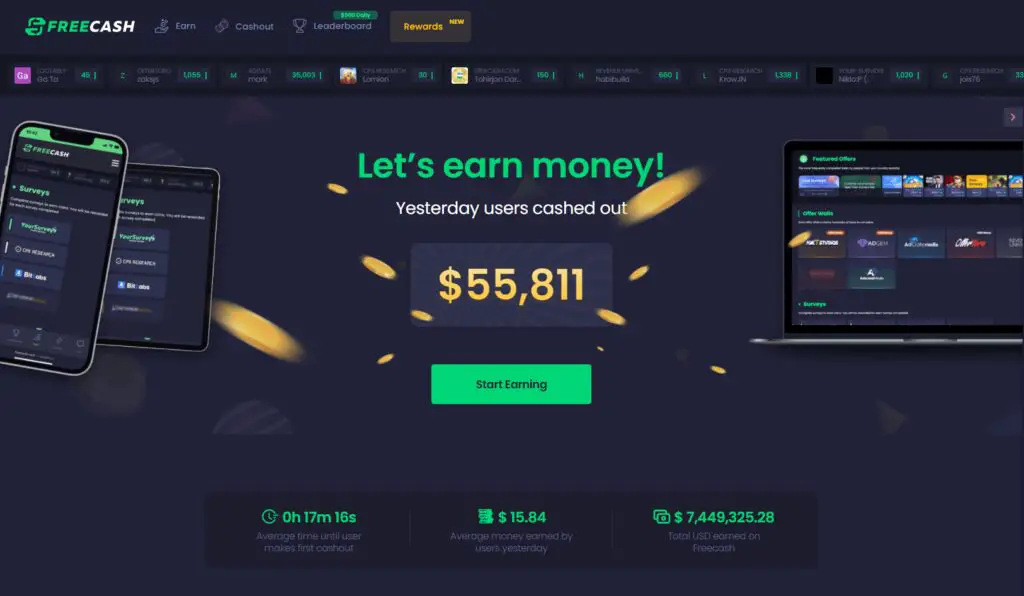 What sets FreeCash apart from the competition is they have a lot of different tasks, and useful ways to get paid including Paypal, Netflix Vouchers and even Litecoin (a cryptocurrency).
Their interface is also really modern and funky, plus they have lots of "Crate" style bonuses. They can earn you from 5 cents to 250$ from time to time.
What kind of tasks do I have to complete on FreeCash?
The tasks on the offer wall include downloading apps on your mobile, completing surveys, and even quizzes. You just have to download apps and open them and instantly, the coins get credited into your account. 
Some of the apps also require registering, and the details regarding them will be mentioned in the offer wall itself, that you have to perform to get your coins successfully credited in your FreeCash account.
That is unlike other similar sites that sometimes take upto 30 days to credit them into your account.
Is FreeCash Legit? How and when can I withdraw money from it?
Yes, it is 100% legit. I have used this app and it does pay. It pays through different media such as PayPal, Cryptocurrency, and also through Gift Cards. 
Below you can see all the available ways to withdraw coins from FreeCash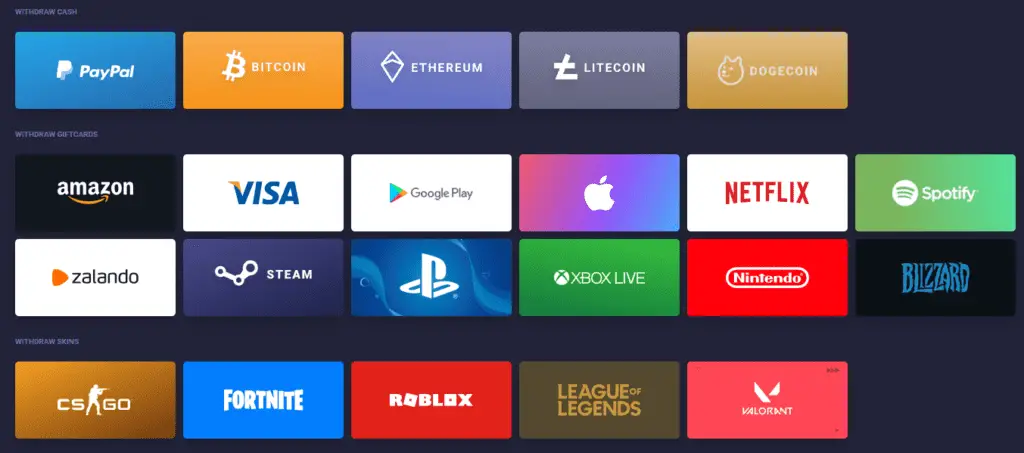 Scroll down the article for payment proof from FreeCash.
Earning Potential of FreeCash (and minimum payout)
I would suggest spending as minimum time as possible on this app. If you are in desperate need of money and have no other option, you can consider this app. It's also based on where you live. 
In some countries, you get lots of tasks which reward you with more coins than in other countries. In those countries, this site is worth it. But one thing I like about FreeCash is its low payout rates. We can withdraw starting from $0.5.
How to Signup and Start Earning from Freecash?
Firstly, you have to start by creating an account in FreeCash. Right off the bat, you get a free case worth up to 250000 coins ($250) in your account.
Signup is super simple, and I suggest you simply sign up using your Google Account. You will instantly get logged into the website as a user. It's a seamless way to join the site.
Note: Open the below link in the browser, if it redirects you to PlayStore, do not download the app. Make sure to open it in the browser itself. You can download the app later to get additional coins.
After signup, you will get a free case from which you earn anywhere from 50 coins to 250000 coins. For new users, mostly more than 90% of the time, you get 250 coins, ie, 25 cents.
Now click on the rewards section and scroll down to the bottom. Here you will find a section where it says Download our App and Follow us on Twitter. That is the reason I have told you not to download the app before itself.

By clicking on Download our App and downloading their app, you will get credited instantly with another 150 coins. And by following them on Twitter, you will also get credited with extra 50 coins. 
How to complete tasks on the App (and how much can you earn in a day)?
Now you are ready to start doing tasks. By clicking on Earn on the top left corner, you will enter the Earn section, where you can perform various tasks from downloading apps to taking surveys to earn coins from the Offer Wall. 
You can look at the below picture, which showcases the coins I have earned by completing some of the tasks. Some of the tasks include just downloading the app and opening them. 
The tasks vary from country to country. And some people can earn more than 5000 coins ($5) each day in those specific countries.

How do I get paid from FreeCash? (And FreeCash Payment Proof)
The best thing about FreeCash is its low payout rates. One can redeem their coins in many ways. 
FreeCash allows users to redeem their coins via PayPal, Crypto (Litecoin, Bitcoin, Ethereum, Dogecoin), and in the form of various gift cards that include Steam, Amazon, Netflix, etc.
I have redeemed through LiteCoin. I have a crypto wallet and the best thing is that, when you withdraw through LiteCoin, you pay zero fees.
 I have withdrawn 1$ and 0.5$ and have paid zero fees!
 It got credited within a few minutes in my crypto wallet. I was able to earn this amount within an hour. 
And you can earn much more by completing various surveys and tasks. Bonus codes are released by FreeCash once in a while on their social media, which can give you anywhere between 100 to 1000 coins. 
Freecash Payment Proof

It also has a referral program, where you get 5% of what your referral earns. You can start signing up with FreeCash and make your first withdrawal in just an hour. 
Thus FreeCash can be considered as a good resource for someone who needs quick cash with low and faster payouts. 
More Reading for you…