Last Updated on August 3, 2021
There have been a plethora of voice-based earning opportunities since the last couple of years. We are seeing more and more apps/websites coming into this space such as Robson, AudioBee, Appen, and even Neevo (from time to time).
Now there's another platform working on AI speech synthesis and automation application, that goes by the name of Gridspace.
What is Gridspace and How Does it Work?
Gridspace is a platform that is currently working on 3 types of applications: Speechbots (Bots with natural voice), Call center roleplay (those high-paying Robson tasks we saw a while back), and Transcription (labeling emotion data in phone calls).
There are various types of tasks you can do, but the most popular being Call center roleplay tasks. You basically participate in call center-like conversations with random people, and they analyze this speech data to train their AI systems.
How to Signup and How Will I get Paid?
Signing up is super simple. Just go to their site and you will instantly be greeted with their signup form. Confirm your email address and fill up a quick survey regarding your demographics (so they can properly categorize your speech data).
You will get paid via Paypal on the email address that you used to register. So make sure your Paypal can receive payments using that email address.
Pro Tip: You can add multiple email addresses to your Paypal account, and receive payments from all of them.
They pay around 20$/hour of speech data, which is exactly what Appen used to offer for their similar projects. Payments are made every two weeks.
Gridspace Payment Proof
Here's a payment proof submitted by one of our readers, which means that the site is legit.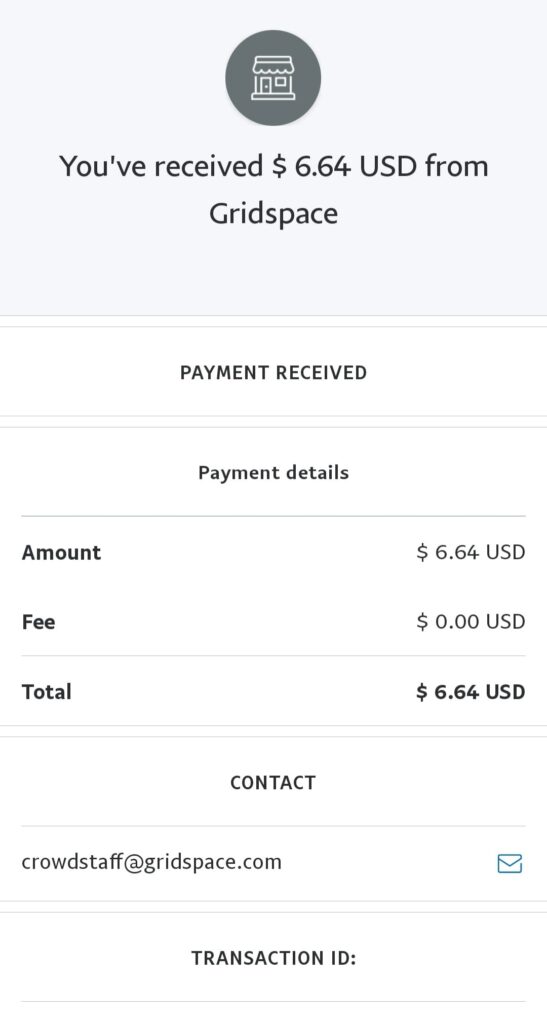 When is there work available in Gridspace?
As of now, I see that there are no projects on the website to work on. This type of inconsistency is natural for voice-based projects, as we have seen in Robson as well.
There were several runs for the call-center project a few months ago (that paid 20$/hour). There are still new jobs available from time to time, but it might be very inconsistent.
There are new mixer sessions available every week, and you will receive an email from them whenever there's an upcoming session available for you. Simply log in to the website at the specified time and participate in it.

You never know when a new project becomes available, so it is best to signup for this in advance. Since it's a new site, slots might be limited. Let me know your thoughts regarding this in the comments.