What is Proofreading pal and how does it work?
Proofreading Pal is a website that employs freelancers to proofread and edit documents, paying by the timeline, word count, and proofreader level. 
The website has been functional since 2010. Thus, it is one of the legit platforms for individuals who want to help scholars, content creators, authors, and companies that release researches, books, and business documents that are free from grammar errors. 
Mainly, proofreaders are supposed to hunt for sentence errors, correct the structure, grammar, punctuations, and tenses. This ensures that the clarity and style of text is appropriate. Moreover, a proofreader is required to make comments and suggestions if needed. 
At proofreading Pal, you have the liberty to choose from a variety of jobs. The site also allows you to work as a full-time or part-time employee. The ball is in your court.
They have consistent jobs that update by the hour. Thus, it is the perfect website that will get you started as a proofreader.
As a proofreading Pal employee, your services will be offered to authors, professionals, organizations, students, and individual clients. You will encounter clients who request express submission of a task. For instance, they will have a certain time limit for completing the job. Such jobs earn you more money due to urgency. 
The job descriptions from the website can be summarized into three categories. Make sure you know what you are applying for and can handle it. The categories are:
First, you will edit and proofread resumes, academic essays, cover letters, and manuscripts. 
Secondly, you will be required to check for capitalization, punctuations, grammatical errors, verb tenses, and syntax spelling.
Finally, you will evaluate and check for coherence and clarity in every document. To maintain your clients, you need to update them about the suggestions and evaluation by sending a note of your findings. 
The ProofReadingPal Signup Process (How to Apply and Start Working)
The company offers a rigorous and lengthy recruitment process. You can join the website and become a proofreader through their career opportunities page. However, you should be aware of the requirements for you to be incorporated. 
Things to know before you apply for ProofReading Jobs:
There are several skills/abilities you should have (or learn) before you begin with proofreading jobs. 
The first, and absolute essential thing you should know is using the "Track Changes" feature in Microsoft Word (2013 or newer). It's a requirement in almost all the proofreading platforms, and is not very difficult to learn. Watching this video would quickly get you up to speed with it.
Since they have clients for different levels of academic discipline, you should be able to offer your services as required. Thus, knowledge of various formatting styles is vital. Mastering APA, MLA, AP, CMS, CSE, Chicago, and Turabian is necessary. 
If you have no idea about what the above terms mean, you should probably learn about them.
Different types of papers/articles use different formatting styles. You will be informed of the style that you are required to edit in. The best article I found explaining the quirks and differences between these styles is from Wordvice.
Moreover, some requirements for applying to a job at ProofreadingPal entail producing a cover letter and a resume. You will be asked about your experience in freelance proofreading and editing. You can check out my article on how to create a killer resume (and cover letter) easily.
Finally, there are some soft skills that can help you a lot in proofreading. For instance, time management is essential since you will have to work on specific tasks. Also, you must have excellent research skills to incorporate into Google as you look for information. 
Application process at Proofreader Pal:
Filling the form at their career page is a lengthy process. They ask for several types of information, which can get a little overwhelming. But the fact that it is a one-step process makes it a bit better.
Provide your basic information like Name, Contact Info, etc.
Upload your resume and cover letter (try including any previous proofreading/editing experience if you have it)
Then briefly describe your previous freelancing and professional proofreading experience (if any).
Rate your proficiency level in different formatting styles (APA, MLA, Chicago Style, etc.) This goes without saying that their knowledge is necessary.
Finally, tell them your expected pay rate and inform them of any other languages that you know.
Fill all this, and submit your application.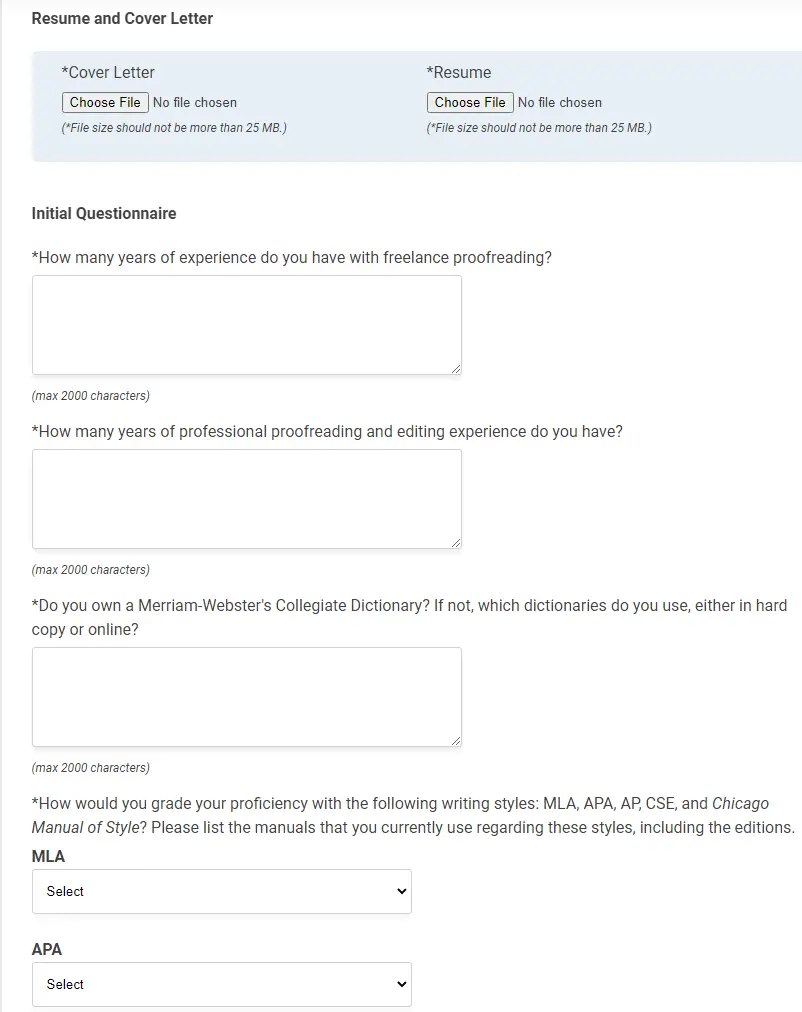 They take 5-10 working days to review your application. Once approved, you will be asked to take a detailed timed test. 
After clearing the test, you will gain access to their platform where you can view and apply for different editing jobs.
How much will I earn with ProofReading Pal?
The site is reticent on how it pays its proofreaders. The average expected pay at ProofreadingPal is $5 per hour. Some anonymous sources have mentioned that the site pays for the number of words, level, and speed you work at. The pay is about 50 cents to $1.50 per 100 words. This can translate to an hourly rate of $5 to $15 if you work at the typical editing speed of 1000 words per hour.. 
According to the website's career page, their editors usually earn between 500$ to 2000$ on average.
The payment schedule is monthly, two weeks after the month ends. However, the accumulated earnings need to exceed a certain threshold for funds to be released. Speculating, you can earn more than $500 a month with a dedicated schedule working on the website. 
The website does not disclose how payments are made; this is something you can discover once you're hired. 
Proofreading is a great way to earn money from home, in my opinion. I have seen experienced proofreaders earn upto 20-40$ per hour (not on ProofreadingPal, though).
More Reading for you…