What is SwagBucks?
SwagBucks is one of the most popular surveying platforms where users sign up and make money for answering questions in surveys. SwagBucks is held by Prodege LLC, the company which also owns the surveying platform ySense. 
SwagBucks pays you in a lot of ways: searching for usual stuff, completing app offers, staking and taking part in lotteries, and of course, answering questions in surveys. Swagbucks has a website and a bunch of apps available on the App Store and Google Play Store. 
However, some of those apps may not be available in your country. Similarly, some of the features in the website, like game offers or collector's bills, may not be available either, depending on where you live.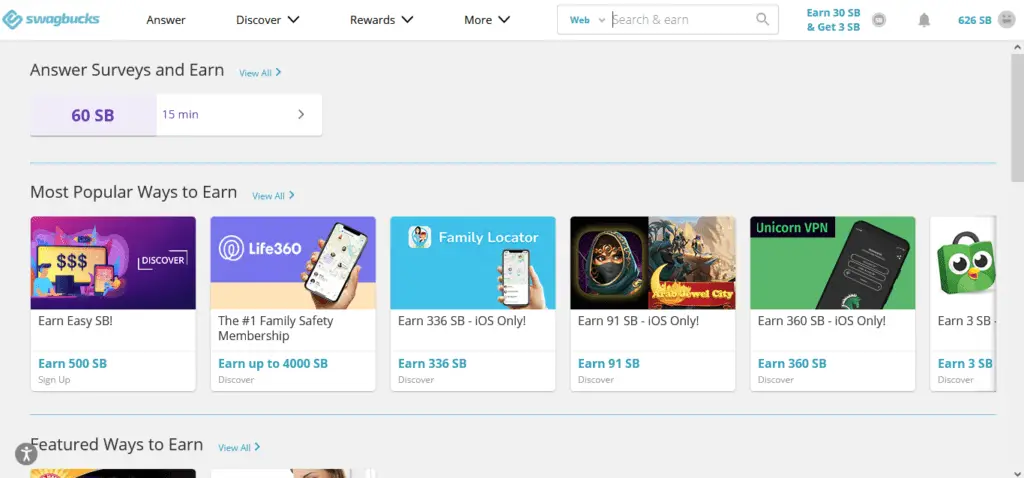 How do I signup and get started with Swagbucks?
Start off by creating an account on SwagBucks. You can sign-up by email, by Google or by Facebook. 
You can use a referral code (called "sign up code" on the site) which will help both you and your referrer with a bonus.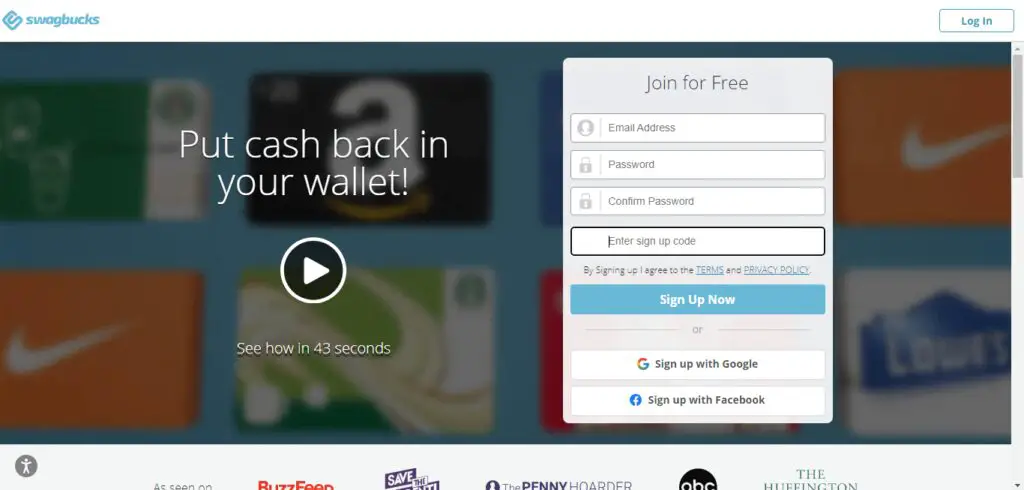 After you're done, go to the answer section on the top. You'll get a list of surveys available for you. 
You can also go to the Daily Poll, which would be located on the side pane, to answer today's poll and get 1 SB. SB stands for SwagBucks and can be exchanged for rewards. 
You can go to the Discover tab to explore more offers like downloading video games or apps for earning SwagBucks. You can complete your survey profile questions: 2 SB for every 10 questions answered. You can use the Swagbutton extension to earn 25 SB.
What are the different ways to earn at Swagbucks?
Swagbucks offers a wide range of tasks you can do to earn SB. Here are all of them:
SwagBucks surveys (Answer Surveys and Earn the old-school way)
On the Answer tab, you can find a list of available surveys, along with the number of SwagBucks they offer and the survey number for unique identification.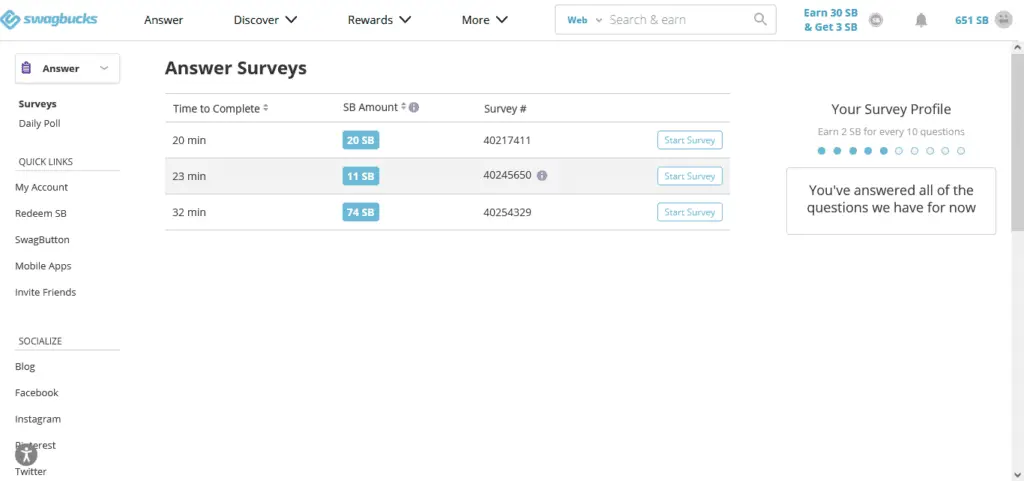 You earn all the SwagBucks mentioned if you complete the survey. However, not all surveys get completed. There's a pre-screen questionnaire which determines whether you fit the desired audience for the survey or not. 
If you don't fall within that audience, you'll get screened out. Most surveys on SwagBucks have a fixed number of SwagBucks (usually 1SB) which will be given to you even if you get screened out (similar to Opinion Pioneer and Attapoll)
However, there are some surveys which don't award you anything if you get screened out. Such surveys will have an "i" icon beside them. You can hover to see that they don't pay anything if screened out. Note that "i" doesn't necessarily mean that the survey doesn't have a screen-out bonus. 
It may also mean that a particular survey is in foreign language, or some other form of important information about the survey which you may want to know prior to entering and attempting the survey. The only way to find out is to hover over the indicator.
One more thing to be considered is that rewarded disqualifications have a limit on a per-day basis. This means that you cannot attempt a lot of surveys and expect to be rewarded after getting screened out in a majority of them.
There's a limit to how many surveys with rewarded disqualifications you can attempt in a particular day. Once that limit is reached, you won't get rewarded for getting screened out even on surveys that support it. When you've reached that limit, you'll be notified about it.
While attempting surveys, make sure you don't lie. Being honest is extremely important. The surveyors aren't looking for fake results and want some serious results with the data they gain. Try to be as accurate and honest as possible.
If you lie, eventually you'll get caught, because you can't remember a lie forever. If there's an inconsistency found in the answers you give, your account might get suspended in the worst case and may receive less surveys in the future in the best-case scenario.
Answer Survey Profile Questions (Complete your profile to earn SB)
On the right, you'll see survey profile questions, which are meant for helping you get better suited and targeted surveys. For every 10 questions that you answer, you get 2SB as reward. 
Questions are usually about whether you play games or not, whether you or any member of your household has a particular mental/physical disease, etc. These questions might seem unlimited at first, but they're not.
 After a bunch of questions, you won't have any more questions left. You may need to wait for weeks before new questions appear again in this section.
Daily Poll (Just vote on a poll)
The Daily Poll can be taken by clicking on the Daily Poll category on the left pane. Answering the daily poll gives you 1 SB. There are no correct or incorrect answers in the daily poll and it's just your opinion that's asked.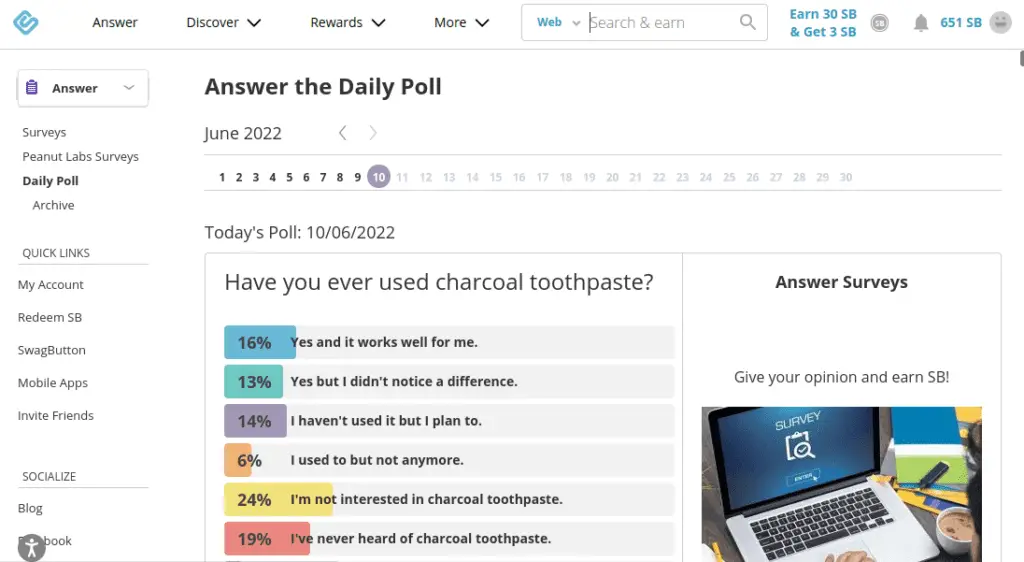 Search and Earn (using their Search Engine)
There's a search bar at the top of the screen on the website, which you can use instead of using other search engines like Google or Bing. Searching on Swagbucks will occasionally reward you with free SwagBucks. This is kind of like how Brave Browser pays rewards you for using their browser.
Discover (Offers to signup on website and download apps)
You can go to the Discover tab to explore offers which generally give out a huge number of SBs at once. These offers are all of different types: some require you to sign up on a website or an app, while others require you to download a game and reach a particular level. Yet others require you to buy something from a retailer and reward you SBs for that.
I usually look for offers on the things/services I want to buy, as using Swagbucks gives me a huge discount on that. I recently bought a Canva subscription using their offers page and got 3 extra months for free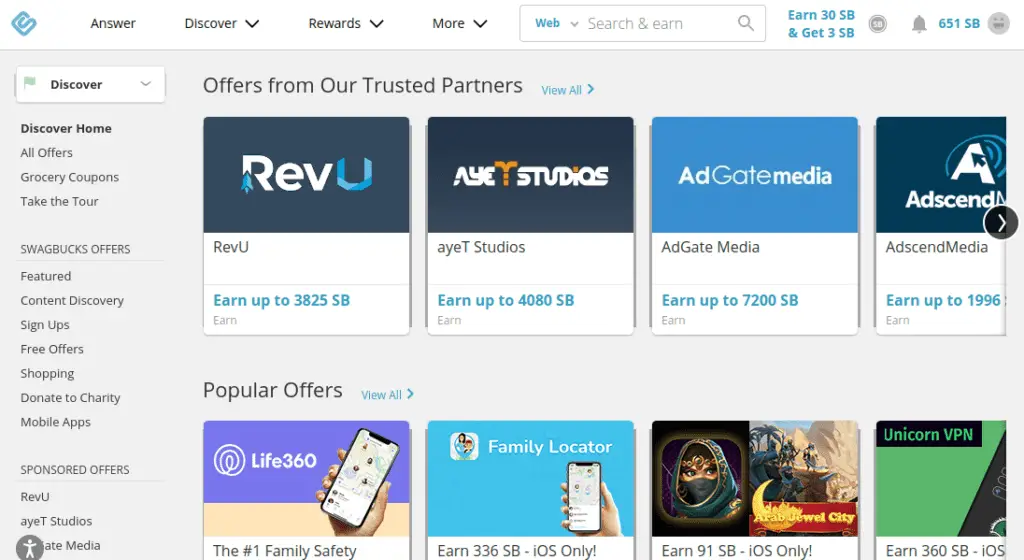 Earn and Get (Complete Daily SB Goals to earn more)
Earn and Get program allows you to earn a bonus when you earn a particular number of SBs in a day. There's a bucket list of tasks you're supposed to do: Daily Poll, Daily Search, Deal of the day, Daily Discover, attempt a survey and complete a survey. 
 If you complete any 4 of these tasks on any particular day, you earn a 2 SB bonus. For completing all 6, you get a bonus of 7 SB. 
Moreover, you get a bonus of 3 SB when you earn 30SB in a day, and an extra 2SB when you earn 79SB in a day. By default, the daily goal is set at 30SB. If you earn 30SB in a day, you enter a 1-day streak. Once you hit a 7-day streak, you get 25 SB as a bonus. Moreover, at the end of every month, you get some amount of bonus SB.
These bonuses can help you reach your payout limit much faster.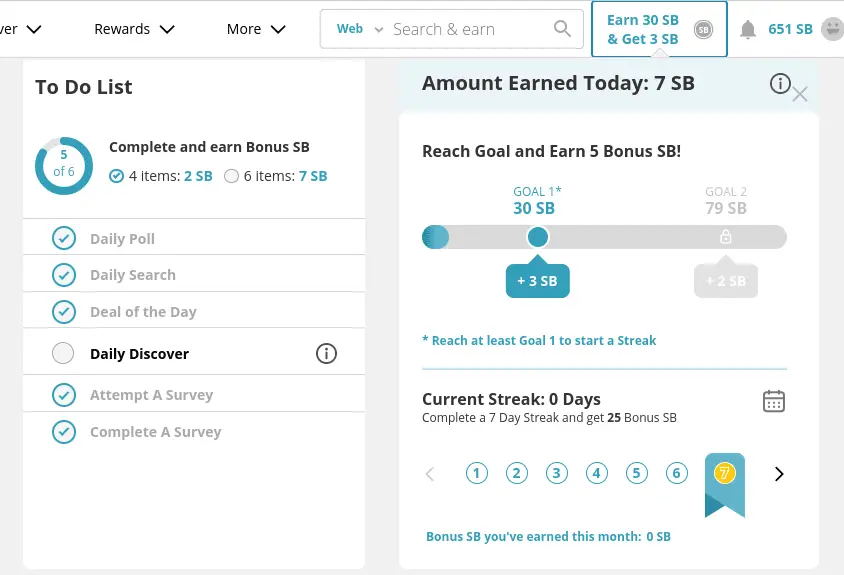 SwagStakes (Lucky Draw Prizes)
SwagStakes is a kind of online lucky draw. You spend some SwagBucks to buy a ticket for a SwagStake, and a random winner will get a much bigger number of SBs. 
So basically, you stake your SBs in an online lottery with a random winner who will win it big. This isn't really recommended because it might act more as a way of losing SBs than gaining them. SwagStakes are available under the Rewards tab.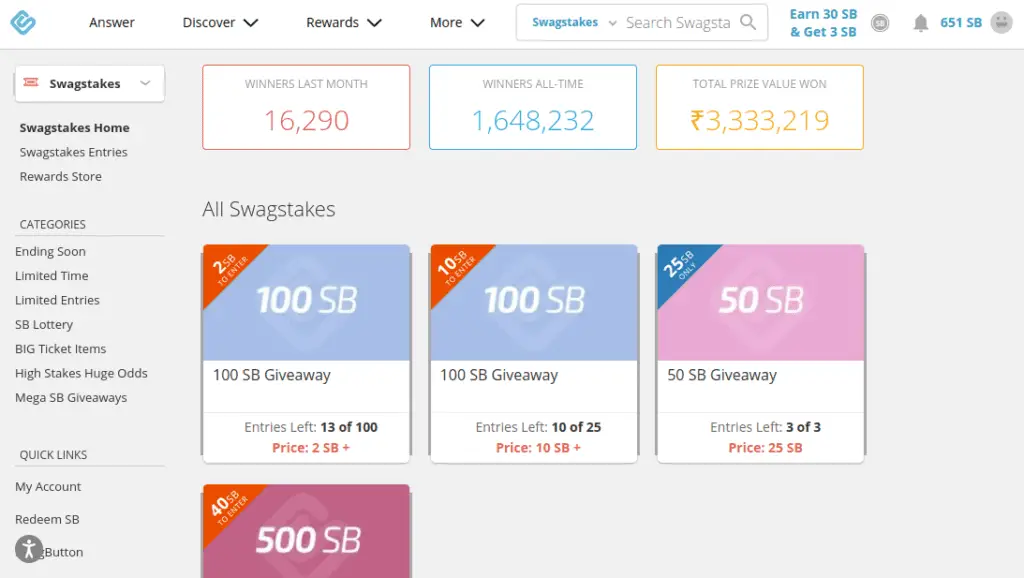 Collectors Bills (Collect coupons and get SB)
Occasionally, you may get collector's bills on several festivals, depending on your location. If you use SwagBucks search to search for stuff, you may get a Collector's bill. It is kind of a coupon which can be redeemed to get SBs. When you collect all the Collector's bills, you get an additional bonus!
So you should definitely use their search & earn feature on major holidays like Halloween, Christmas, and Easter to make the most out of it.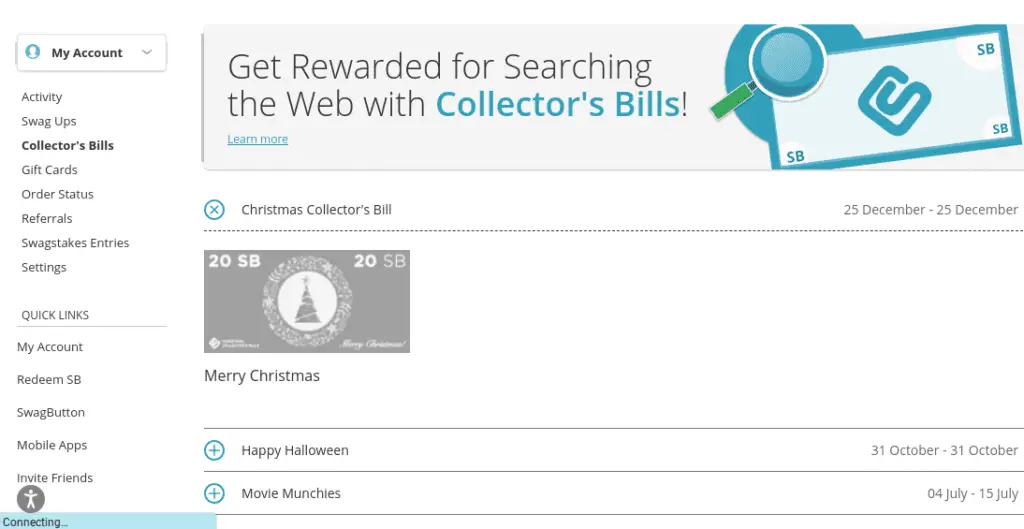 Swag ups (Get more surveys in Swagbucks)
By engaging with the platform regularly, you earn bonuses that get applied to your account and help you get more surveys with more SBs. These bonuses are called Swag ups.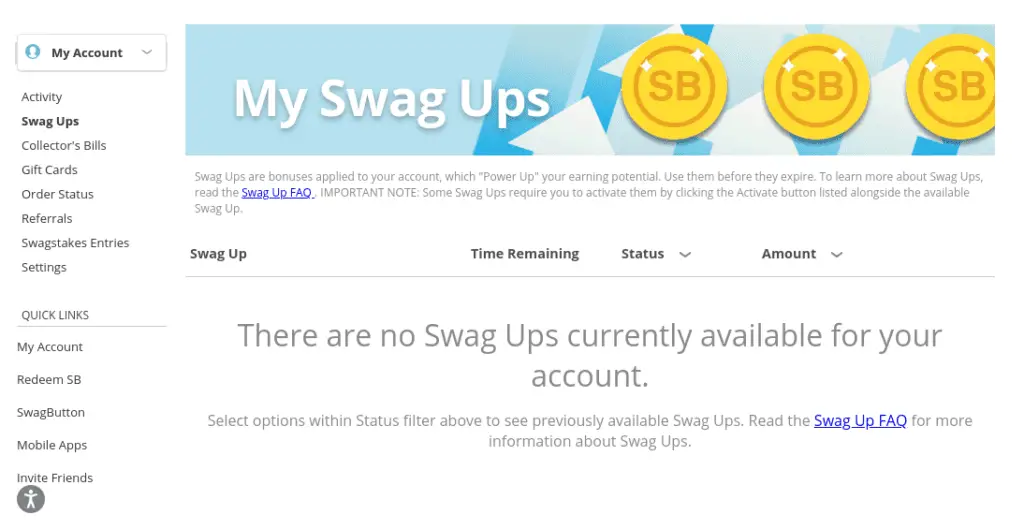 Referral Program
SwagBucks offers a decent referral program which awards both you and the person using your referral code a bonus of 300 SB. Note that this 300 SB bonus may not be available in all countries. 
Moreover, for every person who signs up using your referral code, you get 10% of their lifetime earnings on SwagBucks. When the person adds the SwagButton extension to their browser, you get an additional bonus of 100 SB.
How do I get paid by Swagbucks?
You get paid in the form of internet points called SwagBucks (abbreviated as SB), which you can redeem for gift cards like Amazon gift cards or Paypal Payouts. You can also use it to donate money to various charitable organizations. 
Swagbucks Payment Proof
Here is a payment proof received from Swagbucks, cashed out via Paypal.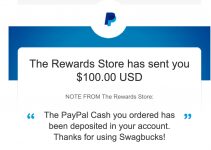 How much can I earn monthly with Swagbucks?
How much you can make on SwagBucks depends on where you are and how many features of SwagBucks are available there. For example, if the option for completing offers for SwagBucks isn't available, you cannot earn big amounts of SBs. 
Solely by surveys, however, one can earn anywhere between $10 to $100 a month depending on their locations, because some countries are far more surveyed than others. Happy earning!
More Reading for you…