Tradatech Srl, an Italian corporation, owns and operates Surveyeah, a survey panel. Since 2014, the platform has allowed users from 123 countries to participate in online surveys and earn money on the side.
In the last two years, Surveyeah has developed at a remarkable pace. It claims to have paid out more than a million euros in cash and eGift cards.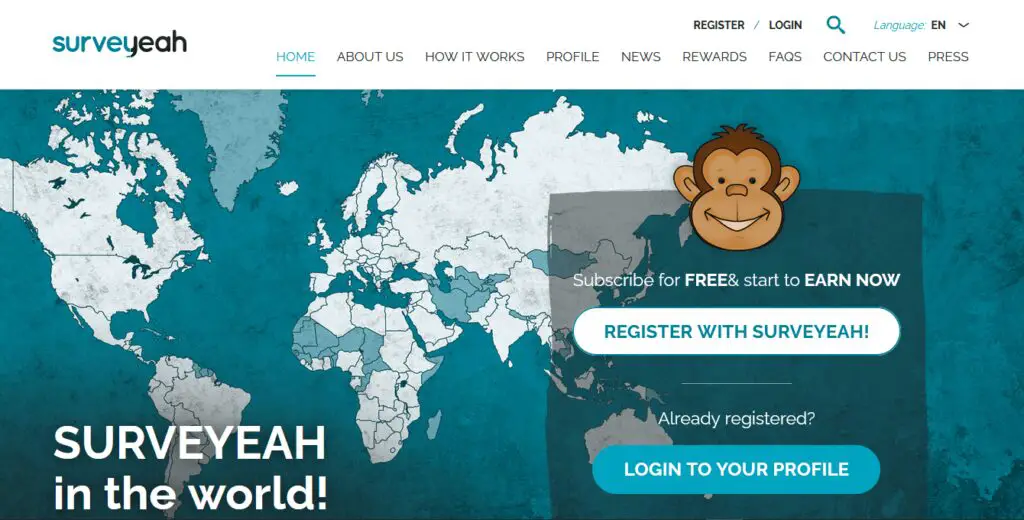 In Surveyeah, you are not only assisting companies with their marketing research, but you are also assisting students who need to gather information from a group of people for their thesis.
For example, before launching a new product line in the supermarket, a corporation may want to solicit feedback from potential customers in order to better understand their preferences and make better judgments.
You will get points in exchange for your time and work, which you can exchange for PayPal, Skrill, Payza, Western Union, Amazon gift cards, and a range of other gift cards.
How to Register for Surveyeah? 
• Go to SurveYeah.
• Click on Sign Up.
• Then fill in your details.
• Verify your mail address.
• And you are IN!
Joining takes about 60 seconds, and then all you have to do is wait for survey invites to start earning.
Completing Your Profile and Why it is important
Make sure you fill out your profile the first time you check-in. You'll be asked some questions about yourself and your background in this section.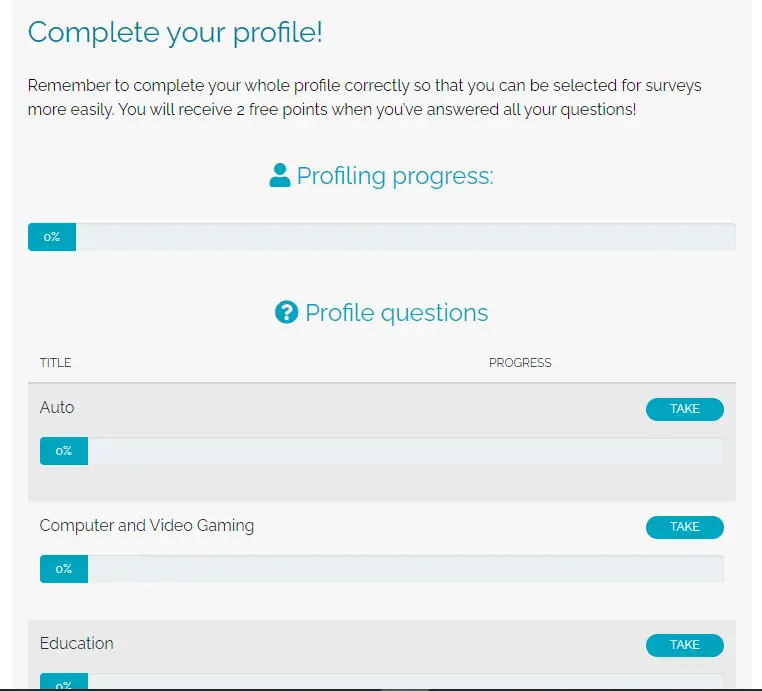 This is essential so that Surveyeah can match your profile with research for a specific demographic, based on their age, gender, income, and other factors. Surveyeah selects surveys that are relevant to your profile, thus filling out your profile completely is necessary if you want to receive more survey invites.
There are numerous categories to choose from, including household, education, occupation, gadgets, and so on. These questions are optional, but the more details you supply, the more likely you are to receive survey invites.
It will take you about 10 minutes to complete, and you will receive 2 free points.
How do I earn by completing surveys? How does Surveyeah work?
Surveyeah collaborates with a number of marketing research companies to send out survey invitations on a regular basis. 
When a new survey becomes available, you will receive an email invitation, or you can search for surveys on the dashboard. You must first complete a few screening questions to ensure that you are a proper fit for the survey.
Unfortunately, qualifying can be difficult, and you may spend a lot of effort only to be told that you do not qualify. After that, you'll be routed to another survey opportunity.
Some companies may also screen you out of a survey while you are halfway through or nearing the end. 
Each survey can take anywhere from 5 to 20 minutes to complete.
Surveyeah may not instantly award you points and it can take up to three weeks for points to be credited.
Keep in mind that if Surveyeah believes that you are rushing or giving random responses, they have the authority to deny you points. So you need to keep a natural pace while giving out your responses as well.
All this rejection and denying make it harder to work at Surveyeah. While they are a legit site, you don't always get paid for your time and effort, which is a really frustrating thing.
How Much Money Can You Earn with Surveyeah?
It depends on the length of the survey and your location. The pay is usually between $0.50 and $2 for every survey if you live in the United States, Canada, the United Kingdom, or other developed countries.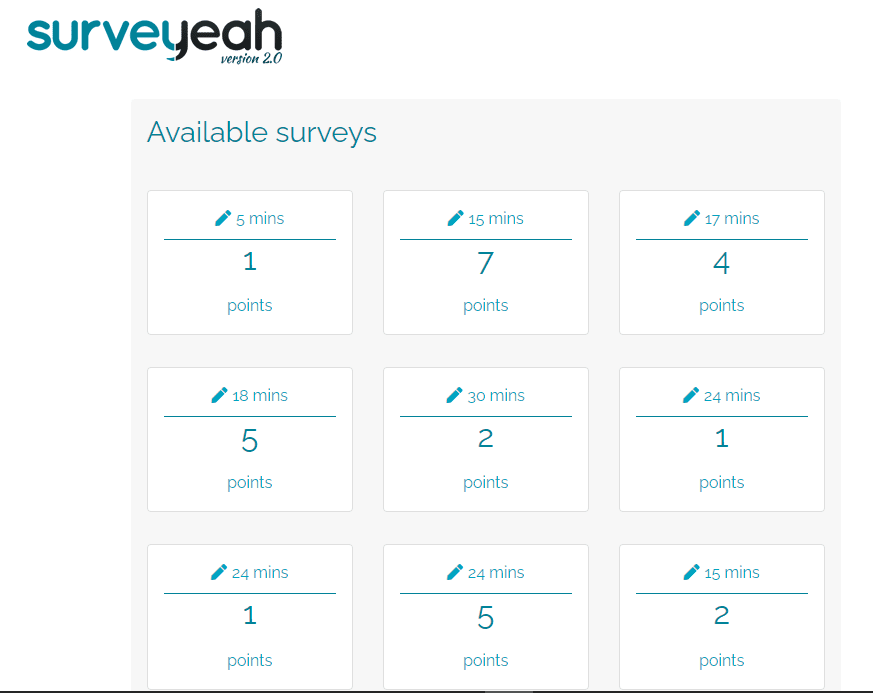 Because most surveys take between 5 and 20 minutes to complete, your hourly income will be between $3-$5/hour. When you include the time spent answering qualification questions, the pay rate may likely be significantly lower.
Another issue to think about is the frequency of invitations. You may receive surveys every day or less than 4 surveys each month, depending on your profile, client demand, and country of residency.
After ten months, one panelist from the United Kingdom was upset to earn only £10. It's not unusual, he claimed, to be screened out 15 times in a row.
Surveyeah Payment Proof
Here's a payment proof from Surveyeah, redeemed in the form of a Paypal payment.

What are the Payment Methods used by Surveyeah?
You will be paid in points when you finish a survey on Surveyeah, but you can see the value of your point balance in your local currency. You will be able to see what the reward will be and how long the survey will take before you begin. 
From my personal perspective, everything is fairly correct. The value of the points is determined by where you live. After you register, I recommend first calculating how much 1 point is worth in your local currency, as this will make calculating how much you will receive for the surveys presented much easier.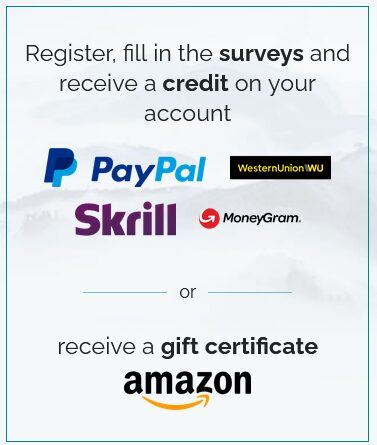 Surveyeah offers a variety of payment methods. There are several options from which you can choose. You can be paid in cash, Amazon gift cards, or other gift cards through PayPal, Skrill, MoneyGram, or Western Union. 
As a result, it provides excellent payment options regardless of where you live. Depending on the country, the payment barrier usually starts at roughly $10 and can be up to $50 for some incentives, which is extremely high. You must carefully select your payout method.
On the website, there is a handy table that shows you how much the amount would be in your local currency – see an example in the image below.
What Is the Value of a Single Point?
Surveyeah has a point system, with the worth of one point varying depending on your currency. To find out how much one point is worth, go to the prize section. In the United Kingdom, for example, 125 points may be exchanged for a £10 Amazon gift card or 250 points can be exchanged for £20 via PayPal. As a result, one point equals eight pence.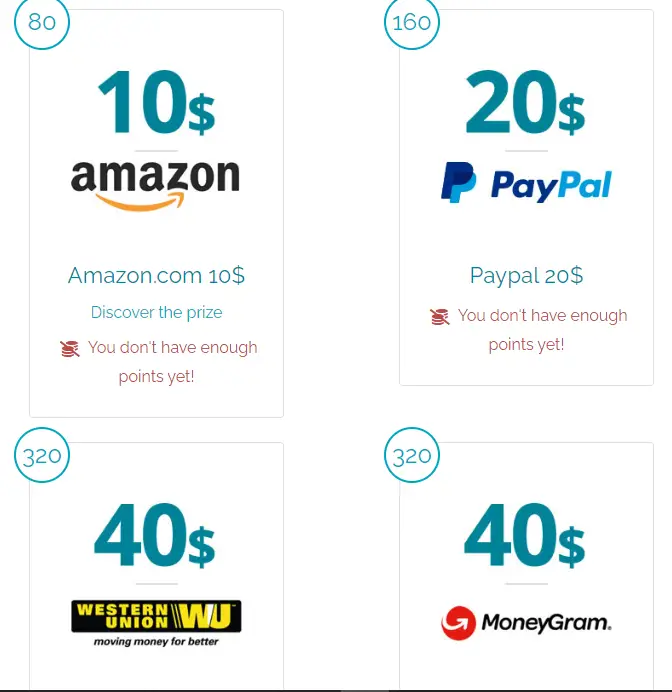 Who Is Eligible to Participate in Surveyeah?
Surveyeah is available in 123 countries and has surveys tailored to many nations where finding surveys can be challenging.
To sign up, you must be 15 years old, and if you are under the age of 18, parental approval is required. This varies by nation; if you are under the age of 18, make sure to verify your country's unique rules.
Surveyeah is a reputable website that will compensate you once you have accumulated enough points. The main issue is the requirement for a high payment barrier and frequent disqualifications.
It is allowed to disqualify candidates based on their profile. But why make them spend so much time filling out the profile and then repeatedly ask the same questions? I believe that survey businesses should use a member's profile to better identify applicants.
I'd love to hear from you in the comments below if you have any thoughts, questions, or experiences using Surveyeah.
More Reading for you…