OpinionPioneer is a new survey site that is very user-friendly and includes some amazing features that you won't find on other paid survey sites. If you're looking for a way to earn some extra income, it's a good option.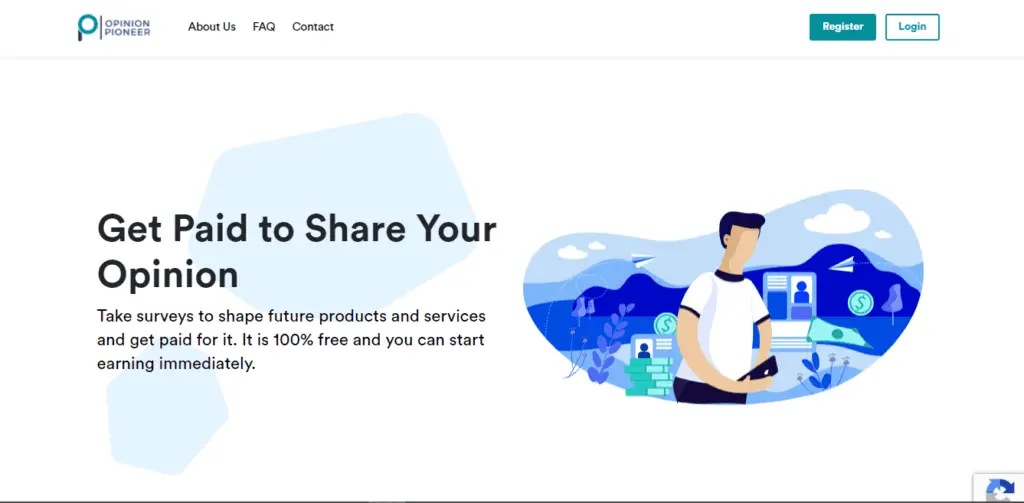 What distinguishes OpinionPioneer from the competition, and is it really worth your time?
In this post, we'll take a closer look at OpinionPioneer and discover everything there is to know, so you'll know precisely what to expect and can choose whether or not this is the appropriate opportunity for you.
What Is OpinionPioneer and What Services Does It Provide?
OpinionPioneer is a survey site that pays you to share your thoughts. The results of the surveys are used to create future products and services.
The website is unquestionably a reputable paid survey site, and it boasts a user-friendly interface that is simple to operate even for those who are completely new to the survey industry.
What I enjoy best with OpinionPioneer is that you can see the POC (Probability of Completion), which indicates how likely you are to qualify for a certain survey. 
This is a feature I haven't seen on other survey sites, and it is, in my opinion, a highly user-friendly one. The Probability of Completing a survey refers to the possibility or chance of being selected for a survey.
It's important to note that just because a survey says you have a 30% probability of qualifying or less, doesn't guarantee you, It might still be worth a shot.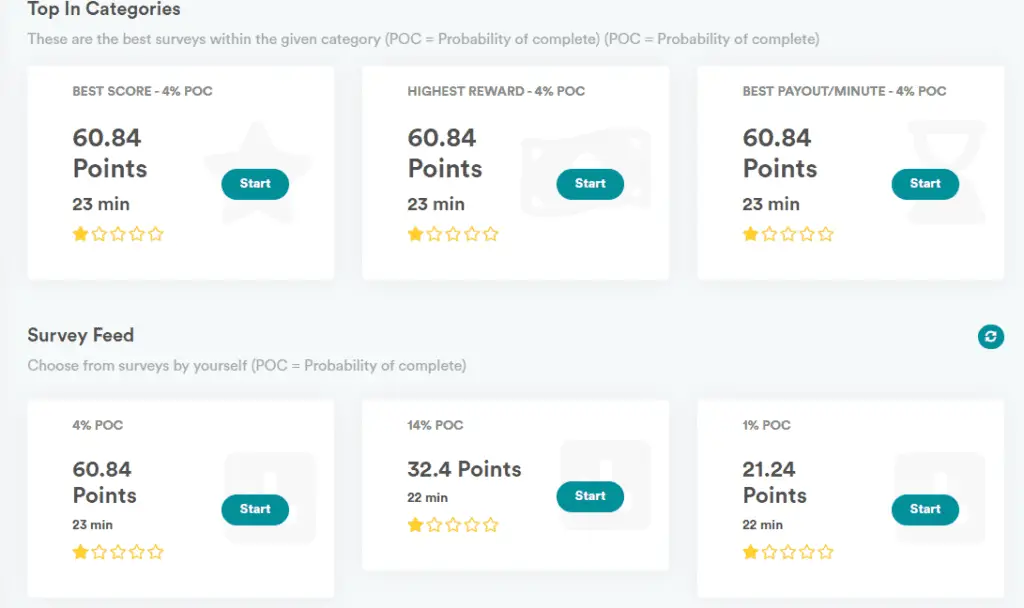 As you can see in the image above, you will be able to check how long the survey will take and how other survey takers rated the survey right away.
And, once you've completed a survey, you'll have the option to rate it and, if you have any, submit feedback about the survey.
These are some useful add-ons that I haven't seen on other sites.
How to Signup for OpinionPioneer?
It only takes a minute to become a member of OpinionPioneer.
Go to Opinion Pioneer and select "REGISTER". Fill in your information, then click ACTIVATE and Confirm your email address, or choose to register with Gmail. 
Don't forget to click the verification link in your email.
Once you've completed the registration process. It's time to start making money.
Please keep in mind that not all surveys will be appropriate for you. However, the best thing you can do to improve your chances of qualifying is to complete the brief profile survey at the top of the screen as soon as possible after enrolling.
OpinionPioneer Profiles (Completing the Profile Survey)
After enrolling, you will receive 50 points for completing a brief profile survey. You'll also get $0.50 for completing the profile survey, which takes only 2 minutes to complete, so that's a good start.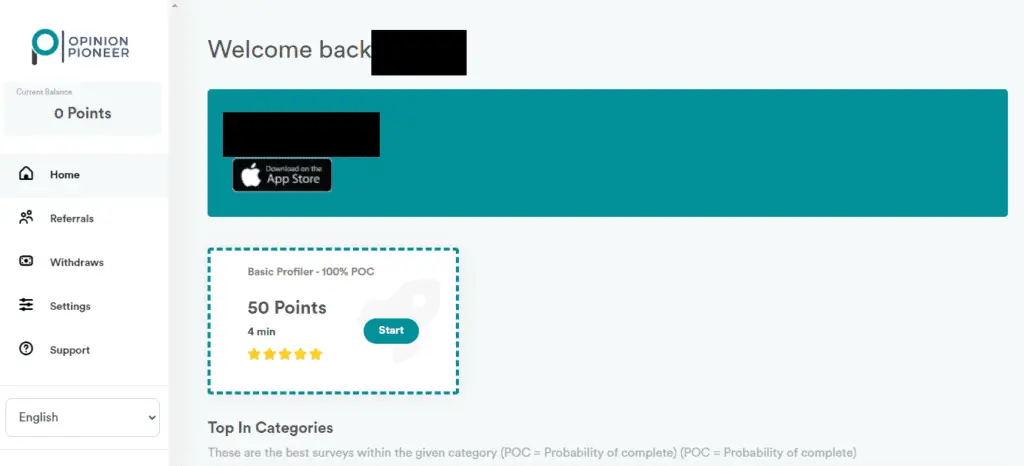 OpinionPioneer has the unusual function of paying you a token for starting a survey even if you do not qualify for it. You'll get $0.03 if you start a survey but don't qualify. Although it is not as much as you will receive for taking a survey, it is still a nice bonus and greater than we have seen on other survey sites.
Sites like Attapoll and LifePoints Panel also have this practice of giving you a token amount if you get disqualified from the survey. 
When a new survey is available, they may not send an email. it will be quite unlikely that you will receive an email notification. As a result, it's a good idea to visit the website for new surveys at least once a day to maximize your rewards.
How do they pay (Payment Methods of Opinion Pioneer)
On the platform, everyone gets points, which are ultimately turned into dollars. The conversion ratio makes it very clear to see how much you get for a survey because 100 points are worth $1 and 1 point is worth $0.01.
You can request a payout once you have earned $10 (1,000 points).
Once you've earned $10, you'll be rewarded in cash via PayPal. PayPal is one of the easiest ways to receive payments online nowadays, therefore it's a terrific way to get paid.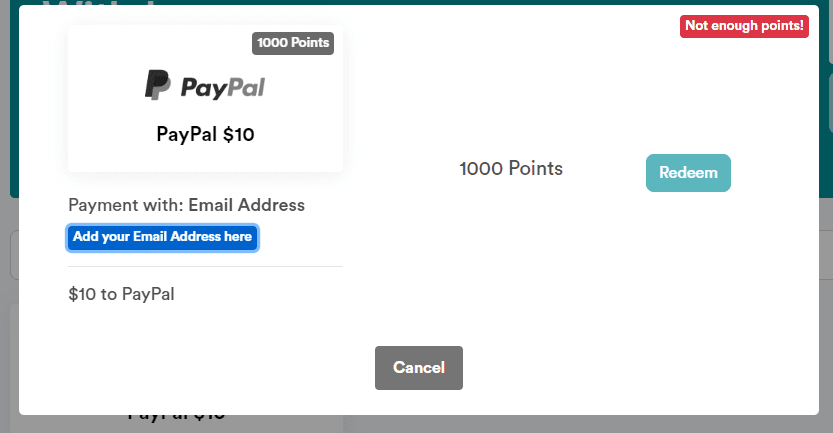 OpinionPioneer has plans to add other compensation alternatives, based on their support, so if you like to be paid in ways other than PayPal, this could be of interest to you.
What is the Amount of Money That Can Be Earned with Opinion Pioneer?
OpinionPioneer pays generously for completed surveys and offers a generous referral program. It might be a fun way to earn some additional cash while also having your voice heard.
Many people claim to be earning $50 to $100 per month from this site, but this depends on your place of residence and survey qualification (as always).
Plus, you can increase your earnings if you are able to refer a few of your friends to this platform. They currently offer 15% of whatever your friend earns on the platform as a commission to you. Don't worry, the earnings won't be deducted from your friend's account, but will be paid by Opinion Pioneer directly.
Opinion Pioneer Payment Proof (Paypal)
Here's a Payment Proof for Opinion Pioneer paid via Paypal. The payment comes from "Ebuno AB" which seems to be the parent organization (or maybe the name under which the company is registered).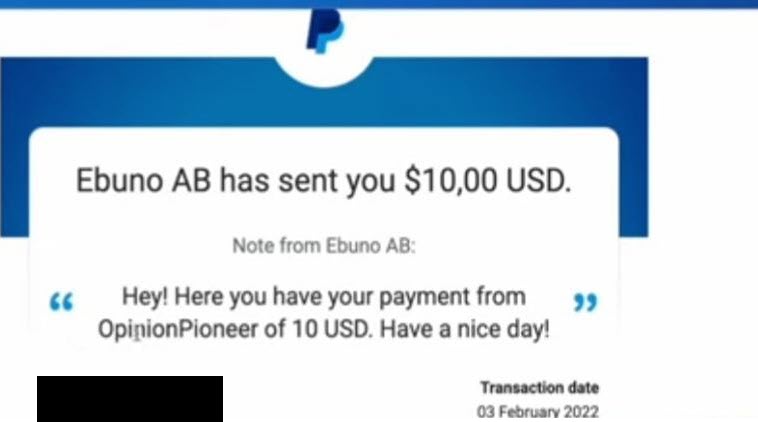 However, you should be aware that this is not a full-time job, but rather a simple option to supplement your income. What we like to call beer money.
Which countries have the most amount of surveys?
Most nations are welcome to join, however, to earn more, you must register from tier 1 countries like the United States, United Kingdom, Australia, Canada, Ireland, most European countries, certain Asian countries, the United Arab Emirates, Russia, and Saudi Arabia.
Of course, there are polls for other countries as well, but the above-mentioned countries offer the most options.
Being from the above countries gives you a higher chance of getting paid surveys, and lower chances of disqualification.
In the end, OpinionPioneer is an excellent survey site that pays well. It's still extremely new, so there's a lot of room for improvement. The benefits you get for taking a survey even if you don't qualify are unique. Furthermore, the fact that they offer an excellent referral program and the quick support is a plus.
Finding surveys that you qualify for can take some time and patience.
More Reading for you…