What is PrizeRebel? What are some of the tasks you should expect?
As the world advances, online tasks tend to increase in availability. PrizeRebel is another online platform that offers gifts and rewards for tasks. You are awarded points every time you complete a task. The points are easily exchanged as gift cards to retailers or direct deposits to bank accounts and PayPal.
At PrizeRebel, you earn rewards for completing Surveys, Offer Walls, referrals, and watching videos.
PrizeRebel offers easy tasks that it is willing to pay for. The tasks help them to gather information and distribute it to advertisers.
For instance, you can take a survey about people around you that drink alcohol. Companies like PrizeRebel then distribute such data to bigger firms in the market research sector. Besides, the information they give is accurate yet anonymous.
PrizeRebel is a free website. It is available in multiple countries, though the earning potential of people from America, Canada, Australia and the UK is the highest.
This is because these countries have the maximum amount of tasks available. Surveys and Offer Walls are available Worldwide.
How to Signup on PrizeRebel?
The process is as easy as 1,2,3.
 Signup for PrizeRebel through this link. Please enter your email and name, set a password, and confirm it. Alternatively, you can use your Facebook account to join the platform. 
Confirming your email is an essential thing you should not forget.
Here are some of the tasks you can do upon registration with PrizeRebel.
What kind of tasks can I do on PrizeRebel to earn money?
Survey Questions
Surveys are a great way of earning from PrizeRebel. However, the site requires one to complete their profile before one can complete a survey. It only takes a few minutes to complete your profile. Additionally, you are awarded 10 points for that. Also, answer the questions with integrity, as the demographic information you provide will help assign you the surveys.
PrizeRebel informs you on the number of points you earn and how long a survey will take before it is available. Rarely, Go To Paid websites would give such information. Moreover, the website offers a wide pay range for its surveys. For instance, you could get 500 points for 30 minutes while other sites offer 75 points for 20 minutes.
High-paying surveys are great since they offer a rate of $12/hour. If you want to make more money, take more surveys with PrizeRebel.
Offer Walls
You can also earn from PrizeRebel through offer walls. You can either complete surveys or download mobile apps. Honestly, downloading mobile applications is the best way for you to earn in this category.
You download the application and open it. Once done, your points will be credited within 24 hrs. The best thing is that you can delete the application once you've received your payments. This can earn you at least $10/hr. Thus, if you work on offer walls, download applications to earn.
Watching Videos
At PrizeRebel, watching videos is simple with moderate payouts. The tasks are simple, even though you earn fewer points. They require less effort, so I recommend them for moderate payouts. The disbursements can be realized in an hour during those lazy days.
Referral Program
The best task to perform at PrizeRebel is referring friends. You earn 20% of a friend's points after registering using your link. Share your link with them, which will automatically count on your earnings.
Use social media platforms such as Facebook and Twitter to spread your link.
Other ways of earning through PrizeRebel
Promo codes are regularly published by PrizeRebel and can be redeemed for points. Notifications can either be received from your email or social media.
PrizeRebel Extension: – having the PrizeRebel browser extension ensures you can't miss their promo codes. It is an easy way of checking how your referrals are faring.
Account Levels: – the more points you earn, the more your account upgrades. All new members start at bronze and later graduate to diamond, the highest level. You'll receive monthly bonuses when you reach their highest level.
How much can I earn and How do I get paid?
Each task, survey, offer walls, watching videos, and referral program have specific points that you earn. The points can be redeemed as gift cards or direct deposits to your preferred payment method.
The minimum amount you can withdraw is 200 points. For every point, you earn 1cent. Thus, 100 points represent $1. The prizes take up to a week for you to receive your gifts.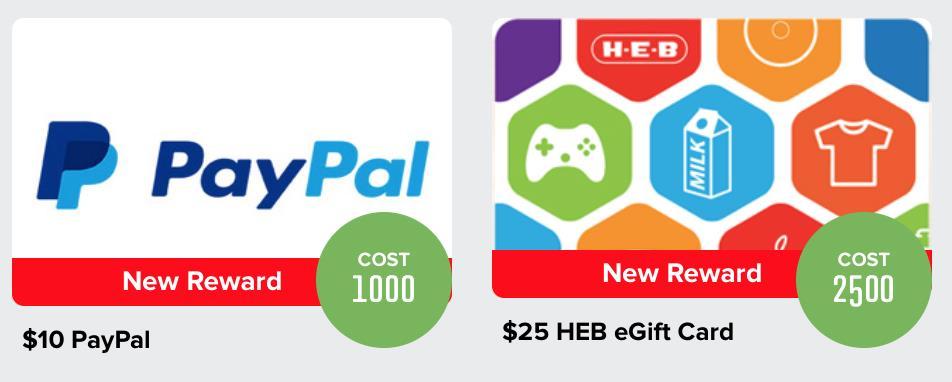 Your earnings vary highly depending on your location. People from some countries can earn 50-100$ per month, while other people might only earn 5-10$ per month. You will need to check this for yourself.
PrizeRebel Payment Proof
Here's payment proof from PrizeRebel, of a 10$ Paypal withdrawal.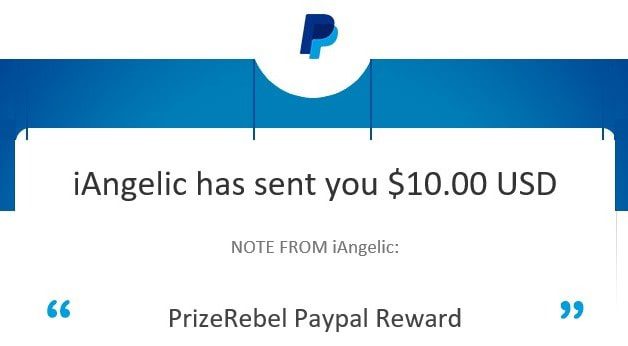 More Reading for you…