Amazon became a big ecommerce because it has been serving customers all over the world since 1996. The company always struggles to do its best. It provides great commitments for both the buyers and sellers. 
Being trusted by the consumers makes Amazon more popular. However the company is not satisfied but they keep raising the service quality. Amazon selling is a customer-centric company so that they guarantee customers a complaint-free service. In the premium service Amazon gives two options of selling plans. They are the different models by which you can partner with Amazon.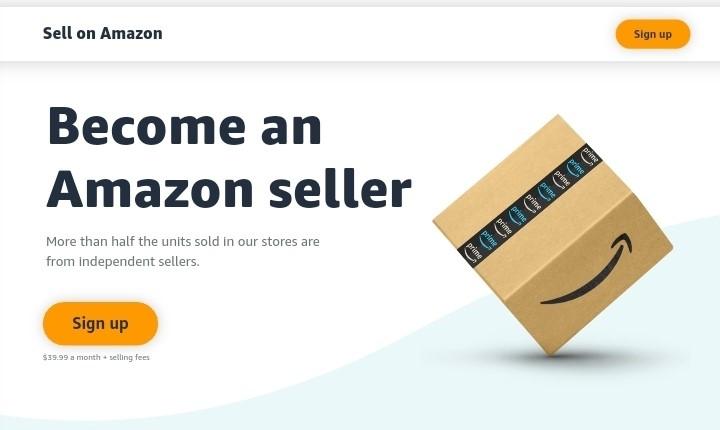 The first type of selling plan at Amazon is an individual plan. It charges sellers 0.99 USD for every sale. The second plan is the Professional one which must be paid 39.9 USD each month by sellers. The Professional plan is useful for sellers who can sell more than 40 products per month. 
These plans might vary with country and you should double check it with your regional Amazon website.
How much can I earn as a seller on Amazon?
The earnings of amazon sellers are very variable. The amount of money they earn differs depending on a number of factors. 
The income of trusted sellers differs from beginners. However the average income of sellers is US $1000 to US $25000. Only 20% of all the sellers get US $ 25,000 to US $ 250,000. 
According to The State of Amazon Seller the sellings of 62% merchants increased in 2021. The rise of sellings is expected to continue in 2022. 
Costs Associated with Selling on Amazon:
Selling Fee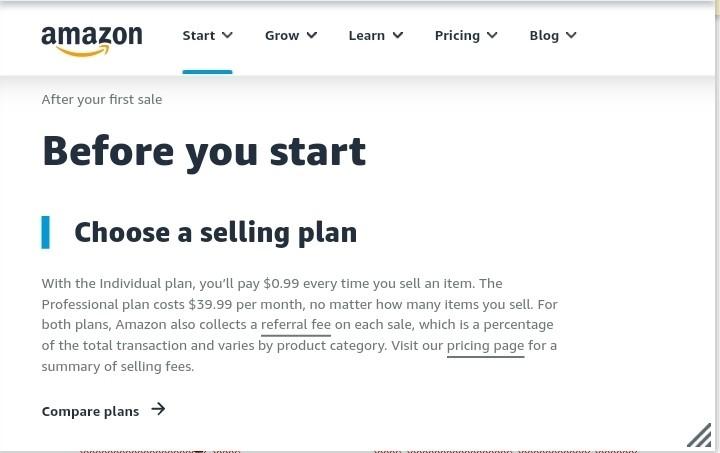 The costs of Amazon selling are also charged based on the category of products, the shipment, and other optional services. They are taken from sellers' credit accounts. 
The first cost is the selling fee. It is some particular amount (percentage) of products' selling prices. The selling fee varies based on the product categories. There will be a specific count for products that consist of media. The product fee is called variable closing.
Shipment Costs
Shipment fee is charged for every delivery by Amazon. The burdened costs are different for each product category. They are not only distinct because of the product classifications but also the chosen delivery type.
Fulfillment by Amazon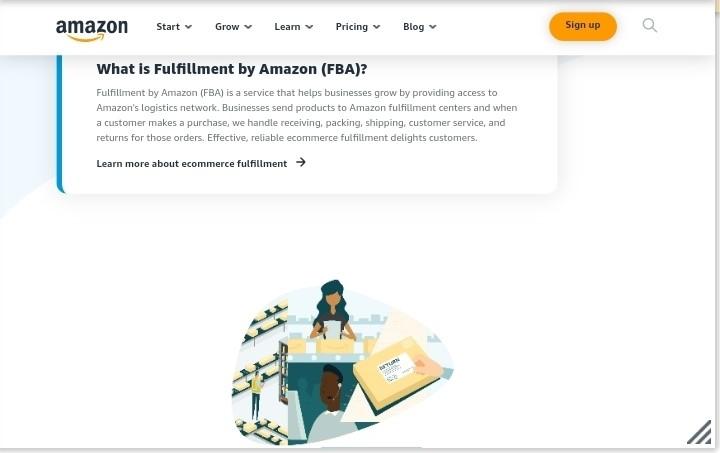 Fulfillment by Amazon comes as a useful feature if a seller wants to chill out. The service allows sellers to sell products without the burden of packaging and delivering the goods themselves. If using FBA sellers just have to supervise the activity. Fulfillment by Amazon charges sellers for each selling fulfillment.
Strategies for Selling on Amazon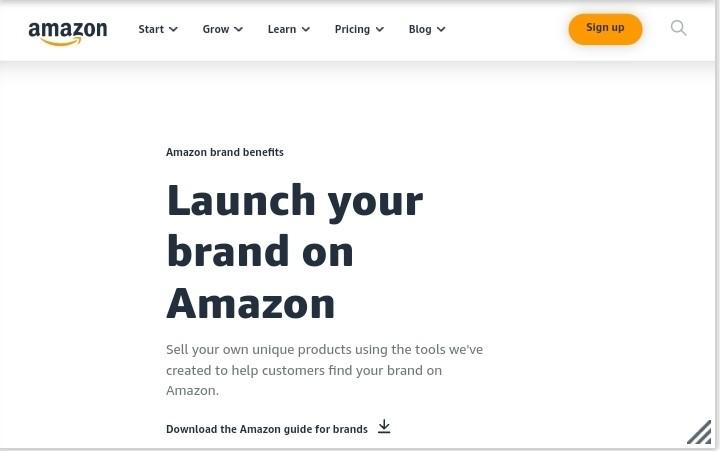 The world of selling is not simple. A seller must do various things to attract as many buyers as possible. Sellers must choose a strategy if they want to attract customers. 
Relabelling/Rebranding Products
There are two ways commonly used by sellers when selling on Amazon. The first is sourcing products then relabelling with a self brand. Remaking the name products makes the sellers compete well. Not only attracting customers with low prices, it also allows sellers to frame customers' point of view on the product. 
Plain-old Reselling
The second selling strategy is reselling products. It is the method of selling products of an existing brand company. If the brand is trusted, the seller can make a good revenue by raising the margin of selling. 
Besides that, selling products from a reliable company simplifies a seller's work. Sellers do not need to bother with image-building of a product.
Seller Contact Information
A trusted ecommerce company has to recommend honest sellers as well. The store will not be visited if it lets dishonest people sell goods on their marketplace. It is because no one will guarantee the buyers' transaction. 
The proof of a seller's reliability can be taken from their private identities. They will be useful when there are some complaints. Beside being the trigger of buyers' negative feedback, sellers identity provides detailed contact information for potential business development. 
On Amazon the seller must complete their business profile and verification. It consists of Business email address or Amazon  account, Internationally chargeable credit card, government ID (identity verification protects sellers and customers), tax information, phone number, and a bank account where Amazon can send you proceeds from your sales.
Make sure you have all of this before you begin your selling journey with Amazon.
Equipments Required for Selling on Amazon
Some Tools & Equipment are useful to simplify your selling and order processing. However tools work differently depending on the functions. 
In amazon selling, order processing, packaging equipment, and delivery safety are important. Order processing tools make products get handled professionally. The packaging equipment makes a neat product covering. 
Order processing equipment is the facility by which an order is finished. The tools are a workspace, computer, and label printer. A workspace makes a seller professionally execute business stuff. For online product management, printing machines and computers must be provided. The specifications of the computer do not have to be high. It must at least work for internet surfing and printing. A label printing is also important because a common printer takes too long to print labels.
Packaging tools help seller's jobs a lot. They avoid sellers from giving poorly packed products. Cutting equipment like scissors and box cutters are useful to cut boxes according to product size. So the sellers will not find problems like oversized packaging boxes. To make box edges and wrappers tidier, tape is a good choice. Then another equipment is price tag peeler. It is useful for removing price tags on used items.
Delivery is the last step of shopping at ecommerce. It is a crucial phase for seller. The first thing a buyer notices is whether the product is in good condition or not. When they find it is not broken the customers will be impressed. They will find that seller uses strong packaging equipments. They are box, padded envelope and stuffing. Box protects fragile products during the delivery process. The cover avoids direct contact with hard things.
However there is a rule about using boxes on Amazon. It must be clean from any barcode. In contrast products which do not need extra protection is packed with padded envelope. Padded envelope is good for small items. It is cheaper than boxes. Additional equipment for box and envelope is stuffing. It can be the second layer to protect products. Stuffing is useful to fill empty space both in box and envelope. It prevents products from shifting.
Skills needed by Amazon Sellers
A seller must be able to evaluate his account on Amazon. The ability lets the seller reveal account problems and settle them quickly. Sellers who often evaluate the account would be familiar with a lot of customer problems.
The evaluated seller account would be free of any error. Putting details of important information prevents customers from confusion. Sellers must include the account logo, name, contact, bank, and gift packaging information. Customers will not be confused if sellers provide complete information. Meanwhile customer's doubts could be solved by adding relevant shipping and returns policies.
A good Amazon seller must have knowledge of trading related activities. Sellers with limited ideas will miss a lot.
For example, a seller who cannot promote a product will not find potential buyers. Promotions are important because there is too much competition out there. Not only knowing the way to promote but the awareness to manage products according to their categories will also help. Product classification is important because some categories are open to all, some need approval, and some are only permitted to particular sellers.
How to Write/Design/Setup the Product Details Page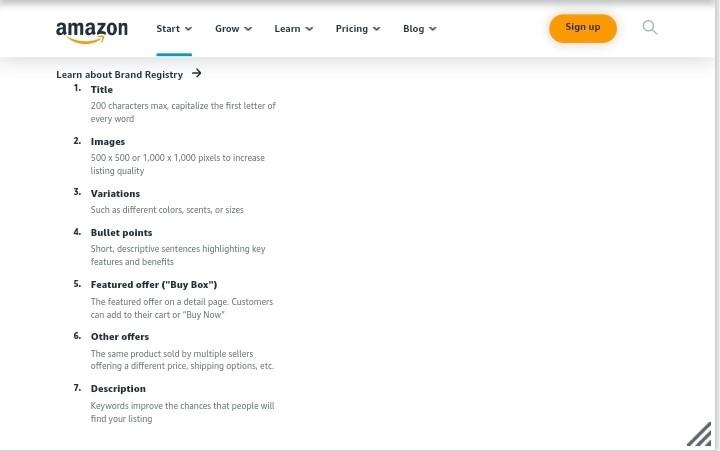 A buyer may leave a seller's store if they find incomplete product information. For instance when they like the product but don't know what size/specification is available. It will make people bounce away from the store rather than buying the wrong size. So complete and precise details of the product are necessary. 
Products that have been included on Amazon will emerge in the product detail page. The page is recognizable if someone has shopped there. Every description about the product is shown on the page. 
The page also has a useful feature for the buyer. Amazon combines the details of the product in one page. So there will be one product detail page even though there are many sellers who market the same product. One more, the sellers can register their brands and ask Amazon for a specialized page for their own product detail page.
The product detail page consists of 7 elements. It has prominent things that will try to persuade buyers. It has Image, key benefits bullets, buy box and descriptions to impress customers. 
The image on the product detail page must be 500×500 or 1000×1000 pixels. The size of the picture gives the listings a nice view. The key benefit bullet makes sellers show off the product perks. And the buy box feature is the detail page when a customer wants to purchase the product. 
In the product detail page there are also product descriptions. It is useful for customers when searching for products. Beside the persuasive descriptions, the product detail page also includes title, variant, and other similar products. Title is not more than 200 words and every word is capitalized. 
The variant description in the product detail page consists of information like colors, scent and size. The last, other similar suggestions are about similar products sold by other sellers. Not only showing other sellers, it also shows different prices and shipment offers. 
Add the Product Listing Info
Product listing should be added with the required information. There are five important things that must be added. 
The first is product identity. It contains the specific type of product descriptions. Its form may be ISBN, GTIN, etc. 
The second is the product's ID. It can be used as an inventory tracker for sellers. 
Third, we need to provide information about the offer details. The details show the product's price, condition, availability and shipping options. 
Fourth, we add the product details. They consist of the product's name, category, brand, descriptions and images. 
Lastly, we define the product's keyword. Its function is to simplify buyers' search, and make it easier for them to find the product.
Use the Amazon Seller App to Boost your Business
(Android App | iOS App)
The vast development of technology makes sellers more flexible. Nowadays, they do not only manage their business through PCs but also using smartphones. 
Amazon mobile lets sellers control the sales using a smartphone. The app has features that bring practicalness to the sellers. On Amazon mobile, sellers can track sales, fulfill orders, find products to sell, respond to customers' questions, click and professionally edit product photos. 
This makes working on the go much easier, and a more active business means a more profitable business. If you are an Amazon seller, make sure to download the app to further boost your business reach.
More Reading for you…